This is the next in my I 💙 Manchester series and the first of my posts on walks in Manchester city centre. Manchester has so much to offer – being one of the most dynamic and cosmopolitan cities in the UK, it hosts some great events, has a thriving food and drink scene and a fascinating history being the birthplace of the Industrial Revolution.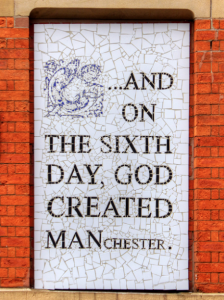 This self-guided walking tour takes you around the Northern Quarter which is Manchester's most vibrant and bohemian district. There are so many independent and characterful bars, cafes, restaurants, shops and galleries, many of them situated in historic textile warehouses and factories; and a lot of fantastic street art. The walk also takes you into the Ancoats conservation area, where you will pass some of the excellent redevelopment projects and join the Rochdale Canal to take you back to the Northern Quarter.
The walk is 1.8 miles (2.9km) in total so it should take you around 30-35 minutes to complete. Please see the map below (with zoom in and out buttons), with numbers corresponding to the full instructions beneath. Enjoy the walk!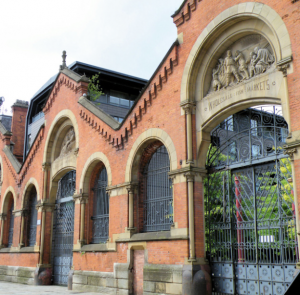 1   Your starting point is at the western end of Church Street, opposite the Arndale Market. Walk up along the High Street, with the market on your left and branch off to the right when you are past the English Lounge pub (staying on High Street). Have a look in Oklahoma on your right, a brightly coloured treasure trove of quirky designed items and gifts. Carry on along the High Street and you will see the site of the Old Wholesale Fish Market on your left – the original building has been incorporated into a residential complex but the outside walls, gates and sculptures have been saved.
2   Take a right down Edge Street, opposite the Fish Market. You will pass Luck, Lust, Liquor and Burn on your right, an excellent Mexican diner with a Californian surf theme. Further down Edge Street is V Rev Vegan diner, a relatively new vegan restaurant that is extremely popular; and Home Sweet Home on your left which does excellent cakes.
3   Turn right onto Oak Street (or left for a short detour to Manchester Craft and Design centre, which was the former Retail Fish Market and is well worth a look inside) and on your left on the corner you will find Oi Polloi, a great shop for simple, well-designed, high-quality menswear. If you're a chocolate lover, you can't miss the Bonbon chocolate boutique, situated down John Street, more or less opposite Oi Polloi. The Aztec hot chocolate is to die for! Otherwise, continue down Thomas Street and take a left onto Tib Street.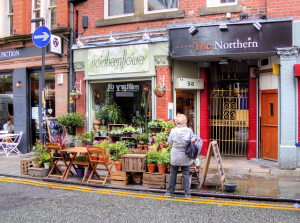 4   If you're peckish, Evuna on the corner is a great tapas restaurant. Carry on down Tib Street and you will pass Sugar Junction (excellent for tea, cake and milkshakes) and Matt and Phred's (a Manchester institution with live jazz, funk and soul music). Take a right down Warwick Street past Abakhan Fabrics then a right down Oldham Street. The Castle Hotel and Pub on your left has a 200 year-old history and has some great ales and live music, it's worth popping in for a pint. Carry on down Oldham Street and you will pass some great vintage and gift shops.
5   Take a left down Hilton Street and you will reach Stevenson Square. There is some great street art here (as there is over most of the Northern Quarter) and Fred Aldous, a cavernous art and craft shop with everything you could possibly want and need. Ply, with its bright yellow sign does great pizza and Rosy Lee's on the left does great afternoon tea.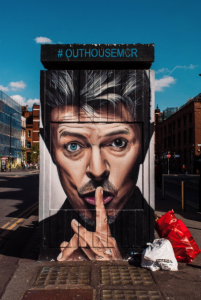 6   Go left down Newton Street (after stopping for coffee in Ezra and Gill on the right hand corner if you wish) and walk along until you meet the ring road. Cross over and continue down Blossom Street. You are now in the Ancoats conservation area which was once a thriving industrial district. From the 1930s, the area suffered economic decline and gradual depopulation after the Second World War. It has since been gentrified and has undergone huge redevelopment since the 1990s, it's history and importance being recognised and its proximity to the city making it prime land.
7   Take a left onto Henry Street and then a right down George Leigh Street, where you will pass a delightful, reconditioned row of terraces. Turn right down Sherratt Street until you rejoin Blossom Street. Take a right here and then a left onto Cotton Street. Rudy's on your right has some of the best pizza in town.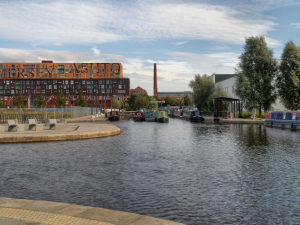 8   Take the next right down Jersey Street then the first left to rejoin Henry Street. Pop into the Royal Mills building that you will pass on your left – it's perhaps the jewel in the crown of this district and has been sympathetically converted into flats, office spaces and a couple of shops on the ground floor with a stunning glass atrium that holds a craft market once a month. Cross the footbridge over the Rochdale Canal and follow the towpath with the canal on your right. You will reach a curved footbridge after about 5 minutes taking you back over to the other side of the canal.
9   Walk straight up Brewer Street and then take a left onto Tariff Street. My favourite bars and cafes are all along this street – any of them will be a great choice but my particular favourites are the Pen and Pencil (which does an amazing brunch), the Whiskey Jar and Kosmonaut.
10   With Cottonopolis ahead of you (which has a great asian fusion menu), turn right down Dale Street and walk along until you reach Affleck's on the left. Opened in 1981, Affleck's is an indoor market with dozens of independent stalls, boutiques, cafes and pop-up shops and is well worth a look.
11   Carry on along Church Street to arrive back at your starting point, stopping off for a pie at Pieminster on your right, or a bit of soul food at The Northern Soul Grilled Cheese shack on your left.
If you are interested in more detail of places to eat and drink in the Northern Quarter, please check out my two blog posts below:
The Best of the Northern Quarter Bars
Places to Eat in the Northern Quarter
Please let me know if you enjoyed the walk and if you have any more suggestions of places to feature!
SaveSave
SaveSave
Enjoy this article? Please share 🙂