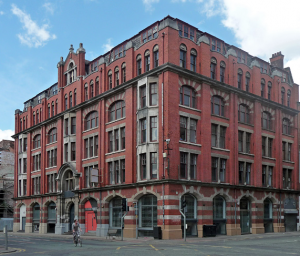 I have just moved away from one of the greatest cities in the UK – Manchester. I lived there for three years and really fell in love with the city, in particular the Northern Quarter and it's laid-back vibe. I remember finding it difficult to find recommendations (and just any general information) of the best of the Northern Quarter bars when I first moved there and have only really discovered them by walking along every street and back-street!
In my opinion, all the best bars are in the Northern Quarter (who wants to go to Spinningfields where the masses go ;-)) so I thought it might be helpful to put together a brief guide of my favourite ones 🙂 I've also added a few ideas of accommodation at the end of the post for anyone looking for somewhere to stay.
Allotment
Dale Street, Northern Quarter
A garden-themed bar with chunky wooden tables and a laid-back vibe. They specialise in gin and have a gin cocktail of the week (which are always heavenly). Excellent hearty pub-grub too if you're in need of a feed. A great after-work/early evening bar.
www.allotmentbar.co.uk
Cord
Dorsey Street, Northern Quarter
A small and cosy bar with beer-keg tables and great cocktails. Probably attracting a slightly younger crowd than many of the other Northern Quarter bars. A great basement area too with eclectic music and available for hire.
www.manchesterbars.com/cord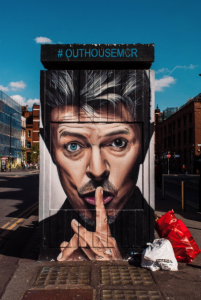 Cottonopolis
Newton Street, Northern Quarter
Located in a gorgeous Grade II-listed building with beautiful copper fixtures and fittings paired with dark blue furnishings. A loud, buzzing bar with a good selection of beers and cocktails. There's a large kitchen at the back which does fantastic japanese fusion food if you're feeling peckish.
www.cottonopolis-nq.com
Dusk Til Pawn
Stevenson Square, Northern Quarter
A former fortune teller's den, this bar is most definitely quirky. The outside has been made to look like a pawn shop, complete with an old TV and Fender guitars in the windows. There are only 7 or 8 tables but this is never an issue as you wouldn't know it's there until you're in it so it rarely gets over-crowded. A large spirit selection and their 'Pawn' Star Martinis are to die for.
www.manchesterbars.com/dusktilpawn
Did you Know?
Manchester is the birthplace of the computer, Top of the Pops and the football league….
El Capo
Tariff Street, Northern Quarter
Over 200 tequilas. Need I say more! Mexican-themed with some great decor and latin beats – it's easy to spot on Tariff Street from it's illuminated red cross on the outside. There's a great little restaurant downstairs serving mexican street food. Taco tuesdays are a bargain with tacos at £1 each.
www.elcaponq.co.uk
Fitzgeralds
Stevenson Square, Northern Quarter
Classy speakeasy drinking den with fun bar staff, comfy sofas and top-notch cocktails. Old black and white movies are projected on the wall and there's live jazz at the weekends. Notoriously hard to find, it's entrance is on Little Lever Street, above Rosy Lee's tea rooms.
www.thefitzgerald.co.uk
Kosmonaut
Tariff Street, Northern Quarter
One of the first bars in the eastern end of the Northern Quarter, it paved the way for many of the others that are now along Tariff Street. Industrial-feel with exposed brickwork, leather booths and interesting artwork on the walls, it also has a large selection of artisan beers and a good wine list. Good DJ's spin the soul tunes on weekend nights. Definitely one of my favourite Northern Quarter bars.
www.kosmonaut.co
Did you Know?
Lonely Planet's 'Best in Travel' 2016 ranked Manchester as one of the top 10 travel destinations in the world…..:)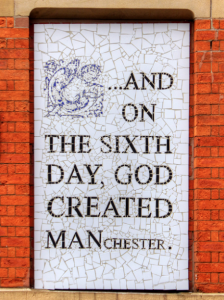 The Pen and Pencil
Hilton Street, Northern Quarter
A lively bar with resident DJs on friday and saturday nights playing a soulful mix of tunes. Pssst…..they do superb weekend brunches too, the smoothies are fabulous.
www.thepenandpencilnq.co.uk
Tariff and Dale
Tariff Street, Northern Quarter
The Tariff and Dale gets it's name from being located on the corner of these two streets (so you'll never forget where it is) in an imposing Victorian textile warehouse. There are a number of nods to the origins of the bar inside including a hydraulic fabric press at the entrance. It's a friendly bar with an extensive drinks selection including carefully made cocktails.
www.tariffanddale.com
If you are looking for places to eat in the Northern Quarter, then I have some great recommendations in the following post:
Places to Eat in the Northern Quarter
And I've also written a post on a guided walk round the Northern Quarter:
Walks in Manchester City Centre – The Northern Quarter
Accommodation Suggestions
I'm not an expert on accommodation but I do know of these three options for different budgets:
Luxury
Lushpads Apartments – beautiful luxury apartments right in the centre of the Northern Quarter with period features typical of the area.
Mid-Range
Abel Heywood Boutique Hotel – a nice, cosy small boutique hotel in a great location between the northern quarter and the city centre. A great restaurant on-site too, especially cosy in the winter months.
Budget
Hatters at Hilton Chambers – if you're on a budget and don't mind a hostel, this is a great option. There are private rooms as well as dorms and it gets its name from being situated in an old top-hat factory. There are two branches down the road from each other – Hatters at Hilton Chambers is quite a bit nicer than Hatters Manchester so be careful which one you pick.

SaveSave
Enjoy this article? Please share 🙂