This is the second of my I 💙 Manchester posts. Off the back of my first post which detailed some of my favourite northern quarter bars (which you can see here: The Best of the Northern Quarter Bars, Manchester), a few people asked me for recommendations of places to eat in the northern quarter. There are many lovely places to eat around the northern quarter and I couldn't include them all, but I've put together a list of the restaurants I went to the most and that are my personal favourites.
I've also added a few ideas of accommodation at the end of the post for anyone looking for somewhere to stay. And if you're interested in doing a walk round the Northern Quarter I've written the following post with detailed instructions of the best bits to see:
Walks in Manchester City Centre – The Northern Quarter
Abel Heywood
Turner Street, Northern Quarter
Upmarket pub grub with some particularly nice sharing boards. Friendly, cosy atmosphere. It's also a great accommodation options (see below).
abelheywood.co.uk
Almost Famous
High Street, Northern Quarter
Burgers to die for. Great place to meet your mates – and very arty decor. Opposite the old fish market down the Arndale centre end of the northern quarter.
almostfamousburgers.com
Common
Edge Street, Northern Quarter
A good choice of small tapas-style plates and a particularly good chilli (meat or veggie). Also does a very good brunch.
aplacecalledcommon.co.uk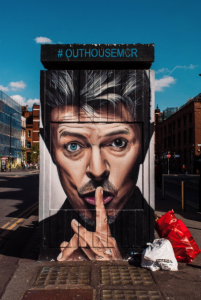 Cottonopolis
Newton Street, Northern Quarter
Located in a gorgeous Grade II-listed building with beautiful copper fixtures and fittings paired with dark blue furnishings. The dining area is at the back of the bar and does fantastic japanese fusion food. On the pricey side but well worth it in my opinion.
www.cottonopolis-nq.com
Crazy Pedro's
Underneath Affleck's Palace, Short Street, Northern Quarter
Very laid back pizza parlour with no bookings taken. Open from 4pm but gets really busy in the after-hours as it stays open until 4am. Great pizza for after a night out.
crazypedros.co.uk
Did you Know?
Manchester is the birthplace of the computer, Top of the Pops and the football league….
El Capo
Tariff Street, Northern Quarter
Mexican-themed with some great decor and latin beats – it's easy to spot on Tariff Street from it's illuminated red cross on the outside. There's a bar upstairs and a great little restaurant downstairs serving mexican street food. Taco tuesdays are a bargain with tacos at £1 each.
www.elcaponq.co.uk
Evuna
Thomas Street, Northern Quarter
One of two branches in the city, Evuna is a fabulous tapas restaurant serving excellent dishes at a reasonable price. Rustic and authentic with a great wine list too.
evuna.com
Luck, Lust, Liquor and Burn
High Street, Northern Quarter
Situated above Almost Famous, this restaurant has equally stunning decor and serves Mexican food with a Californian theme. The burritos are particularly excellent.
lucklustliquorburn.com
Did you Know?
Lonely Planet's 'Best in Travel' 2016 ranked Manchester as one of the top 10 travel destinations in the world…..:)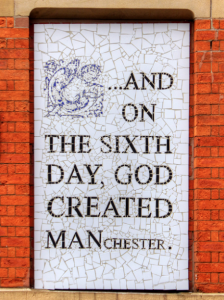 The Pen and Pencil
Hilton Street, Northern Quarter
A bar by night but I had to include it as their weekend brunches are superb. Top notch smoothies too. It's best to book ahead as it gets very busy at the weekends.
www.thepenandpencilnq.co.uk
Pie Minister
Church Street, Northern Quarter
A low-key, small cafe that serves excellent pies along side a range of equally delicious sides. Although a chain, it has a very authentic feel and is perfect for a weekend afternoon meal.
pieminister.co.uk
Sweet Mandarin
Copperas Street, Northern Quarter
An award-winning chinese restaurant serving family-style, home-cooked food in a modern setting. Some unique, inspired dishes are on the menu. They do takeaway too.
sweetmandarin.com
TNQ
High Street, Northern Quarter
A stylish restaurant serving modern British cuisine using seasonal ingredients. Some wonderful concoctions (and they do great hot chocolate).
tnq.co.uk
V-Rev
Edge Street, Northern Quarter
A relatively new vegan restaurant that has popped up alongside many of the there great cafes on Edge Street. Everything really is 100% vegan. Very popular and closed on mondays.
v-rev.co.uk
Accommodation Suggestions
I'm not an expert on accommodation but I do know a couple of good options for different budgets which I wrote about in my previous 'I 💙 Manchester' post here.
Please let me know if you would like any further recommendations or have any questions – I would be happy to help.
SaveSave
Enjoy this article? Please share 🙂