Diving the Great Barrier Reef is something I've always wanted to do. But first, the end of my camping trip.
It felt strange to be in a proper bed after being in the swags! 4 of us from the camping trip are in the same hostel in Adelaide which is nice. One of the girls in my room (who goes between the hostel and house sits in Adelaide) was telling me that it is one of the oldest buildings in Adelaide, used to be a hotel and is haunted apparently! She was very adamant that many guests had seen ghosts including her and that I should watch out. I was hoping I would actually see one but unfortunately I had so such luck. Every time she chose to talk to me I was rushing to get ready and literally had to ignore her and walk out the door as she would not stop talking!
We went to meet the others at the Hog's Breath Cafe for our last meal together. It was strange seeing each other in nice clothes and make-up! Haha. We all agreed it was a really nice group and promised to keep in touch. All us Europeans have got to get out to Shanghai to visit Hecheng!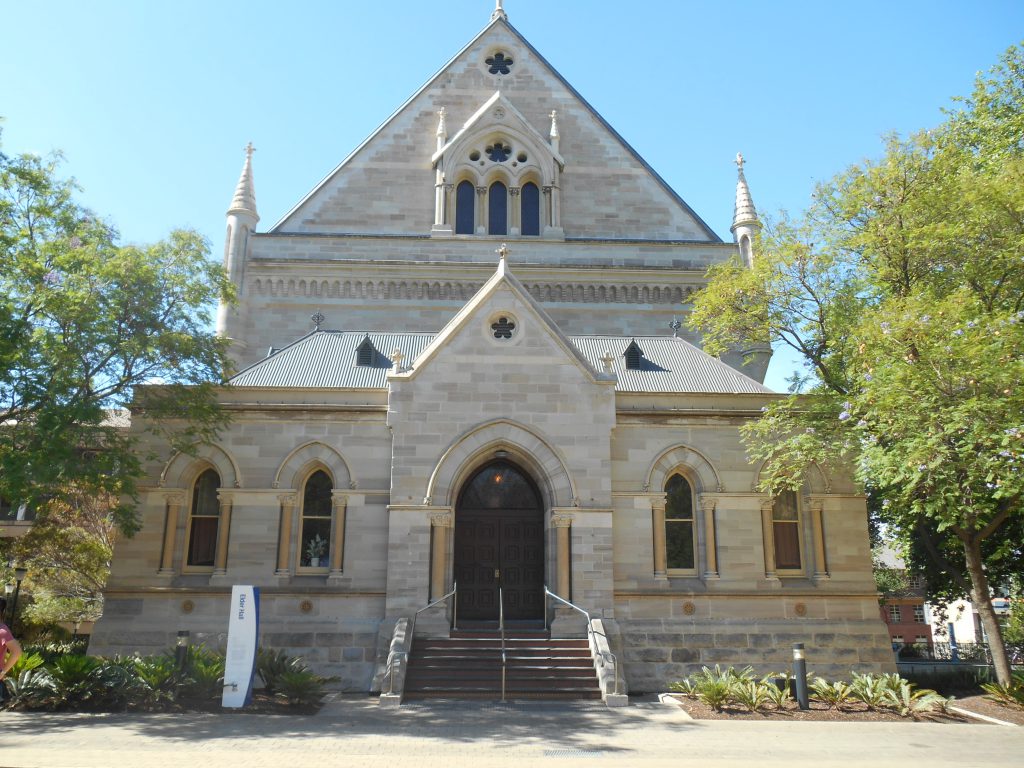 The next morning I spent in the hostel catching up on everything and booking a few things, having not had internet for a week. There was an Irish guy with 3 large boxes of potato peelers (I'm sure there's an irony in there somewhere) sorting them all out into packs of 3 (one of each colour). I asked what he was doing and he got very excited and explained he was going to sell them to hostels and hotels and make loads of money! Hmm. I wonder how many he has left right now….
It was 37 degrees in Adelaide today so I had a brief wander round then had to seek air-con! It's a really nice city, the university campus is nice and the river is lovely. I much prefer it to Perth. Hecheng is doing his masters here and says it's his favourite city in Australia. We all met up again later, had a walk in the park then went for the (free!) BBQ dinner at our hostel. As usual a minuscule portion but it was free so I'm not complaining 😉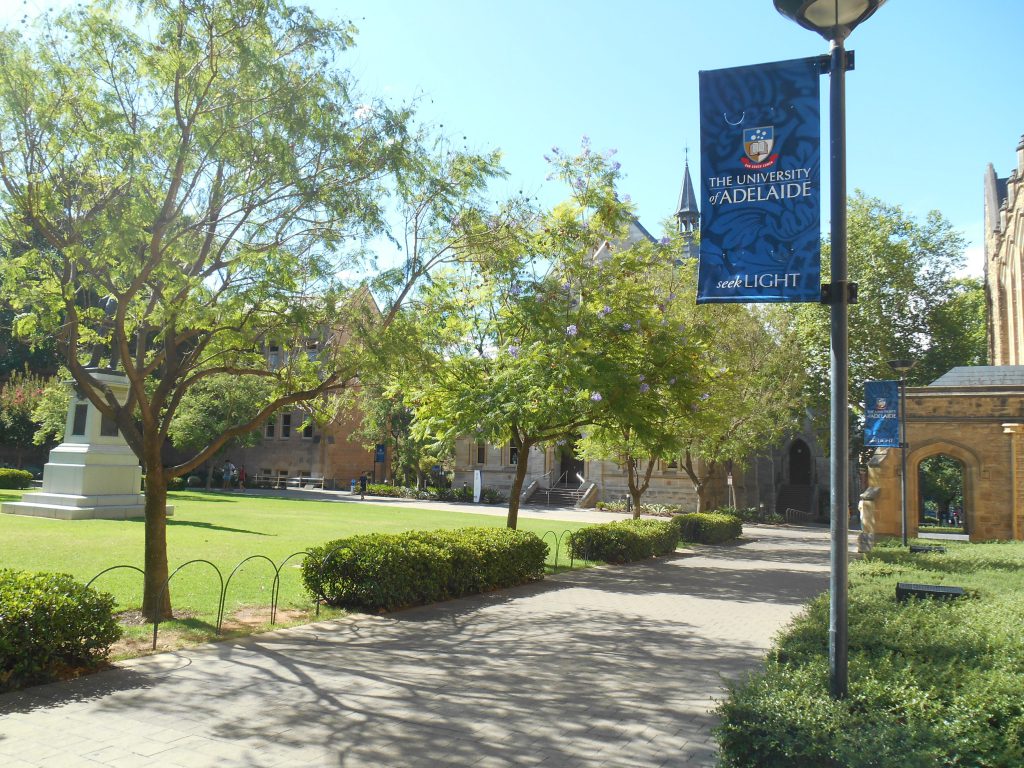 I got my flight to Cairns the next morning and arrived at Tropic Days hostel. There's a lovely garden with hammocks in (it reminded me of our hostel in Westport in NZ) so I chilled out there reading and listening to music for the rest of the day. There is a slightly strange man of about 50 who comes out of his room every 20 minutes to smoke a roll-up then disappears back to his room. I didn't see him do anything else but that during my 2 night stay. I love all the characters you get in hostels (so much that I wrote an article all about them here).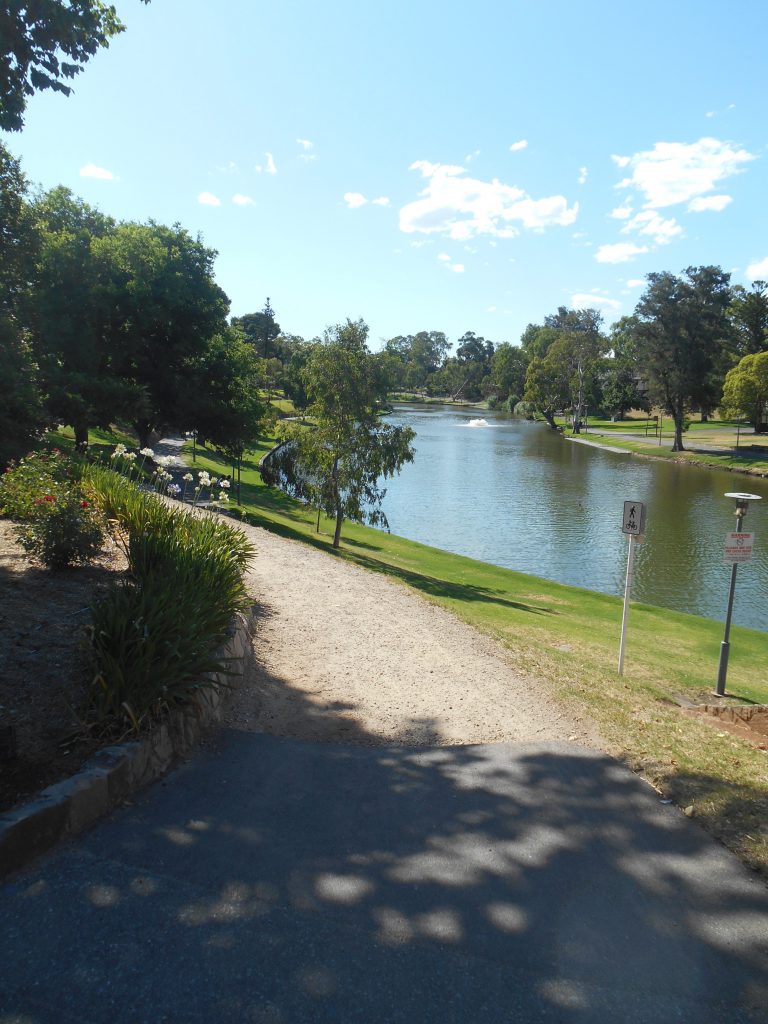 This hostel is nice but not very friendly and you have to get a free bus into Cairns as its too far to walk which I found annoying by the third day so I switched to Caravella hostel instead which is more central. But the guy on reception was really helpful with planning trips so I booked an overnight diving trip before I left. I had really wanted to go to the Whitsundays but it was so expensive I decided against it (yet another reason to come back to this part of the world) 🙂
Cairns is cool – it's very tropical and reminds me a bit of New Orleans without the music! I decided to get my hair cut and coloured – always a gamble with a new hairdresser – but she was really good. She was one of those people you want to keep staring at as she was so beautifully unusual looking. Her dad is Native American and her mum is English. She was telling me her boyfriend is indigenous and they have got his nephew living with them who's a DJ. He wanted a grey streak in his hair to be different and apparently now all the clubbers that have seen him DJ are booking in with Bekki to get a grey streak in their hair! They've started a trend between them…I did think there were quite a few prematurely grey aborigines wandering the streets.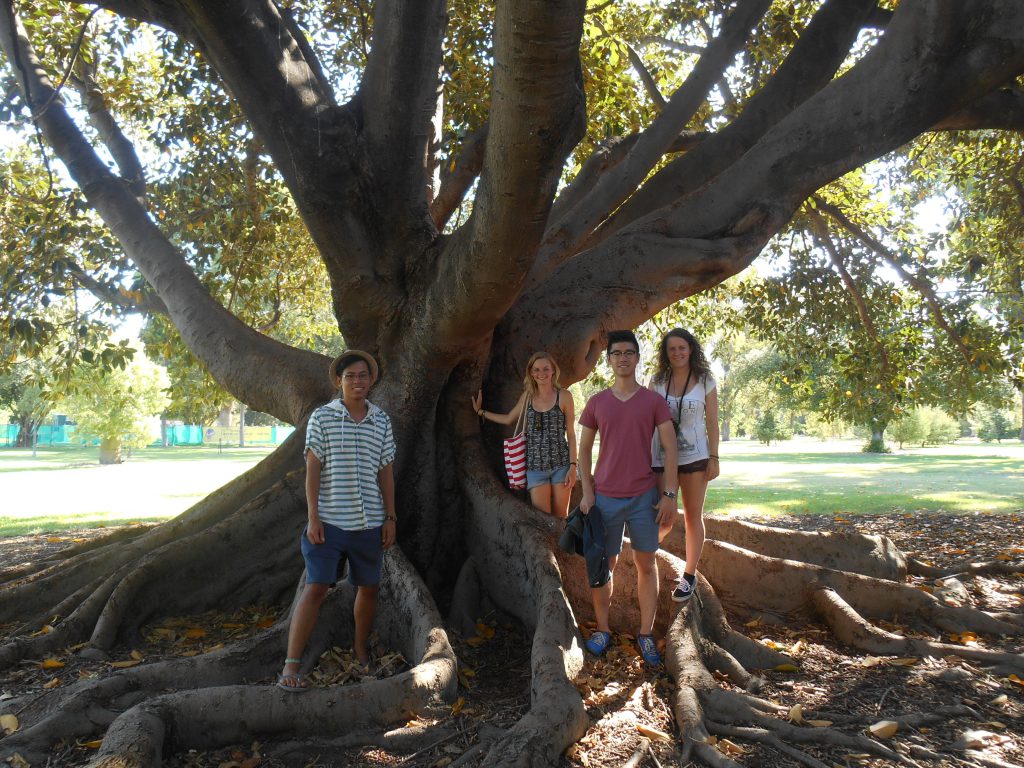 I went to the night markets and bought a few bits-as well as having a Chinese full-body massage for only $15 (about £8). I actually wanted back and shoulders but the guy talked me into a full-body one as it was all the same price. Which I kind of regretted. They started with a foot massage and I was trying not to squirm as it was so tickly. It would have been OK in a private room but being cheap, everyone just lines up together so I had to keep it together and not make strange faces which was such a challenge! My legs were almost as bad, no idea why they're so tickly. Haha. Once he got onto my back and shoulders it was fine-and much needed after sleeping on the ground for a week as well as carrying my backpack.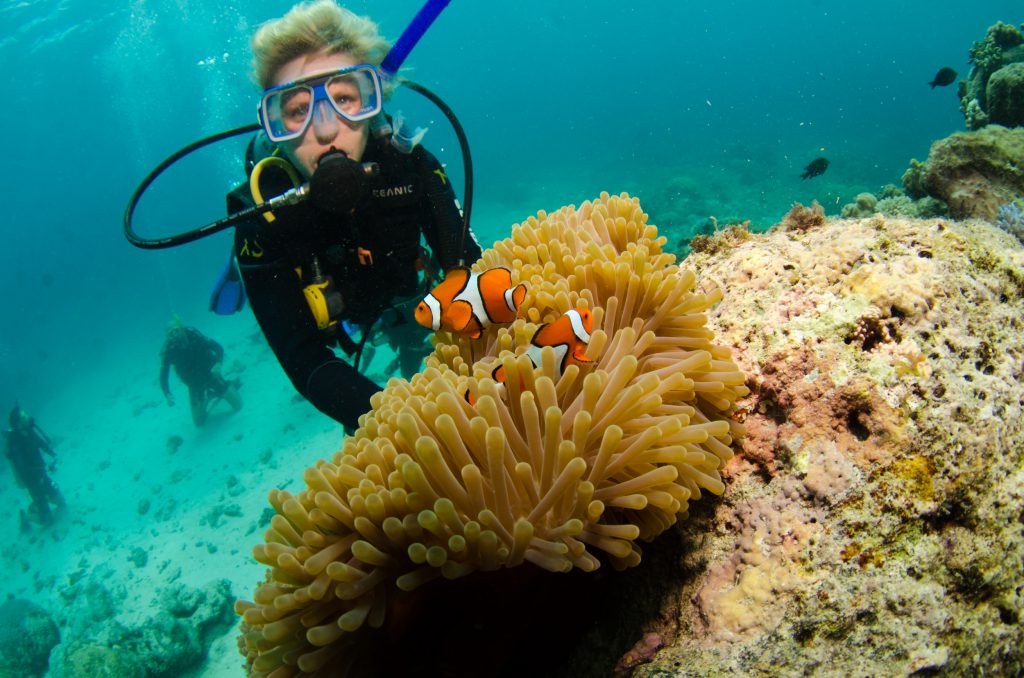 Caravella hostel is lovely, really chilled, a lot more central (and friendly) and has a pool! I chilled by the pool the first afternoon and finally finished my book (after 9 weeks!). I met a French girl called Cy who is a social worker in Paris. She is tempted to move to Cairns as apparently the salary for social workers is around 4 times as much as in Paris! Crazy. We went for dinner together at PJ's Irish bar as they were doing a cheap meal deal. It was surprisingly nice food as well. We went to the legendary woolshed for a couple of drinks afterwards and got chatting to two guys who live here. Turns out they are both engineers and knew exactly what GIS was! They asked if I had a business card (which I didn't) and said if I ever fancied working in Cairns to contact them. I could think of a lot worse places to work.
They said the big project in the region currently is road building in the rainforest north of Cairns. The government are spending a lot of money on trying to connect the aboriginal villages to the rest of the region and make Cairns more accessible to them. Because it's so dense and quite untouched in places they are sending in drones with theodolites on the bottom which apparently is quite ground breaking. Interesting. There were hundreds of bats out tonight! The noise they make is deafening and there are 2 trees in particular that they seem to like hanging out in. I've never seen so many bats on mass!
I got picked up the next morning for my dive trip – we all went on the same boat to begin with (Sea Quest) which was a catamaran and was so bumpy – they advised people to take these ginger tablets to prevent sea sickness even if you don't normally get seasick. I don't normally but decided to take them as didn't want anything to threaten my diving. And I'm so pleased i did! They were giving us a diving briefing and one by one people were running out the room to get fresh air/be sick. I buddied with Sofia, an Argentinian doctor who was good fun 🙂 I was worried I might have forgotten what to do as it had been so long since my last dive! But it all came back to me pretty quickly and the equipment was put together for us which was the bit I was most worried about.
We saw so many different types of fish and a few sharks! In the afternoon after we'd done 2 dives, all the people staying overnight transferred to another boat (Ocean Quest) which was a lot bigger. I shared a twin cabin (which was very cosy) with Gabrielle, a girl from New York who works in wildlife conversation and has been here nearly a year. The crew came round asking if any of the open water divers fancied to upgrade to do the advanced course – it seemed a really good price so thought I'd grab the opportunity! There were 4 of us that decided to do it (one of whom was a really annoying Korean teenager who always seemed to swim right next to us/on top of us/underneath us-he was always in the way! We were getting so annoyed by the end! But that's for a separate blog ;-))
We had to do 5 different dives plus 5 little tests. I did my first night dive too which was scary at first but once I got used to having the torch it was really good. All the bigger fish come out at night too. We'd done 4 dives that first day and by the time it came to reading the course book and doing the tests in the bar that evening we were all trying not to fall asleep!
We got up at 5.45am to do a dive before breakfast which was really good – the light is different early morning and the fish seem more energetic! Haha. It was our deep dive (we went down to 28 metres). Jo, our instructor had brought an egg along – she cracked it, the yolk solidified and a fish gobbled it up! Amazing.
She also got us to do some basic maths to check for signs of nitrogen narcosis. We were all fine – apparently some people are just more susceptible than others and nobody knows why. They've seen people give their regulators to fish and go pretty crazy, haha. We then had a huge breakfast before doing our final two dives – the last one we had to use a compass and navigate ourselves around the reef which was pretty cool. So now I'm a fully certified advanced diver! Very pleased I did it.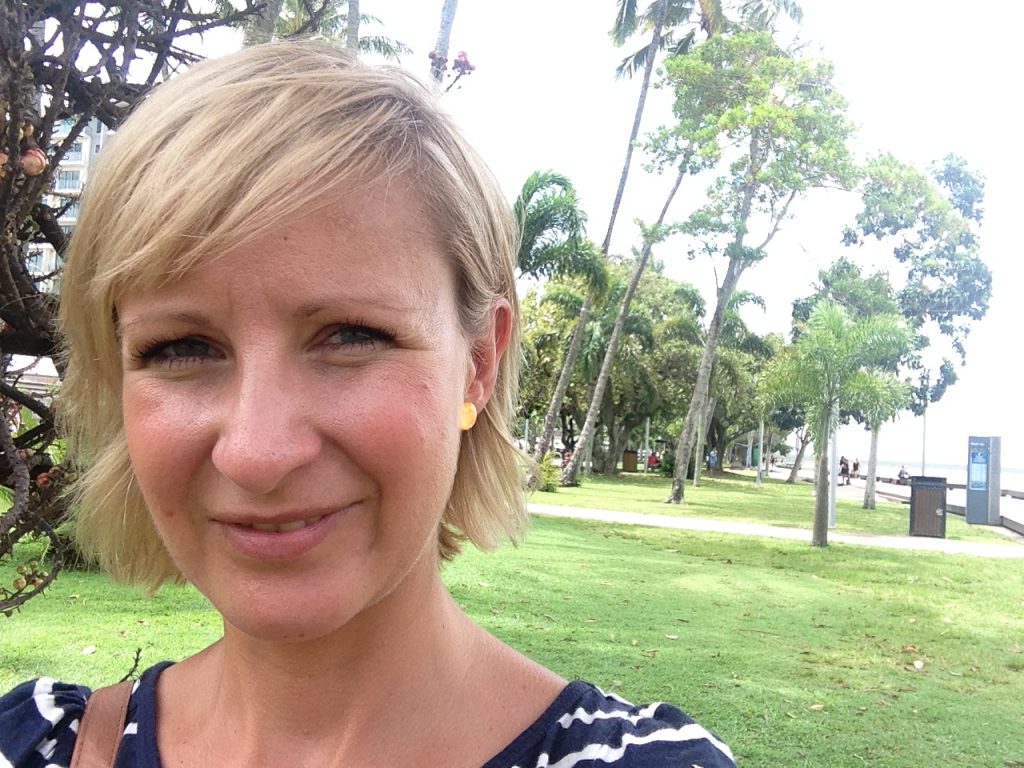 We got back on the sick-making catamaran to go back to Cairns. I met a group of guys from Portsmouth who were struggling even more as they'd been out the night before. Euuggghhh. They'd been on the kiwi experience about 2 weeks behind me and when they found out the first thing they did was sing the Maori village song – nooooo! Just when I'd banished it from my head for good it is now destined to be in my head for the next week (A-E-I-O-U…). They also sang the fresh prince for their song – why didn't we think of that! I caught up with Cy at the hostel and had a chilled night-diving completely knackers you!
It's my last day in Cairns now – I went back to my favourite little cafe (Caffiend) for breakfast, posted a few bits home to the UK, bought a new book and walked along the esplanade. The sun has finally come out just as I am leaving as well! Fingers crossed its sunny in Brisbane…..
Enjoy this article? Please share 🙂