Do you find yourself counting down the days, weeks or months until your next trip abroad? Me too. I often find myself planning my next trip after only a few days of getting home from the last one – itchy feet can't stay still for long. Travel is a part of who I am, it gives me energy and inspires me and I still get that feeling of giddy excitement when arriving somewhere new. Even if it's a rundown small town in a seemingly forgotten bit of England full of men with snakes round their necks and betting, charity and tanning shops. Maybe that's just me…..but it's still somewhere different to discover!
The good news is, somewhere new doesn't have to be a flight away. It could be somewhere a couple of hours drive from home or an area of your nearest town or city that you haven't ventured to before (I'm not encouraging you to go to the dodgiest parts, but don't rule them out straight away ;-)). If you look at everywhere you could go within 2 hours of where you live, I'm sure you'd be surprised at how much you haven't actually seen. There are a whole range of things you could do – an afternoon or early evening hike up a hill you haven't been to the top of before, a night out in a different part of your home town or city, a day trip or weekend away to a new town, walking a different way to work or even just having a coffee in that cafe you always pass but never go into.
I'm lucky that London is only half an hour's drive away for me, as is the south coast, so there are a lot of possibilities. It's amazing how your perspective changes once you start looking at things through the eyes of a tourist. I have been trying to do this a lot more in the past year and encourage you to do the same! Aside from giving me something to look forward to each month or so, here are what I believe to be some of the other benefits of being a tourist at home…..
1. You Become An Expert In Your Area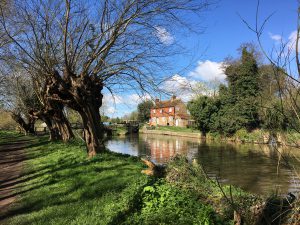 When people come to visit, it's great being able to show them around and take them to places they would probably not have discovered themselves. Those places that you discovered by accident or that are a bit more off the beaten track. I'm a big fan of where the locals go in whatever place I'm in – it's often the key to cultural understanding. Try going in a pub near Old Trafford after a home win and you'll see what I mean.
If you live in a big city, the possibilities for new discovery are endless. During the three years that I lived in Manchester, there was always a new restaurant or bar or a part of the city being regenerated – no end of options for an industrial-inspired walk or a new food concept. But what if you live in a small town or the countryside? It's all about adjusting your boundaries – perhaps head to a pub in a neighbouring village you haven't yet been to or take a different path to normal on your sunday walk.
If you work in the city, walk a different way to work or get off the bus a stop early. I used to love wandering down different streets in London during my lunch hour – finding new pubs, shops or street art – or even just to people-watch. Once when working in Liverpool, I purposely drove the long way out of the city, just so I could go through some of the areas I would never have a reason to go through otherwise (yes, some of the dodgiest bits – my curiosity gets the better of me sometimes). Seeing a city from all angles is the best way to understand it.
I once knew a guy who made it his life's mission to visit every pub and bar in his home city of Newcastle – he made a map and list of every single one within the city boundary. The last I knew he was around 85% complete…..when he's done he surely earns the badge of expert.
2. It's Affordable And Sustainable
The affordability and sustainability factors alone are reason enough to explore more locally. With minimal travel costs and optional overnight stays you can easily explore somewhere new for very little.
Swapping your usual coffee shop for a new independent one costs nothing (OK, maybe a few more pennies for that coffee) and helps contribute to our local economies. Farmers markets are also a great way to support the local economy, and not only that but also to meet some really interesting people – I've met some fascinating characters at my local market and heard some great stories about how they've come up with names and ideas for their produce (I once learnt about a cheese named after a somewhat cheeky vicar…..but that's a story for another blog post)! 
Another thing I often do when I'm abroad is have breakfast out as often it isn't included in the price of accommodation, especially when staying in hostels. But until the last few years it had never occurred to me to do it back home. Yes, it is an extravagance perhaps but I have found it a really nice thing to do, and again, it supports local businesses. I have also discovered some great coffee and egg combinations in the process (to clarify – great coffee. And also egg combinations. Not coffee and egg together. Although egg coffee is extremely tasty (as mentioned in my Hanoi post).
3. You Know How Everything Works
You may not know a neighbouring town inside out but you know your own country and therefore any trip you may take is likely to be more relaxed than a trip abroad as you don't have to worry about 'tourist' prices, what's out-of-bounds or language barriers.
And when it comes to hosting friends from other countries, it will help them enormously to have your knowledge of how public transport works, what tips they should give, what that strange colloquialism means etc.
4. You Never Know What You Might Discover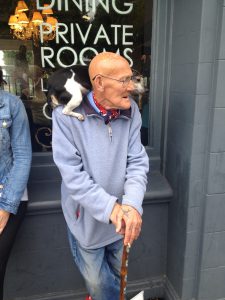 Who knows what you may find? Whether it's becoming more knowledgable about your area's history or meeting somebody new, it can feel so refreshing. Visit local museums and do a tourist trail – even if you feel you've walked the streets many times before, I bet there will be landmarks pointed out that you walk past often but pay no attention to. The small details in your own neighbourhood can be eye-opening.
Talk to strangers by pretending to ask for directions. You never know who you might meet. Ironically I always get asked for directions when I'm somewhere i don't know and I'm asking for directions in somewhere I know like the back of my hand….
Visit a country pub and get chatting to the people propping up the bar – you may meet some crazy characters and hear some interesting tales. The other day I met some friends I hadn't seen for a while in a village only 15 minutes drive away. Even though it's so close by, I hadn't been there for years and discovered a pub I had been to there a handful of times was now all boarded up. It was sad, but I instantly felt part of it's history having known it when it was thriving. My friends and I went for a walk from the village and I also discovered a whole new bit of woodland I didn't know existed.
5. Ties You Over Until Your Next Trip Away
Being a tourist in your home town definitely changes your perception of your home, as you will find yourself looking at it through different eyes and appreciating it in a different way. Having a few local trips to look forward to each month definitely helps satisfy my curiosity and stops me from feeling like I need to get away. Rather, I want to get away.
Having all this expert knowledge also means that when you are abroad, you can tell people all about your home, why they would want to visit and offer to host them! When I'm travelling, I feel I have a duty to promote my own country – I feel we should all be ambassadors when we're away! Tell others all about it (not quite everything as you want to keep them intrigued) and encourage them to plan a visit. Or try and grab opportunities you may never have again to tell people about the wonders of your home (like the time I was on live chinese TV in L.A…..read that story here).
I hope that this article has encouraged you to go somewhere you've never been before that's very close to home. Please let me know your stories – have you discovered something amazing nearby that you had no idea about? Have you recently learnt some dark history about your town? Or have you hosted guests from another country and opened their eyes?
Travel……and be curious.
Enjoy this article? Please share 🙂