So the first question I was asked at the check-in desk for Vietnam Airlines was whether I had a hoverboard in my check-in luggage (yes, they were being serious – apparently they have had 'problems' with them) after which they checked whether I had a visa to get in and a flight booked back to my home country. Liking their priorities. I was sat next to 2 guys who I had assumed were German when I saw them at the gate (no offence German friends) – all dressed in fluorescent clothing and matching bowler hats (like something out of the Eurovision) – but turns out they were carpenters from Kent. They didn't seem to have a clue what they were doing, where they were going or anything. They had just come from Thailand which probably explains it! They were right behind me at immigration when we landed and then mysteriously disappeared….and even after waiting 30 minutes at the baggage reclaim they still hadn't appeared. Hmm. Hope they made it into the country.
A Balancing Act…..
What a place Hanoi is! The cover photo really sums it up, I loved it's chaos straight away. I thought nowhere could be quite as crazy as the roads in India but I think Hanoi tops them. Lane markings and red lights mean nothing, up to 10 scooters side by side on one side of the road is perfectly acceptable, you can carry things 10 times as long or as high as your scooter, you can park your scooter right in the middle of the road and that's ok too. But it WORKS! The energy is incredible. Some of the things I saw carried on scooters included the biggest basket of strawberries you've ever seen, 3 pigs, a basketball post, a 20ft metal pole, and around 100 footballs.
I treated myself to a hotel as everything is so cheap – and the staff were absolutely lovely. Even though they were expecting a man. I used to have this problem in Dubai a lot – they see my surname and recognise it as a first name, haha. They made me a lovely cup of hot sweet tea and gave me a plate of fruit on my arrival and told me all sorts of useful information. The hotel is in a great location – in the old quarter down a tiny alleyway so it's quiet but right around the corner from all the action. I had a wander out that night and once I'd figured out how to cross the road (you just have to walk out and don't hesitate) found it to be a buzzing, exciting city. There are so many little cafes and bars and everyone sits out on the street on tiny little plastic chairs (perfect size for me) watching the world go by. I had steamed fish and an egg coffee (which I'm now addicted to). They taste like egg nog with coffee in, very sweet and absolutely delicious!
Shops of Delights
The next day I borrowed a lonely planet from the hotel and did the walking tour suggested in there. I went to a traditional house that had been restored and then headed to Hoan Kiem Lake and the temple there which was beautiful even on a cloudy day. It's only about 17 degrees so I had a checked shirt on – and I must have been asked about 5 times by the Vietnamese whether I was cold! They were all wrapped up in their big winter jackets, scarfs and hats! This is their winter and the coldest it gets is about 10 degrees. I think also they love wearing the North Face stuff – it's literally everywhere as the factories are here. Although it's hard to tell which is the real deal and which are fakes. I'm hoping to go to a proper store in Ho Chi Minh.
I had another egg coffee in a little coffee shop overlooking the lake – it took me a while to find it as you had to go through a silk shop, up 3 flights of stairs and through various courtyards to get there but it was well worth the view! I then walked back through the old quarter – all of Hanoi's streets are named 'Hang' (which means street) followed by whatever shops are on that particular street. There was a street that just had silk shops, one that had toy shops, one that had shops full of herbs – there was even a street full of mirror shops!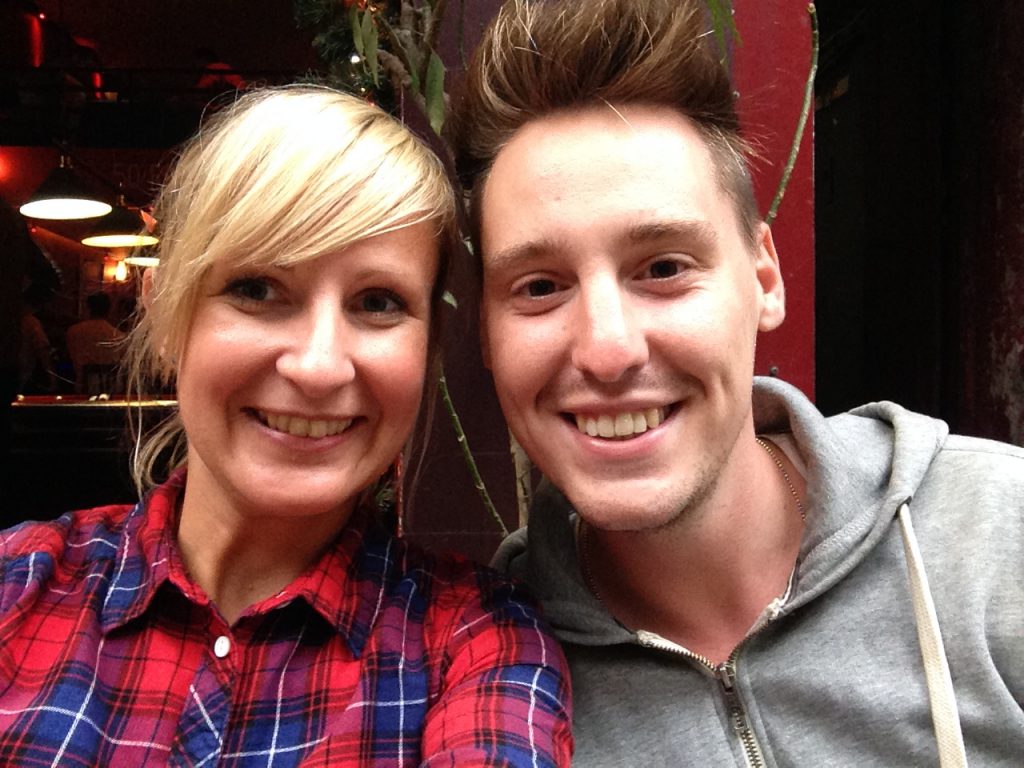 Even though I love the craziness of Hanoi, it's quite a tiring city so I came back to my hotel for a bit of a chill out before meeting Chris (who I met on the kiwi bus) at his hostel. It's literally 2 minutes walk from my hotel which was as handy. Was nice to see him again! We went for some food and beers – we had Bun Cha which is BBQ pork with rice vermicelli which is a speciality of Hanoi and was delicious.
We met up again that evening and had more delicious food and found some really cool little bars. We walked back past the hostel and it looked fun so we went in – everyone was pretty drunk so we did some sambuca shots at the bar and everyone ended up dancing on the bar, the reception desk, various chairs – a crazy hostel! We timed it well as it turned out they were then going for a bar crawl so we joined it and they took us to 2 clubs which were good fun! Apparently everywhere has to close at 11pm as they have a curfew – the police come round to check and everyone complies-but then 10 minutes later everywhere gets going again and they know it happens but turn a blind eye…it was a crazy night and we didn't get home till about 3am.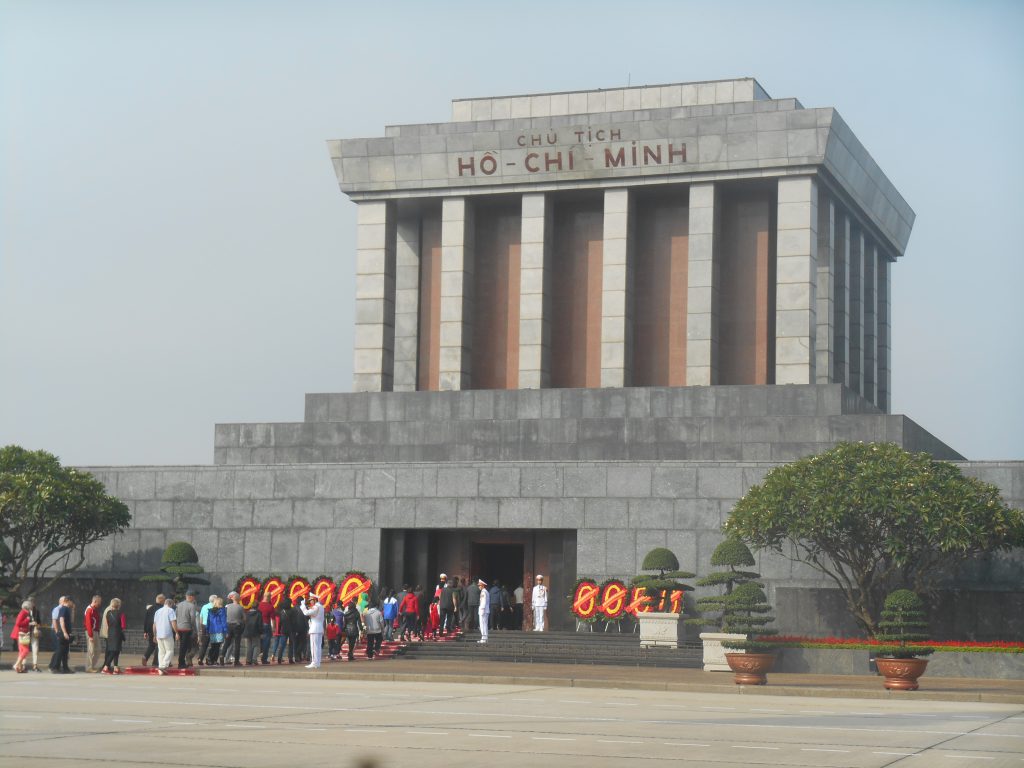 The Happy Buddha
Had a very lazy day the next day and then transferred to the other hotel to check in and meet the people on my cycling trip. It was pouring with rain so there were no taxis…so instead the concierge took me on his scooter which was a little scary but pretty fun! He somehow managed to balance my bag on the front – he got me there safe and sound 🙂 We had our welcome meeting at 6pm – everyone seems lovely. I'm sharing a room with an Aussie girl called Hayley. There are 12 of us in the group – 4 Aussie girls from a soccer team, 2 British guys, an Irish couple and an Australian couple. It's a mix of ages too which is good. And I was very relieved to find out no one is a cycling fanatic! Our tour guide Danh is very jolly and informative and is known as the happy Buddha, haha.
We had an early start the next morning to go and see Ho Chi Minh at the mausoleum. It was all very regimented round the complex – we had to follow the red carpet/markings and walk two by two at all times (and keep moving). It's times like this when you're really aware of the fact that it is a communist country (even though a lot of Vietnamese like to think of themselves as socialist). The military looked very smart in their white uniforms. Seeing Ho Chi Minh's embalmed body was a bit spooky – he looked like he'd just died even though he died in 1969. They fly his body to Russia for 2 months every year to get it restored. We then walked round the rest of the buildings in the complex. Danh told us loads about the history of the country, it's so interesting but far too much information to write on here!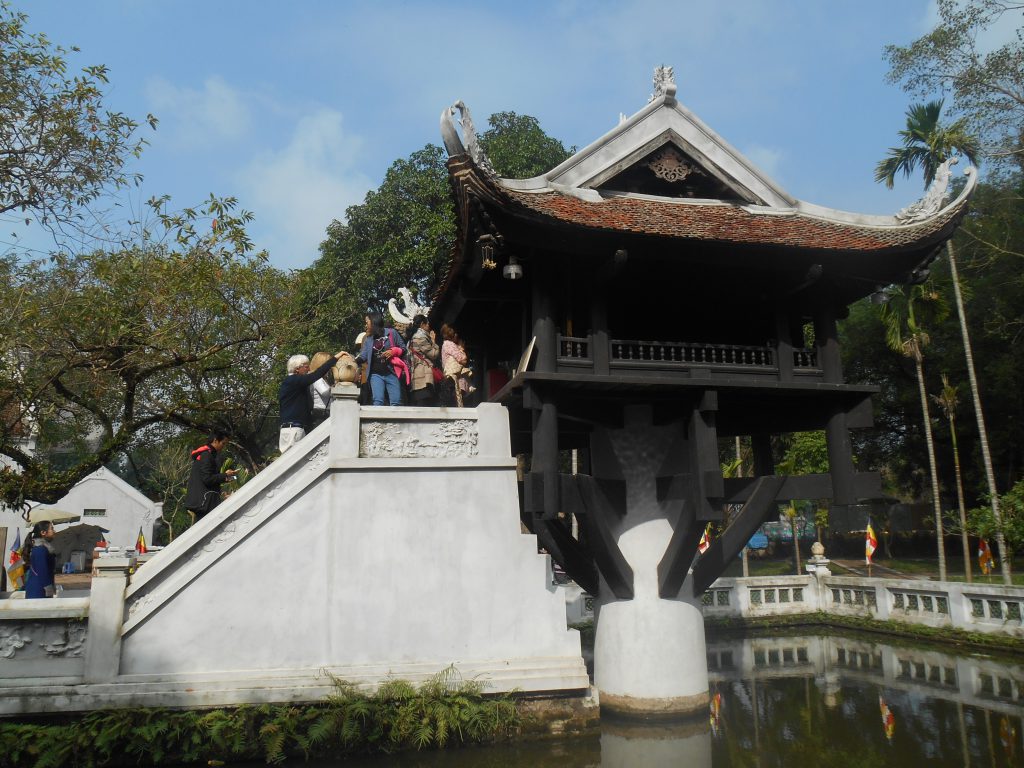 That afternoon we went to the bike shop to pick up our bikes! They were very organised and had all the bikes lined up with our names on as I'd had to give my height and leg length when I booked the trip. They're Giant so a good brand and comfier than I was expecting. We rode around the big lake in West Hanoi which was beautiful – it felt very French in places. We cycled down little alleyways, practised cycling in the traffic, and saw the B-52 bomber that had been shot down and is now sticking out a pond. I'm so pleased I decided to do this trip as it really is a great way to see the country. We had a well-deserved local beer after our ride (we did about 25km) and then had a free evening so I met Chris and we grabbed some dinner at one of the restaurants near my hotel recommended by Danh. They brought out a huge board with clams, prawns, squid, chicken, pork, loads of veg and fresh herbs-and you just throw it all in a pot of broth and cook it yourself! So tasty. I said goodbye to Chris and had an early night as we've got a huge day of cycling tomorrow!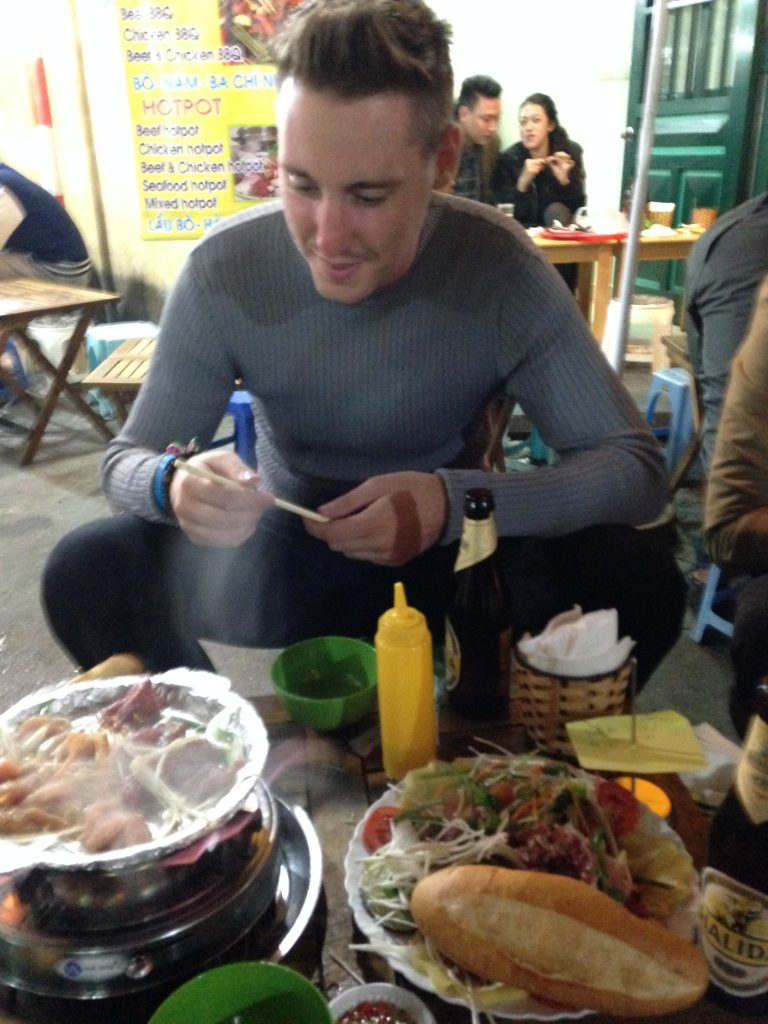 Enjoy this article? Please share 🙂