After an unceremonious new year greeting from the captain, some subdued cheers and polite hand shaking with the couple next to me, I arrived in 2018 – and Bangkok. Unsurprisingly, the city was eerily quiet. I felt strangely smug having no hangover and revelled in my usual excitement at being in a different country even more so – flying over new year is the way forward.
I struggled to find anywhere open for breakfast and ended up at a street food market with all the locals. I was looking at the menu deciding what to order when all of a sudden a bowl of pork wonton soup landed in front of me. Funnily enough, it's probably what I was going to order anyway…….I wondered if I'd gone into a state of delirium from tiredness and forgotten that I'd ordered it. Or whether 2018 brought with it mind reading abilities. It was delicious. Luckily, I could check in slightly earlier (and to my pleasant surprise found I was in a single room) so caught up on some much needed sleep to feel refreshed to meet the group that night.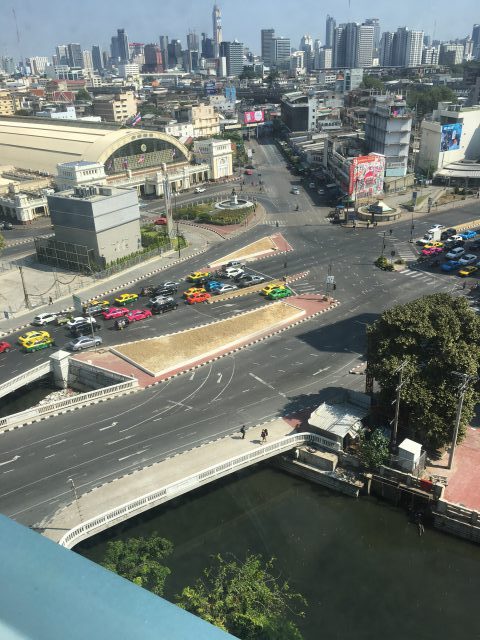 I'm very glad I chose the classic tour as you get a far more mixed group of people generally – and diverse we certainly are 🙂 The wonderful Miss Wawah introduced herself as our guide and briefly outlined what was in store for us. As did two other members of the group (the lovely Janet, a 70-something Canadian lady) who revealed her cat, vitamin E and aspirin allergies…..and Christian, who had met a lady earlier that day and announced that she was only spending the one night with him and wouldn't be joining us on the tour (Im not sure if something got lost in translation or if it was actually that blatant). I had a quiet chuckle to myself and wondered what I'd let myself in for.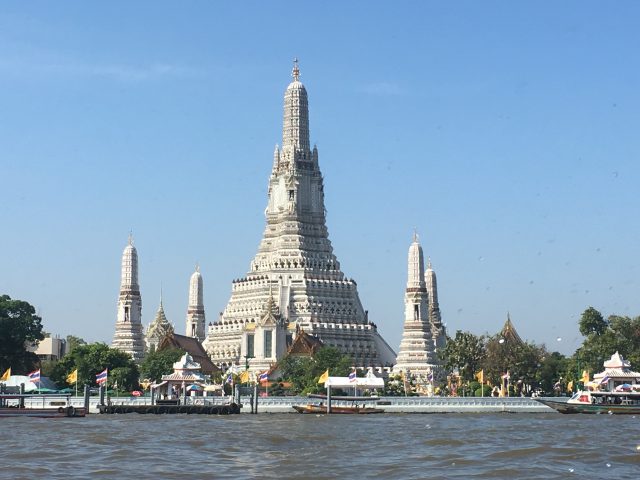 I soon found out. After a free drink at the gorgeous rooftop terrace bar, Wawah took us for dinner. The quickest way to the restaurant was through the MRT station which involved 2 escalators. All of a sudden I heard a blood curdling scream, looked behind me and just saw a pair of familiar looking white trainers rapidly disappearing down the escalator. Luckily, Janet managed to cling on to the side and escaped unharmed (so I felt perfectly justified in finding it rather amusing)!
I'm really feeling the jet lag this trip which is strange as I usually adjust quite quickly. I was wide awake at 1am and couldn't get back to sleep until 4am! I tried reading, yoga and even demolished all my snacks as I'd woken up starving (nothing new there although not usually in the middle of the night). I was pretty groggy when I went down to breakfast the next day but the coffee helped.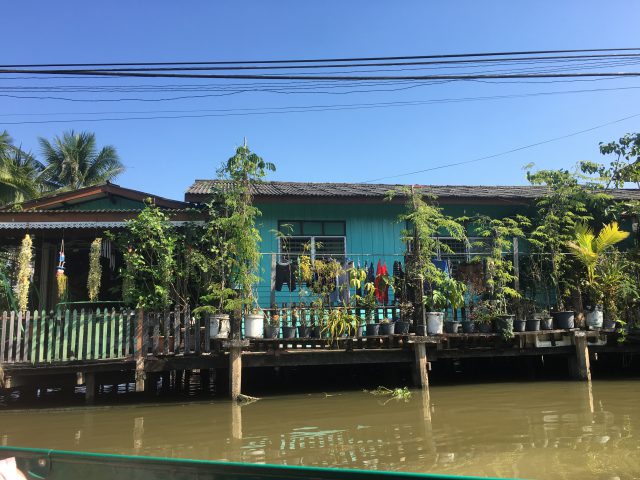 We walked down to the pier to get a long tail boat for our cruise of the Chaophraya. Funny, I'd never actually realised that the Thai restaurant in Manchester called Chaophraya was named after the river……doh. Even though I've been to Bangkok twice before, I had not yet done a river cruise – I found it a far more peaceful way to see the city and I was surprised how much life there still is on the river in terms of the houses on stilts etc.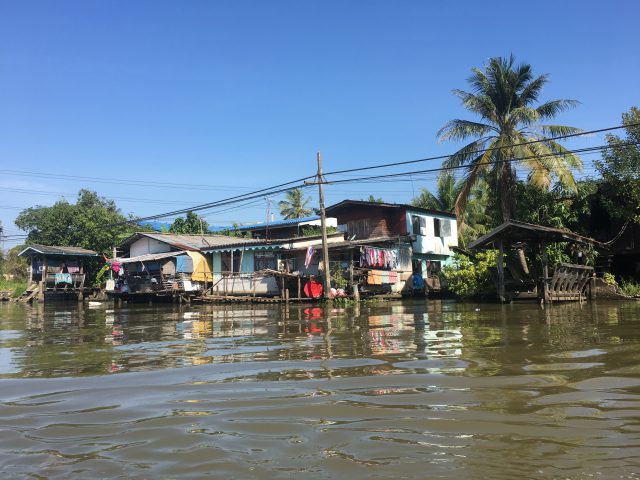 We docked at the pier nearest Wat Pho (the big reclining gold Buddha) which I ended up seeing for the third time in 10 years, haha. My attention was drawn more to a woman wearing a low cut top and hot pants trying to take photos of something she wasn't supposed to be and ignoring the shouts from the guard. Tourists eh 😉
Having a free afternoon, we were quite keen to go to the museum and Grand Palace – but being the 2nd January these were both closed for new year unfortunately. So we had a bit of a walk around, a very nice lunch and got a taxi back. Big mistake. It took about 45 minutes for a journey that should have been 20. I'd forgotten how bad the traffic can be in Bangkok – even on an equivalent bank holiday! We should have just walked it. My lack of sleep the night before finally caught up with me and I kept dozing off to the sounds of mopeds and horns.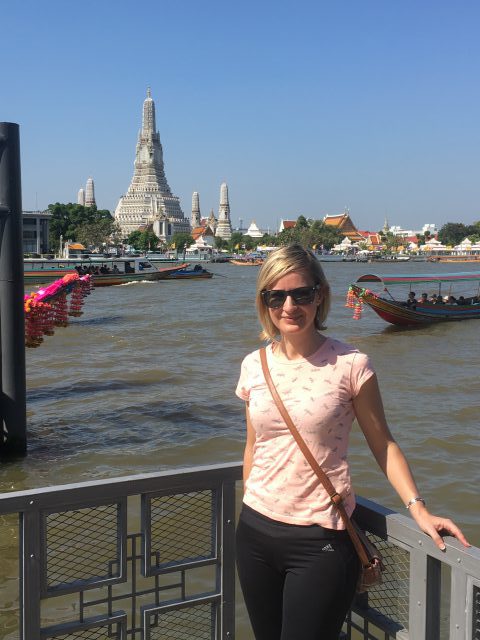 After having reconvened at the hotel, it was time to head to the station to get the night train to Chiang Mai. I was a little apprehensive after my night train experience in Vietnam (read about that here) but to my pleasant surprise, the train was very smooth and there were no strange Stephen Hawkins style announcements. However, there was a woman selling drinks and snacks who walked past every hour or so doing her best baby bird impression – "cheep cheep cheep". She was selling chips (crisps). Even though we each had our own little curtained off compartment and it was actually very cosy, I still struggled to sleep!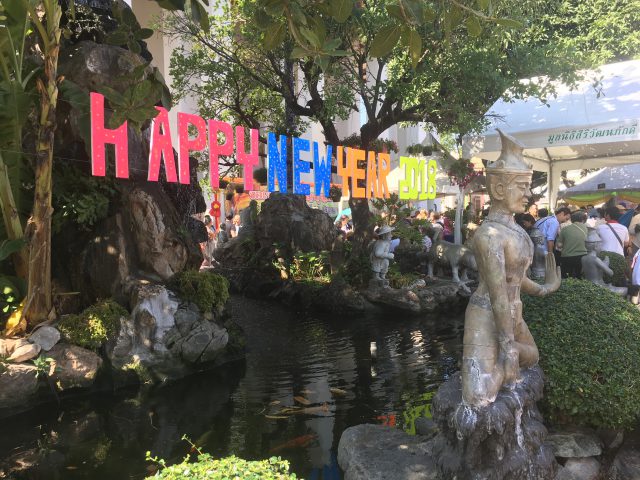 We were woken up an hour before arriving in Chiang Mai and to my surprise there were 2 new faces in the beds diagonally opposite me. I guess they must have swapped during the night! I peeled off my layers (the air con was freezing) and prepared for the heat of Chiang Mai…..
If you are interested in my trip, I travelled with G Adventures for 2 weeks on their Thailand and Laos Adventure Tour which you can read more about here.
Did you enjoy this post? Pin It 🙂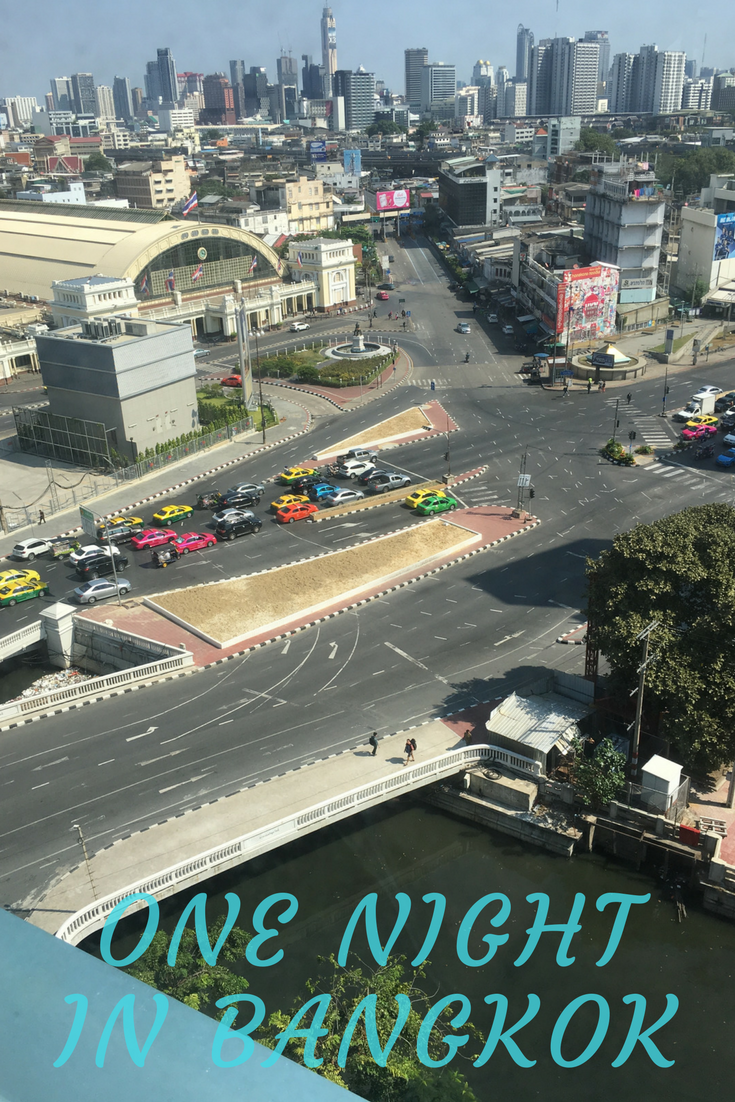 Enjoy this article? Please share 🙂