So my Vietnam bicycle tour has begun! Cycling 75km the first full day was a pretty intense start to the trip but a great sense of achievement. I won't lie, it was tough and my knees weren't happy with the last 10km but already I could tell I was going to love this trip. Cycling along undulating roads, small alleyways in villages and between rice fields gave you views and insights you wouldn't get any other way. All the shouts of 'hello' or 'Sin chow' and high-fives from children as you ride along were so encouraging and getting that peaceful feeling of exhaustion after riding was very rewarding.
I fell off on this first ride (the only time luckily) – onto a mountain pass road – but luckily it was when we were coming to a stop so escaped with a bruised knee and grazed hands. Had to bite my lip from crying as didn't want to cry in front of everyone on the trip (it really hurt!). I also managed to graze the fabric on my brand new cycling leggings but it didn't quite tear luckily.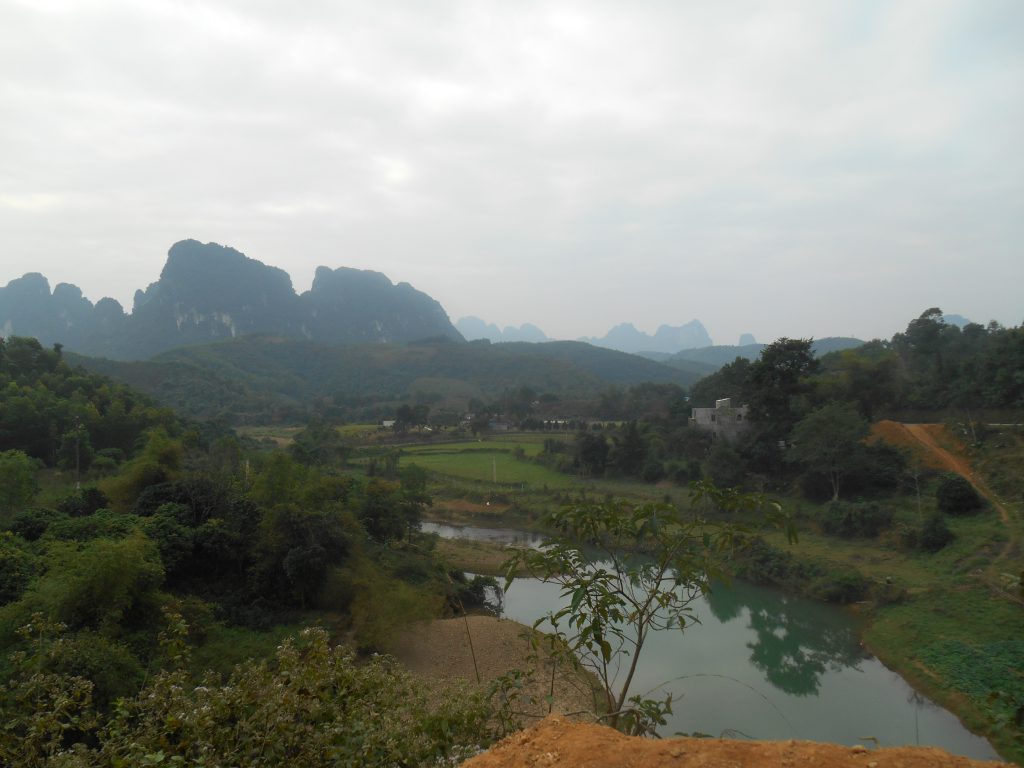 The first night we stayed in a stilted homestay in a village – we all stayed in one room upstairs with mattresses on the floor. They were rock hard and the cockerels started crowing at about 3am so it was a fitful nights sleep but cosy enough. The villagers put on a traditional show of singing and dancing for us (which we joined in with) and then we all had rice wine from a bamboo basket through bamboo straws – it actually tastes closer to vodka than wine and was very potent!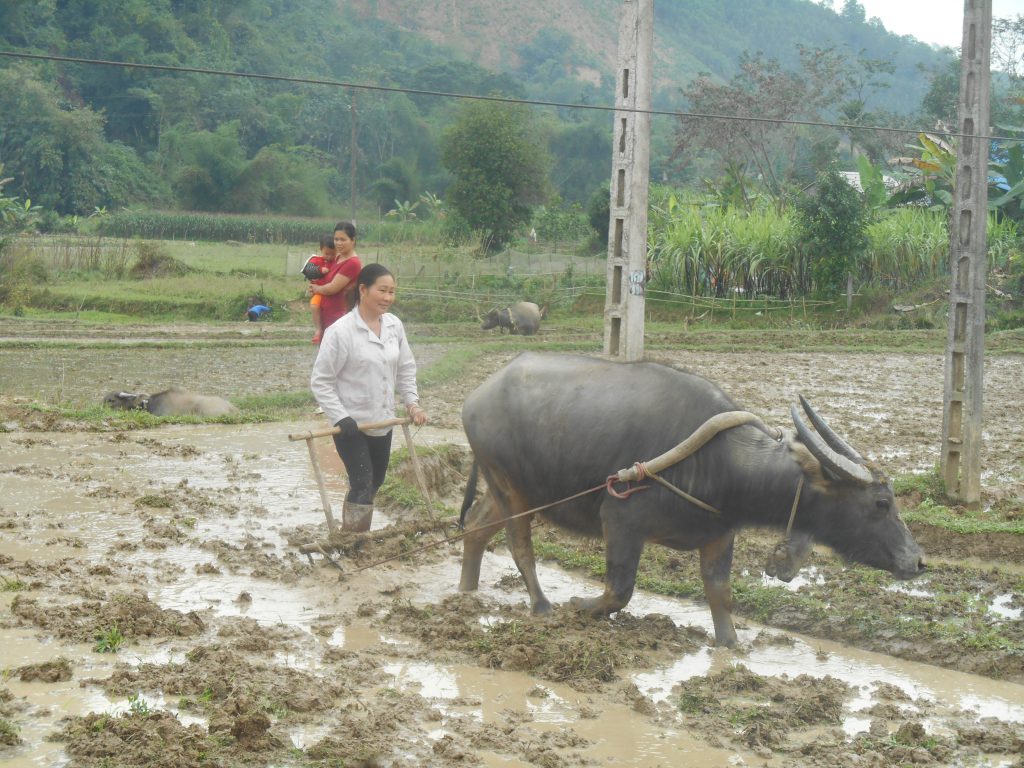 The next day we had another early start and made sure we had a huge breakfast. We got the bus up the Thung Khe Pass and we're going to cycle down it but Danh decided it was too misty and they were doing lots of roadworks so not ideal. We cycled down the Ho Chi Minh trail instead which was beautiful – fun bumpy tracks through villages opening out into the rice fields and the most beautiful countryside. Perfectly green fields surrounded by stunning limestone formations, exactly how you picture Vietnam. It's a bit of a shame it's cloudy but it's the perfect temperature for cycling (around 20-22 degrees).
We arrived in Ninh Binh city around 4.30, checked into our hotel and then went down a dark little alleyway for dinner in someone's kitchen. Danh seems to know half the population! We were served snails – which I've had in France and am ok with – but these snails were about 3 times the size, not smothered in garlic and extremely chewy so I only managed one. Next up was duck – chopped up but complete with the heads on the plates. Jess unwittingly picked up a duck head thinking it was a wing and threw it down pretty quickly when she saw the beak. Yuck. Danh ate the head and seemed to enjoy it – needless to say the rest of us left them!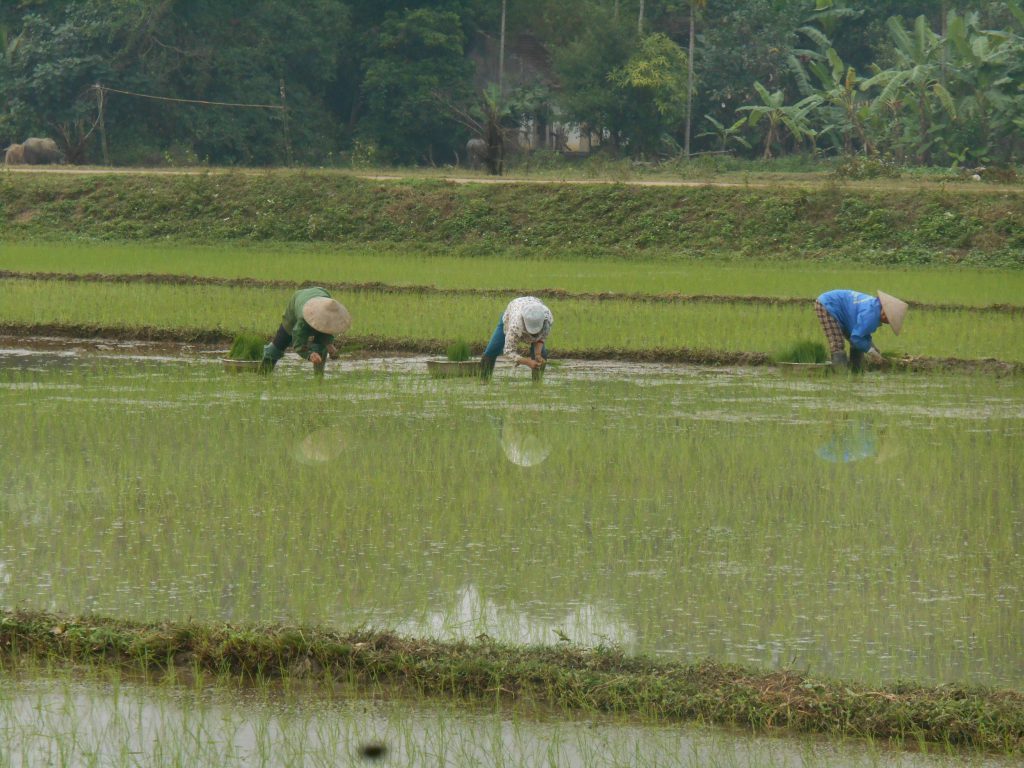 We cycled from Ninh Binh this morning and I realised the solution to my painful knees was raising my seat – I'm so much more comfortable! We stopped at a pineapple farm – I think I always thought pineapples grew on trees when in fact they grow on bushes. Our first snack stop was outside a clinic and there was a really scary woman shouting at us for daring to put our cup down on the ground or sitting down – as apparently it was far too dirty for western bottoms. The snack stops are brilliant – jungle juice (lemon, water, salt and sugar), peanut brittle, bananas, ginger and happy trees (to go to the loo behind) are exactly what we need. There was more beautiful scenery today – and lots of weddings! Apparently it's the wedding season and we saw many marquees and celebrations as we rode along.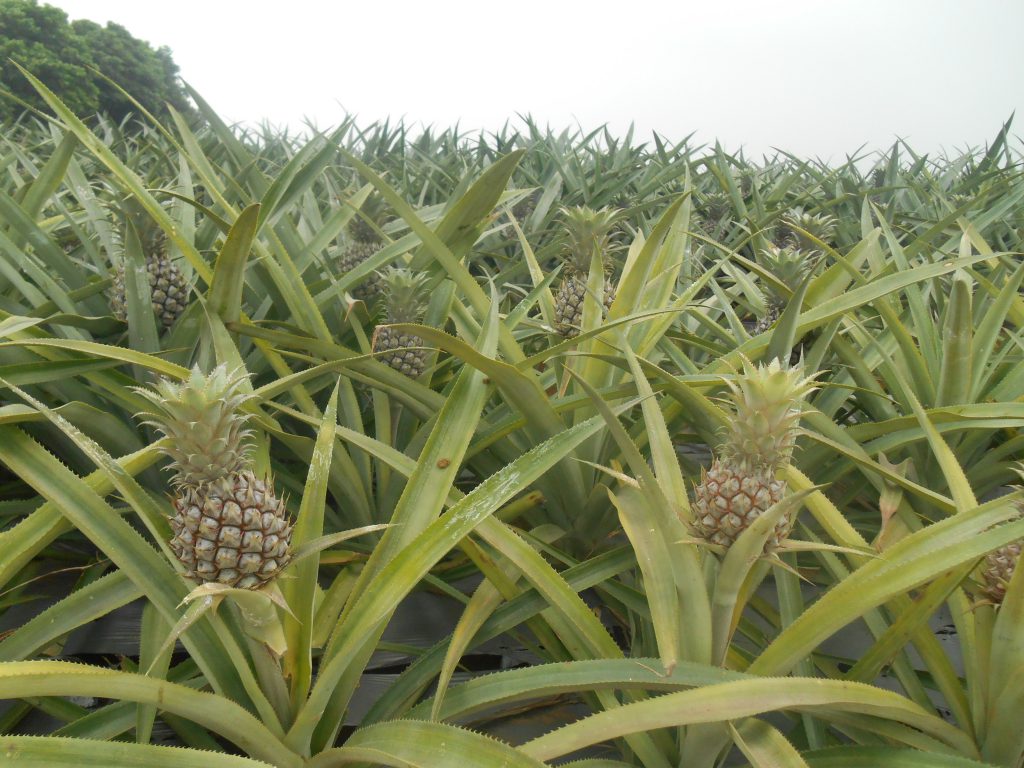 One marquee was almost blocking the road and the guests were already very drunk at 10am – they handed us each a shot of rice wine as we rode past! After narrowly missing a few chickens (they are such stupid birds) we stopped and visited some caves which were pretty amazing – full of stalactites and mites. We only rode 40km today which was needed I think. We had lunch and said goodbye to the northern bike team before having dinner at the hotel and then getting the overnight train to Hue….
….and what an experience that was. It felt like lying on a bouncy castle whilst someone was jumping on it right next to you. There were 4 of us in a cabin which was about the size of a toilet and the beds were about 10cm thick and only just wider than my shoulders. After realising it was far too rocky and rolly to read I put my headphones on and drifted in and out of sleep to the soothing lispy voice of O.V. Wright (one of my all-time favourite soul singers). He helped me drift off but then I'd be rudely awakened by the screeching, lurching, abrupt stopping of the train at some random destination. And then just as I'd be drifting off again there would be a random tannoy announcement in a Stephen Hawking style voice (you seem to hear this style voice a lot on Vietnam) or the slamming of a door. We arrived in Hue at 8.45am after having extremely sweet coffee to wake us up.
We went to the hotel to freshen up then spent the day in Hue (a day off from cycling today). The grand, crumbling citadel has recently been made a world heritage site as it was once the capital of the Nguyen emperors. A lot of work is still being done to restore all these once opulent buildings so it's a real mix of meticulously restored palaces and pagodas, ruins with faded paintwork and rubble. Danh is so knowledgable and had an awful lot to tell us about the history. He was also telling us a bit more about recent events-specifically the Chinese claiming an island off Vietnam and building an airport. I think (as with a lot of things in the world) it's to do with oil. Apparently Vietnam's biggest export throughout the 1970s and 1980s was oil but few people know this as the government had an agreement to sell it directly to (and only to) the Soviet Union. Interesting.
The next day we cycled 20km to a local market (which literally sold everything) and then another 15km before stopping at the 'ghost town'. There were literally hundreds of huge, ornate tombs stretching as far as the eye could see. In Vietnam it's very important to spend as much money as you can (and more) on honouring your ancestors. Apparently families will spend £50k-£70k on these tombs as well as having huge wakes where the whole village is invited and enjoy unlimited food and drinks all day and night. Nobody can really afford this (they all take bank loans) but it's important to be seen to be putting on the show. Yet they are quite happy to live without a proper toilet or plumbing system. Crazy spending priorities.
This afternoon we tackled the Hai Van Pass (the one they did on Top Gear). It was a 10km more or less constant climb and was so tough! What made it tougher was that it was so misty going up you could only see a few metres in front of you. However with the encouragement of people on scooters cheering you on (both locals and tourists) we all made it to the top one by one. My legs felt like jelly and my bum had gone numb when I got to the top but what an achievement. I honestly didn't think I'd manage it. We had a rest at the top and then had the pleasure of free wheeling downhill the other side! And miraculously the other side of the pass the was perfect sunshine revealing incredible views of deserted beaches, green islands and a stunning view of the city of Da Nang. It actually took my breath away.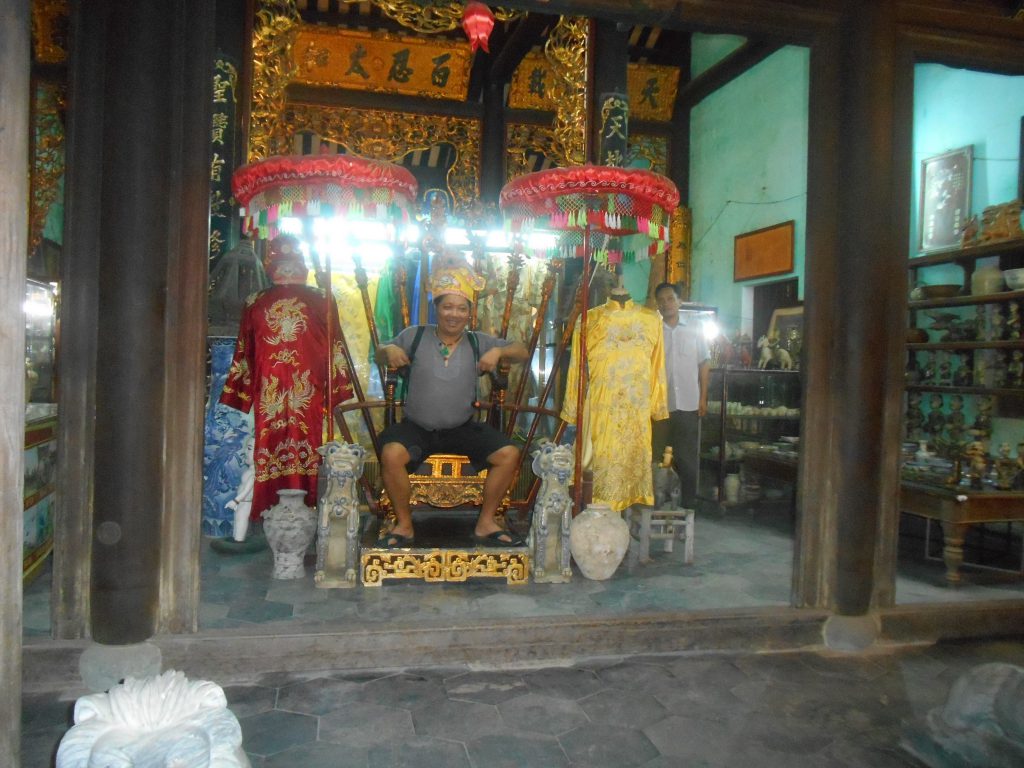 When we got to the bottom our bus drove us to Hoi An – such a graceful, atmospheric town with beautiful architecture and lanterns everywhere. We went out to an 'eat till you feel sick' restaurant where they literally keep on putting plates of food down until you tell them to stop. Not to mention the accompanying fluorescent green rice wine which was vile. All this cycling has increased my appetite quite considerably – even I'm surprised at what I'm managing to put away, haha.

We went to one of the hundreds of tailors – Hoi An is very famous for this – and I ordered a winter coat. I picked it out a catalogue, picked my material, got measured up (they do every measurement imaginable!) and they told me it would be ready the next day. How exciting!
Read about the second part of my Vietnam Bicycle Tour here – Cycling Vietnam Part 2: Russian Weasels 
If you'd like to do the trip I did, I travelled with Intrepid for 2 weeks on their Vietnam Bicycle Tour trip which you can read more about here.
Did you enjoy this post? Pin It 🙂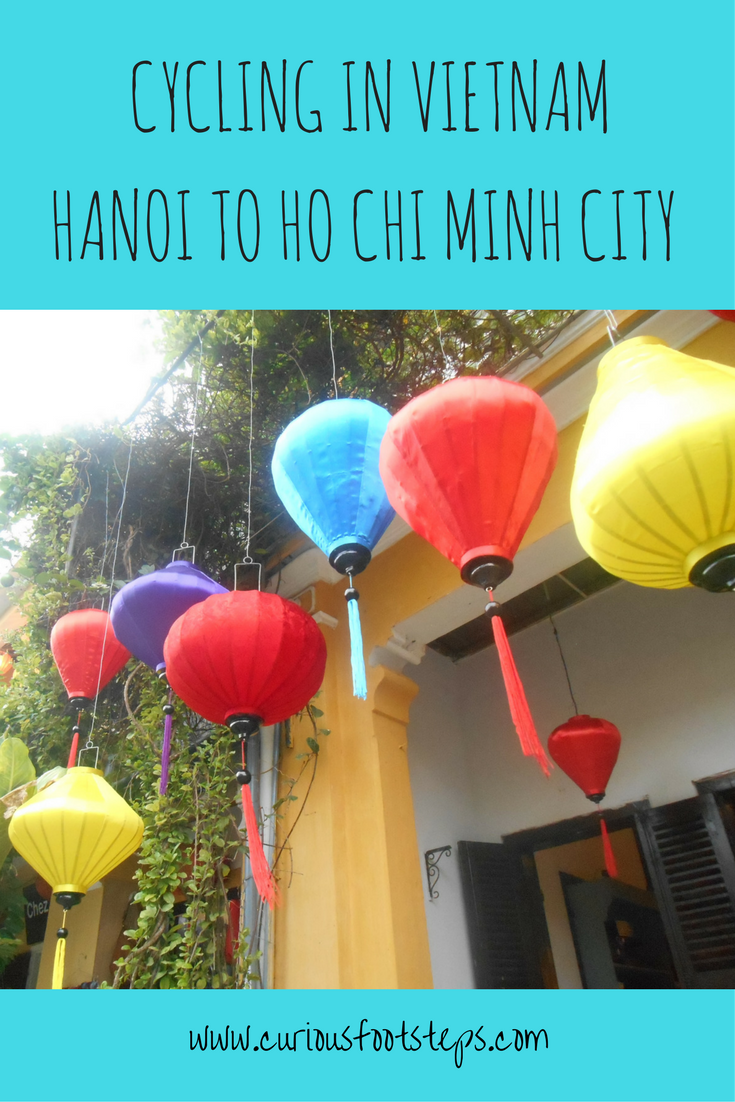 SaveSave
SaveSave
SaveSave
SaveSave
SaveSave
SaveSave
SaveSaveSaveSaveSaveSave
SaveSave
Enjoy this article? Please share 🙂