So the weasels weren't actually Russian. But some of the Russians were definitely a bit weasely.
We went for an easy cycle from Hoi An through the countryside surrounding the town and down to the river. We learnt about a few different ways of fishing and Danh pointed out a variety of herbs being cultivated in a few gardens along the way. We got to a very busy market and had fried banana cake before stopping at a cafe by the river. The architecture along the river is so beautiful and feels very French in places. We went to the Japanese bridge which was first constructed in the 1590s by the Japanese community to link them with the Chinese quarters. Even though centuries have passed and the French flattened the bridge to allow cars to pass through, the design has remained relatively faithful to the original Japanese design and is beautifully ornamental. There are a lot more tourists in Hoi An, it's marketed as the most atmospheric town in Vietnam and I think that is largely true.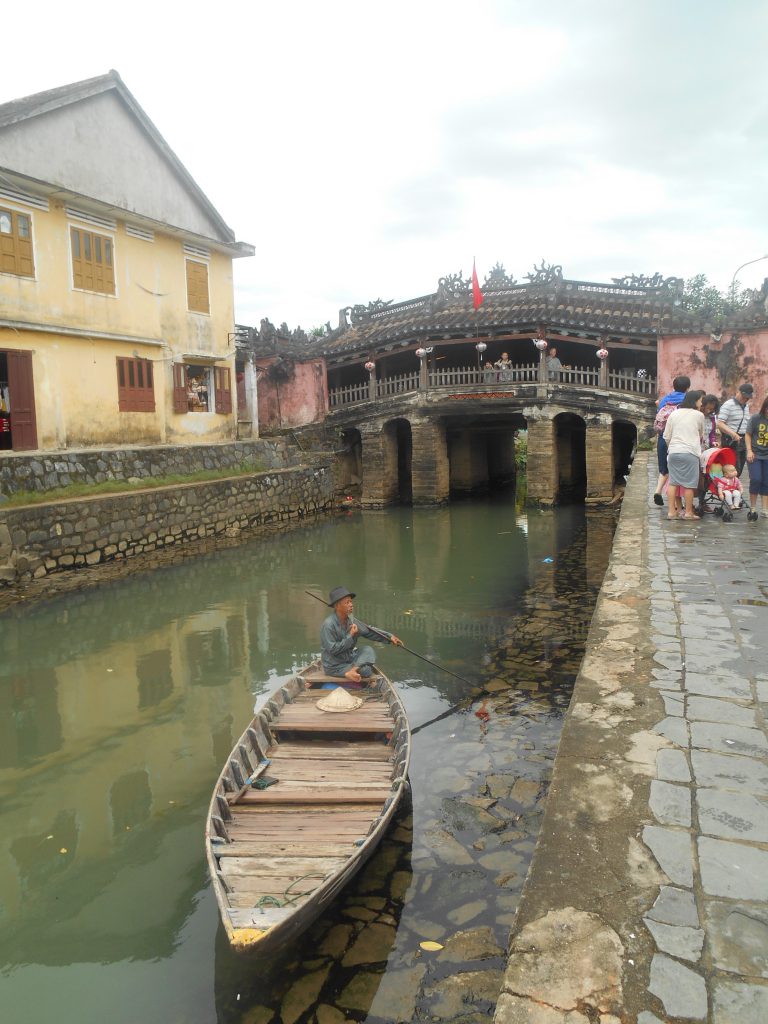 We had a free afternoon so Hayley and I got massages and pedicures (for about £15 in total) and then I then went to the tailors for my first fitting – it's amazing to think they can make a tailor-made coat in one morning – and I absolutely loved it! It was slightly tight across the shoulders (even without a jumper on) so I asked them to alter it and chose my buttons and length. That evening we went for dinner at the lantern restaurant – Hoi An looks so beautiful at night lit up with hundreds of lanterns. I went for my final fitting of my coat and it was perfect, I just hope it arrives back home before it's too warm to wear it….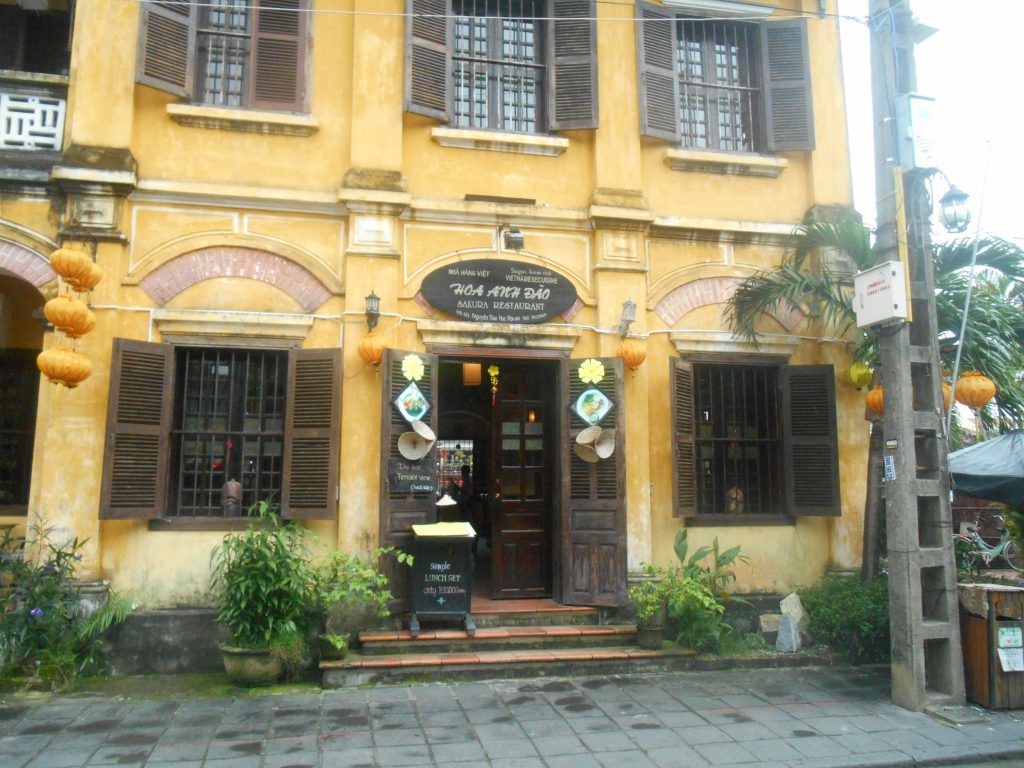 The next day we had a 4-hour bus journey before stopping for lunch then picked up the bikes in Cho Gom and rode along the coast. There were really beautiful views but it was incredibly windy! In fact, so windy that it almost brought me to a stop going downhill it was so strong. It was a bit unnerving, I was worried I was going to be blown off. At least the wind helped us up the hills though. The last part of today's ride was over a 3km-long bridge and then through the (very scary) roads of the city of Qui Nhon. Danh would work his magic to somehow bring the scooter-heavy traffic to a stop at the junctions enabling our train of bikes to effortlessly cycle through. Qui Nhon has had a lot of investment into education and is known for its universities. We were staying in a hotel with a sea view but unfortunately there was a huge storm that night so the sea (and temperature) was more reminiscent of the coast at home. We went to the bar and I taught the group the game of mafia.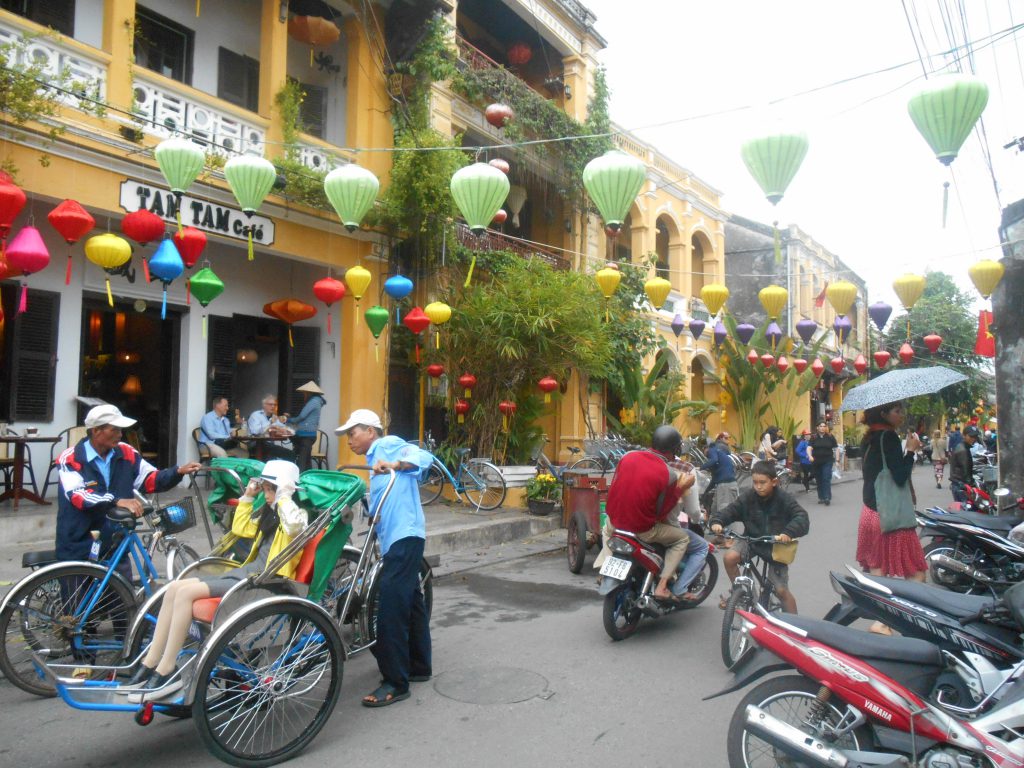 We had a big morning of cycling the next day through the valley following a railway line and then through a number of villages. We stopped for a delicious lunch of beef broth and mango sticky rice before cycling a final 20km along the coast into the city of Nha Trang. Which is Russian central! Every other shop or cafe was named in Russian and a lot of the prices were in Russian currency. The beach was long and sandy and it's obviously been marketed as a cheap, picturesque coastal resort. There are a lot of Russian tourists in Vietnam generally which makes sense with their shared history. We went for dinner where the locals go and had a delicious BBQ. And when we tried to order a vodka and tonic it turns out you can't buy vodka by the glass, only the bottle?! That's the Russian influence. But because we felt we had to drink the whole bottle Danh kept topping up our glasses when we weren't looking and by the time we came out the restaurant we were pretty drunk!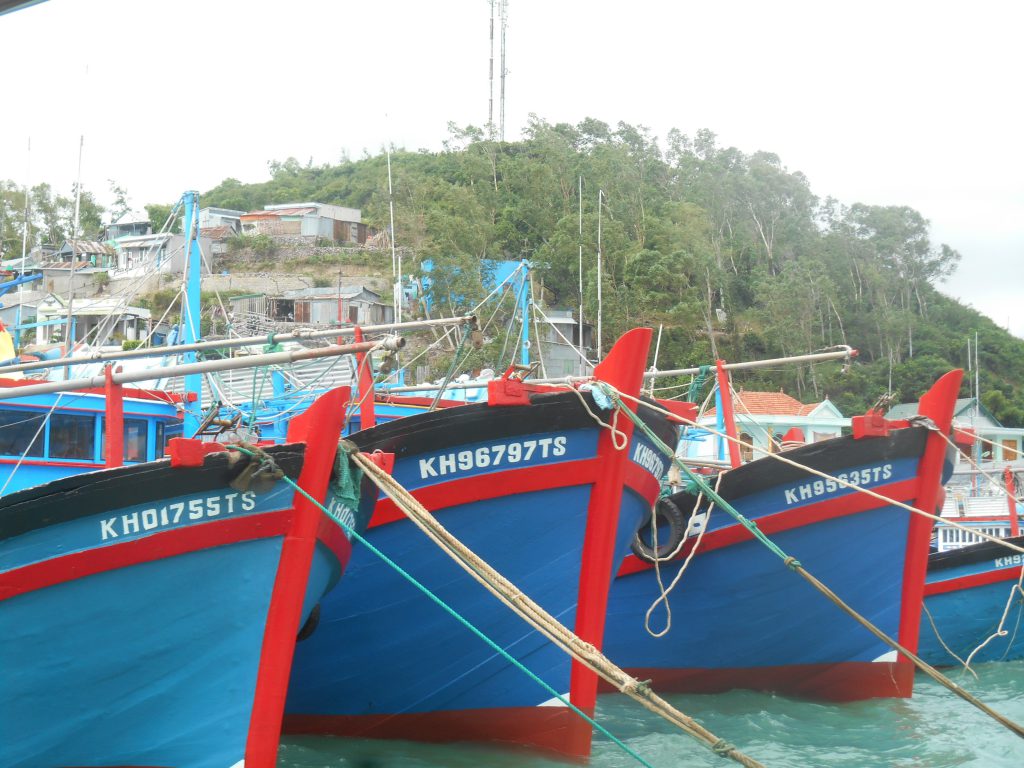 We went to the Sailing Club for cocktails and it turned into a really funny night of dancing with some random locals, telling the waiter he had a nice chin (??!), running into the sea, doing yoga on upside-down buckets and having races along the beach.
We all went back to the hotel but I was in 'all' mode and there was no way I was ready for bed so me and 3 of the girls went back out. The receptionist had kindly recommended a club to us that he said was brilliant – after being escorted up and down a few staircases and through a few basements we walked into an underground room with a dodgy DJ playing the worst Vietnamese techno and numerous girls gyrating around poles. We left pretty sharpish and ended up back at the Sailing Club before heading to bed (after giving Jess life advice in the lift for so long that the doors must have closed on me about 15 times). I don't have a clue what I said but I'm sure it made sense at the time.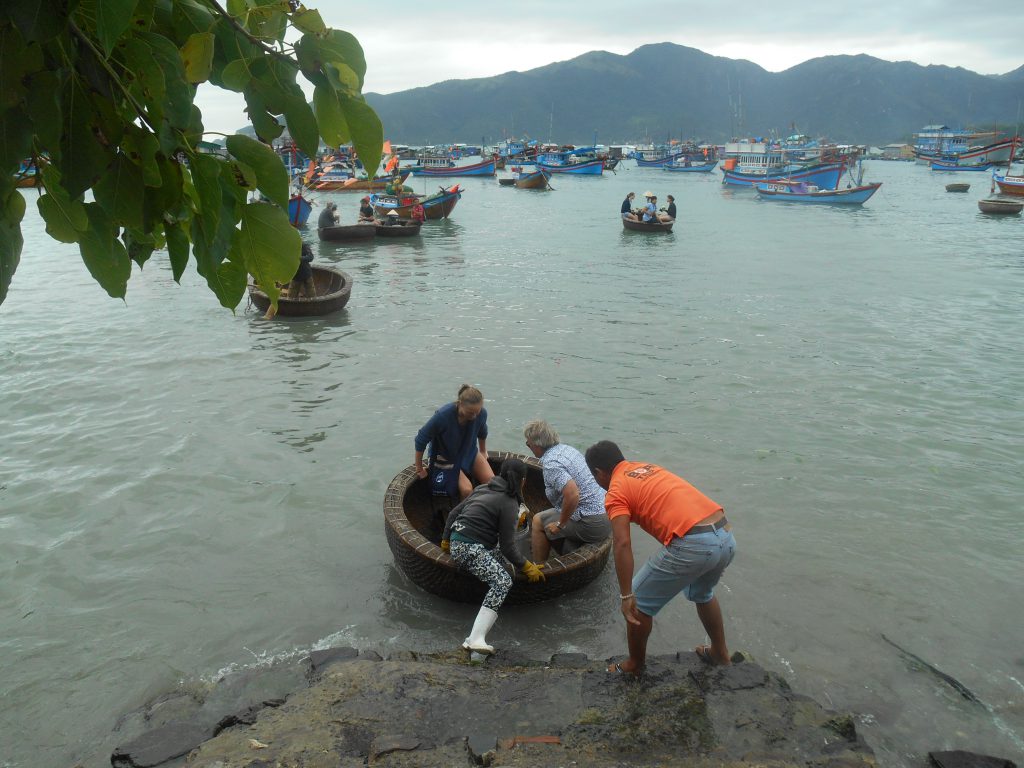 I started Australia Day quite hungover. Luckily it was another day off from the bikes. We got a boat to a fishing village on an island off the coast of Nha Trang and we learnt a bit about the traditional way of life there. We then got into coracles (the round woven basket-like fishing boats) which are apparently virtually unsinkable and capable of carrying heavy loads. It was difficult getting in and out as you and to time it right but fun and very relaxing once you were in. We had a swim in the sea and then a huge lunch on the boat before returning to Nha Trang. We were told to put our life jackets on about 10 minutes before docking so the police would see we had them on, haha. I had pizza for dinner which I was totally in the mood for being a) hungover and b) noodled and riced out.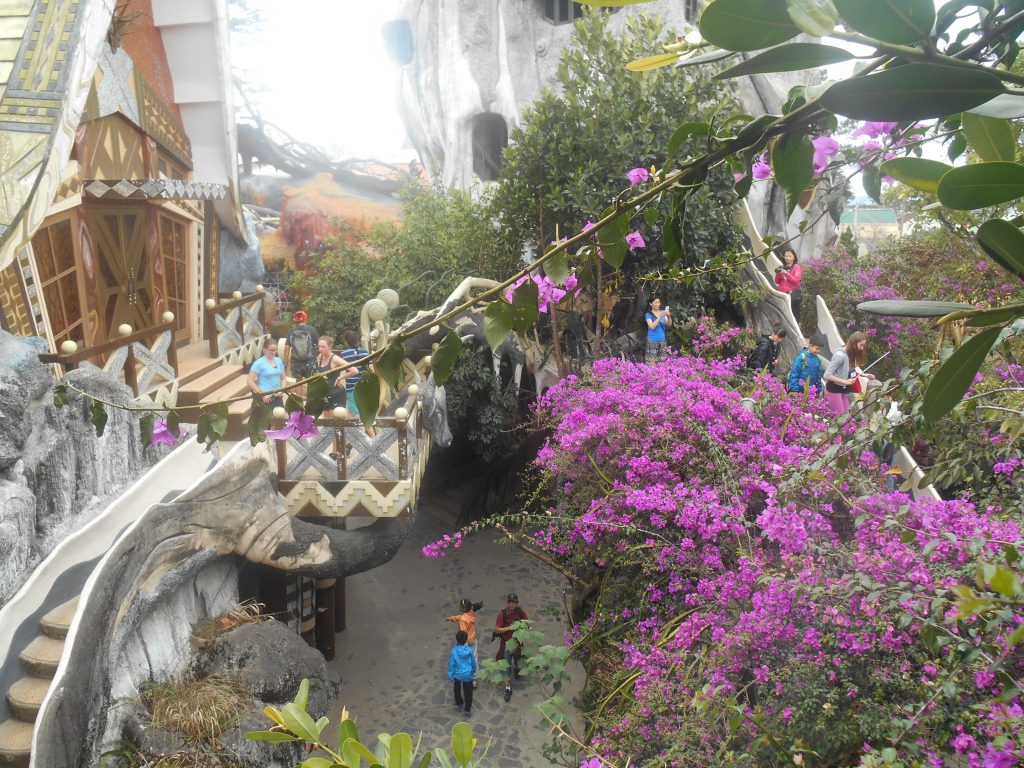 It's getting warmer and warmer as we go south. We did around 80km again today and even though it's noticeably warmer, it's still very agreeable weather for cycling. It's funny, even though there are far less rules of the road, cycling in the cities and towns in Vietnam is still far less scary than cycling at home as everyone expects craziness and can anticipate it. We got the bus through Bidoup national park and arrived into Dalat. Dalat feels quite different to a lot of Vietnam. It's where the Vietnamese come on holiday and is famed for its coffee, flowers and vegetables due to its location up in the mountains and cooler climate. We cycled around the lake and then stopped at the 'Crazy House' which is a fun house/very quirky hotel with all different novelty rooms linked by narrow staircases, hidden passages and bridges and is very easy to get stuck and not find your way out. It was designed by the president's architect daughter which could some way to explaining why it's in all the guide books…..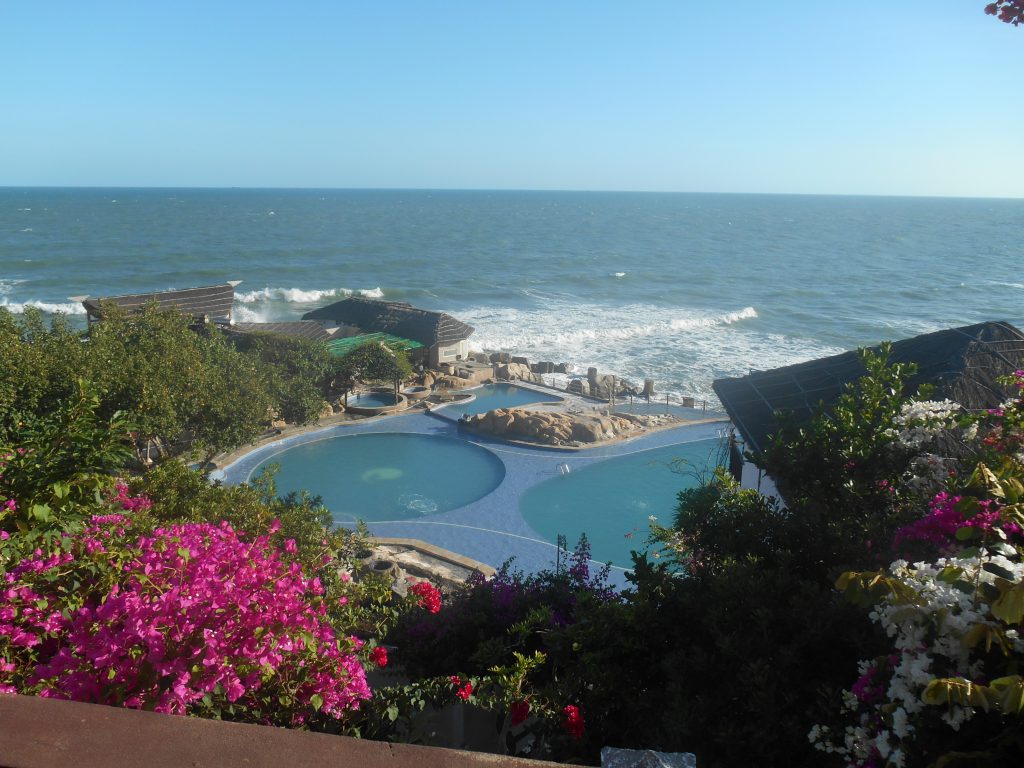 We had 4 hills to contend with to start our day today! We stopped to look at some of the greenhouses which are full of plants. The gardeners are desperately trying to keep them from flowering as apparently the season is 2 weeks early and they want them to coincide with the new year celebrations. Later on we stopped for weasel coffee which was surprisingly delicious and had a very earthy taste. Basically the weasels eat the best coffee flowers and then poo the beans out and that's what the coffee is made from! It's quite pricey too. We did another 20km then stopped at a hillside cafe with more stunning views and hammocks-and the sun is finally properly out! Our hotel tonight was Rock Water Bay which had a lovely saltwater pool so we all had a well-deserved swim and sunbathe. Danh had put together a video of our trip which he played us in the bar-it was great to see everywhere that we'd cycled and we'd done 691km in total! I feel quite proud of that.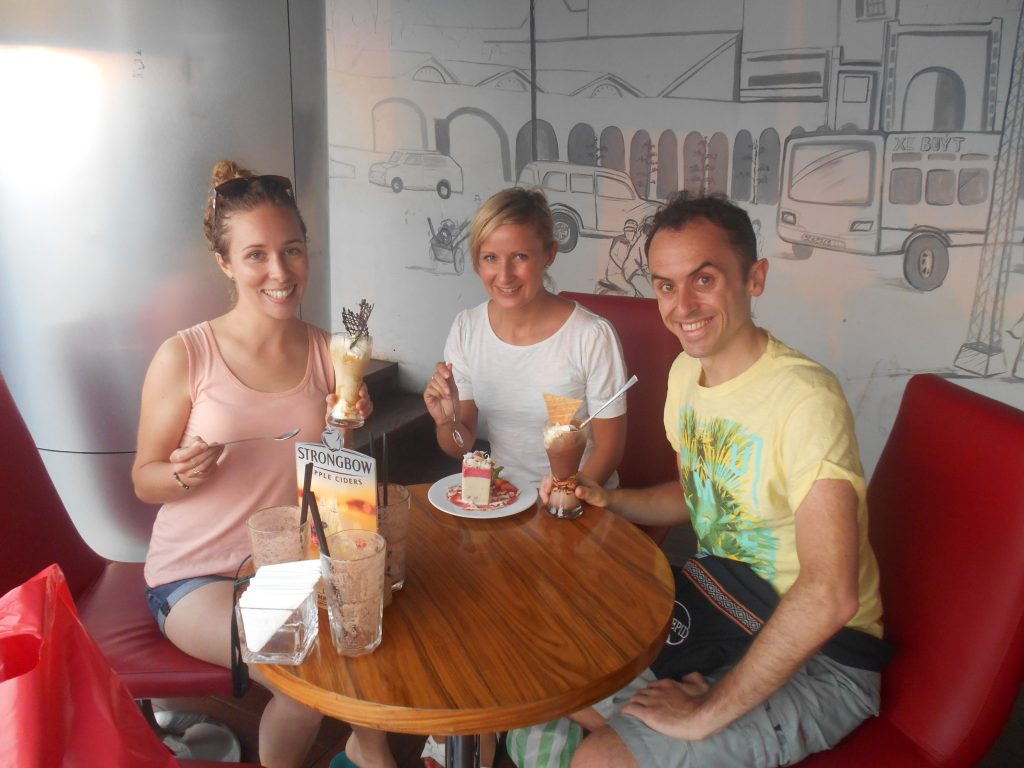 Friday was our last day of cycling which was really sad! I'm really going to miss doing so much exercise each day – my legs are so toned and I feel so fit 🙂 we had a nice easy 50km along the flat for our last day and a good thing it was no more as it was about 28 degrees and we were all sweating profusely! We said goodbye to the bike team then had our final bus trip to Ho Chi Minh City (Saigon). It seems that most Vietnamese still call it Saigon, at least the ones my age and older. We had a wander round the markets, I bought a few presents for people and some funky Nikes (so cheap as they're manufactured here) and then we went up the tallest building to the Heli-bar and had ice cream watching the sun set. We went for our final farewell dinner which was at a restaurant called KOTO which stands for 'know one, teach one'.  A Vietnamese-Australian set it up around 10 years ago as a way of training disadvantaged kids in the hospitality industry. A great and noble idea and the food was fantastic.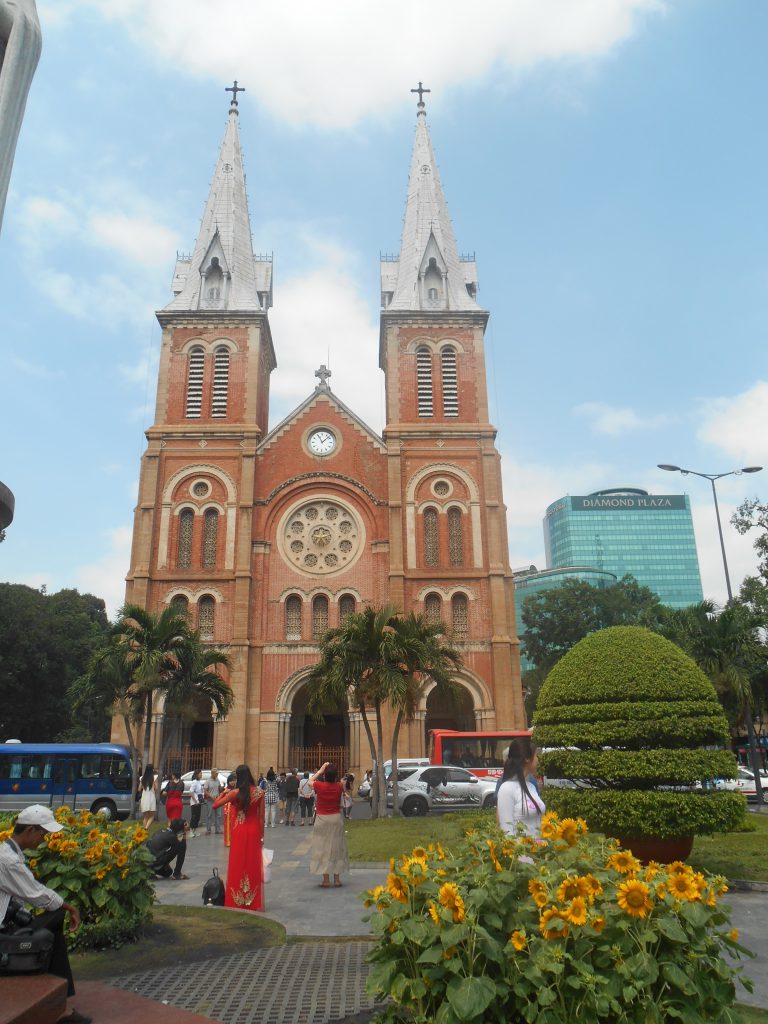 We all agreed what a fantastic trip it had been, how brilliant Danh was and how we're all going to recommend this trip to our friends! I can't say enough how brilliant it was seeing such a beautiful country from the saddle of a bike 🙂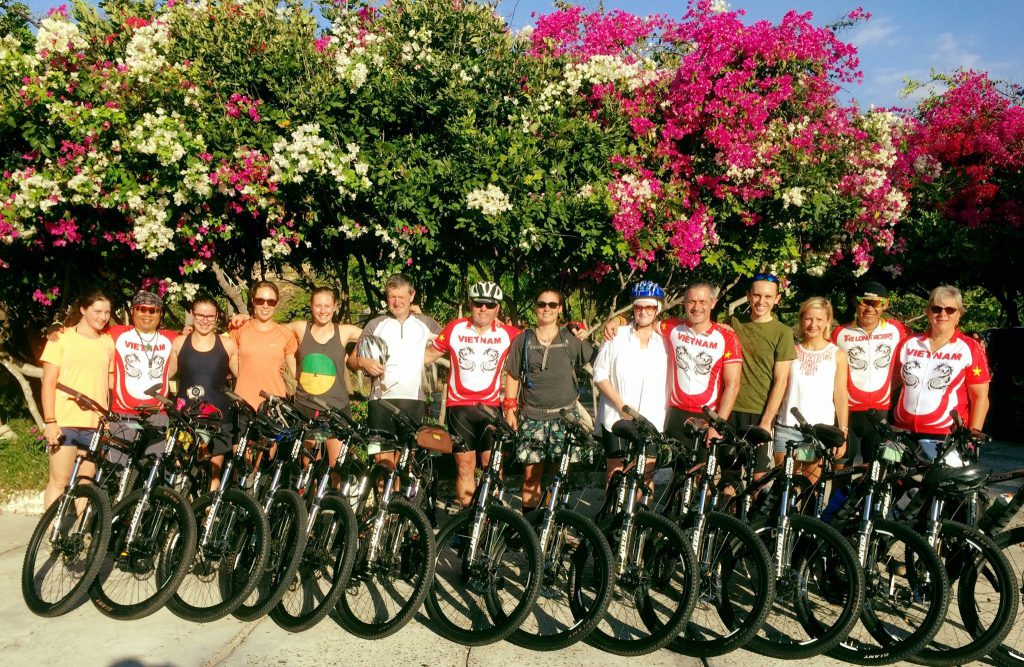 Read about the first part of my Vietnam Bicycle Tour here – Cycling Vietnam Part 1: Jungle Juice and Happy Trees
If you'd like to do the trip I did, I travelled with Intrepid for 2 weeks on their Vietnam Bicycle Tour which you can read more about here.
Did you enjoy this post? Pin It 🙂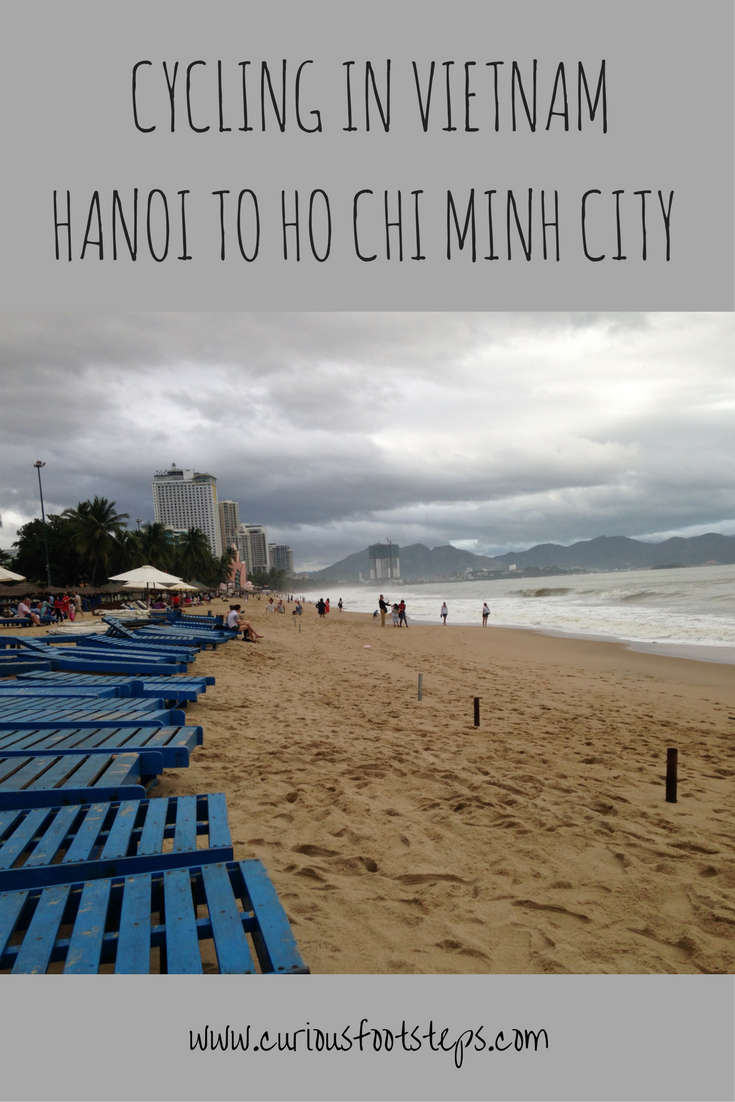 SaveSave
SaveSave
SaveSave
SaveSave
Enjoy this article? Please share 🙂