There is a huge choice of Bolivian Salt Flats Tours – I researched a lot before doing my trip. I decided to go for one that was included as part of a longer trip and it was absolutely brilliant! If you are interested in my trip, I travelled with G Adventures for 2 weeks on their Buenos Aires to La Paz Adventure which you can read more about here. Keep reading for the story of my adventure…..
NB. This page has affiliate links. If you choose to purchase any of the products I have recommended or make a booking through my website, I may receive a small commission. This doesn't affect the price you pay and helps keep my site running. For more information please see my affiliate disclosure 🙂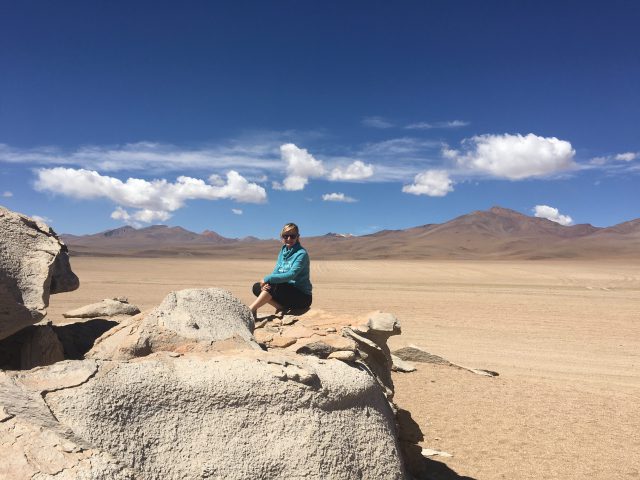 Today we set off in our 4×4's across the desert, heading for Salar de Uyuni, the world's largest salt flat at 4,086 sq miles (10,582 sq km). Our first stop was the red lagoon which was absolutely stunning and full of flamingos – they were beautiful and I'd never seen so many in the wild before. It was 5200m above sea level so we really felt it in our lungs. It's such beautiful landscape and so unspoilt. Just miles of desert vastness – beautiful lagoons, unusual rock formations and surprisingly lots of wildlife.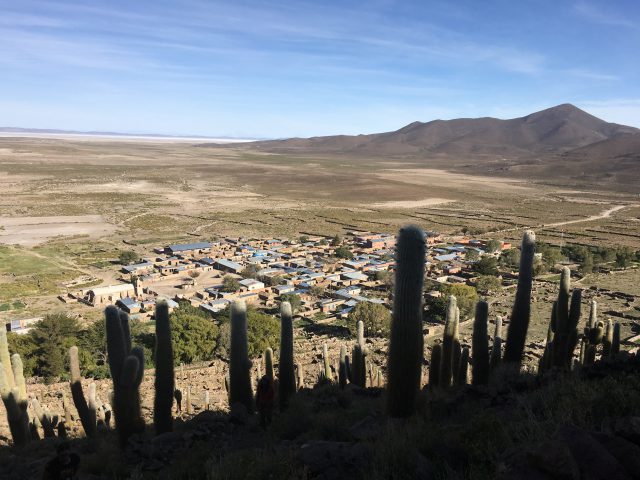 Our first night's accommodation was fabulous – it was only built last year and they're still working on it, they want to expand the kitchen and build more rooms. It was built through the Planeterra foundation, a non-profit organisation that helps ensure that the communities touched by tourism benefit from the opportunities it provides. Our rooms were in little huts with thatched roofs and a floor (and beds) made of salt. Great exfoliation for the feet! There are a lot of buildings in the area made from salt due to a lack of conventional construction materials and a plethora of salt! We got to taste llama (it was actually pretty nice) and drink quinoa juice (slightly odd but tasted a bit like rice milk).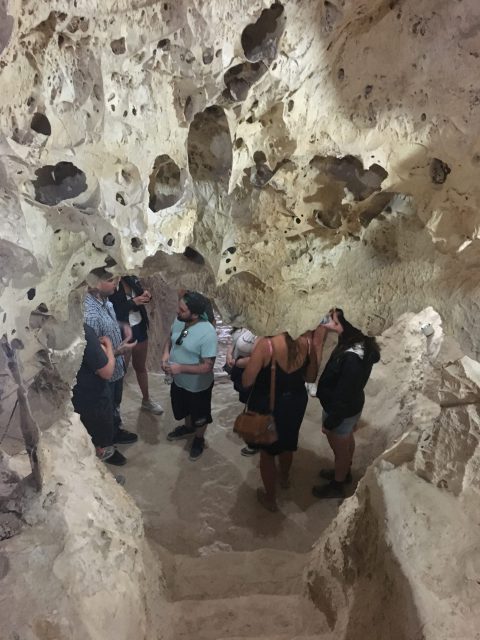 The next morning a local guide took us on a walk up to a viewpoint with his dog called Bobby (not sure why he didn't a Spanish name haha). He showed us where they grow the quinoa and explained that this year hadn't been a good season – usually you can see the plants from the top. We walked past some huge cacti, apparently they are around 100 years old. I'm finding the Bolivian Spanish a lot easier to understand than the Argentinian or Chilean Spanish, they seem to speak a little slower and less 'sing-song'.

On our way to the salt flats we visited Galaxy of the Two Stars which was a subterranean network of caves discovered in 2003. The formations are thought to be 115 million years old! There were a lot of mummies buried there but sadly most have been stolen for their jewellery etc.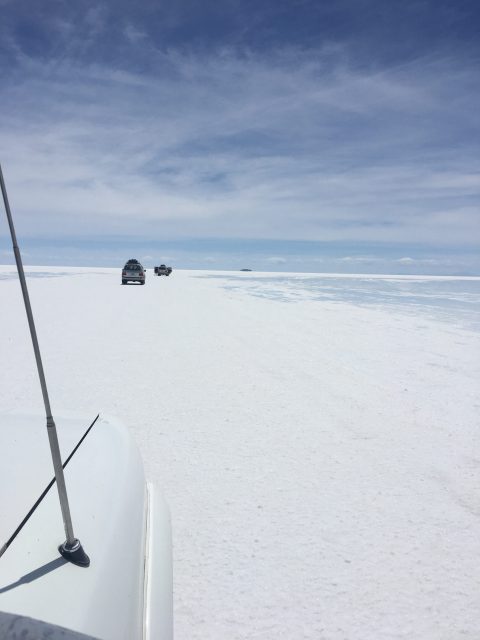 The salt flats are so impressive! Just miles of bright white, I couldn't quite believe what I was looking at. We spent a fair few hours taking 'creative' (that thousands of others have done before) photos and videos. It was good fun and provided some amusement. It was so hot, especially with the reflection of the sun off the salt so there was only so long we could stay out there. I don't have a clue how the drivers know where they're going when it's just a vast of white before them!
The expanse of salt goes on for miles and miles and I had to keep telling myself it was salt and not snow. There were lots of huge cacti surrounding the flats too – they look like they are keeping guard over the deserted landscape. The landscape really is extreme and so incredibly different to anything I have seen before. It was amazing standing there contemplating, trying to take it all in. 
That night we stayed in the town of Uyuni which is around 45 minutes drive from the salt flats. We went for (really good) pizza and then to a bar called the 'Extreme Fun Bar'. And extreme fun it was. There were certainly some crazy staff in there 🙂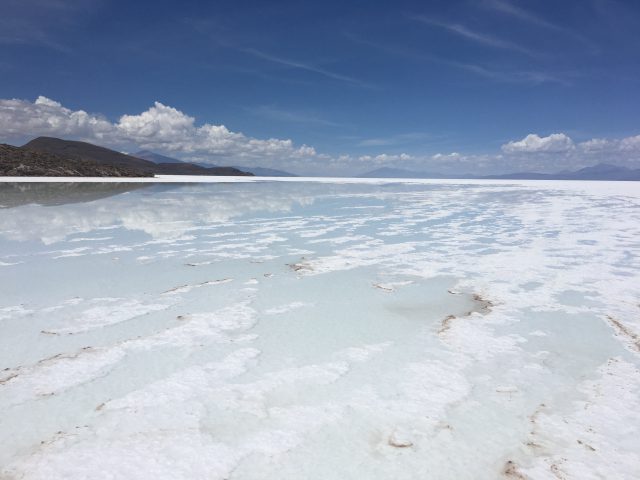 The next day we had a 4-hour transfer to Potosi which is the highest city in the world at 4050m. I got really out of breath carrying my bag just one block from the bus to the hotel! Potosi is in a beautiful setting, pretty buildings that snake up the surrounding hillsides. The day we were there was a friendship festival. This involved hundreds of school children in the main square squirting each other with foam and trying to dunk each other in the fountain. It was fun to watch! At 5pm you can walk up to the top (and onto the roof of) the San Francisco church. It was a little unnerving as there was a lack of handrails and very wobbly stairs but worth it for the 360 degree views.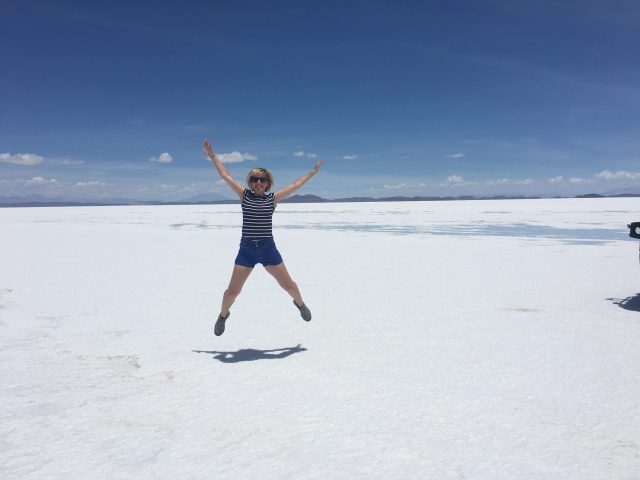 We came back to the square and spotted Joe and Harry right in the middle of the foam fight with all the kids, hahaha. So inevitably we all ended up getting caught up in it and it got more intense. It started with white foam but later green cans seemed to appear….we got covered. A girl squirted a load right in my ear – I couldn't hear properly for a while! So funny. It's nice feeling like a kid again.
If you are interested in my trip, I travelled with G Adventures for 2 weeks on their Buenos Aires to La Paz Adventure which you can read more about here.
To read more about this trip, check out my previous post: The Driest Place on the Earth – Valley of the Moon, Chile
And for my next instalment click here: Silver Mining in Potosi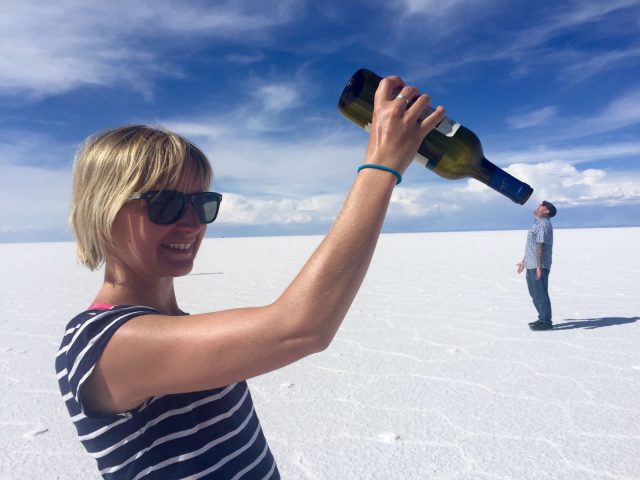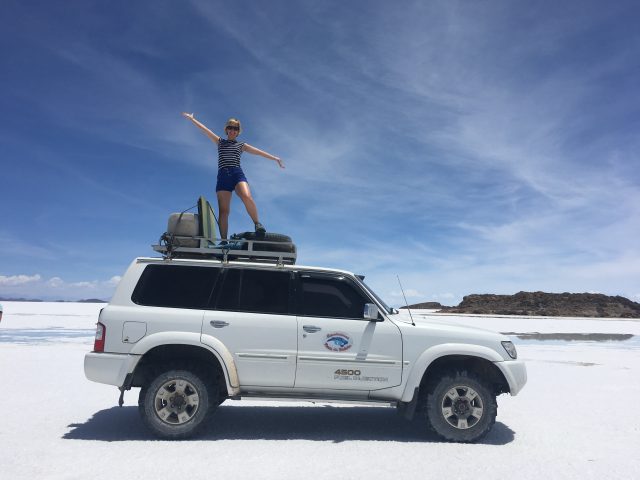 Did you enjoy this post? Pin It 🙂
Enjoy this article? Please share 🙂