If you are interested in my trip, I travelled with G Adventures for 2 weeks on their Buenos Aires to La Paz Adventure which you can read more about here.
NB. This page has affiliate links. If you choose to purchase any of the products I have recommended or make a booking through my website, I may receive a small commission. This doesn't affect the price you pay and helps keep my site running. For more information please see my affiliate disclosure 🙂
San Pedro de Atacama is a cool little place and has a really nice feel to it considering it's situated in the Atacama desert, the driest place on the earth. Being the only town around for miles it has lots of nice cafes, restaurants and shops. It sits at 2400m above sea level – not as high as places weve been (or will go to) but still high enough to notice getting out of breath. As we found out when Becky, Abbie and I decided to rent bikes 🙂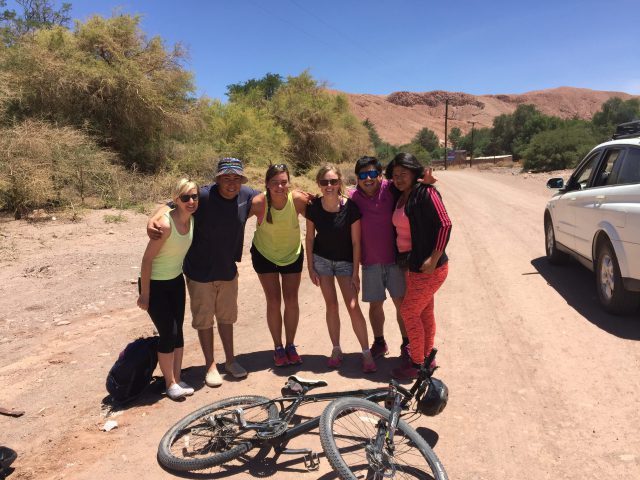 The guy at the rental place kindly showed us the route. It seemed very simple – go along the main road and when you get to 'the tree' (yes, there is only one) turn right. So we set off full of intrepidation. It was exciting getting out of the town and into the dusty roads leading into the desert. But after about 20 minutes Abbie gradually got slower – and we realised she had a puncture! We had a puncture repair kit but none of us were particularly confident about using it. So we just stared at it for a while…..and then to our eternal gratefulness, 4 absolutely lovely Chileans were walking by and stopped to help us. The 3 guys got to work and miraculously fixed it! It was so kind of them.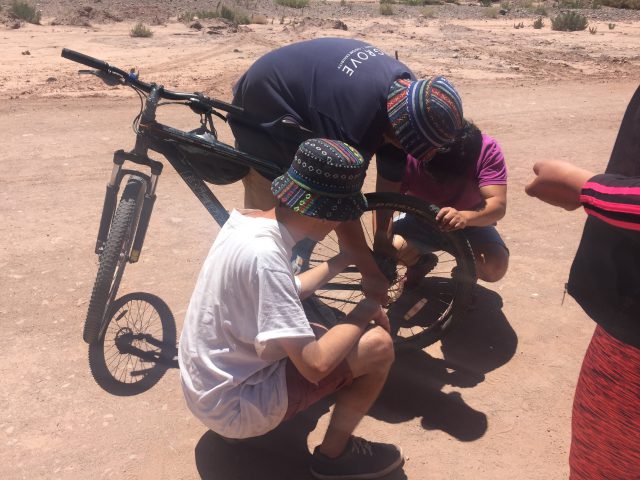 The Driest Place on the Earth – Valley of the Moon
We cycled onto a viewpoint and walked to the top which was about 45 minutes. It was hard on the lungs but worth it for the view 🙂 We cycled back, I exchanged some Chilean pesos to bolivianos (an absolutely shocking exchange rate but there will be no ATM's for the next few days) and then we set off for Valle de la Luna (Valley of the Moon). And it really did look like moonscape being the driest place on the earth. The salt looked just like snow, i kept having to tell myself it wasn't. The ground was covered with salt crystals – its amazing to think it takes 300,000 years for the salt to crystallise and then turn transparent. But only 2 months if it's cultivated!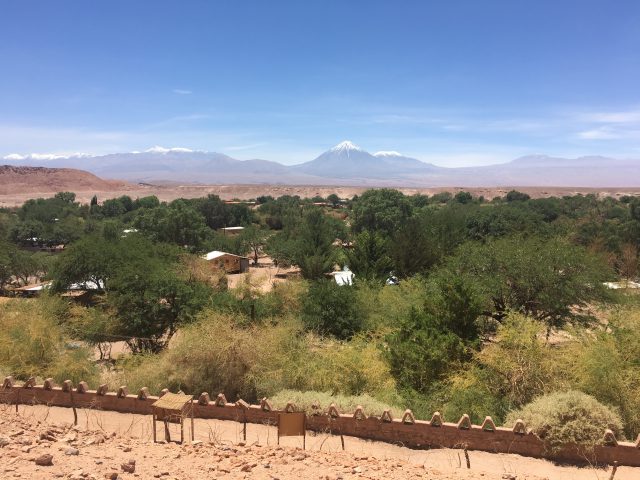 The bar to be at in San Pedro is Lola's so we all headed there that night. It's a cool little bar with a log fire, karaoke and the most amazing drink called the Gran Sour Lola (made of pisco, lemon, blueberry and mint). I had one and wondered why it had gone straight to my head….I had forgotten the affect of the altitude. Makes you get drunk so much quicker! Haha. I sang 'Like a Virgin' with Ebonee and Krishna as my back-up singers (so glad they were there!). It was a Sunday night so the bar closed at midnight but we didn't want to finish there so attempted to find an after-party of some kind. We asked a guy in a bar and his face lit up…..and then he said, "no sorry, there isn't one". Weird.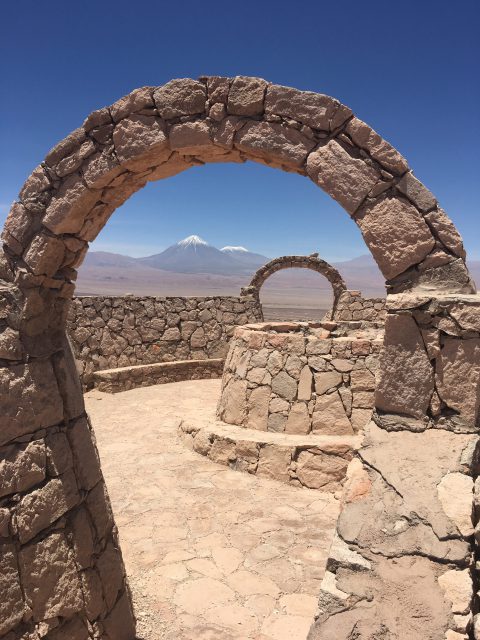 So we went back to the hotel and drank Poppy's chocolate vodka. And got told off for being too noisy. If we wanted to "follow the laughing" we had to go elsewhere. I said we did….this didn't go down well.
Stranded at the Border
After much trouble getting in and out our room (Demi and I got locked inside and Kristen was stuck outside) due to a dodgy lock, we left it for the final time to get the bus to the Bolivian border. If I'd known what was to come I think I would have been quite happy being locked int he hotel room. Basically we got to the border, our bus left and there were no 4×4's waiting for us.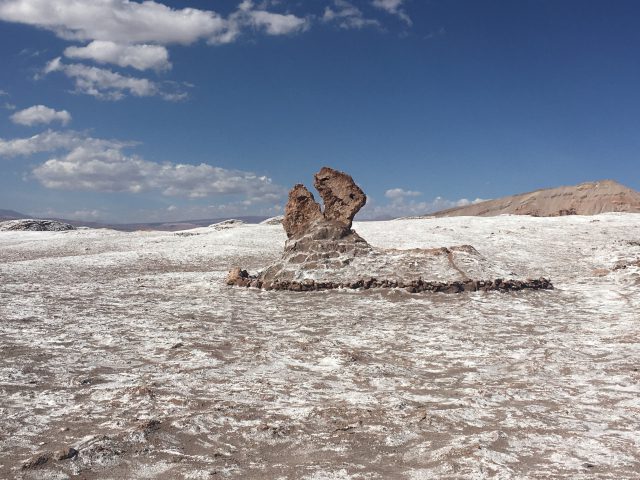 Natalia said sometimes they are delayed so we sat and patiently waited (in the boiling heat of the desert with the shadow of one small building for shade). Six hours, a few games of mafia, hundreds of Mats' tunes, wind and sunburnt faces and many unpleasant trench toilet experiences later, our 4×4's finally arrived! There had been a mix up. We were finally let into Bolivia and were no longer stranded in No Man's Land.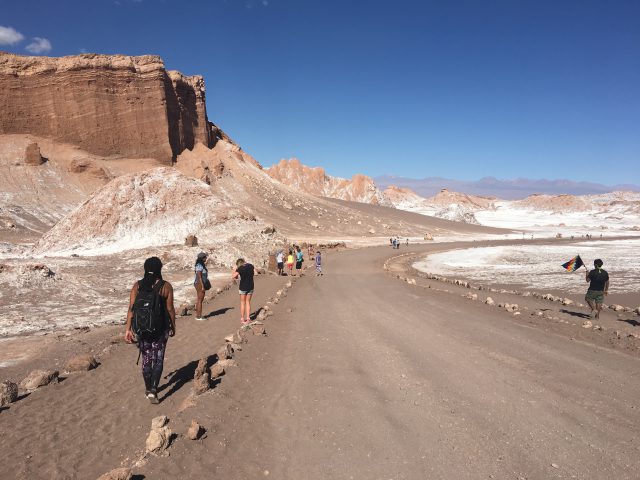 About an hour later and we arrived at the lunch place. It was 4pm and we hadn't had much to eat all day so needless to say the lunch got demolished pretty quickly! We had been warned that the toilets in Bolivia would be grim. However, after Glastonbury I don't think much could shock me. The worst part was none of them are ever free. A few of us got away without paying as the man wasn't there, but poor Becky timed it just wrong. He saw her walk through and got angry at her lack of cash giving so locked her in the toilet. Talk about childish! She climbed out the window.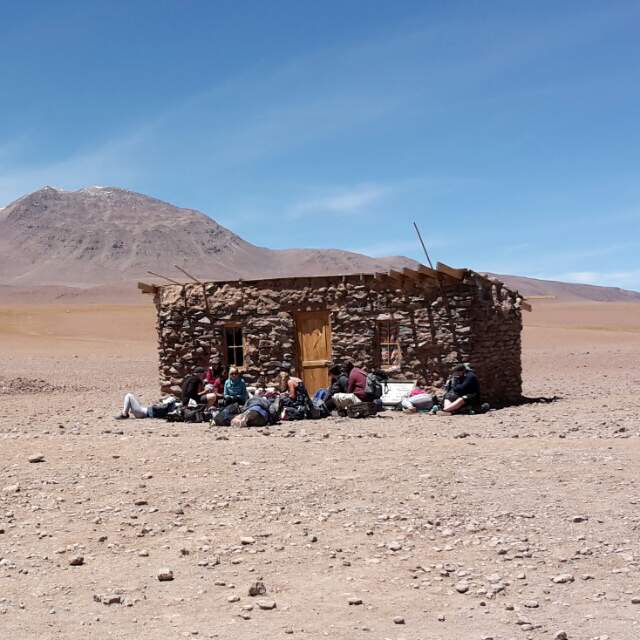 We drove onto our hotel past the most beautiful landscape. So many colours and so unspoilt. So many alpacas too! There was a big group of them blocking our way, they're such cool animals 🙂 Our hotel is very cosy and they put a lovely spread on for us. We all went to bed feeling rather weather beaten….but excited about the next part of our journey 🙂
If you are interested in my trip, I travelled with G Adventures for 2 weeks on their Buenos Aires to La Paz Adventure which you can read more about here.
Did you enjoy this post? Pin It 🙂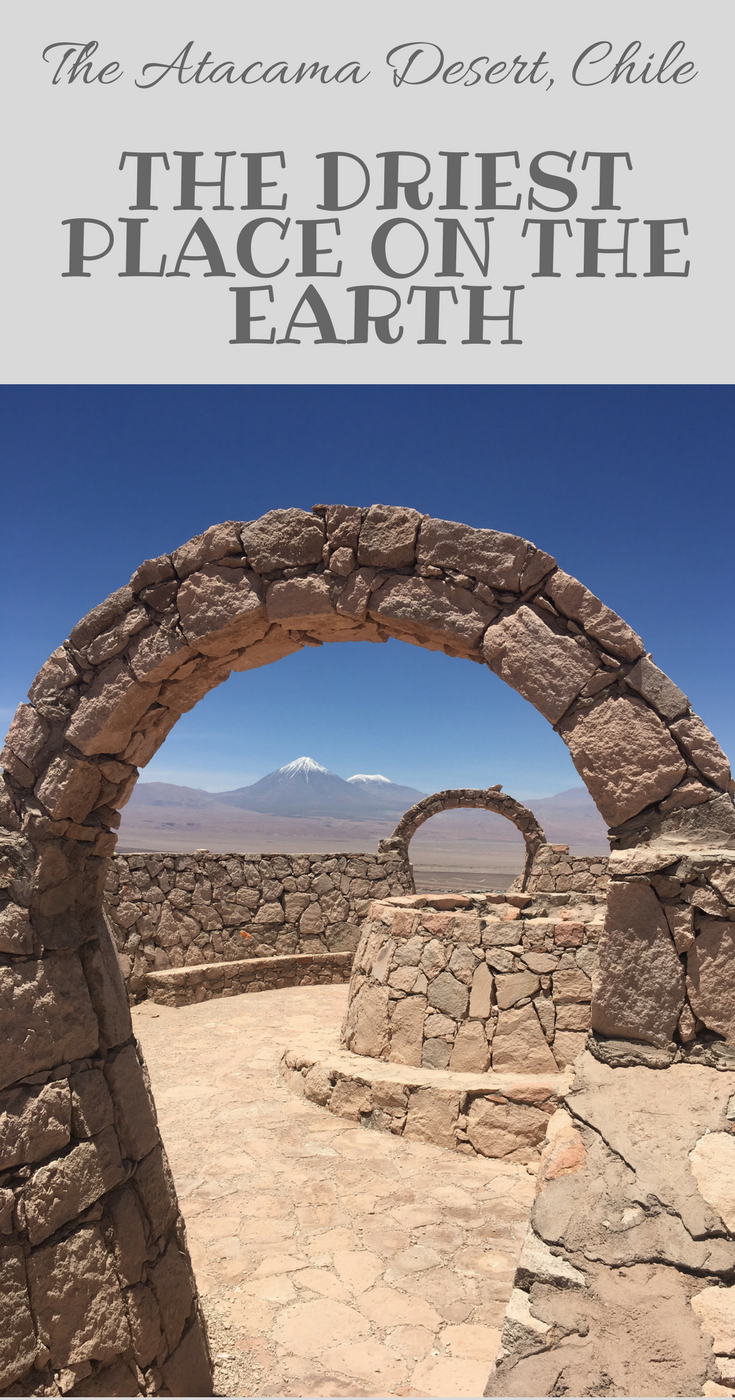 Enjoy this article? Please share 🙂