With so much choice out there these days, choosing a backpack can seem a difficult task! So what is the best backpack for travelling? I did hours of online research and tried a number of different packs on before buying – that research has paid off as my backpack has done a round-the-world trip plus a number of shorter trips and is still going strong. Yes, it's a little dirty but there are no tears, broken zips or parts that have gone out of shape.
NB. This page has affiliate links. If you choose to purchase any of the products I have recommended, I may receive a small commission. This doesn't affect the price you pay and helps keep my site running. For more information please see my affiliate disclosure 🙂
There are a number of things you should consider when choosing a backpack:
The Size
This can be broken down into two further categories – the length of the bag and the capacity. The bag must fit your torso – most brands have at least two different lengths and some have adjustable frames which can be a great option.
In terms of capacity, never opt for a bag bigger than you really need. The last thing you want is to feel like you're going to topple over when it's on your back. My first backpack 15 years ago was a 65l one which was way too big for my frame (I'm only 5′ 3″) and it became a real pain to lug around. I now use a 55l one – a 42l main backpack + a 13l day pack that can be attached – and it suits me so much better! ( see below for more on my backpack). Certain brands do women's fit backpacks which are made with slightly shorter torso lengths and narrower shoulder straps, positioned in a way to take into account our curves.
Obviously it all depends on your build as well as the length of your trip but I would say definitely the lighter the better – no one needs more than 70l, even if you're travelling around the world for a year – and ideally you want to be carrying less than that. This may sound small but packing cubes can really help with this and believe me, you will be so thankful you packed light!
Comfort
As mentioned above, comfort is a major factor in choosing a backpack. As well as carefully considering the size of your bag, you want to opt for a backpack with padded shoulder straps, a hip belt and an internal frame to support the weight on your back. As a rule of thumb, 70% of the weight should be on your hips, 30% on your shoulders.
This is why it's so important to actually go and try on a number of different backpacks to see how they feel. A durable, well-placed hip belt can make all the difference to how much weight you feel, as can padded straps that sit snugly on your shoulders.
Budget
Whilst you definitely don't need to spend any more than $250 (£190), be careful as the cheaper ones may not last after being hauled on and off planes, trains and automobiles. They are also going to be less comfortable and are likely to have a heavier frame.
Backpacks in the $100-$200 (£75-£150) range will be perfect. You don't need to spend any more than that to get a very good quality backpack but you want to spend enough to get something that's going to last.
Top Loading or Side Opening
Whilst top loaders are fine for less time away, for a long trip I can't recommend a side opening backpack enough. Rather than a small opening at the top, they fully open up like a suitcase, meaning you can see everything and pack and unpack much more easily and efficiently. If you're constantly moving around, (especially if staying in hostels or camping where you generally have less space) you will find it so much more convenient.
Although some top loading backpacks do have separable compartments which can make things a little easier, I still personally much prefer a side opener. My first backpack (yes, the same 65l one) was a top loading one – it got so irritating having to unpack everything each time just to find one thing and made it a lot more stressful, especially when having to pack in semi-darkness in a hurry at 6am. Not fun.
Does it have a Detachable Day Pack?
A lot of backpacks come with a detachable day pack and the majority will have side pockets.  Side pockets are really useful for keeping muddy shoes away from all your clean clothes, sticking a pair of flip flops in if you suddenly need to change footwear, keeping a water bottle in etc.
Detachable day packs can be really handy for organisation and ease of packing – it means you can keep all your valuables in your day pack and zip it off if you find you need to leave your bag in a hostel lobby, loaded on a bus etc. The backpack I have has clips so you can actually clip the day pack to the backpack but so it sits on the front of your body. It balances out the weight and is so handy for walking through airports when you need to find your passport and documents easily.
The Material
You want at least to have semi-water resistant material to ensure your belongings don't get soaked in an unexpected downpour. A lot of backpacks come with a pull-out rain cover made of fully waterproof material which is a must if you're going to be outside with it for any length of time.
Lockable Zippers
It's obviously extremely important to be able to lock your backpack, especially if it's going to be out of your sight and in a public place for any length of time – or on the aeroplane. Make sure each separate compartment or bag has two zips that lock together or that you can put a small padlock through.
Extra Features
All the extra features really come down to personal choice and the sort of possessions that you will be carrying. Some backpacks have specific straps and loops for sleeping bags, cycle helmets, tents, walking poles, torches etc and slits for water bottle straws or headphones.
I have a small loop on my day bag that I find very useful to attach my baseball cap to when I'm not wearing it.  I also really like the fact that the harness and straps on my backpack entirely zip away so the backpack is neat with no loose straps that could get caught, ripped or dirty when in transit.
So what is the Best Backpack for Travelling?
Well again, this is all down to individual preference and you will only know what's right for you after having tried a few on. If you visit your local outdoors store, they should be able to stuff the backpack with some weight so you can really get an idea of how it would feel.
I personally use the Osprey Farpoint 55 and I cannot recommend it enough. It's durable, comfortable and has exactly the features I need. As mentioned above, it's been on a round the world trip plus a number of shorter ones and is still going strong. I actually have two smaller Osprey bags as well as I find them such good quality. I have the Women's Fit version but it also comes in 2 standard sizes (S/M and M/L) as well as a bigger 70l version.

My favourite features of this backpack are:
The shoulder straps and hip belt can be stowed away
It has a side handle for ease of carrying
It perfectly fits 3 of the slim rectangular packing cubes into it (and you can double up the rows if you need to and fit 6 in)
It has compression straps inside making packing even easier
It's weight – it's got a super light frame
The detachable day pack that zips neatly to the main pack and can also be clipped on to sit on the front of your body
You'll be grateful for having such a compact backpack – I've often been the envy of travellers with much bigger/heavier bags! No one can ever believe how I can travel so light. It's all down to the features of the bag and using packing cubes. My backpack has been dragged, dropped, squashed into tiny spaces, thrown and rolled which is certainly testament to a good quality bag.
If you need ideas of what to pack for a backpacking trip, check out my Travelling Essentials for Backpackers – I have used every one of these products so they are a personal recommendation.
I hope you found this post useful. If you have any more questions or comments, please write them below. Happy travels!
Did you enjoy this post? Pin It 🙂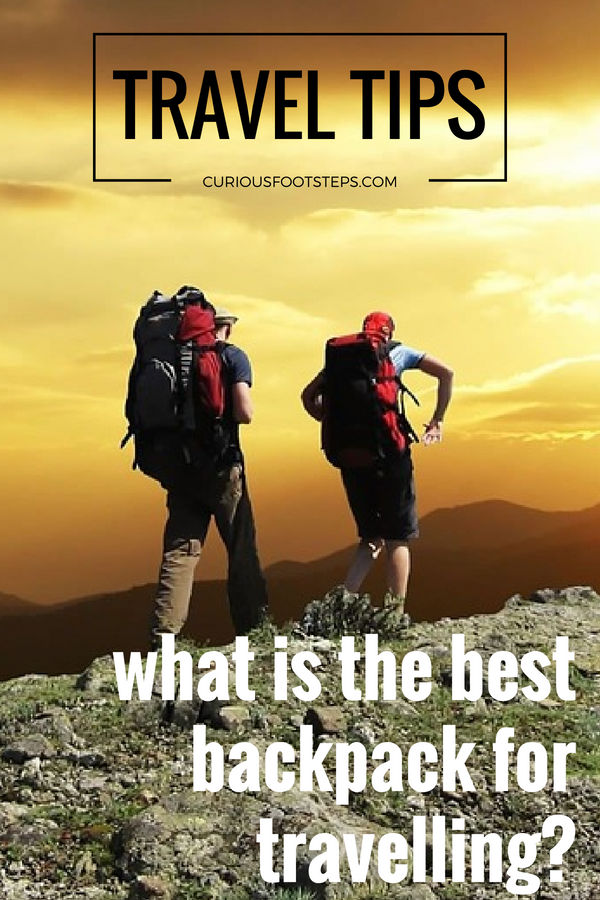 Enjoy this article? Please share 🙂