Are you about to go on your first backpacking trip and unsure of what to take? People often ask me which 'Must Have' travel accessories they should pack. Over the years, I have got my packing down to a fine art and have learnt which items I really need (and which I definitely don't!). Obviously every destination is different but these travelling essentials are to get you started no matter where you end up going. All of the products recommended are in my opinion, good quality and good value for money – and do the job! I have used every one of these products so they are a personal recommendation. So here is my list of travelling essentials for backpackers….
NB. This page has affiliate links. If you choose to purchase any of the products I have recommended, I may receive a small commission. This doesn't affect the price you pay and helps keep my site running. For more information please see my affiliate disclosure 🙂
The Osprey Farpoint 55 Backpack
Since buying this bag, I can't believe how I managed with anything else. I did a lot of research before buying this one and it has definitely exceeded my expectations! It has a detachable day bag, is lightweight, durable and really comfortable to carry with its fully adjustable straps and hip belt (that also can be stowed away). It does come in a bigger size (70l), but being petite, 55l is perfect for me and I would say you really don't need a backpack any bigger than this unless you are having to take a lot of outdoor or camping equipment with you. And you'll be so grateful for having a compact backpack! 
Amazon Basics 4-Piece Packing Cube Set
I can't live without these – they are essential to my packing! They really are the best way to organise your packing as you can neatly roll everything, organise by type of clothing and see through the soft mesh what's in each.  They are a great space saver and they also fit perfectly into the Osprey Farpoint 55 bag which is even better!
Microfibre Quick Dry Travel Towel by Dock & Bay
A lightweight, quick-drying, compact towel is exactly what you need when travelling. This particular one comes in an assortment of colours and comes with a pouch for easy packing.
Ecostar NexTorch Head Torch
My head torch gets used an awful lot when I'm travelling – whether I'm camping, rifling through my bag at night in a hostel, reading in the dark or walking back along an unlit track, I couldn't do without it! There are a lot on the market but I own this particular one – it has a white, red and flashing light setting and is very lightweight and durable. It is comfortable and the angle of the light is adjustable.
Exped Fold Dry Bag – XS
Having a dry bag to put your valuables in is a must in wet weather or when out on the sea! I have the Exped XS one which fits my phone, camera, passport etc – however, they come in various sizes depending on your needs. I like this brand as they fold down from the top and then clip around securely and are made of very durable material.
Howard Leight Laser Lite Individually Wrapped Ear Plugs
A must for those nights in hostel dormitories and noisy campsites! I have tried quite a few different brands and shapes and I have found these to be by far the best for comfort and keeping the noise out.
Worldwide Plug Adaptor
If you're going to be travelling to a few different countries or doing a round the world trip, an all-in-one plug adaptor with USB ports is a great choice. It takes up little space and you can charge two items at once.
Lifeventure Fabric Wash Leaves
SaveSave
SaveSave
SaveSave
These are a brilliant idea – they come in a neat and tidy packet and are easy to use – just add to a bowl of water and wash your clothes, then rinse. You can get soap, shampoo and shaving leaves in this brand too. So handy!
SaveSave
Pegless Washing Line by Go Travel
The perfect complement to the fabric wash leaves above, this pegless washing line comes with hooks and suction cups for easy hanging pretty much anywhere. It makes it very easy to do washing in hotel rooms, hostels or campsites – a must-have!
Silk Eye Mask
An eye mask is absolutely essential for those bright sunrises when camping, keeping out the light through thin curtains or just to give you a bit more peace on your flight. I have the Jasmine Silk eye mask (in the UK link) and it is so comfortable with a really lightweight feeling. This brand is not available in the US but The Alaska Bear mask (pictured) has exactly the same specifications. Both are 100% silk (so keep cool and give maximum comfort) with fully adjustable straps.
SaveSave
Collapsible and Reuseable Water Bottle
A collapsible water bottle will come in so handy – you can fold it down to fit easily in your day bag and it saves having to buy expensive bottled water when you can fill from the tap. In areas where you cannot drink the tap water, you can buy a bigger bottle and fill up as you go. This one comes with a carabiner clip which is handy for clipping onto your bag.
SaveSave
SaveSave
Eurohike Silk Mummy Sleeping bag Liner
A sleeping bag liner is great for prolonging the life of your sleeping bag (or using in a sleeping bag that isn't your own) when camping, or in hostels. Make sure you buy a silk version – although more expensive than the cotton versions, it will regulate your body temperature, dry quickly and stay fresher for longer. The silk liners also roll up a lot smaller. I have this Eurohike version which I have found to be perfect for all my trips. The US version is a different brand but the specs are virtually identical.
SaveSaveSaveSave
TSA Sturdy Combination Padlock
A combination padlock is an essential for locking your backpack and also for locking your backpack in a locker at your hostel.
I hope you have found my list of travelling essentials for backpackers to be useful. Please let me know of any essentials you can't live without in the comments below 🙂 Happy Travels!
Did you enjoy this post? Pin It 🙂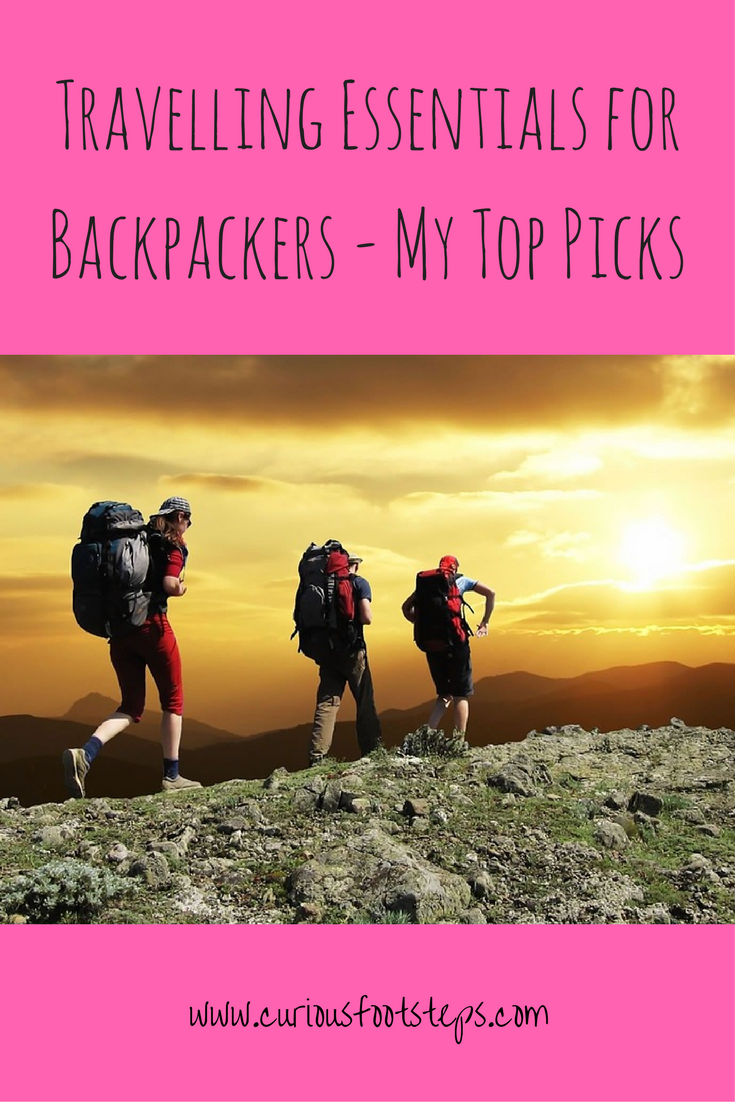 SaveSave
SaveSave
SaveSave
SaveSave
SaveSave
SaveSave
SaveSave
SaveSave
SaveSave
SaveSave
SaveSave
SaveSave
SaveSave
SaveSave
SaveSave
SaveSave
Enjoy this article? Please share 🙂