"So you're going round the world……by yourself? Like, totally alone?"
There were many confused looks at work when I told them what my plans were. They sort of understood it – after all, I'd come out of an 8-year relationship just 9 months before and by the rules of the broken-hearted, bound to do something radical – but being one of the few southerners in the office (I was working in Warrington in the North of England), I was already an anomaly and this just added fuel to the fire.
"But it's so dangerous! You're so brave. How will you manage?"
I reassured them that I had been travelling by myself before in my early twenties and that even though I was going alone, it would be rare that I would be truly alone (I hoped!). I had a couple of friends I was planning to meet at various points along the way and the rest of the time would be staying in hostels.
"But time is ticking on…."
OK, nobody actually said those exact words, but I think a few colleagues were of the opinion that rather than 'running away' to see more of the world I should be concentrating all my efforts into finding a potential husband and having babies – after all, now I was in my thirties it was imperative in some people's minds. A boyfriend was the very last thing I was thinking of (although a few tried to convince me) – I knew I needed more time to untangle myself from all the complex emotions that were floating around my head and just enjoy being by myself for a while.


Besides, I saw my situation in a far more positive light – I had the type of freedom I never thought I'd have again and knew that I owed it to myself to make the very best of it. I needed to get to know myself again and in my mind, the best way to do this was to put myself out of my comfort zone and look in from the outside. And being single is a lot of fun.
No, They Are Not Looking At You….
Of course, I had various fears – would I feel old and the wrong side of 30? Would I be able to make friends as easily as I did first time round? Would it be OK staying in hostels again after having become used to more luxurious accommodation? Each of these fears dissipated within a few days as I realised that nobody cared how old I was other than me. In fact, I realised it was a positive thing being a bit older – I was wiser, more used to handling emotions and far more self-assured than the 22 year-old me.
I didn't get homesick and I wasn't afraid to do exactly what I wanted, whether it was going out drinking with a load of people from the hostel or hiking up a hill by myself. Even sitting alone in restaurants wasn't an issue anymore after years of practice travelling for work. However much you think people are staring at you, it's highly likely they won't have even noticed you're alone as they will be far too caught up in their own worlds.
Staying in hostels was just as fun as I'd remembered – strangely, I slept more soundly on the whole than I had in the last 9 months, which is slightly odd considering I was the other side of the world, in a room full of strangers and generally, in a more uncomfortable bed – but knowing I was around kindred spirits and the fact that tomorrow was always going to be a day of new sights and experiences filled me with a sense of wonderment before drifting to sleep each night.
It's OK To Have Down Days
I had my down days – not many luckily, but they were there. On these days I'd let myself be and go with the flow. I listened to myself and adjusted accordingly, whether it was forcing myself to talk to someone new when I really wasn't in the mood; or going off by myself for the day with a map and my diary.
I was slowly beginning to feel the old me returning – I was living each day as it came, appreciating every little thing and fully living in the present, which is so hard to do when stuck in the usual routine at home. Being alone in a new country with different customs, ideas and ways of living makes you far more observant and opens your eyes, heart and mind in a way that is so restorative. It's comforting to realise that really we are all the same, with the same basic desires, hopes and needs. In spite of everything in the media as of late, the world isn't so broken and there is good everywhere, you just need to know where to look.

A Defining Moment
The realisation that I would be OK, I wasn't damaged beyond repair and I was somebody who people wanted to get to know really helped heal my heart and gave my confidence back. I'm lucky in that I am a naturally positive person, but in the couple of years prior to going away I had found that natural joy ebbing away a little and I was fighting to find it. It was a relief to know that it was still there in abundance – and helped very much to be brought out by all the wonderful people I met along the way, many of whom have become close friends.
About halfway through my trip, on my second to last day in New Zealand, I was in a cafe having brunch with some of the girls I'd met. All of a sudden I felt an enormous wave of emotion wash over me and knew I had to get out of there – so I did a speed walk back to the hostel and sobbed. I couldn't stop.
They were tears of relief more than anything else as I realised the pure joy, freedom and unbridled happiness I was feeling that I had thought may be out of reach. I was falling head over heels in love with everything about life all over again and felt like the best version of myself. Something inside me had shifted and I knew that this moment would become a defining one. I wanted to capture it, feel it and fully embrace it. 
What Really Matters
The knock-on effects of that solo trip 2 years ago have been huge. It changed the course of my life and gave me clarity I would never have got otherwise. I hadn't even realised that my priorities were all wrong – having a sensible job, a mortgage, a nice car, the latest gadgets etc. What I thought was making me happy was actually trapping me. I gave up my old office life, am travel blogging part-time, have moved back south to be closer to my family and I still take regular trips alone. Yes, it was scary making the change, having far less money and it's always hard going against the norm – but I am far more content and peaceful just knowing that I am finally being true to myself.
Feel The Fear And Do It Anyway
No matter how old you are, who you are, what your story is – get out there and put yourself out your comfort zone, whether it's 3 months backpacking round India or a weekend away in a neighbouring country or city. It's easy to lose sight of ourselves in every day life and we all need time out to make sure we're following the path that's right for us.
There is something truly wonderful about only you knowing which exact bit of the planet you are on at that precise moment. You will gain a new perspective on yourself and the world, that I can promise you.
Did you enjoy this post? Pin It 🙂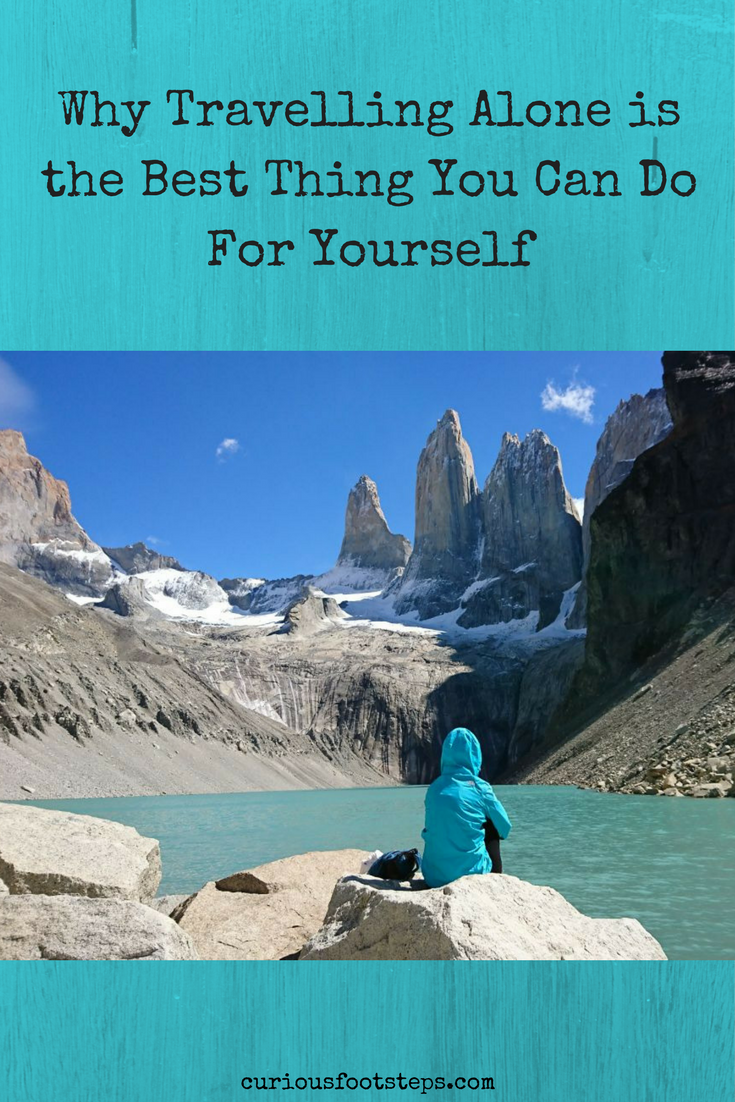 SaveSave
SaveSave
SaveSave
SaveSave
SaveSave
SaveSave
SaveSave
SaveSave
SaveSave
SaveSave
SaveSave
Enjoy this article? Please share 🙂