If you haven't had the pleasure of staying in a shepherd's hut before, let me tell you – if you're the type of person who loves the outdoors, cosy surroundings and going off-grid for a bit – you will love it. In fact, I loved it so much, I've decided I could live in one permanently. I came home the next day and immediately started looking for huts for sale. OK, I only spent one night there (we would have spent much longer if we could) but for me, it's the perfect mix of feeling part of the outdoors and being self-sufficient – but also having a few creature comforts and a uniquely designed space.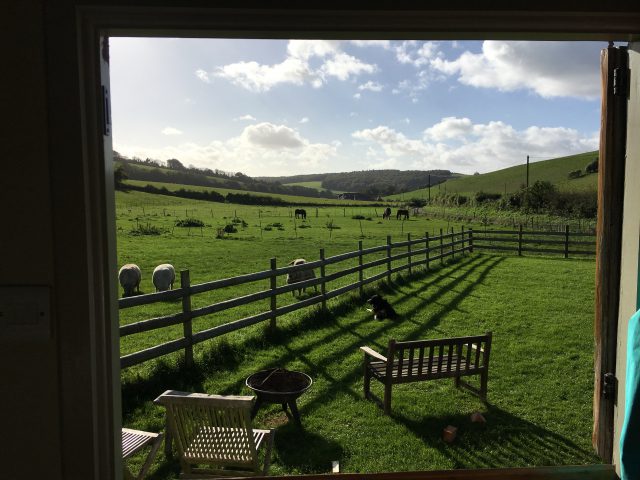 I'd always wanted to stay in one and when we found one located in a beautiful spot on the South Downs just under an hour from home, it seemed like the perfect place for a night's escape. About 90 minutes south of London, the journey took us through some of Surrey and Sussex's most lovely villages, some of which I hadn't been through in years. 
Designed to Perfection
Storm Brian was raging when we arrived, which definitely added to the sense of adventure! Our hut, aptly named Tranquility (the name was fully realised the next morning), was in a farmer's field, complete with fire pit, a box of firewood and chairs outside. We unlocked the key box with the code and found a little note attached to the key informing us that there was currently no power in the hut (Brian's fault) – half the village apparently had power and the other half, including most of the buildings up our lane, didn't.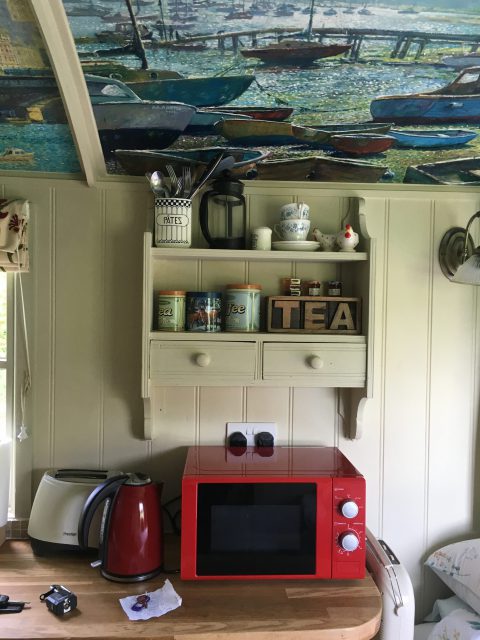 The hut was amazingly done out – from the little stained glass window in the bathroom to the hand-painted ceiling, every detail had been carefully thought out and designed. I spent the first 10 minutes looking round in wonder at everything – this hut really deserves to be on George Clarke's Amazing Spaces. With Storm Brian whistling round and rocking the hut, we got a knock on the door. It was our host informing us that the power should be back on within a couple of hours but in case it's not we could stay in the village pub as they had room. We'd booked a meal there for later anyway so this seemed a good plan.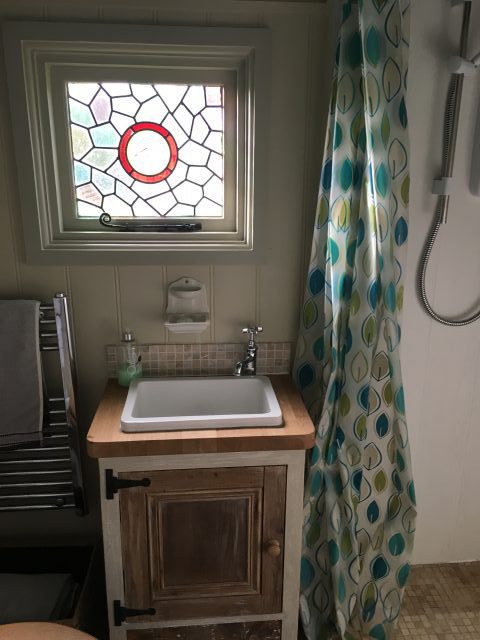 As dusk begun to fall there was still no power – and very kindly the farmer came round with a load of tealights for us, accompanied by his seemingly cute (first impressions can sometimes be so wrong) dog . We really wanted to build the fire outside but would have been fighting a real battle against the mighty beast of Brian (he was taking no prisoners). So we lit the tealights, turned the hut into an even lovelier space and got ready to brave the elements to walk the 15 minutes to the pub in the village of East Dean.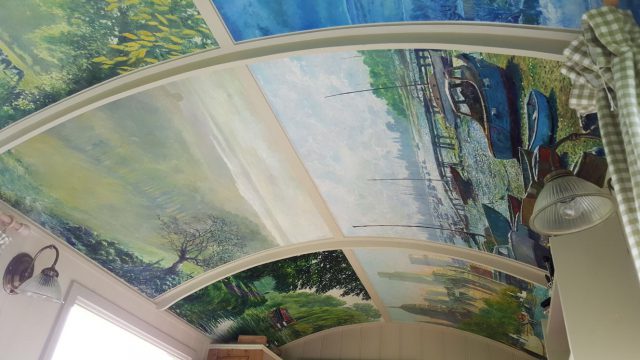 His Name was Brian
The darkness seemed to bring with it a calmer Brian – the wind had dropped and the rain had ceased making our torchlit walk through the puddles of the muddy lane actually rather pleasant. Until I felt something brush past my leg and jumped out my skin! It was the farmer's dog. "How lovely he's showing us the way" was my first thought. Then I saw the crazed look in his eyes caught by the torchlight. He proceeded to block our path, attack the hedges and jump up randomly at us in a way that made you think he may well bite your face off. He'd run ahead and then scarily appear out of the darkness at regular intervals.
I was quite relieved when I saw the pub come into view, knowing we could leave the crazy dog outside and enjoy some nice home-cooked food. Then we realised that the pub was looking rather dark and inconspicuous….and was lit with emergency lighting. There were a few lost-looking patrons huddling round the fire so we knocked on the door, knowing what they were going to say. They'd tried to phone me, but having no signal in the hut, I'd never got the message.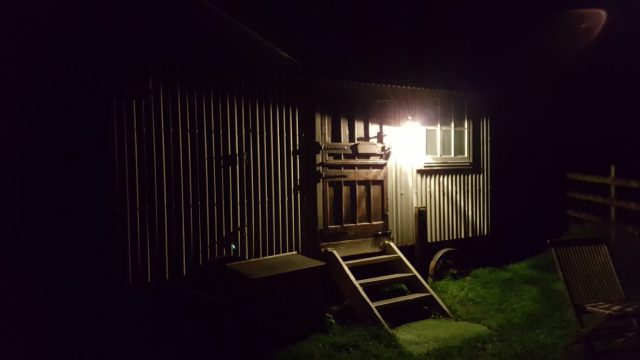 The bargirl kindly told us that the pub in the next village would welcome us after 8.30pm and as we were about to leave, the crazy dog (who was now known as Brian, due to his stormy nature) ran in the pub and headed straight for the fire. We explained he wasn't our dog and it seems a few people in the pub had had similar encounters with him. Getting him to leave the pub wasn't easy, after all none of us knew his name. Brian definitely wouldn't gain his attention, one guy seemed to think he was called Rio (no recognition shown) and someone even tried Dave. A bit of hand clapping and shooing finally made him flee.
Unfortunately, the pub in the next village of Charlton wasn't within walking distance so we had to walk back down the muddy lane, jumping the puddles. Brian stayed with us, standing in the way of cars, making the drivers think we couldn't control our dog and generally being strange. We drove back down to the other pub – The Fox Goes Free. Luckily, they did have space for us (and power!) so we could finally enjoy a Brian-free dinner by the fire with hazelnut cheesecake for desert – the food was absolutely delicious. It did make me wonder whether Brian was actually the fox that had gone free.
Tranquility Abounds
By the time we got back to the hut, all power was back on – hooray! Upon waking the next morning, it was as if there had never been a storm. It was an absolutely gorgeous, warm still morning. The cockerel crowed, the horses were occasionally whinnying and the sheep even had smiles on their faces. Sitting overlooking the fields of animals with a cup of coffee is definitely something I could get used to every morning. It was so tranquil, the green fields seemed to fill me with positive energy and I felt at peace with the world. And then along came Brian.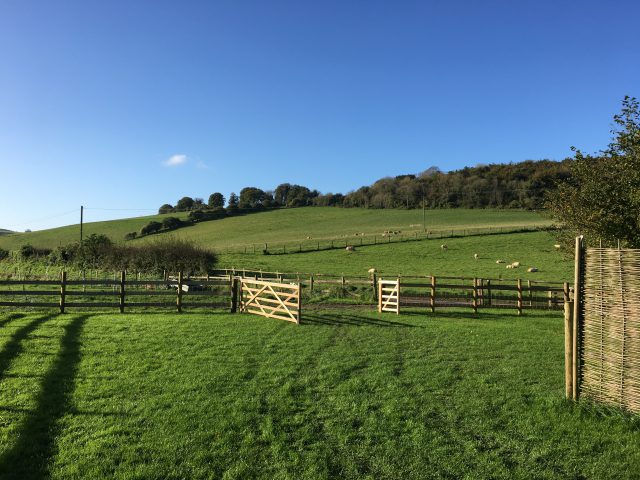 He started to sniff around and then decided to chew the edge of my chair whilst looking deep into my eyes as if trying to impart some of his crazy soul into mine. I stared back, trying to intimidate him. Thankfully he got fed up after a while and found a watering can under the hut to stick his nose into instead, and then a deflated basketball which he let take him off into the fields.
Overall, our stay was fantastic, regardless of the minor havoc the Brians caused. The best part of it all was that our host felt so bad about the power cut that she offered us a free night's stay which she really didn't need to do. I'm very pleased that we have another excuse to go down there, eat nice pub food, reflect and recalibrate and avoid anything and anyone called Brian…..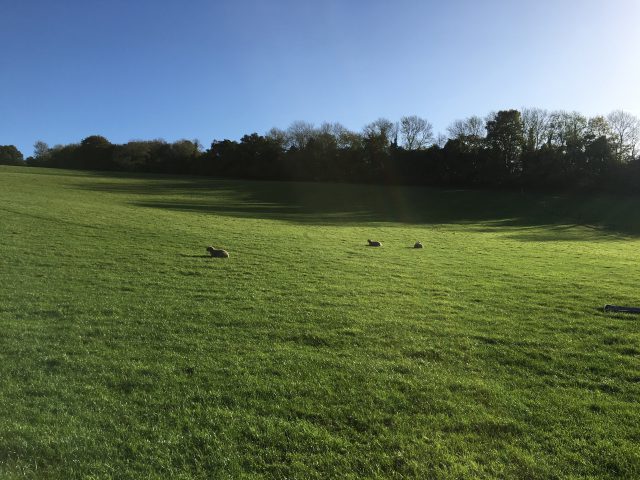 Go and Stay in a Shepherd's Hut!
The hut we stayed in was The Gallery Shepherd's Hut, 'Tranquility' and we booked it through Airbnb.
There are all sorts of quirky and unique accommodation options on Airbnb, including a number of shepherds huts – if you are new to Airbnb and sign up through my site, you will get £25 (or the equivalent) off your first trip. To find out more and sign up, click here.
NB. This page has affiliate links. If you choose to make a booking through my website, I may receive a small commission. This doesn't affect the price you pay and helps keep my site running 🙂 For more information please see full details here 🙂
Did you enjoy this post? Pin It 🙂

SaveSave
SaveSave
SaveSave
SaveSave
SaveSave
SaveSave
SaveSave
Enjoy this article? Please share 🙂