Ive realised how liberating it is when your biggest worries are sandfly bites, whether you've got your suncream and whether there will be a good bar at the next destination….and even though before I got here I was feeling too old to do the whole hostel thing again it's actually surprisingly fine and I'd forgotten how much fun it could be! It's amazing how quickly you get used to sharing with 3-7 other people and can't stop laughing. Not so good when they are snorers….
We had to say goodbye to Eleanor and Wilma at Taupo which was sad but hoping they will catch us somewhere in the South Island….:) We got on a new bus today with Willy, our new driver who is only 21! Very young to be doing this job especially when most of us are older than him. He was saying that it's a really popular job – apparently there were 70 applicants for 9 places and you can see why – seeing the country, getting all your accommodation and food included and meeting loads of people from all over the world….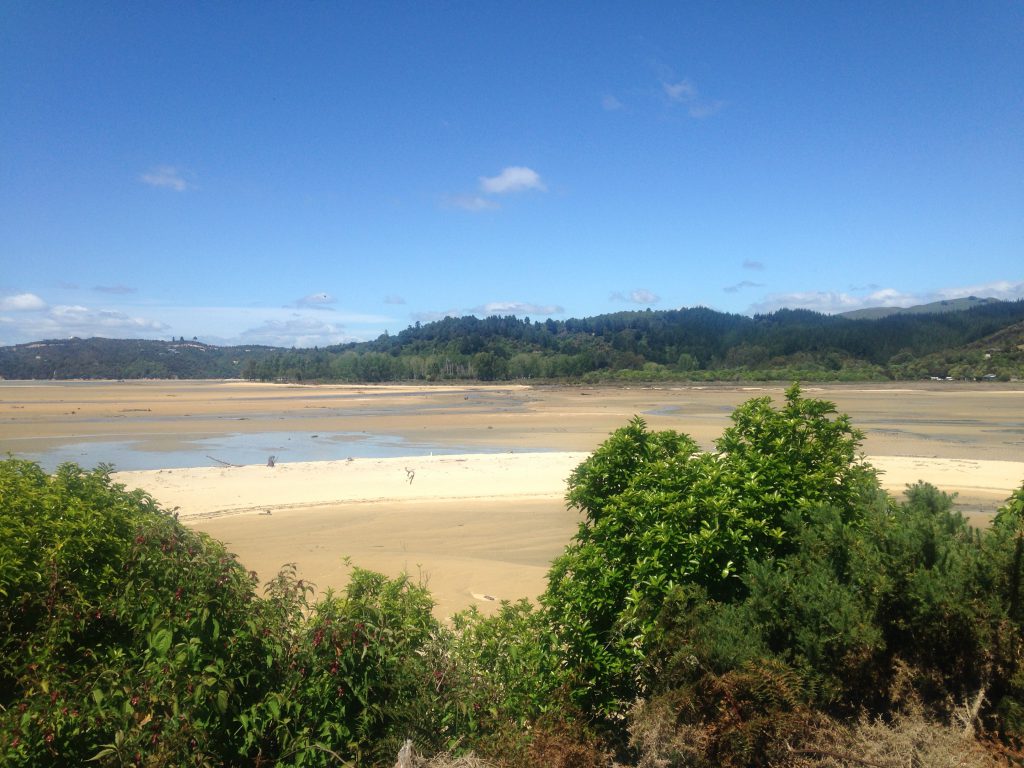 We stopped off for a quick walk and some of the guys jumped into the waterfall including Willy. Apparently they make them run all the walking routes to learn them! We arrived at River Valley Lodge late afternoon-ish – and wow, what a place! The setting is absolutely fabulous – a really steep gorge with a fast flowing river, it's a proper hideaway. The staff are all really cool too. It was definitely built as a party place – 16 bed rooms (except the beds are all joined together so really it's like one massive bed) and a few 6-beds and doubles, haha. We managed to get in one of the 6-bed dorms which was still very cosy but slight preferable to the 16-bed!
The night started off with a roast dinner, then loads of games-various card games, leaning round a chair to pick up a matchbox off the floor, climbing round a table from top to back on top without touching the floor (amazingly 2 guys did this!) and gradually got more and more drunken…such a fun night 🙂 The next morning some of the guys went white water rafting and Jess and I had a walk down the river and went across on the makeshift pulley which was basically a piece of wood on a wire! We made it to the other side and started to walk up the bank to the waterfall – but because it had rained so much in the night it was too slippery so we turned back and chilled out on the rocks nursing our hangovers. I somehow managed to get zero photos unfortunately….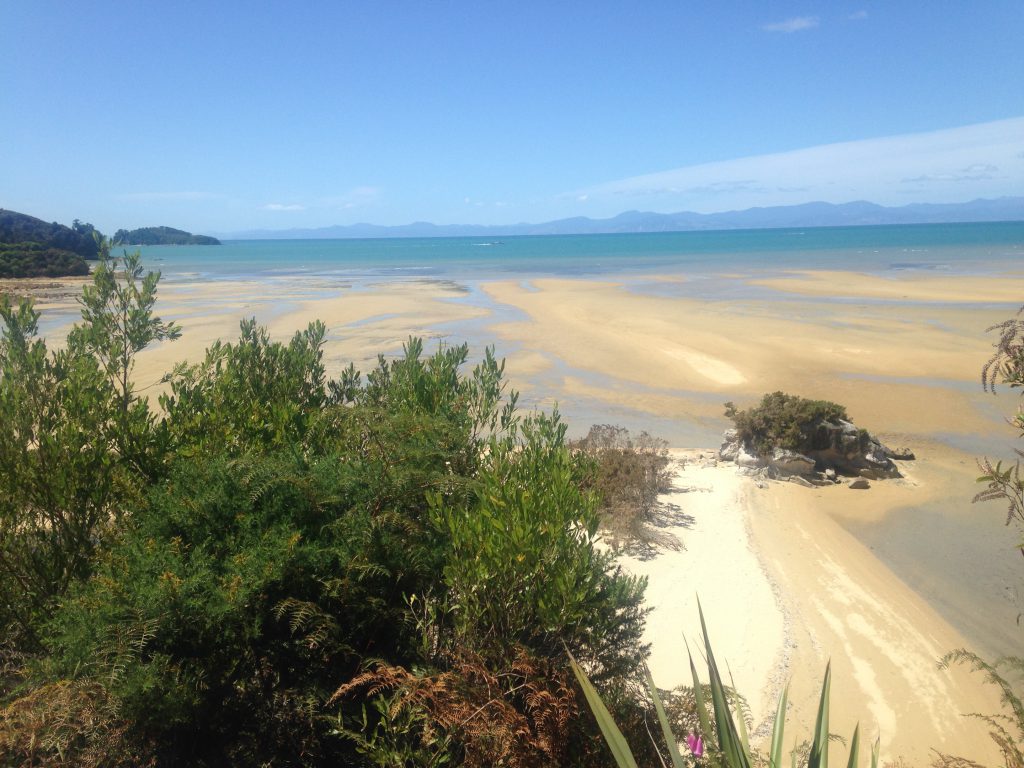 We left for Wellington and it was pouring with rain when we arrived. Apparently it's well-known for its windiness. It's a bit of a shame I chose to only have one night here as Wellington is a really good night out apparently but I had to prioritise and I'm not really here for the cities. I'll just have to come back! We are staying at a Base hostel again – it's huge. Jess and I are sharing a room with 2 guys who work on the ferries, they're staying in the hostel temporarily until they find a flat. They weren't snorers but proceeded to have a very loud conversation at 3am about their shifts! We met up with some of the guys who had arrived a few days before us but everyone was really tired – we were all empty vessels – so we had a few drinks in the bar then had an early night.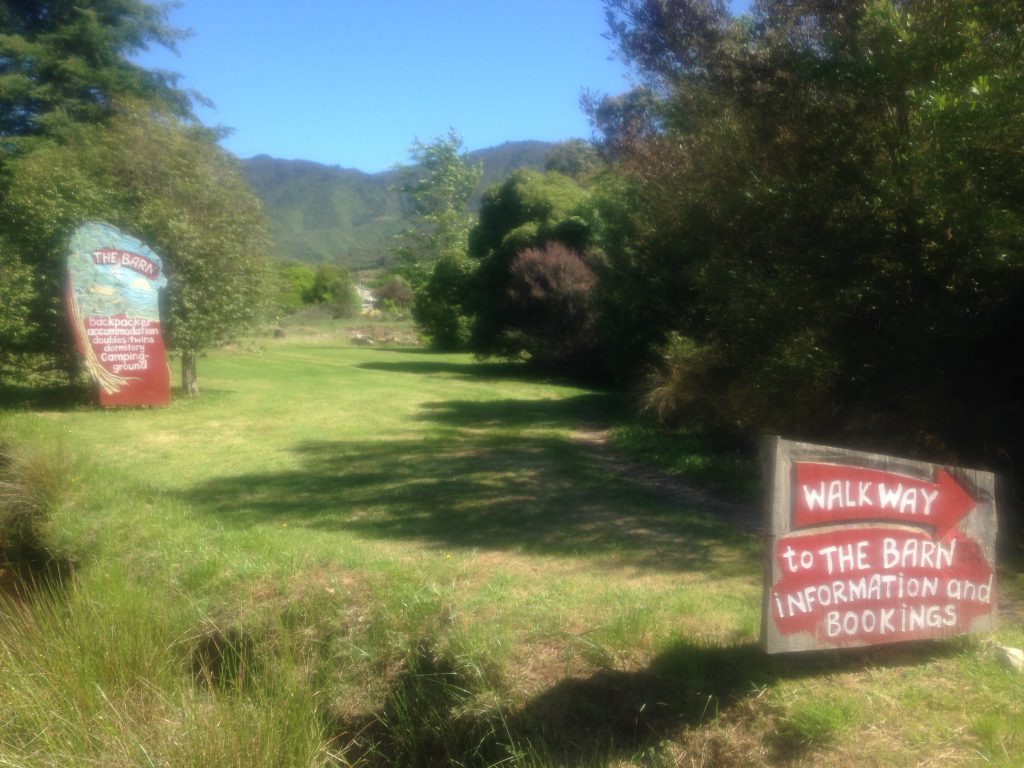 We got the ferry the next day – it was quite funny seeing Jordan (the guy sharing our room) greet us in his smartest uniform as we got on when he'd been in his boxers 2 hours earlier, haha. I was thinking that the ferry looked exactly like one of the old cross-channel ferries and apparently it is! So I may well have been on it before….

The crossing took 3.5 hours (it took 45 minutes just to get out of the harbour!) but was beautiful pretty much straight away. We went through loads of little islands that litter the sea between the islands. It was quite a long drive to Kaiteriteri but when we arrived it was bathed in beautiful sunshine and felt so peaceful. It's felt like ages since we had proper sunshine. We even braved it and swam in the sea at about 7pm – it was freezing but woke us up! The weather is so strange here – I've never known a country to have such varied weather, not just day to day in the same place but dramatic variations between places only an hour or so apart. It's bikini weather one minute, hoodie weather the next. There's a really lively bar next to hostel which is good – there was a private function inside but we sat outside until it got too cold then went into the lounge and took turns on a (surprisingly effective) massage chair.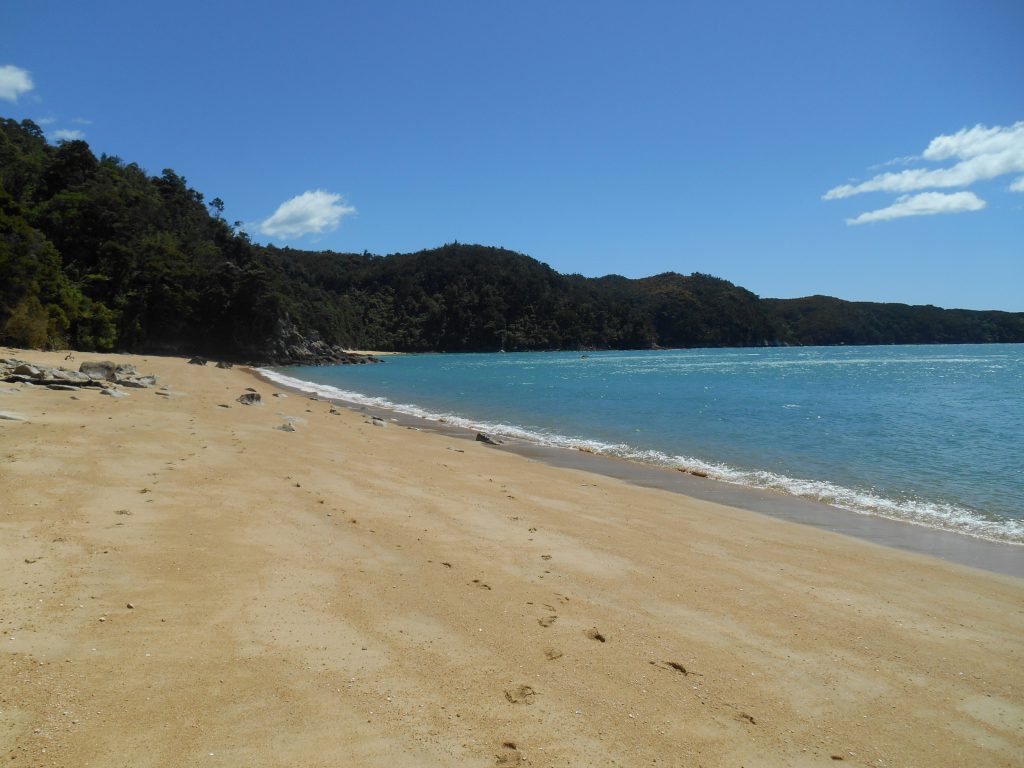 I signed up for a full-day kayak trip and the weather looked pretty amazing…..the first part of the trip was great-we kayaked out to the sea and found a gorgeous little cove to sunbathe and have lunch at, it was so peaceful. We ate kaupa kaupa leaves that made your mouth go numb but tasted pretty good and aid digestion apparently. The problems started when we tried to kayak back….the wind had really sprung up but we were all feeling brave enough to attempt it and Rico, our guide, had said it would be tough but doable. It was so difficult! We were being battered against the waves and the rudder was doing absolutely nothing, we couldn't turn back or move forward. We had to lean into the waves to avoid capsizing….and unfortunately two of the girls drifted out to sea and capsized!
Rico had even joked before that he hadn't had to do a rescue in a while. They lost a paddle and were understandably pretty shaken up! The guy I was sharing a kayak with had fallen out with his girlfriend which is why he wasn't sharing with her and she was sharing with her friend instead. He'd been moaning about her most of the morning and when they capsized he laughed and said she deserved it! Very mean. So anyway, we had to turn back and return to the beach (which was easier said than done, it took forever to face the right way!)

Rico radioed for a sea taxi but there were none available as so many people had got stranded so we had to leave the kayaks and do a 2.5 hour walk back. Which was actually really nice but not ideal in flip flops. But that was nothing compared to the guy in my kayak who had no shoes. And his gf was telling him off for being an idiot for having no shoes…they walked in silence pretty much the whole way.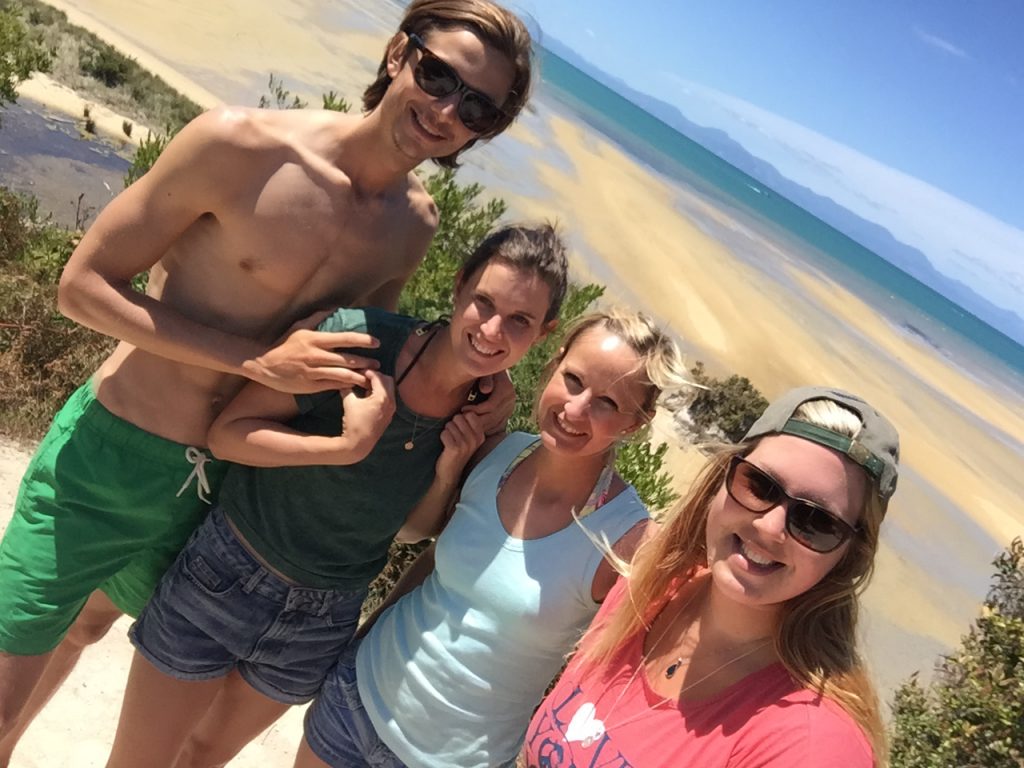 It was actually a lovely walk along the cliff with beautiful views. When we finally got back I joined Jess on the beach for a bit and then we went inside and the hostel was virtually empty! Most people had only stayed a night so it was just me, Jess, Jamie, Nick and Frankie. We made the most of the quiet and wrote blogs and skyped/phoned home. It's funny how you gain and lose people along the way-there are some friends 2 days ahead of us and some 2 days behind now.
For our last day we had to transfer to another lodge called 'The Barn' which was 20 minutes down the road as the other lodge was full. It's right next to the entrance of Abel Tasman national park which was handy-we went for a short walk and found a lovely little cove where we sunbathed for a good few hours – it was beautiful and so chilled – we had dinner at Hooked-fresh seafood spaghetti, mmm….and then Jess, Jamie and I watched the holiday in bed 🙂
Enjoy this article? Please share 🙂