If you are interested in my trip, I travelled with G Adventures for 2 weeks on their End of the Earth tour which you can read more about here.
NB. This page has affiliate links. If you choose to purchase any of the products I have recommended or make a booking through my website, I may receive a small commission. This doesn't affect the price you pay and helps keep my site running. For more information please see my affiliate disclosure 🙂
Having arrived back at Puerto Natales, we were ready for some food so found a nice little cafe with a cosy log fire and local pear juice which was delicious. Puerto Natales is a pretty big hub for tourists but still has the feel of a weather-beaten fishing village somehow. We had a few drinks back at the hotel but were heavily out-numbered (and almost drowned out!) by a very emotional, Jack Daniels sipping tour group saying their heartfelt goodbyes…
I am sneezing lots here. I think it must be the Southern Hemisphere pollen season. We had a bit of a lie-in today then got the 3-hour bus to Punta Arenas (still in Chile). The town is located on the Magellan Strait which connects the Atlantic and Pacific oceans (and took explorers a long time to locate).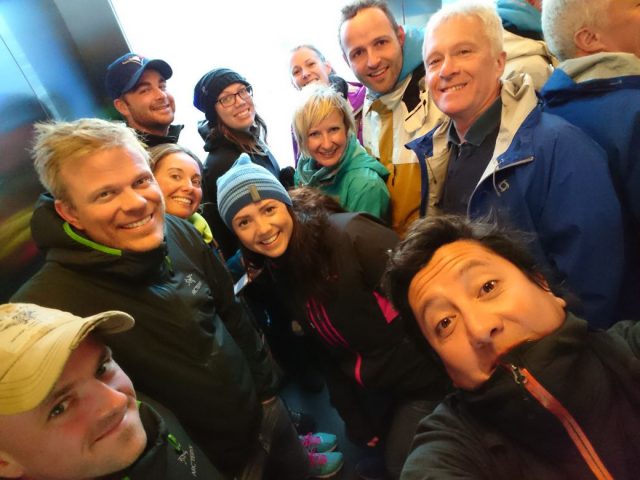 It was a very convenient location for ships heading to California for the gold rush and around the same time, the economy really took off after the governor at the time (just before the turn of the century) authorised the purchase of 300 pure-bred sheep from the Falklands. The experiment encouraged sheep farming and attracted farmers, mainly from Eastern Europe and Russia and really paid off.
My first impressions were of a tired-looking, slightly downtrodden (and very windy, like the whole of Patagonia) town but it definitely has a charm to it. There are so many stray dogs in the town but they all look pretty healthy and almost seem to rule the town, barking at cars and causing traffic jams. The cars seem to stop for everything, even on main roads, they will let you across if you're waiting 🙂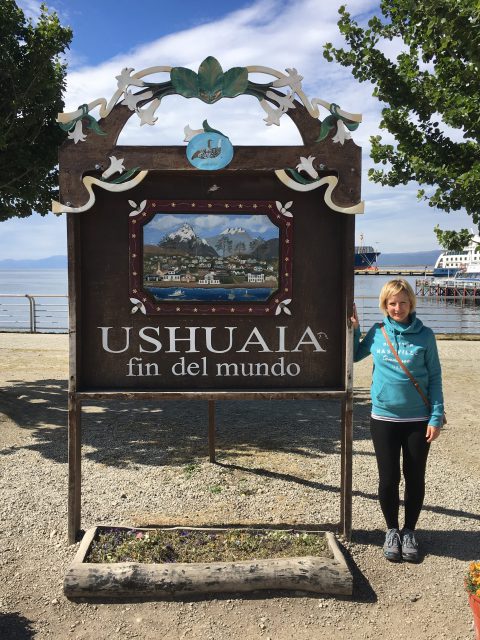 Sonia and I found a really nice chocolate coffee shop – I had a blackberry mocha which was soooo good! I can still taste it now. The cafe played bossanova versions of everything including YMCA. Strange. Still better than reggaton though, haha.
We had a really good evening meal – I had a traditional Chilean bean stew and Pisco Basils which were very nice (and very green). They tasted a little like a mojito. Afterwards we went to the Sky bar at the top of the casino for more pisco sours (which were even stronger). The view from the toilet was very impressive too.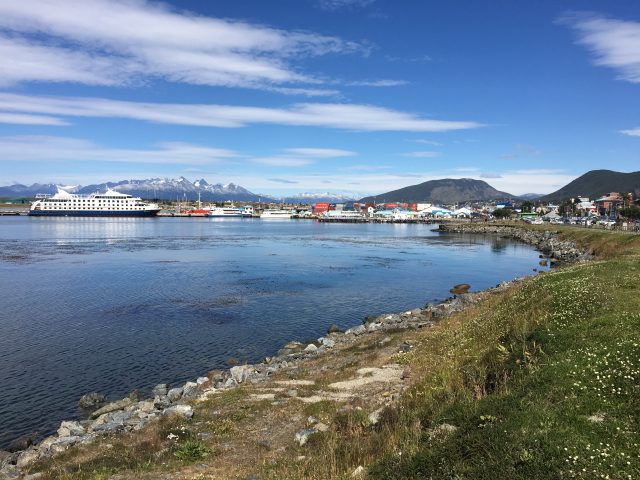 The next day was our long bus journey to Ushuaia which we were warned could take anything from 10-20 hours. It all depends on the wind and whether the ferry can make the crossing straight away. But we were lucky with the weather (yet again!) so it was only about 8 hours in total I think, and we were back into Argentina. It felt strange going from seeing flat, quite bland landscape to suddenly seeing forests, lakes and mountains about an hour and a half from Ushuaia. There had been virtually no civilisation during our journey….and then all of a sudden we arrive at a huge city! Its namesake totally makes sense, it really did feel like we were at the end of the earth.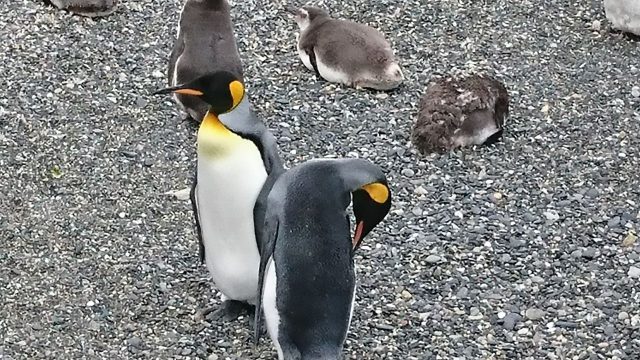 Apparently people are paid really well in Ushuaia to try and encourage them to move here. The biggest growth took place in the 1970s and 80s when people from all over South America came to set up homes and businesses.
Our hotel is very nice although the rooms are boiling. I think every room we have had on this trip has been sweltering or freezing and no controls to adjust it! We went out for dinner and ended up in an Irish bar round the corner drinking piscolas (pisco and coke) until 3am. There were some very interesting people in the bar, a chef who was going to work on one of the cruise ships to the Antarctic then onto New Zealand, two guys from South Africa camping and hiking their way across Argentina and lots of other people either heading to the Antarctic or into the wilderness that surrounds Ushuaia.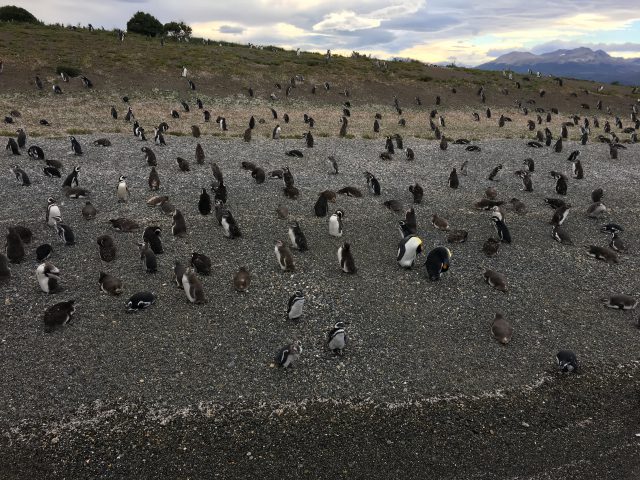 The next day we had a chance to wander round the town. It was really warm and sunny and there was no wind! Very unexpected considering we were as far south as we could possibly be on the mainland. We wandered along the waterfront and got a Ushuaia stamp in our passports 🙂 This afternoon we went on a boat trip and saw penguins, cormorants, a ship wreck and the house of a missionary – it's so remote now and pretty close to the Antarctic. Apparently the average age of Antarctica tourists is 70 – I guess for a lot of people, it's the last continent they visit!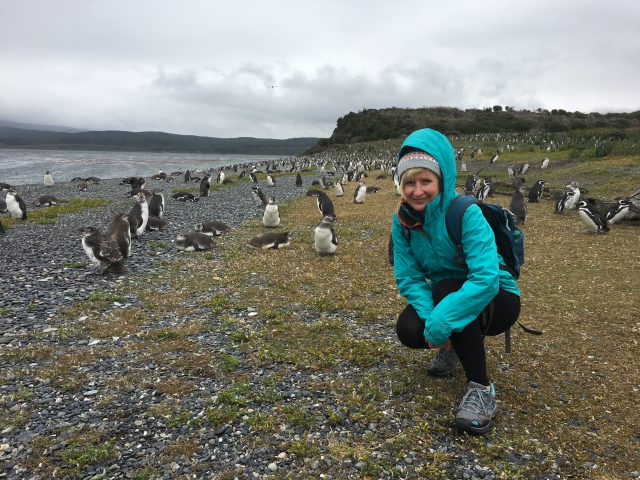 The day after 7 of us went on the penguin tour which was absolutely brilliant and has to be one of the best things I've ever done! We got a bus to the Haberton Ranch which used to be the home of missionary pioneer Thomas Bridges and was named after his wife's home in Devon. From there we got a speed boat along the Beagle channel (which separates Argentina and Chile) and on the way we saw whales! That blew me away as they are seldom seen so I was definitely not expecting to see any. Absolutely incredible. The penguin (pinguin as all the South Americans pronounce it :)) island was even more incredible. The island has 4800 pairs of penguins and they were literally everywhere. We could walk virtually alongside them and had to crouch down to get any closer.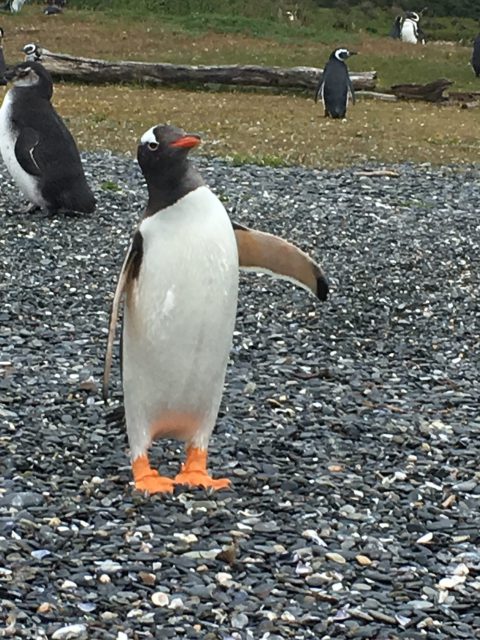 They're such wonderful, inquisitive animals, I LOVED them. It was so cold on the island but the hour we had flew by. There was only one angry penguin who nipped me on the leg.
It was our last dinner with Rodrigo tonight which was sad! Lola Maria's restaurant was top notch-I know I keep writing what I had to eat but being such a food lover I can't help myself….I had a king crab and mussel gratin which was sooo tasty! We all did a toast to Rodrigo and told him what a fabulous tour guide he was 🙂 We all went onto the Hard Rock Cafe (yes, they actually have one in Ushuaia) and then back to the Irish bar!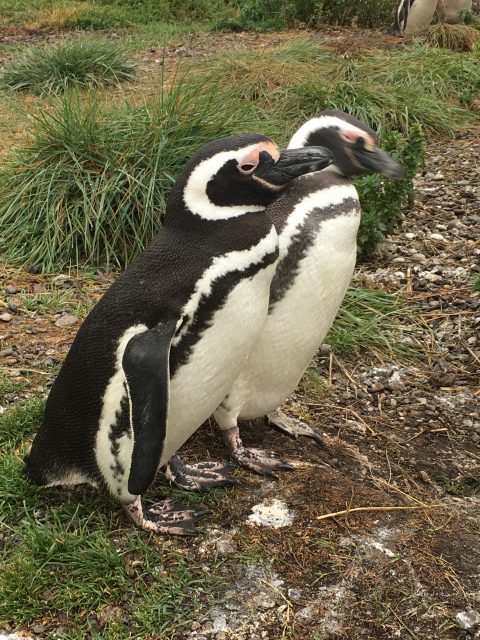 If you are interested in my trip, I travelled with G Adventures for 2 weeks on their End of the Earth tour which you can read more about here.
Did you enjoy this post? Pin It 🙂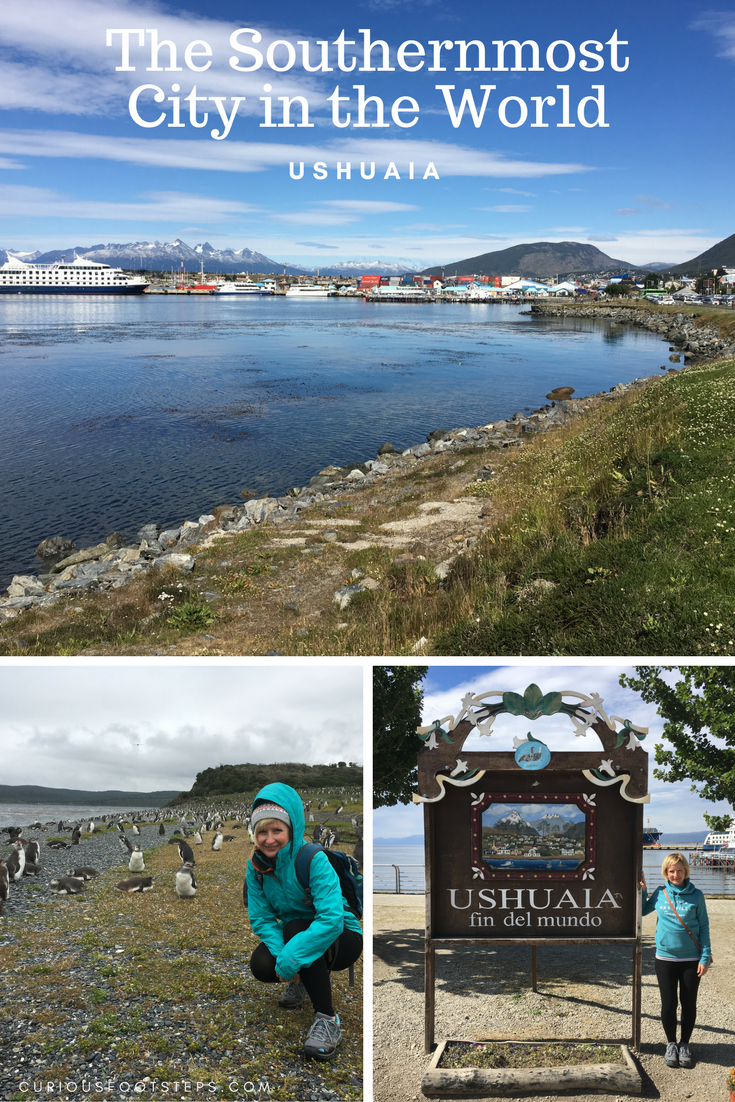 SaveSave
SaveSave
SaveSave
SaveSave
SaveSave
SaveSave
Enjoy this article? Please share 🙂