Queenstown, South Island, New Zealand. It's absolutely fabulous. So far on my trip I have found 2 places I could definitely move to – New Orleans and Queenstown. Very different to each other but equally cool. Queenstown is so chilled out and the geography surrounding it is absolutely beautiful. For a small town (the population is only 20,000) it has so many cafes, restaurants and bars and is so vibrant. It's one of the few places in New Zealand you can actually drink outside too – everyone drinks on the beach (what is the definition of a beach, does it have to be on the sea? I will have to find out!) and watches the sun set over the lake, it's great.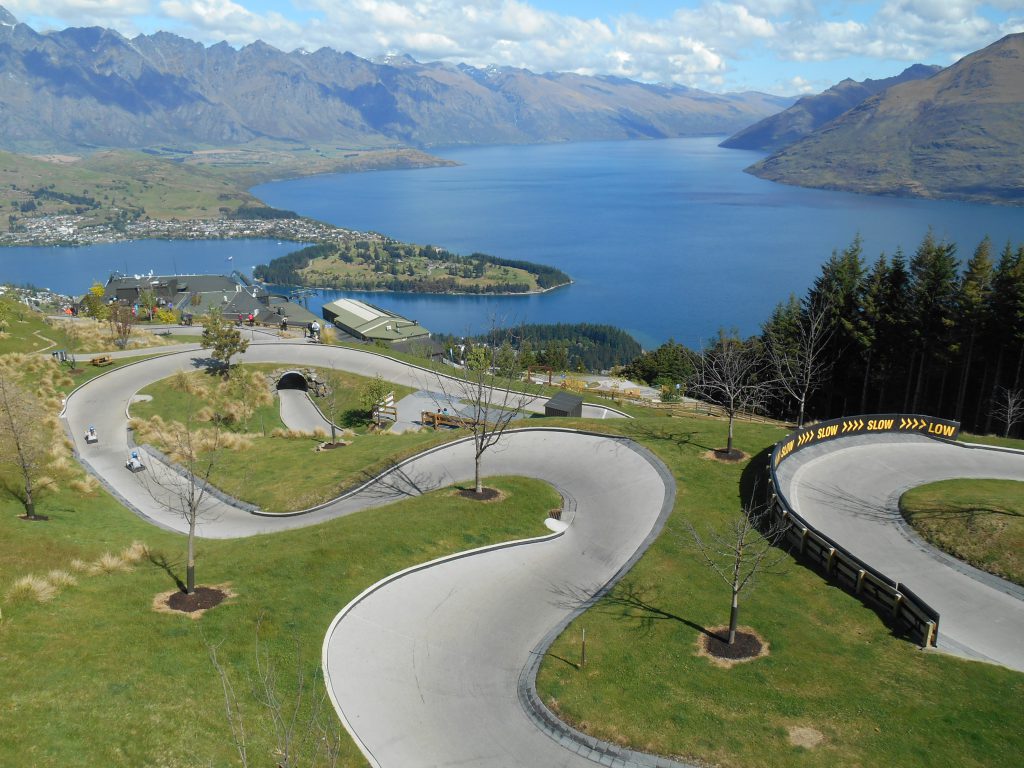 On the first full day Jess went off to do her bungee and I walked up Queenstown Hill with Eleanor and Wilma – it was a steep walk and tiring in the heat but we made it and the 360 degree views were fantastic. What a gorgeous day to do it. I then met Claire, an old friend from school who I hadn't seen for 15 years! We had lunch at Vudu Larder Cafe which was delicious. It was good to see her after all these years!
She seems very happy to be living here, I can certainly see why. She said even since she moved here (5 years ago) she has seen a change in tourism – it used to be more seasonal and is now pretty much year round, the town now sees 1 million visitors a year.  There has also been a big increase in Chinese tourists which applies to the whole of the country. It makes sense with the huge rise of the middle class in China – I wonder if Australia has felt this too?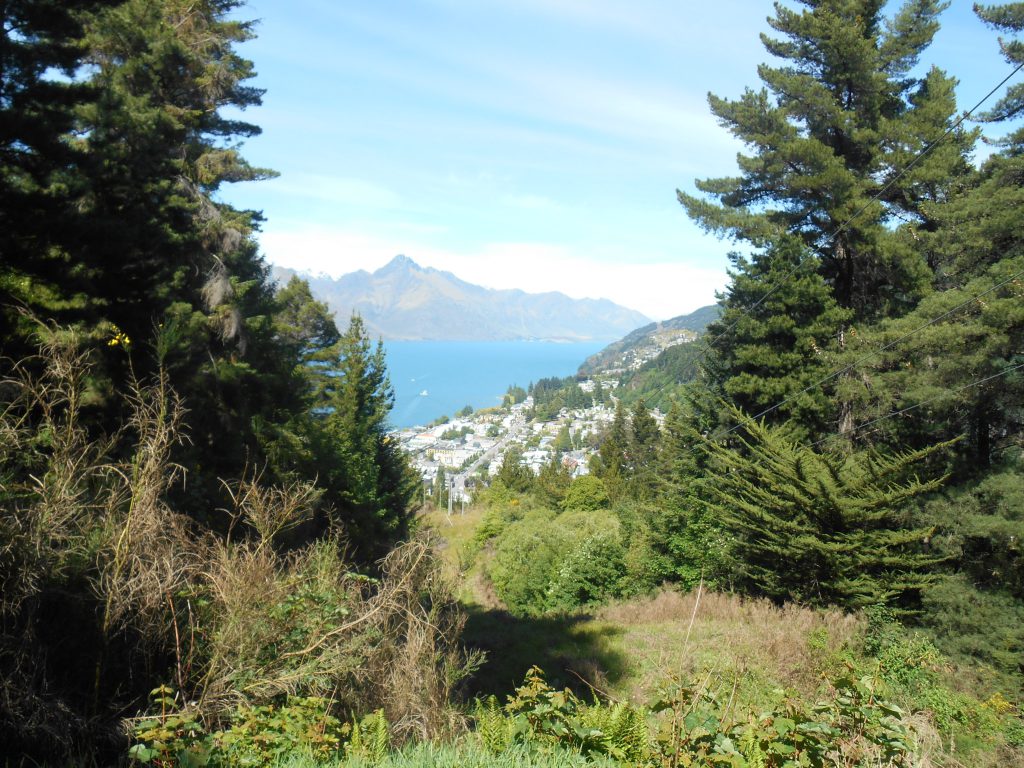 I then went to meet Jess and the boys at the Lake and we sunbathed. We went to a gorgeous Mexican restaurant – their burritos are the best! I could write a blog just on food! We joined the pub crawl for the second night in a row as a few more people arrived tonight – it's so nice that we are all catching each other up here! Taylor Swift is in town filming – one of the Swedish girls saw her walk past the bar and made Nick help her chase her down the street, haha. They didn't manage to catch her.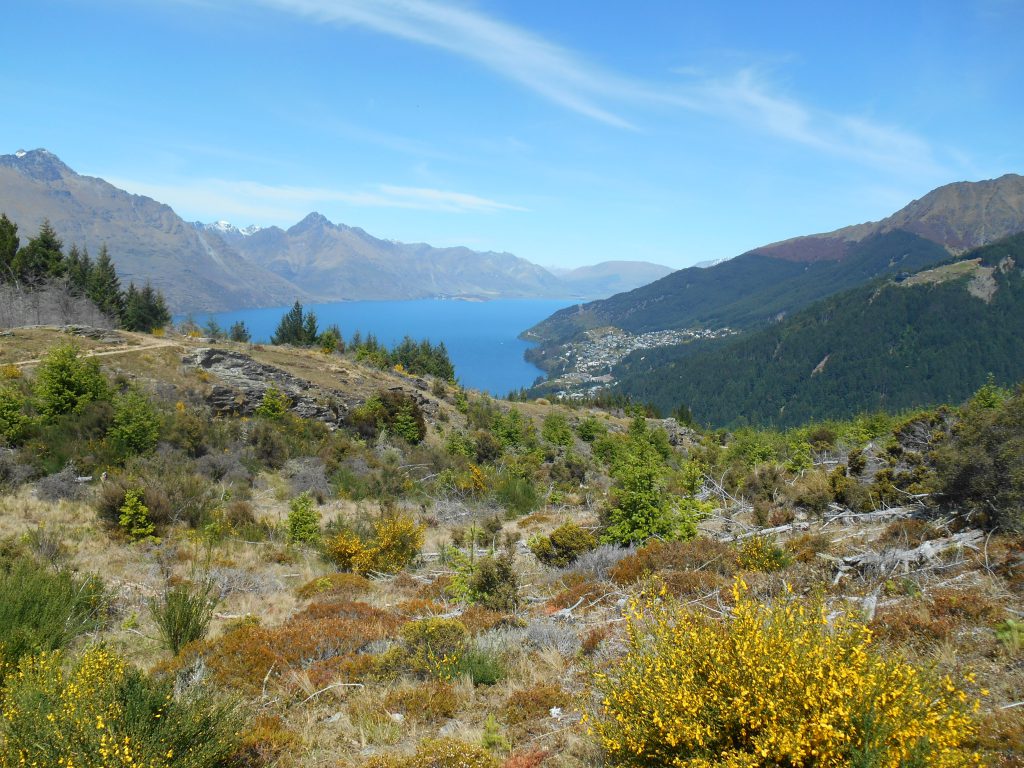 The hostel we're in for the first three nights is really nice – it's a Nomads but it's really new and the communal areas are cool. Jess and I are sharing a dorm with a lovely German guy, 2 lovely girls from Manchester and an American girl who sleep talks in German (????). After a particularly loud and enthusiastic sleep talk I couldn't get back to sleep-it was the morning of the Milford Sound trip so had to be up early anyway – so I walked down to Cookie Monster to get a coffee. But it wasn't the coffee that woke me up, it was Dolly Parton's 9 to 5 blaring out at top volume at 8am to everyone in the queue looking really grumpy – I actually laughed out loud and had to resist the urge to sing and dance. It reminded me of when they all dance in the queue in the Full Monty. Hilarious. I reckon they should do that back in the UK – how could you not have a smile on your face by the time you left the shop??!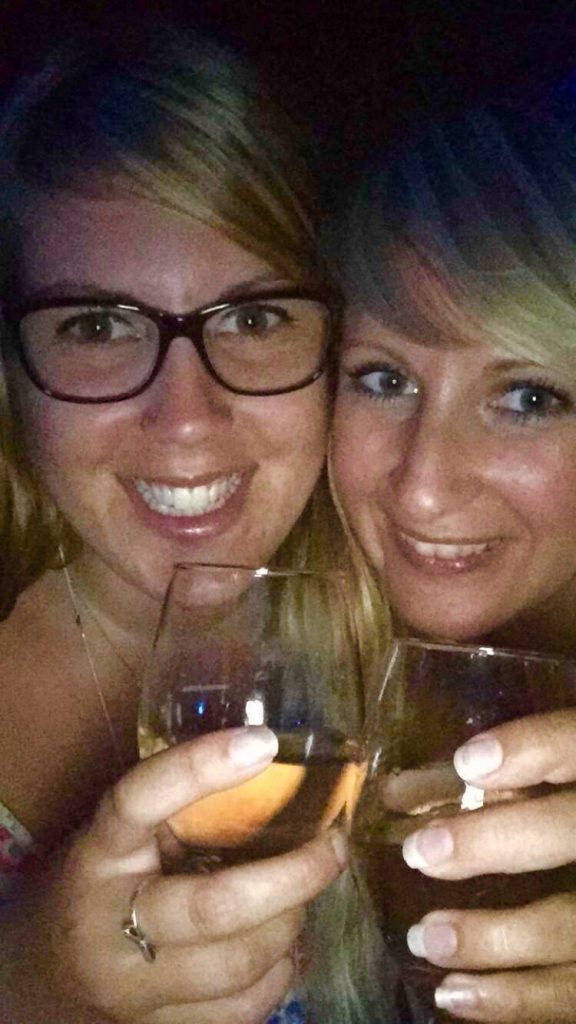 I got on the bus to Milford Sound now brighter and breezier than most other people-and it was a beautiful drive. The rain stayed off until about 3pm. We had so many stops along the way as it was so beautiful. We saw where Jurassic Park was filmed, filled up our water bottles with the freshest water I'd ever tasted (I.e. It doesn't taste of anything and kind of melts in your mouth) and watched the Kia birds trying to peck somebody's GoPro and rubber seals off their car. Milford Sound itself is other worldly.
We got a boat trip through and it felt like we were at the end of the world (not far off really). It's named after Milford Haven as the man who discovered it was from there. It's also named incorrectly as a 'sound' is a v-shaped valley but Milford Shape is glacial and therefore u-shaped. Even though it was drizzling it was still pretty incredible. We had a long drive back to Queenstown that night and our driver put on 10 Things I Hate About You. I'd forgotten how good it is! Frik, the Dutch guy sitting next to me was loving it a little more than he should too, haha. We got back just after 9pm and all I wanted to do was go to bed but it was the last night for a few friends so we went out for a couple and played pool. It feels quite sad everyone is beginning to go their separate ways now…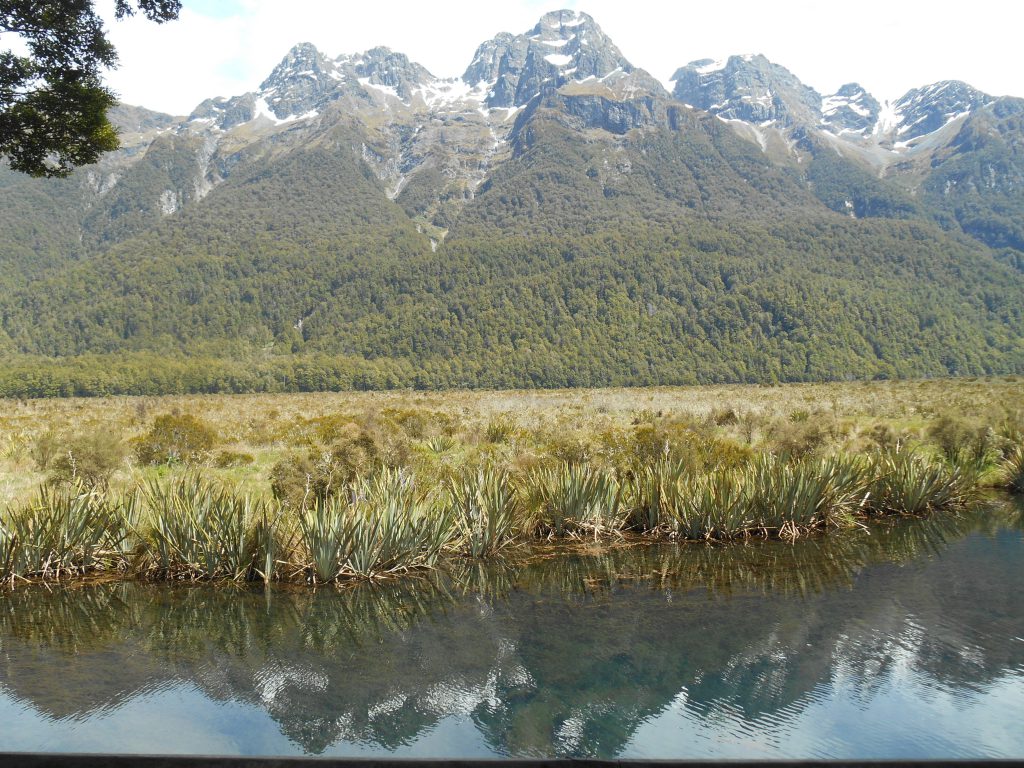 It was sad saying goodbye to Nick, Jamie, Chris and Neil-they have been with us since the very beginning! Jess and I went to get a coffee and I found my eyes distracted by a paragliding advert-next thing I knew I'd signed up for a midday glide! We had to check out of Nomads and move to Base today so I dumped my bags and off I went! We went off Coronet Mountain which is where the ski runs start from. Me and my South African instructor were the first to go-he literally told me to walk and then run and keep on running off the cliff. Strangely this didn't phase me at all when I know for a fact I couldn't do a bungee. It's all about the manner of attachment for me as I'm not scared of the height.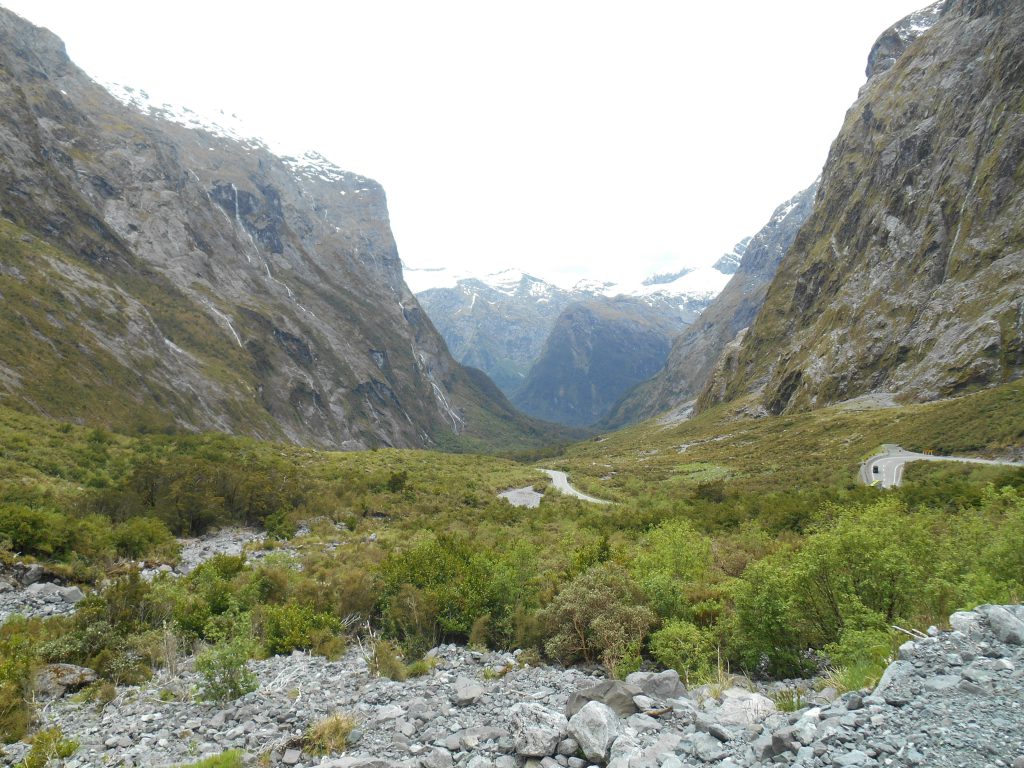 Running off the cliff was brilliant and once we were in the air it was so peaceful. I questioned why we were much higher than everyone else and he told me he was the craziest instructor and he likes to push the boundaries like getting quite close to the rocks etc. I did a big gulp at that point. But then I realised we were doing some pretty cool stuff and loved it! He did some crazy turns and I seemed to be facing the ground a lot-there was a big smiley face on the landing field which I kept seeing! It was similar to being on a roller coaster, really thrilling! It was the perfect day to do it too. We were first to go but last to land, reckon I got a pretty good deal there 🙂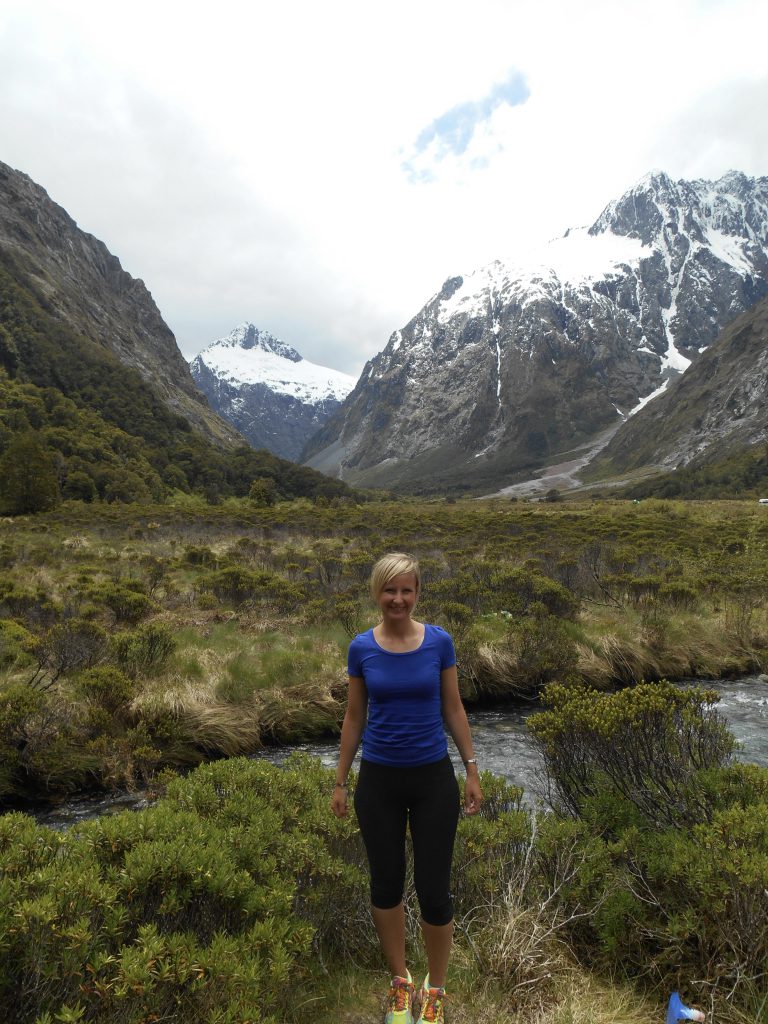 Jess and I checked into Base and I was amazed to find out that the triple room I had booked was actually just for me and not shared with 2 other people. It was the only room left but I hadn't realised it was private! I did think it was a little pricey, haha. So I had three beds, one of which they made into a double, a fridge and a bath!! It felt so luxurious (and rather indulgent!) after the dorms. I enjoyed starfishing very much. It will be the last time for a while! Every night in Queenstown has been so much fun as there are so many of us here. It's reminded me how nice that feeling is of having so many people to say hi to, like at uni-it's sad how that diminishes as you get older and you get stuck in routines. I've definitely got the Oliver trait of trying to ignore our age (I think it's a good one on the whole ;-)).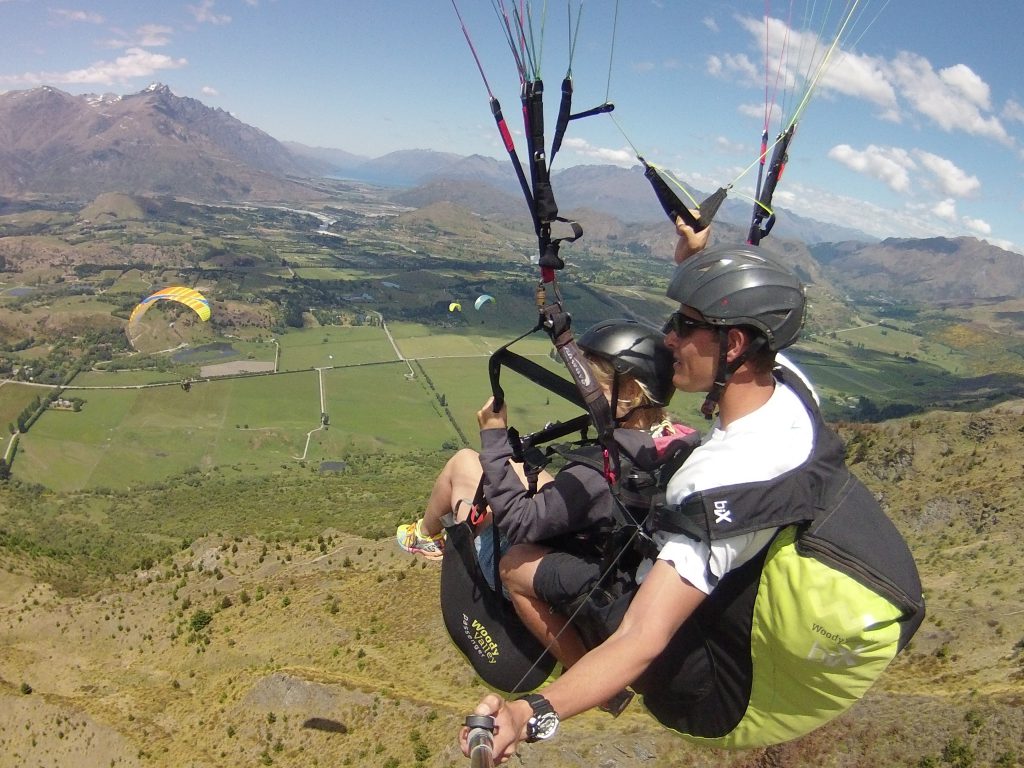 The second to last day of my stay here was emotional-I'd been feeling perfectly cheery that morning as I always do, went to have brunch with the girls and then had to make a quick exit out the cafe as I was fighting the urge to burst into tears. Nothing had happened, it just came out of nowhere-I did a speed walk back to my room (I'm even more glad I had it to myself) and cried (like properly sobbed which means half the hostel could hear as the walls are so thin).

I couldn't stop for about half an hour, it was like my body and mind needed to have a proper big cry and a release (crying at the films was nothing in comparison Jamie ;-)). The gin the night before probably had a small effect but I think it was really just a build up of all the emotions of the last 6 weeks. So much has happened, all of it incredible and I think having a room to myself meant that it was the first time in weeks that I'd actually been alone and had time to reflect on everything. I really have had the time of my life since I've been away and have done so many amazing things and feel so free and at peace-it was the realisation of how happy I'd been that made me cry! Jess came in to check I was ok and I managed to set her off too! She gave me a big hug, I then slept for an hour and woke up feeling revived.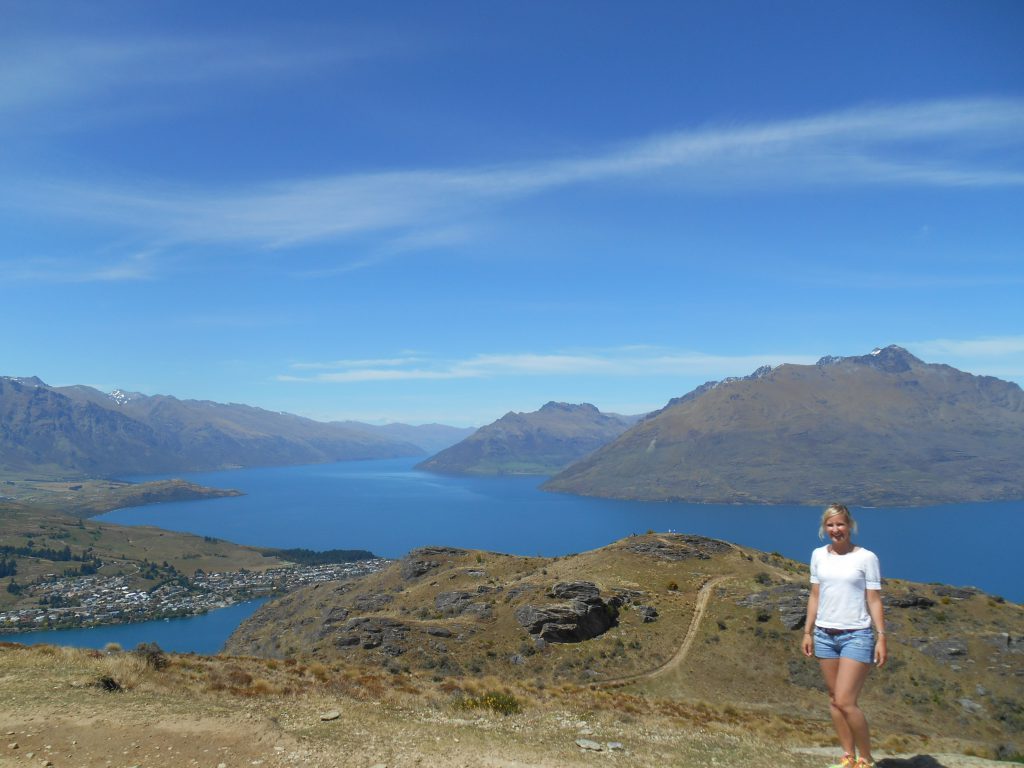 That afternoon we went up the gondola which gave us more amazing views! There are two luge tracks at the top and we got a deal for 5 rides each. With each ride we became progressively faster and riskier-the last ride I think we were all airborne at one point. It was good fun! Although the funniest bit by far was when Jess failed to stop at the end of the track and went flying past the guy with the hook for the luges onto the conveyor belt, hahaha. I went to meet Claire for dinner at World Bar and then met the others on the beach to just catch the sunset.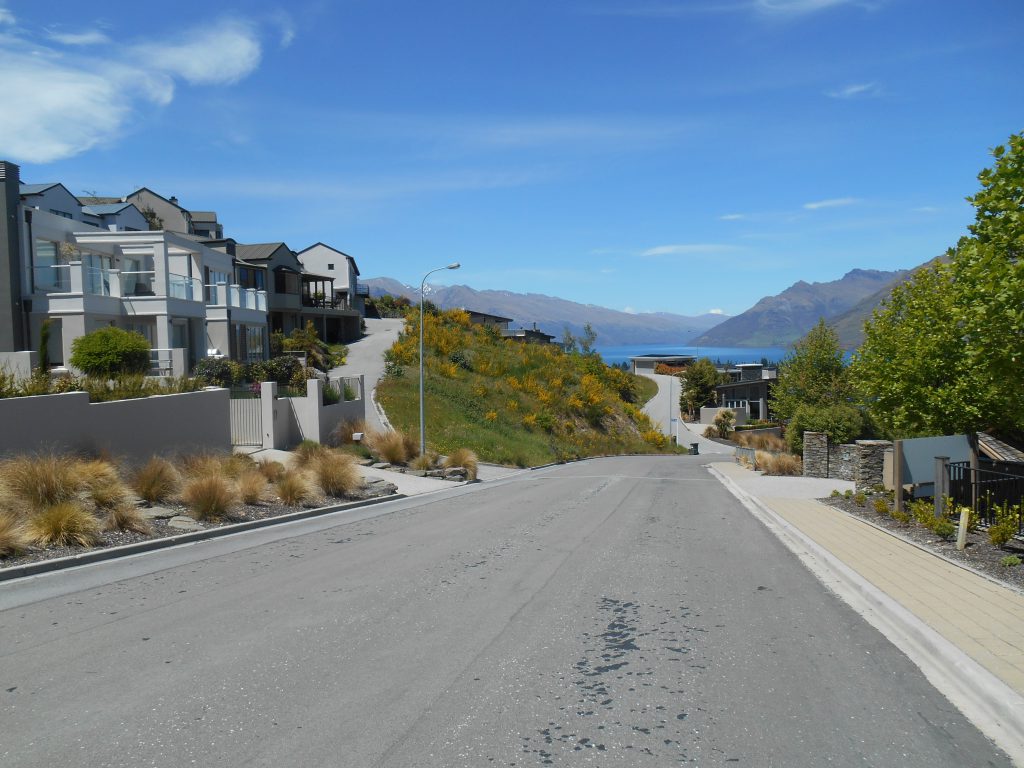 Wilma and Eleanor found a really cool bar called Searle Lane which had really good music and was a bit more classy than the bars we'd been going to on the pub crawls-it turns out the owner makes his own wine which explains why every glass looked and tasted different and was only $5 🙂 We were sitting next to the window so every time people walked past that we knew we'd shout at them to come and join us.
I had to say goodbye to Jess this morning (a few more tears) as she went off on the bus to do the Deep South. I wish I'd had time to do it too. As it was my last day I wanted to relax so wandered round the shops and sunbathed on the village green (the lake was pretty breezy and cold) and met Wilma and Eleanor. I now see where Crowded House were coming from when they sung about four seasons in one day. I still haven't managed to have a Ferg Burger – they are supposed to be amazing but the queue is always about 30 people long every time I walk past!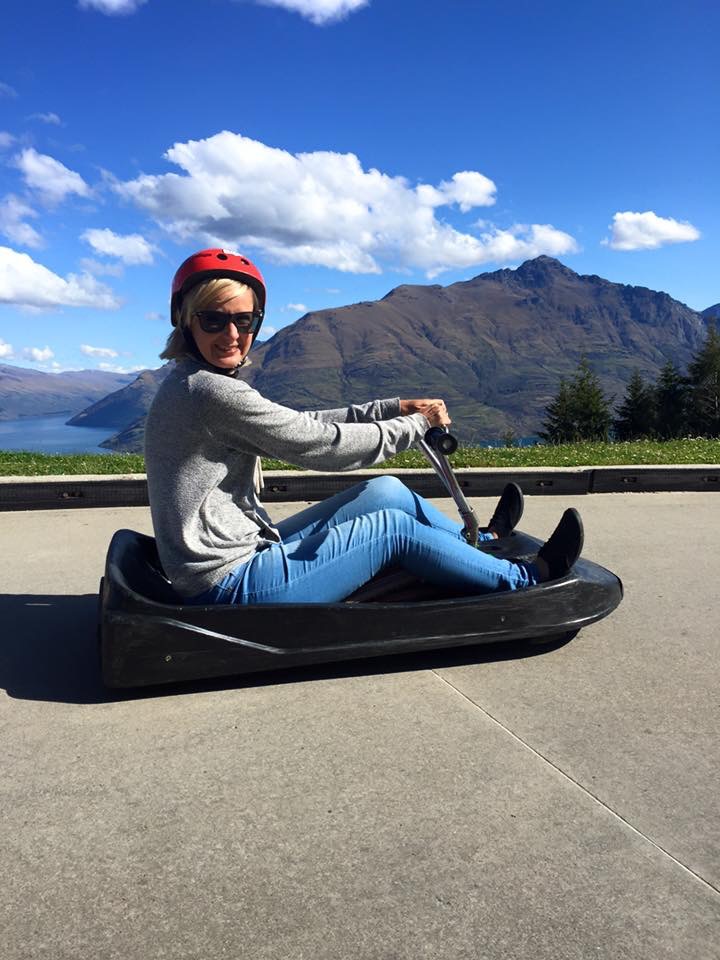 My last night here was relatively quiet as a lot of people have gone now – on Claire's recommendation we went to some pretty cool bars – Sun Deck which is on the roof of the pharmacy and reminded me a lot of the rooftop bars in Dubai. Wilma and I were asked to have our photo taken for the 'Society' section of the local newspaper (haha) by an old guy who goes by the name of Scoop (original!) and showered us in spit when talking to us. Nice. Claire said she'd look out for our mugshots. The last bar we went to was Little Blackrock which was really good-there was a brilliant guitarist – it was so nice to hear some live music – I've been missing it after being so spoilt in the US.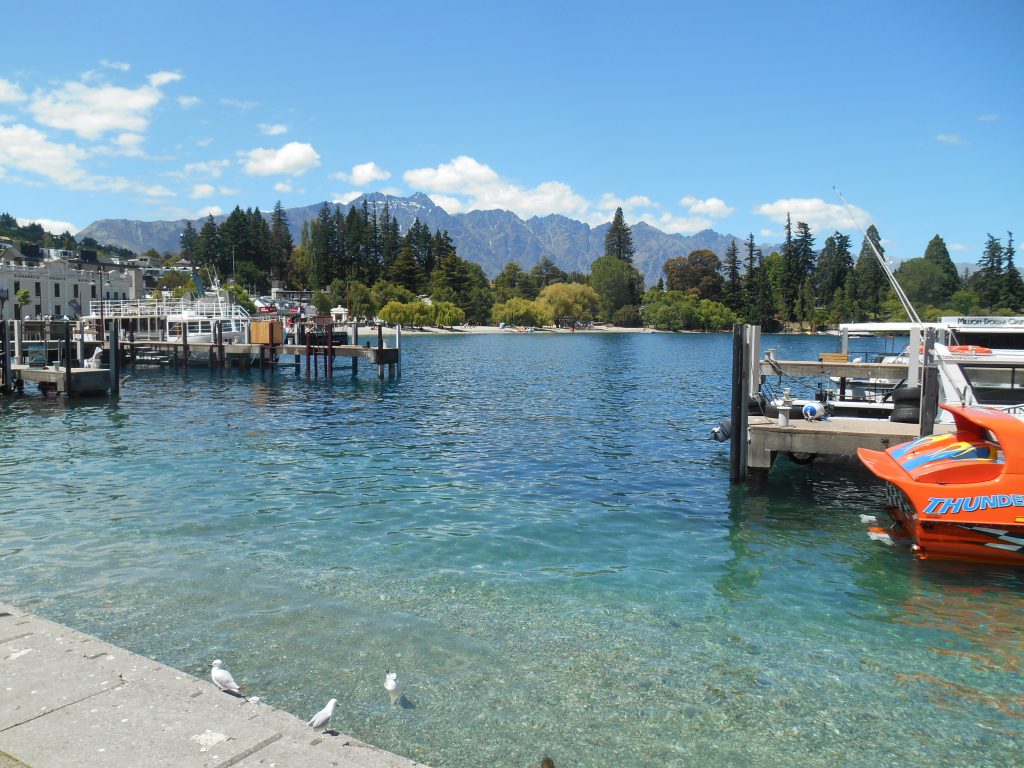 Apparently the drink drive limit has just been lowered (you can now have the equivalent of about 3-4 glasses of wine). It seems strange that a drink drive limit should ever be lowered? I'm not sure what the thinking behind that is, maybe the bars are wanting to make more money? We had a relatively early night as we all had to get up early. I had such mixed emotions getting the bus to the airport – it feels like the end of an era but at the same time all good things have to come to an end and it does feel like time to leave now and move on to part 3 of my adventure – Australia here I come!
Did you enjoy this post? Pin It 🙂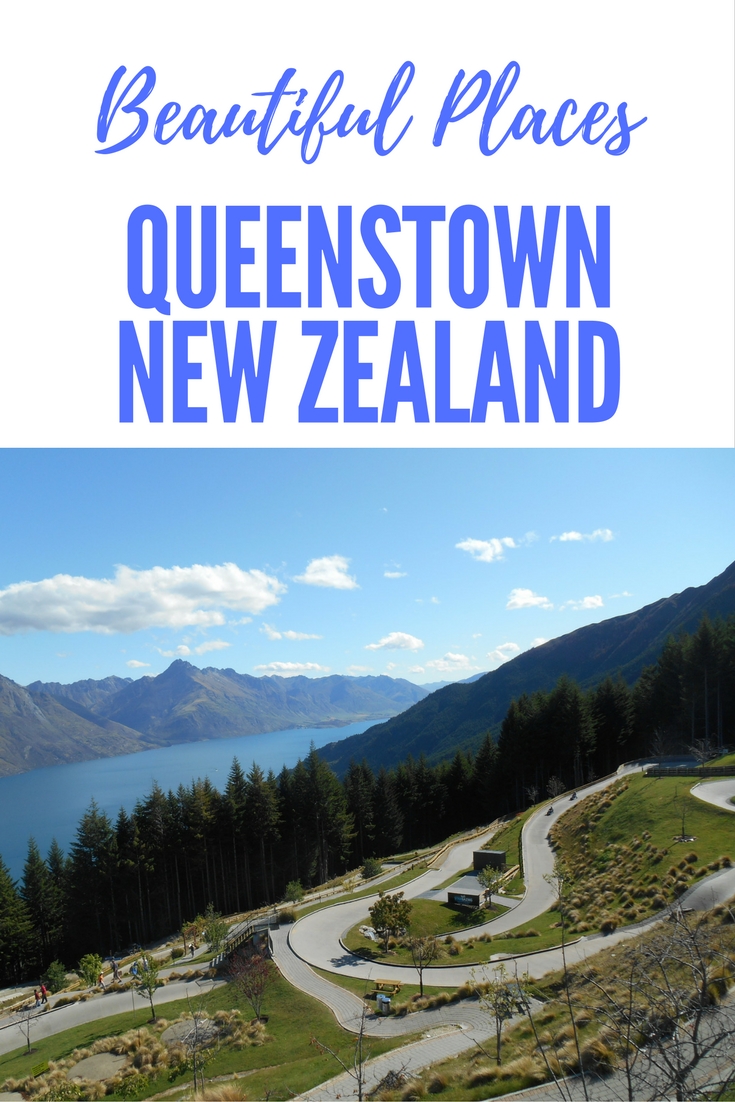 Enjoy this article? Please share 🙂