We had a lovely few relaxing days at Sok San beach, it's been so calm and peaceful lying on the beach and swimming in the gorgeous turquoise sea. In fact as soon as we arrived we extended our stay by 2 nights as we loved it so much! We did a kayaking trip through the mangroves which was beautiful-you could hardly hear a sound other than the swooshing of the oars. We also did a snorkelling trip and were the only 2 booked on it so had the boat to ourselves! So cool. We only found out afterwards that the skipper couldn't swim! Eh? How on earth can you be let loose steering a boat and not be able to swim?! Glad we didn't come across any particularly evil fish whilst snorkelling as he wouldn't have been able to save us.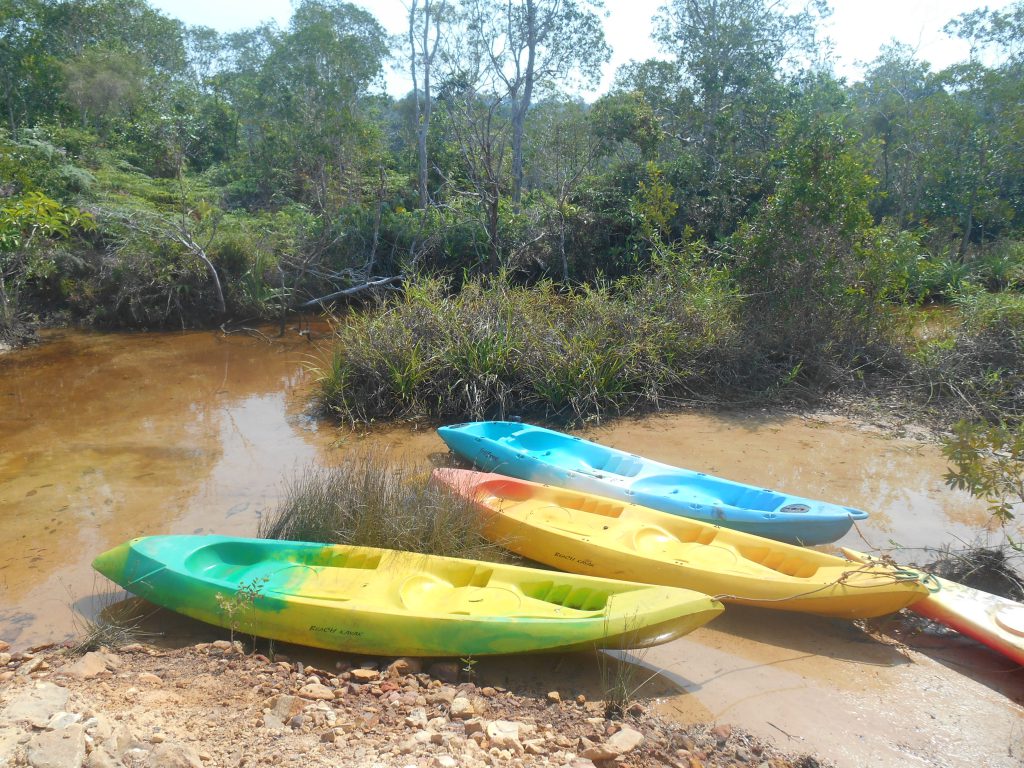 We wandered into Sok San village too which is only a 10 minute walk. It reminds me a lot of Utila (the little island I volunteered on off Honduras) with its houses on stilts, convenience shops that always seem to stock peanut butter, dusty tracks, numerous dogs and jungle interior.
The final morning we packed up and waited for the speedboat-which was delayed due to the high winds! One of the French owners came with us on the boat to reassure us that it was safe but that we'd have to go at a really low speed and that it would take 1 hour 45 minutes rather than the 50 minutes it took on the way out. I'd never seen waves so high, it was pretty scary-everyone was silent, I think we were all wondering the same thing-how on earth the boat is staying upright! Thank goodness they'd given us motion sickness tablets beforehand otherwise we definitely would have been sick, it was intense! We got to dry land safely thank goodness and were very relieved to get in a car for the next stage of our journey!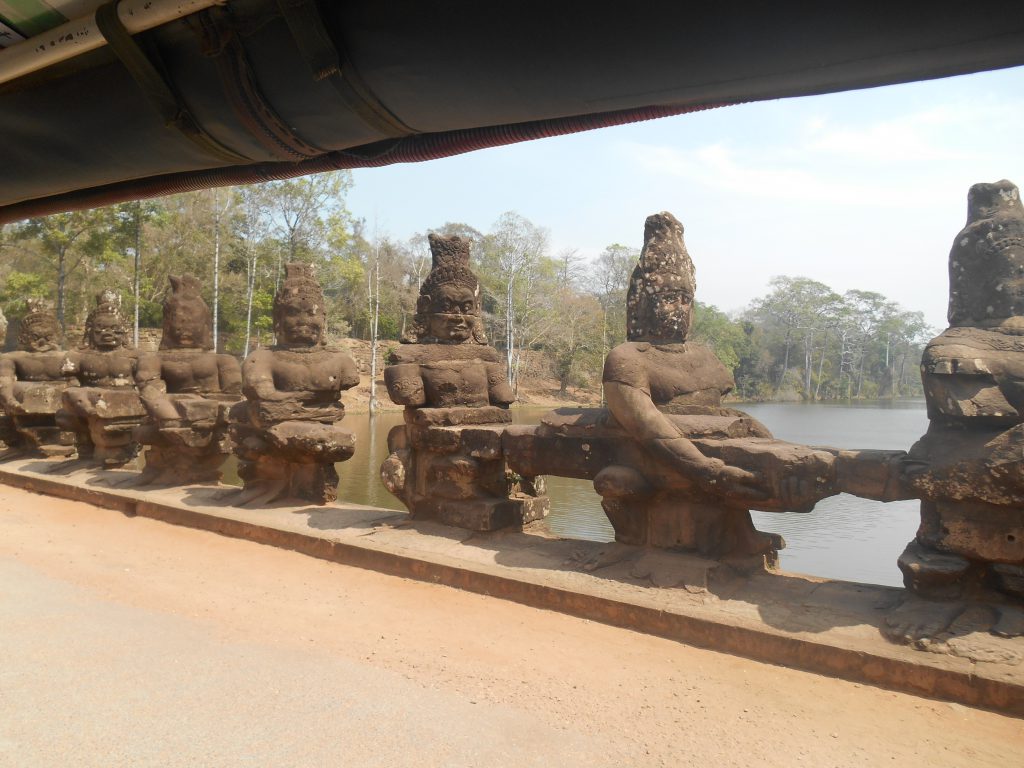 We'd booked a taxi from Sihanoukville to Siam Reap (via Phnom Penh) and our driver stopped for lunch at a little roadside stall. I stupidly had (2 sips of) the iced tea that had been sitting in a jug on the table for goodness knows how long. It tasted a little strange after 1 sip so I stopped drinking it but then put too much chilli in my soup so had to take another sip to stop coughing! And proceeded to have stomach cramps for the next 3 days 🙁 Luckily it didn't stop me from doing anything though, it was just a bit uncomfortable! When the lunch and drink cost the equivalent of 33p each perhaps it was to be expected!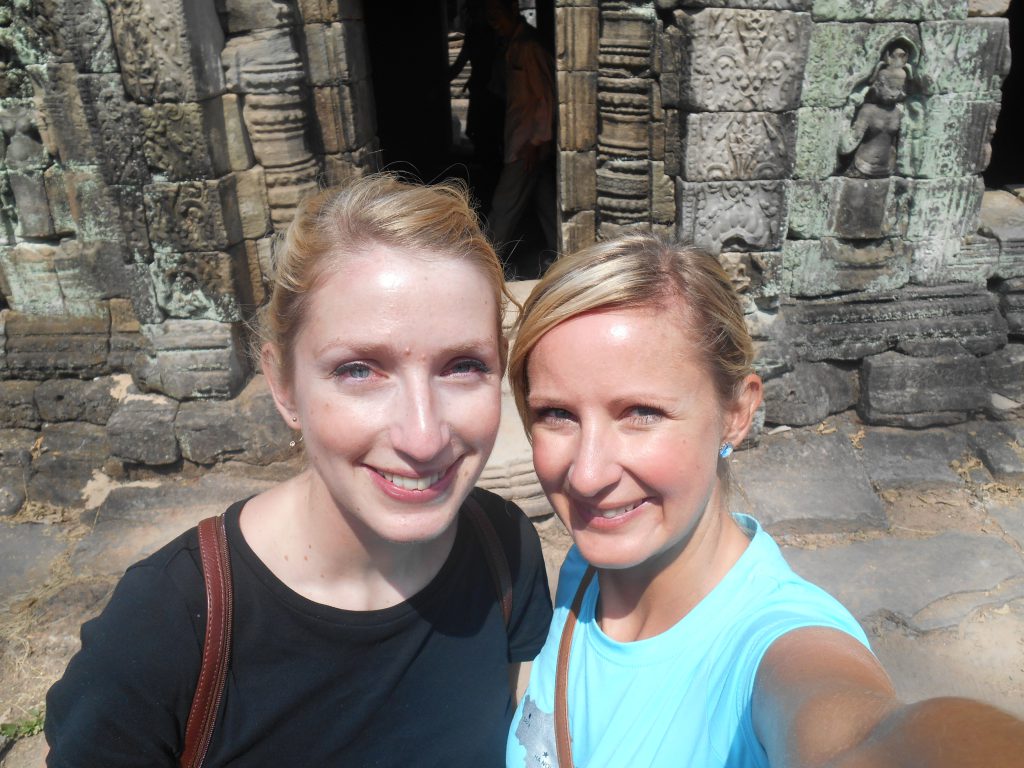 Our taxi driver stopped at Phnom Penh and handed us over to another driver. We felt like we were in a gangster movie as they did this on a dusty road behind the city overlooking the CBD and there weren't many people around-it felt really suspicious especially when we handed over the cash! Haha. Our second taxi wasn't as quite as comfy as the first-we were in a permanent semi-reclined position which made it difficult to look out the window. Our taxi driver bought some random meat from a stall and then proceeded to drop it off gradually at people's houses along the way. Lucky them. We arrived in Siam Reap just before 9pm-it looks lovely with all the Chinese New Year decorations.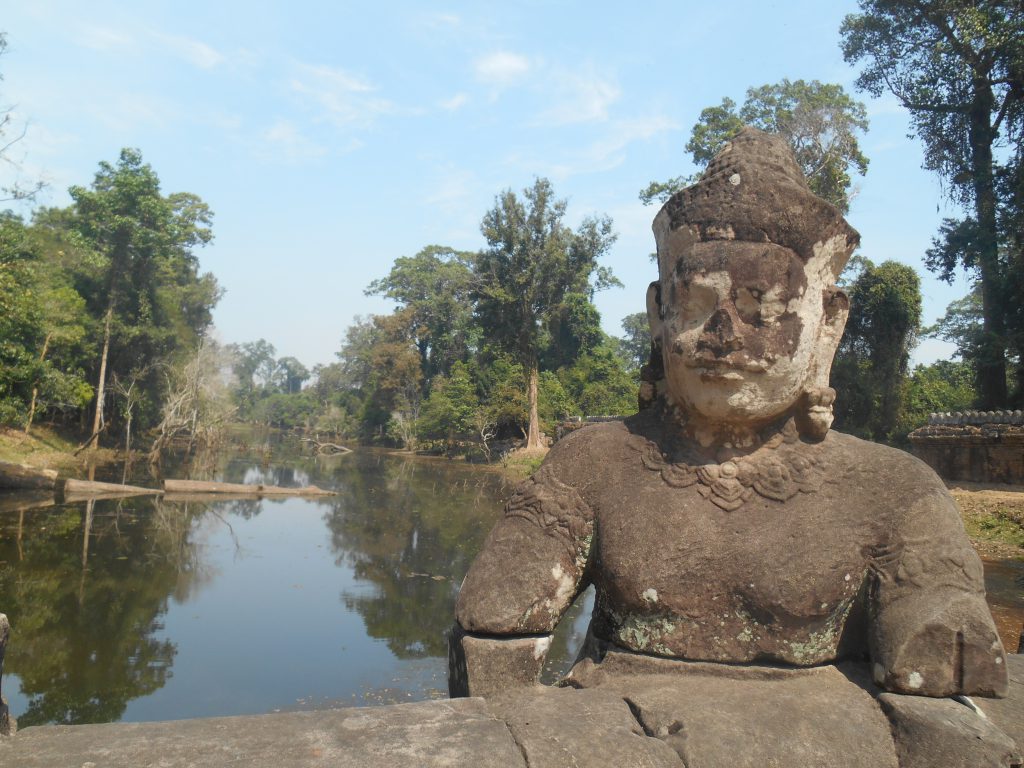 We hired a tuk-tuk for our first day of exploring the temples and had the loveliest man ever! He was so sweet, gave us the biggest wave each time we returned to the tuk-tuk and looked a bit like a Cambodian Jim Carrey. We did the Grand Circuit today which included some of the oldest temples. They're just incredible-we'd expected them to be all dusty and in the middle of other buildings but there is vast expanses of land around them all, beautiful trees, rivers and lakes. Stunning. It's amazing to think they were built between 900 and 1200.
The detail and stonework is quite incredible. We finished templing around 4pm then had a walk out and discovered Pub Street! It's crazy and really cheesy, reminds me of a Greek island resort, doesn't seem like it belongs in Cambodia! We ate in a little Italian restaurant off the main street and spent most of the meal in fits of giggles about nothing in particular, haha. We looked in a few shops and round the night market.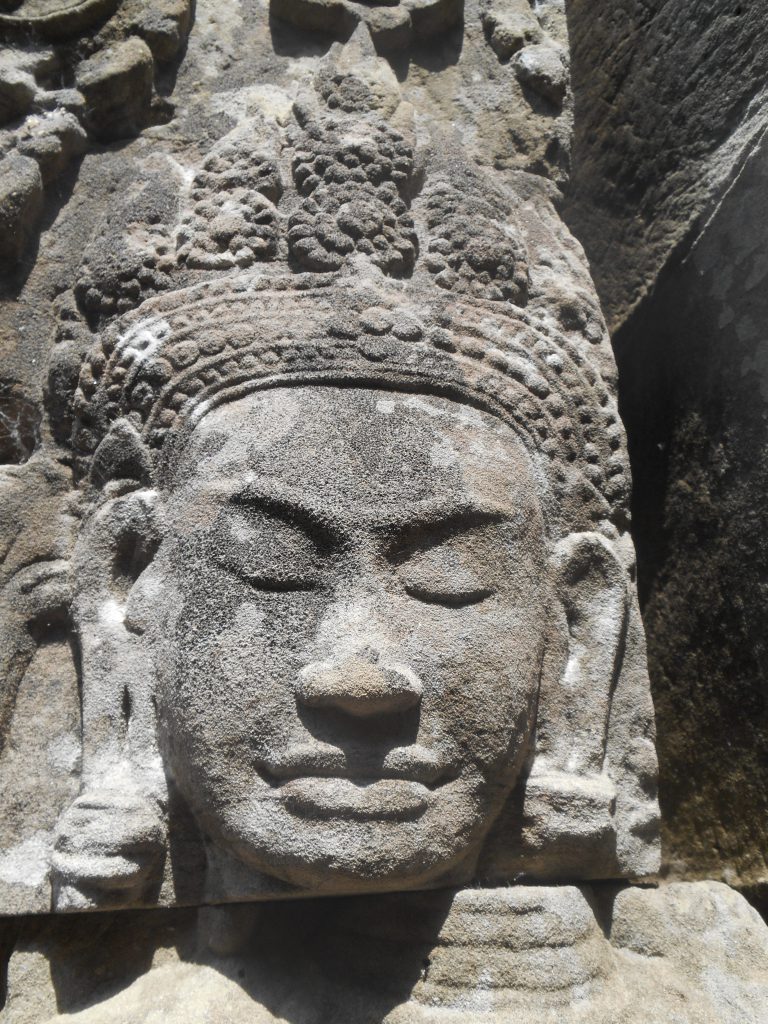 The second day we hired a car as we wanted to visit a few of the temples that were further away. We looked round the group of Roulos temples and then went to Beng Melea which was so incredibly eerie. It was covered in tree roots and had such a spooky feel to it as if all the spirits were there with their stories to tell. It had such a calm peaceful feeling but there was somehow chaos among the calm. We both saw strange shadows on our cameras that weren't there in reality as well. And a weird growling noise that sounded like a tiger. It wasn't our imaginations I promise! It was only discovered in 1990 yet was built in 1100. All those years with nobody knowing it was there.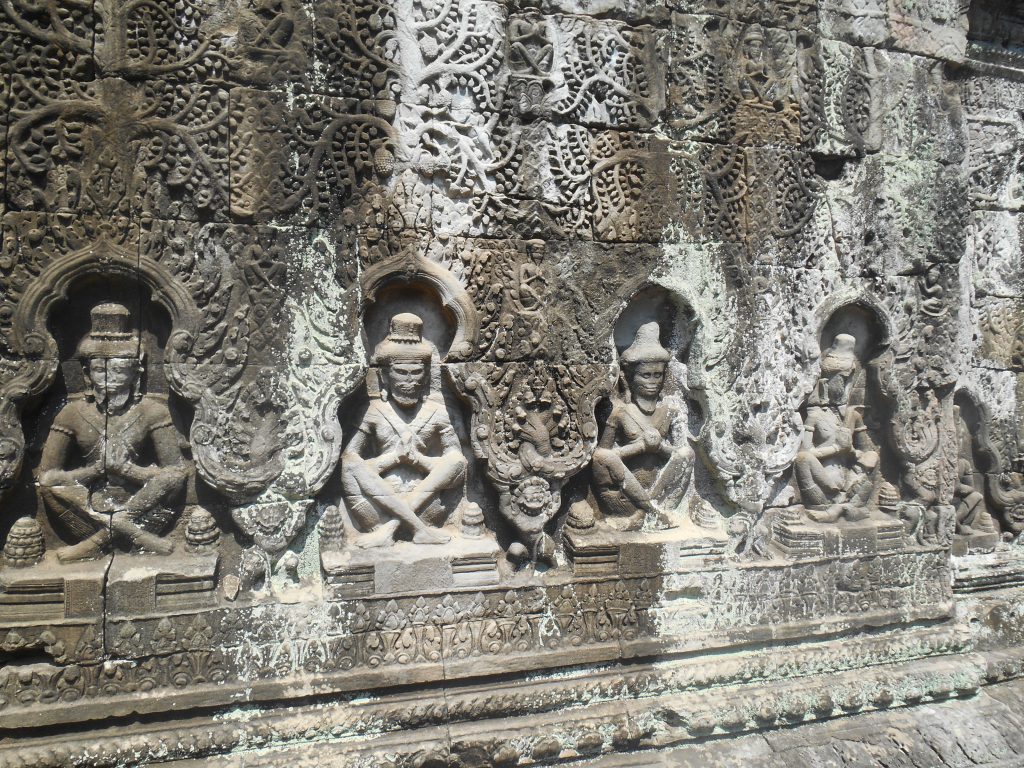 We came back to Siam Reap and had lunch at Blue Pumpkin which was a funky little cafe which apparently there are 7 branches of just in Siam Reap. We went back to the hotel to laze by the pool and read. There are loads of cool little bars and restaurants along the street our hotel is in, they're a lot nicer than Pub Street! So we went for dinner there and then to Miss Wong, a cocktail bar with a Shanghai theme. We couldn't stay out late as we're getting up for sun rise the next day!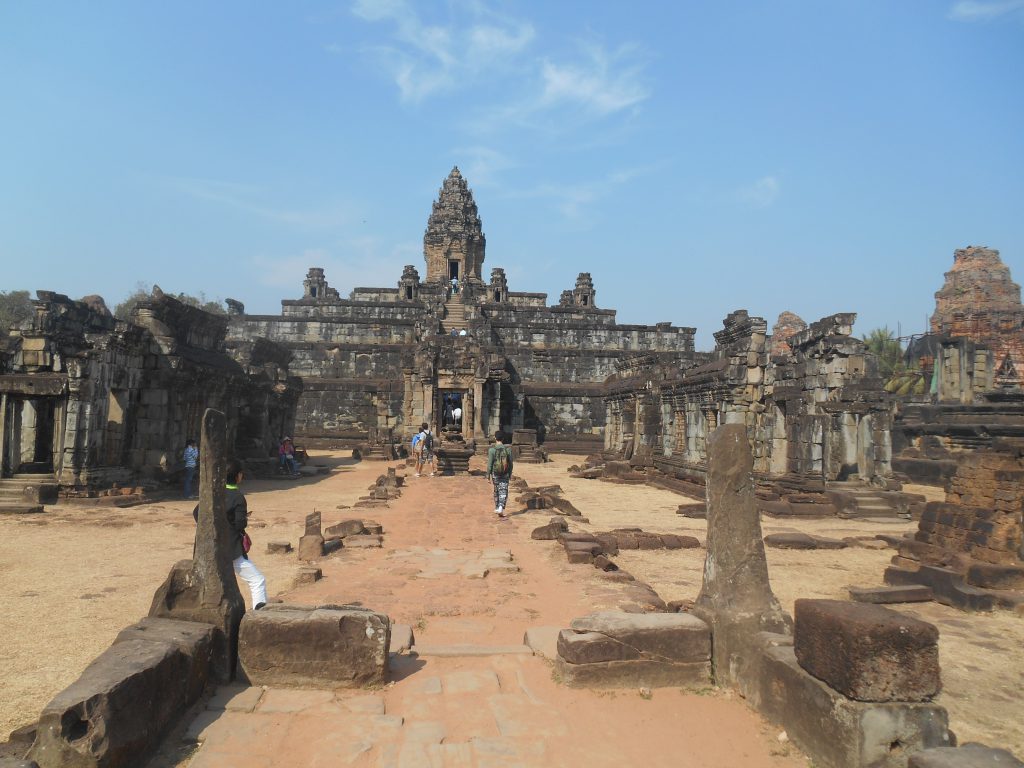 It was totally worth getting up at 4.30am for sunrise over Angkor Wat. We'd arranged with Cambodian Jim Carrey to pick us up at 5am…and little did we know we would soon be joining a long stream of tuk-tuks and cars doing exactly the same thing. Everyone lined up along the water to get the best angle with the reflection. It was pretty impossible to get a shot with no people in but we tried our best and think we managed a few. The sun came up around 6.30am and was beautiful. The pictures say it all. As soon as the sun had risen there was a fight amongst all the vendors to get you to come to their restaurant for breakfast! Each vendor seems to have a single line of about 8 tables and each line is named after fictional characters. We went with 007.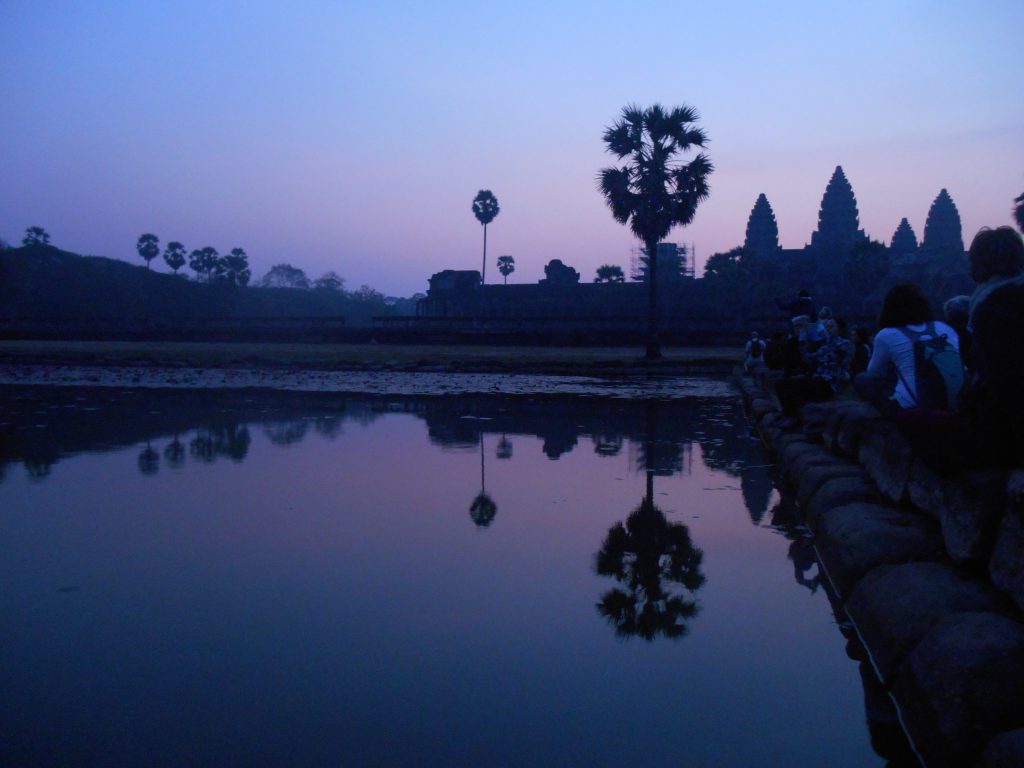 After breakfast we wandered round the interior of Angkor Wat, saw all the monkeys and then Jim took us to the temples of Angkor Thom and onto Ta Prohm which is the temple featured in Tomb Raider. Apparently Angelina is directing a new movie about Cambodia out here at the moment – we didn't see her sadly. It's hard to explain just how magical the temples are without physically feeling their presence. The photos really don't do them justice, each one felt totally different to the last and they were way more impressive than I was expecting. I can see why it's the number one thing to do in south east Asia according to the lonely planet.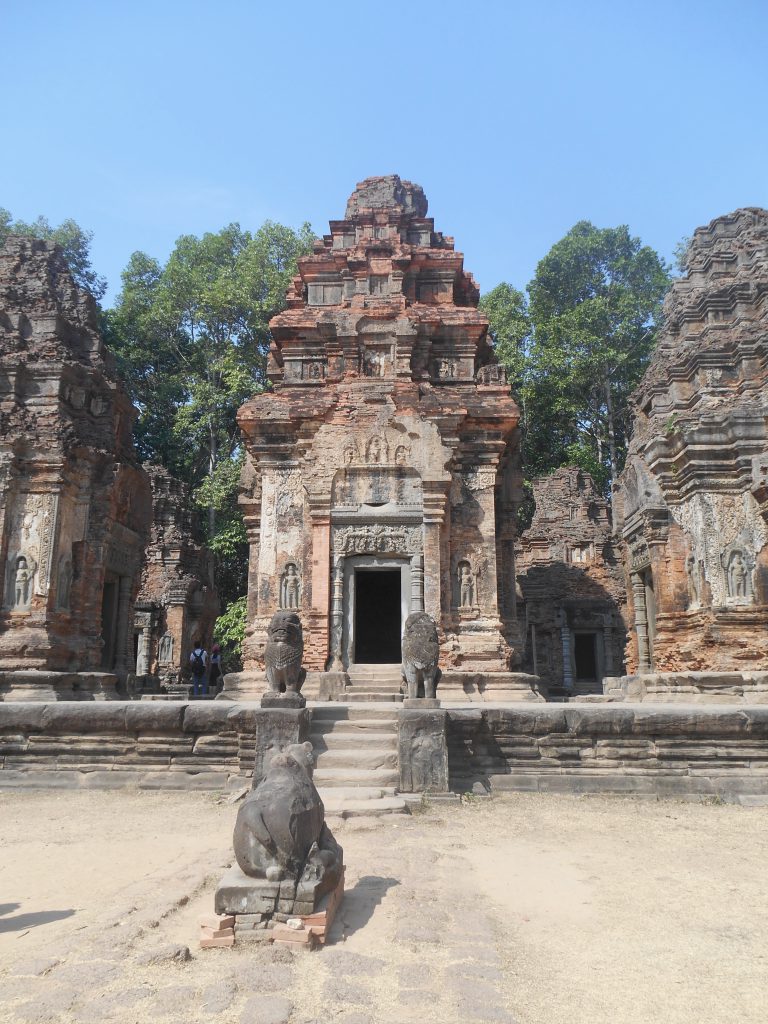 We left early the next day to get the bus to Bangkok. The bus company gave us fake passes that we were on a 2-day tour of Bangkok staying in a random hotel. I'm not sure why we had to pretend we were doing this but it seemed to get us through immigration ok! The Cambodia-Thailand border was a lot more chaotic than the Vietnam-Cambodia border. It was a lot harder to work out where you were supposed to go and quite difficult finding the bus again! We all got through eventually.

We got to Bangkok around 6pm and checked into our hotel which is lovely-great decor, really funky. One thing I thought was really cool (and I would so do this if I ever had a hotel) was they had a charger in the safe! So simple but a brilliant idea. I felt quite melancholy as we were driving into Bangkok as the sun was setting knowing it was my final destination. For months I'd seen it on my flight itinerary knowing it was the final stop and now I'm actually here. There are loads of restaurants and bars near our hotel so we had a walk out and got a pizza. It was a bit more pricey than we thought and we were worried we didn't have enough baht – amazingly we had the exact amount to the nearest 1 baht! We couldn't believe it.
Waking up knowing it was my last day was pretty strange. We went to see the Big Buddha – I'd seen it before when I was last here but I didn't mind going again as HB hadn't seen it. The last afternoon we spent chilling at the rooftop pool and then I packed. My flight wasn't until 2.15am so we decided to go to Chatuchak night market. I remember it being really good last time but it was disappointing this time as loads of the stalls were closed and it seemed quite quiet. We came back empty handed! Very unlike us, haha. We got the metro back and then found a little back street with some cool bars and a fish restaurant where we ate. We walked back to the hotel, I changed into my warmest clothes 🙁 and then got a taxi to the airport.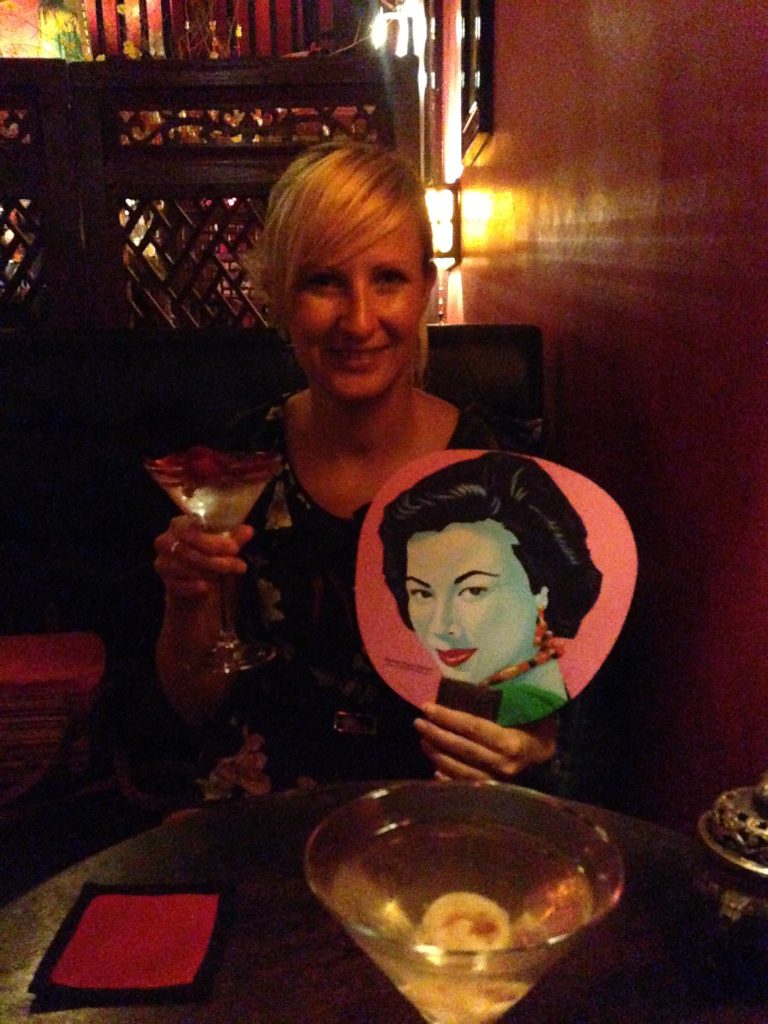 So that's it! After 4 of some of the best months of my life, I've reached my final destination and am homeward bound. I feel incredibly lucky to have experienced everything I have – I've learnt new skills, seen the most breathtaking sights, made friends for life, and had so much uncontrollable laughter its made me fall head over heels in love with everything about life all over again. Thank you to every single one of you that I've met along the way and also to all of you at home for keeping in touch and being the amazing friends that you are. Feeling the love. I've got such mixed feelings – incredibly sad that such a wonderful time is over but really looking forward to seeing everybody again and feeling excited about what's to come……
Enjoy this article? Please share 🙂