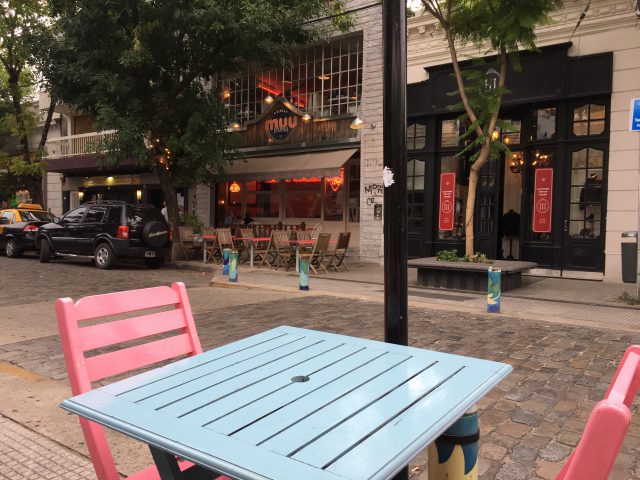 On the day we had to leave Ushuaia we had to get up at 6.30am and there was a power cut and no water! The water literally went off as Sonia had put soap on her face and I was packing with my head torch. After I had finished packing and struggling in the dark we realised that actually all we had to do was open the curtains and it was daylight. Think the hangovers had made us not quite with it. We got our flight back to Buenos Aires and as we were waiting for our baggage 2 dogs in cages came round on the carousel! I'm sure I've never seen that before. It made me chuckle.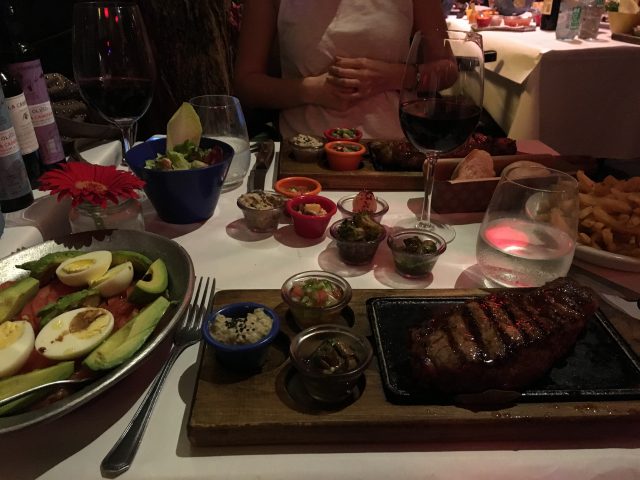 It felt nice to be back in Buenos Aires. We checked back into the same hotel then had the afternoon free. I walked down Florida Street which is the main shopping street and had to resist buying any clothes as they are pretty expensive. But so many nice dresses! As a last group activity (although sadly without Rodrigo), we decided to go to a tango show. It felt nice to be able to wear something nice and be warm again, I'm so sick of my hoodie now!
We had a tango lesson first which was fun – maybe more for the girls than the men (and I got to dance with the teacher which was good ;-)) – and then sat down for a three course dinner and the show. I think most of us chose steak and we had unlimited wine too. The tango show although very touristy, was excellent. It went through the history of the tango from 1900 to the present day with some amazing costumes. The dancers were fantastic, as were the band. We said our goodbyes as a group as a lot of people were leaving the next day.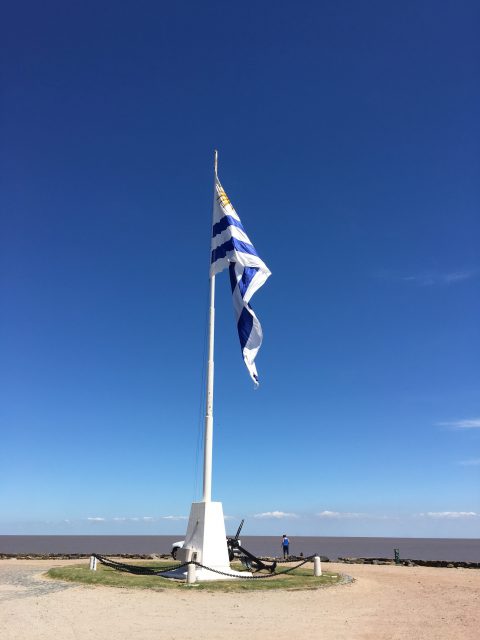 The next day was quite a lazy start and those of us still here checked into our hostels. Its nicer than my other one, the communal area is much better – although strangely people don't seem quite as friendly. That afternoon Sonia, I, Magnus and Ina got a taxi to Palermo. What a beautiful neighbourhood! Now Buenos Aires reminds me of Paris even more as Palermo is full of cafes, boutique shops and wide tree-lined streets. There was a good market on too with lots of nice jewellery. We went to La Cabrera, a restaurant that Rodrigo had recommended and it was absolutely amazing. The steak was the best yet and the atmosphere was great, lots of (well to-do) locals and only a few tourists.
The waiter then recommended Frank's bar which is a secret bar with a door in the wall. He looked up the current password for us on their Facebook page – which was just a picture of Rod Stewart. We had to ask the doorman whether he knew Rod Stewart to get in. Haha. And then dial a number in a phone box, walk along a passage way and we were finally there. It was a really nice bar, the funniest thing was the waiter making our cocktails – he was soooo precise. Everything had to be perfect and woe betide you if you spoke to him whilst he was concentrating. He actually made me think of Roman Atkinson's character in Love Actually when he's wrapping the necklace. Hilarious.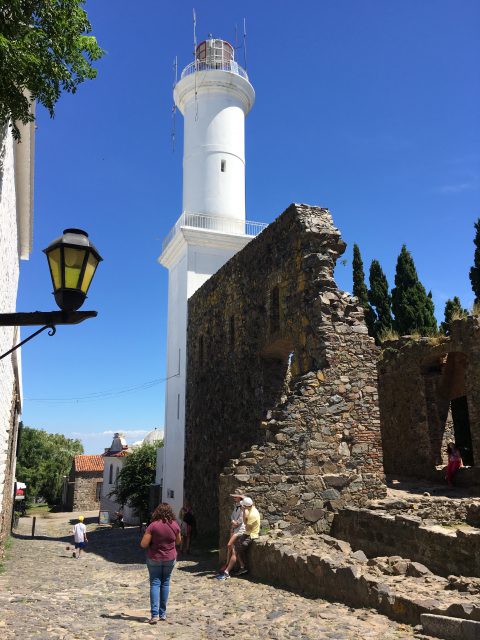 I crept into my dorm to go to bed and woke up the next morning to discover I'm sharing with three boys, one of whom was Latvian and was motorcycling across South America. Pretty cool. I met Sonia and we went to San Telmo Sunday market but it was raining and quite chilly which spoilt it somewhat….we had brunch in one of the indoor market areas to escape the rain. It had eased off by the time we came out again thank goodness. We had a chilled afternoon, I caught up on blogging and skyped home and then Sonia and I went back to Es Nivel for dinner for her last night as I loved it so much last time! It's still amazing me that a glass of red wine is cheaper than a small bottle of water….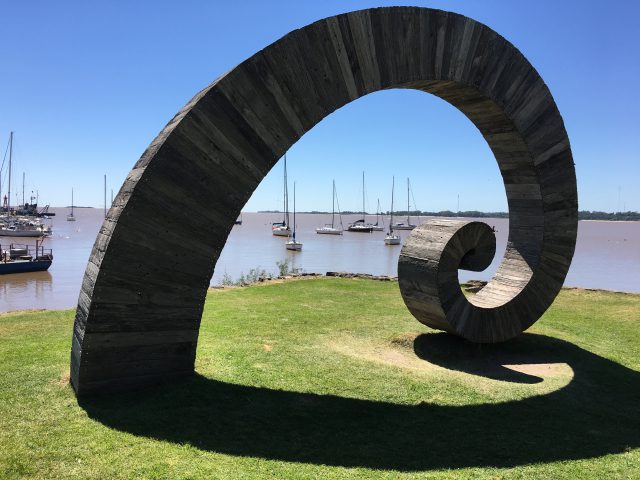 Seeing as I had 4 days in Buenos Aires (6 in total), I decided one of them could definitely be spent in Colonia del Sacramento in Uruguay as its only an hour away on the ferry. I booked my ticket through my hostel but even though it was only a 15 minute walk to the ferry terminal, they told me to take a taxi as its next to a pretty dodgy area. The taxi driver dropped me off and when he'd already driven off I realised the terminal was closed! I had a minor panic at a) missing the ferry and b) being alone in a dodgy area. I then saw a sign with an arrow pointing to 'nueva terminal'. Phew! I met a German girl on the ferry crossing who was about to turn 40, had sold everything she owns and is planning to travel for 2 years! So cool. Although her bag was bigger than her. Not so cool. And she scared me a bit.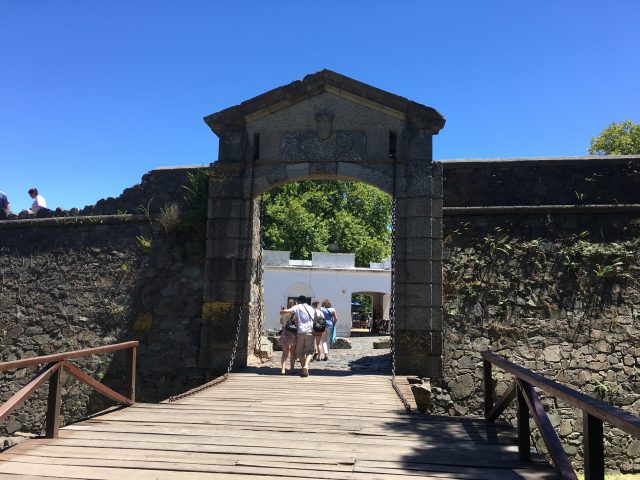 I had booked a walking tour as part of my ticket and when I got off the ferry and into arrivals I spotted my tour guide holding a sign. It turned out I was the only person that had booked on the tour that day so I had my own personal guide! She was a lovely lady around 60 and seemed very concerned that I was on my own and not with a boyfriend/husband in such a romantic place. She told me a lot of foreign weddings take place here and that I should get married here one day. Colonia gets 2 million visitors a year, the majority of whom are Argentinian.
It's the oldest town in Uruguay and switched between being Spanish owned and Portuguese owned 9 times in 100 years! The old town is beautiful and so tranquil. It was only restored fairly recently with a lot of restoration work having happened in the 1970s and 1980s. My guide kept pointing out that replicas of certain things have been made sympathetically so as not to confuse tourists. I said goodbye to her and had lunch at a gorgeous little restaurant under the trees opposite the church. For some reason I felt very glamorous sitting there alone in such a beautiful place. I had a local speciality which was shrimps with lemon and hot sauce with rice. Tasty.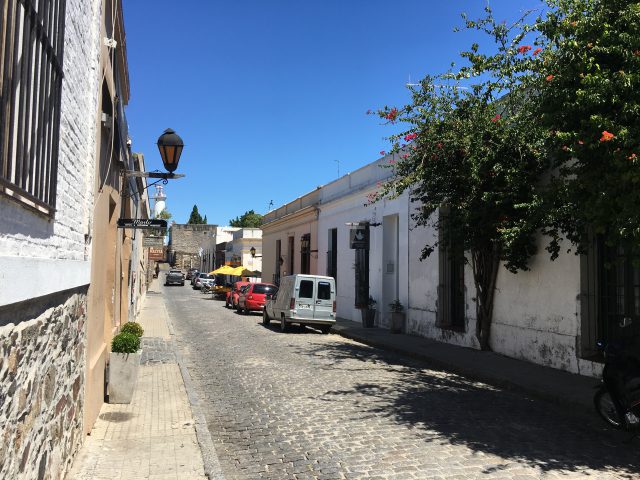 I wandered a bit further afield and found that as soon as you get out of the old town it's not nearly as nice – all of a sudden there were a few dodgy characters and a lot of weed smells. I noticed a lot of casinos on the outskirts of the old town too (as well as very old cars). I imagine there are quite a few gambling day trippers as there aren't any casinos in Buenos Aires. I laid on the grass for a bit reading my book overlooking the Atlantic and then went to get a fresh juice at a little cafe. The owner was Darius who was very friendly. We got chatting (in a mixture of Spanish and English!) and then he asked me to remove my sunglasses – and proceeded to pretend to faint at my beauty and ordered me to kiss him! The forwardness of the South American men never ceases to amaze me, haha (he got a kiss on the cheek).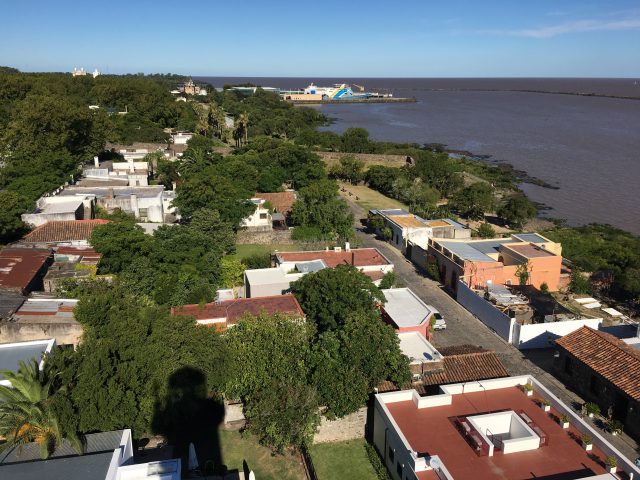 The views from the top of the lighthouse were pretty amazing. You could make out the skyline of Buenos Aires too. The Rio de la Plata was very brown although I think it's natural sedimentation. A guy at the top had this aftershave that I keep smelling, it kind of smells of banana but is a very sexy smell, I was tempted to ask him what it was but was too scared. I had an ice cream then got the ferry back to Buenos Aires. I'd arranged to meet Donna (who I met in Spanish lessons in Manchester) and got back much later than I was expecting! Luckily her and her friend Diego were still nearby so I did a quick change at my hostel and met them at a bar nearby. Diego had his car so drove us to his mate's bar – and we had the best empanadas I'd had so far! Absolutely delicious. It closed at midnight so we had a lock-in and at least two people mimed crying that he was closed as they walked past! Definitely a spot popular with the locals.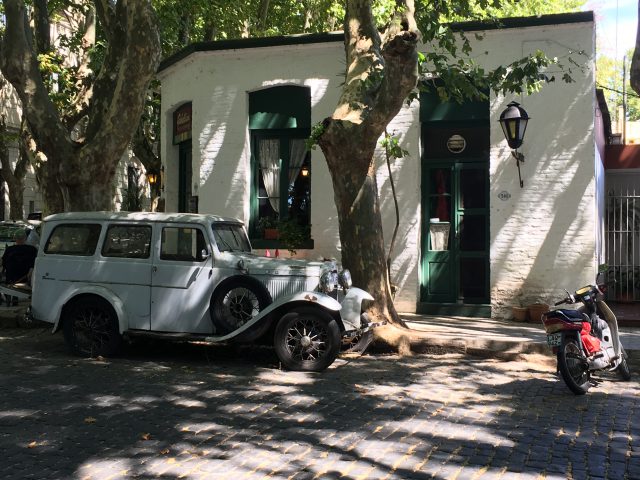 Diego is a cardiovascular nurse and gives lectures on what he does. He is an extremely passionate person and wears his heart on his sleeve. His English was about the same as mine and Donna's Spanish so we had to use google translate which is hard when you're trying to talk about subjects in depth! He was just as passionate in his driving as he was in general – he would yell at the top of his voice at policemen (just for being there), bad drivers (understandable although I'm not sure he was a good one) and his lack of English. And DO NOT ask him about his opinion of the current president.
He dropped me back at my hostel and after creeping around with my head torch it wouldn't turn off! I couldn't take the battery out either so had to hide it under my pillow as best as I could and apologise to the Australian girls who I'm now sharing with in the morning!

Did you enjoy this post? Pin It 🙂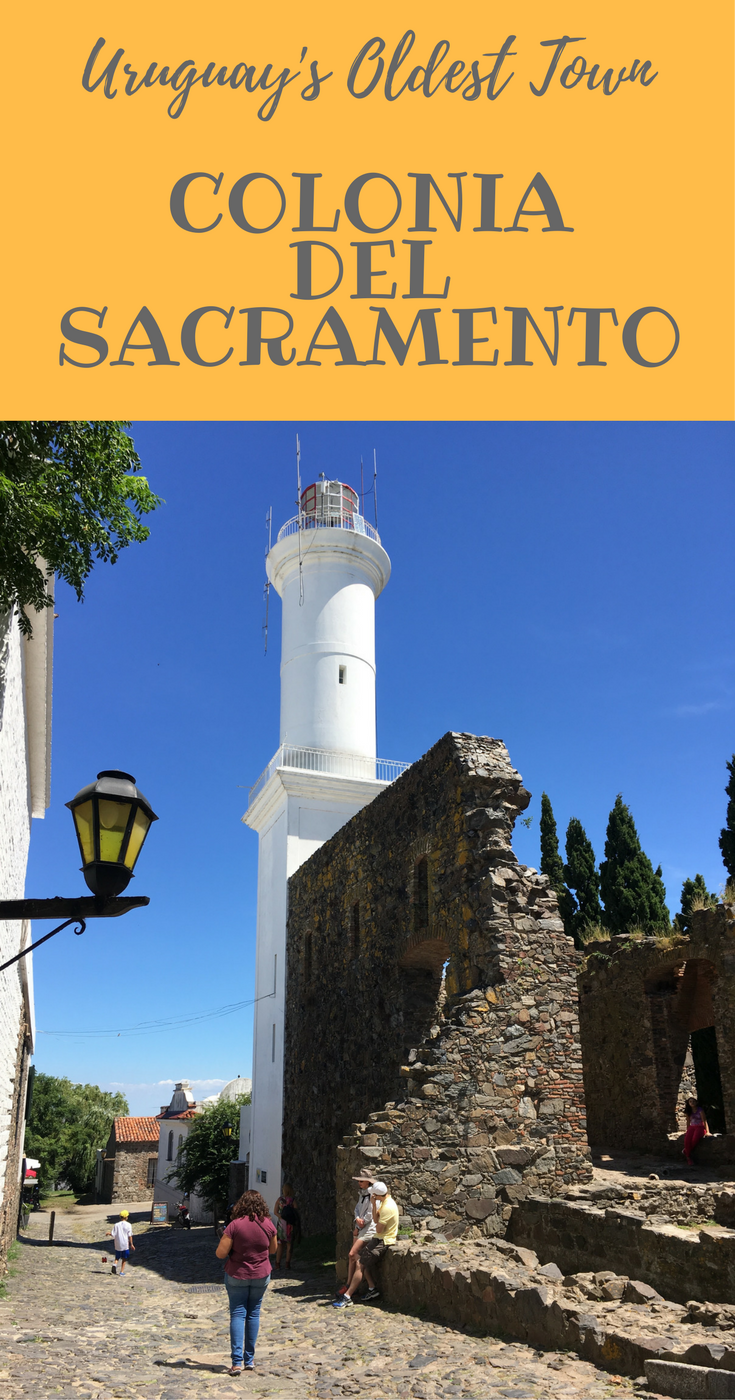 SaveSave
SaveSave
SaveSave
SaveSave
SaveSave
SaveSave
SaveSave
Enjoy this article? Please share 🙂