If you are interested in my trip, I travelled with G Adventures for 2 weeks on their Buenos Aires to La Paz Adventure which you can read more about here.
NB. This page has affiliate links. If you choose to purchase any of the products I have recommended or make a booking through my website, I may receive a small commission. This doesn't affect the price you pay and helps keep my site running. For more information please see my affiliate disclosure 🙂
We arrived at La Paz bus station a bit stiff and tired-eyed from our 12-hour bus ride. I blearily walked to the toilets and opened a cubicle door…..only to find a bolivian lady crouched on the top of the toilet bowel with her copious skirts bunched up around her, bringing a bright and colourful vision (albeit slightly disturbing) to an otherwise nondescript and very typical bus station bathroom. It woke me up anyway.
We couldn't check in our hotel until 1pm, so we dumped our bags and then went to this delightful little cafe for breakfast – it was up two very narrow sets of stairs but decorated in very calming but vivid colours – lots of turquoise, green and grey. Colour is definitely very prevalent in La Paz. The city reminded me very much of Bangkok on first impressions – the noise, hustle and bustle, the look of some of the buildings – but there weren't really many similarities beyond that.
For a start, its 3800m above sea level and again, we were feeling it on our lungs.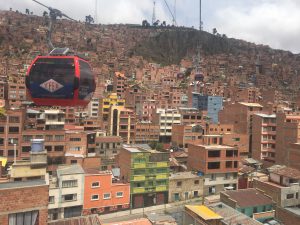 We got one of the cable cars up to the top of one of the surrounding mountains which gave us a true feel for the city and it's scale! The buildings extend way back into the mountains on all sides of the city – quite spectacular. The colour theme continues with the buildings too – they're mostly red-brick but punctuated with blue walls, yellow roofs etc.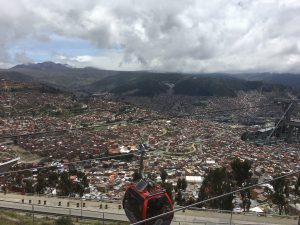 One of the most interesting sights in La Paz is the Witches Market. So fascinating to wander round….and also pretty gory. There were dried llama foetuses hanging from virtually every stall which was very gruesome – apparently they bring good luck. There were lots of other dried animals as well as weird and wonderful lotions and potions for all sorts of ailments, plus witch doctors wandering around in their dark hats and dresses keen to tell you your fortune. I was tempted but thought I'd probably not understand the most important bits 😉
There were lots of protests going on throughout the city and on quite a large scale – apparently this is very common and as a tourist, you are advised to stay away as they can become quite violent. We were told if we smelt tear gas to run! The current protests seem to be mainly against the president (he certainly doesn't seem very popular) and the coca producers. I found myself on the edge of one of these protests and got a little nervous so dived into a market – and got a pedicure.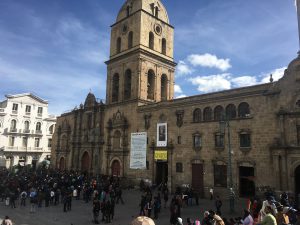 I managed a (very) basic conversation with the lady – she told me I have very petite english feet! I'm not sure what she was basing her judgement on – I guess it could be possible her clientele have consisted of a lot of english women with small feet – but I think unlikely. It got me thinking about what 'english' feet are like. Haha.
Today was the day of travelling the Death Road.  It was given its name in 1995 due to innumerable traffic accidents and extreme dangers (such as sheer drops, extremely narrow passing points and frequent fog and rain) and was given the dubious title of the most dangerous road in the world. It was built in the 1930's by Paraguayan prisoners during the Chaco War between Bolivia and Paraguay. Due to engineering constraints at the time and to save the natural structure of the area, the carriageway was one lane wide. But two-way traffic was permitted. An average of a person per year has died, including a bus full of locals, tourists and 8 cycling guides.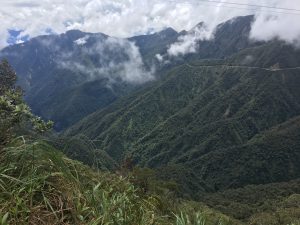 Six of our group decided to mountain-bike it down – I would have actually loved to have done this but I didn't because a) I thought it was too expensive for what it was (around £100) and b) my stomach still wasn't quite right and didn't want to risk it on a bike! So five of us went in the minibus down instead. Which was probably just as scary, if not more so!
We drove up and out of La Paz for about an hour and a half to get there – it was pretty chilly with lots of snow around, it was a good thing the bus provided blankets. We got to the start of the death road which is all gravel. There were spectacular views around every corner – it's such lush landscape with lots of waterfalls along the way too. About halfway along the route was a beautiful house built into the hillside – apparently it belonged to a german man fleeing the Second World War who was wanted for war crimes who built it to hide out in.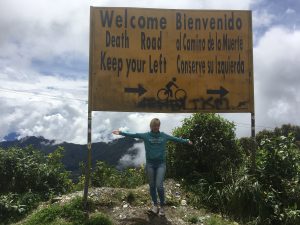 As we got closer to the bottom (the entire route is all downhill and is one of the longest consistently downhill roads in the world) it got warmer and warmer. We all made it down (alive!) and got taken to a hotel (with a pool) for a buffet lunch. It was strange that it was suddenly sunbathing weather after being blanket weather at the top.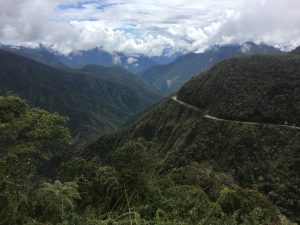 It was our last night together as a group so we went to the 'English pub' (which was unlike any pub back home I've ever been in) as it was 2 doors down from our hotel and cheap. I want to point out, usually I would avoid any English/Irish pubs at all costs, in fact (other than in Dubai) I think this was the first time I'd been in such an establishment when on my travels. And I hope I don't repeat it. But, the food was pretty good and it was a good location for our goodbyes. Plus they had weird strawberry shots. We are all going very separate ways – some are off up to Peru to do the Inca Trail (that is still on my list), some were flying home and some were flying elsewhere (like me). Such is the way of travelling. It's always sad when times come to an end and you have to say goodbye – but you do get used to it – and you know that your paths will cross again if you really want them to.
If you are interested in my trip, I travelled with G Adventures for 2 weeks on their Buenos Aires to La Paz Adventure which you can read more about here.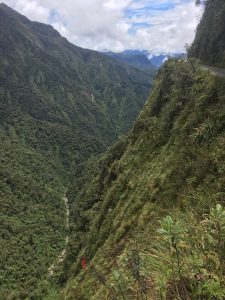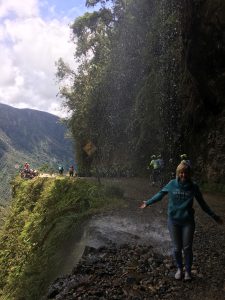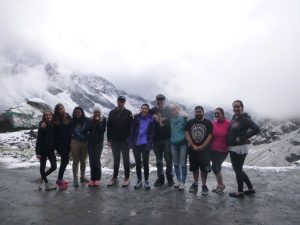 Enjoy this article? Please share 🙂