If you are interested in my trip, I travelled with G Adventures for 2 weeks on their End of the Earth tour which you can read more about here.
NB. This page has affiliate links. If you choose to purchase any of the products I have recommended or make a booking through my website, I may receive a small commission. This doesn't affect the price you pay and helps keep my site running. For more information please see my affiliate disclosure 🙂
Mount Fitz Roy in Argentina has to be one of the most stunning sights I have ever seen! I've always wanted to go hiking in Patagonia and can't quite believe I'm finally here. I'm sharing a room with Sonia who, weirdly is from Manchester and just a month older than me-we seem to have a lot in common 🙂 I had actually thought that this trip might attract a slightly older crowd but the majority of people in the group seem to be a very similar age to me. There are 5 Brits, 3 Canadians, 2 Norwegians, 1 Portuguese and 1 Luxembourger.

We had to get up at 6am to get a bus to the airport and take our flight to El Calafate down in Patagonia. At that time loads of people were coming out the clubs, especially being a Sunday morning – there was a really cool looking fake-castle type building at the end of a pier on the sea with lots of revellers spilling out of it.
The landscape as we flew in was stunning. Such blue waters and almost like moonscape. It felt very calming somehow thinking that I was coming so far south and basically to the end of the earth (the name of my tour ;-)). It was very windy as we came into land too which Patagonia is well known for. There was a really cool woman at the baggage carousel – she was in her 70s, from London and had the most hardcore tattoos I've ever seen on anyone let alone a woman in her 70s. She had decided to travel for 6 months before she got 'too old'. She was brilliant.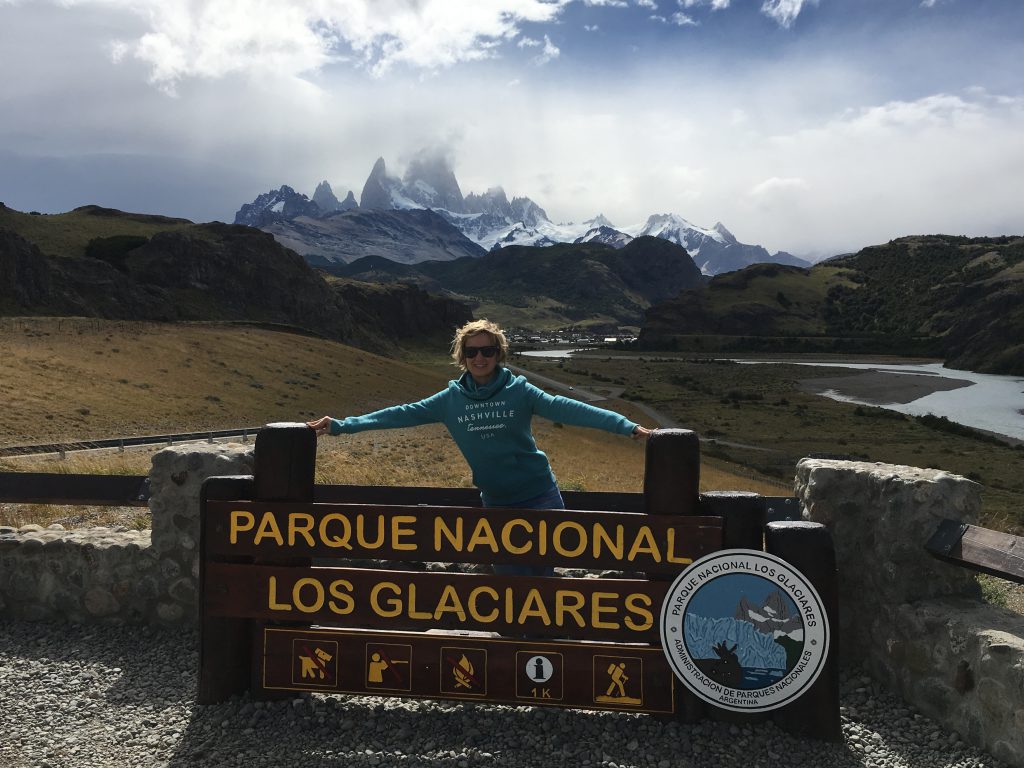 We met our guide, Rodrigo who is Chilean and is absolutely great. We got a bus transfer to El Chalten and it was stunning scenery the whole way. Our lunch stop was apparently where Butch Cassidy hid out for a bit….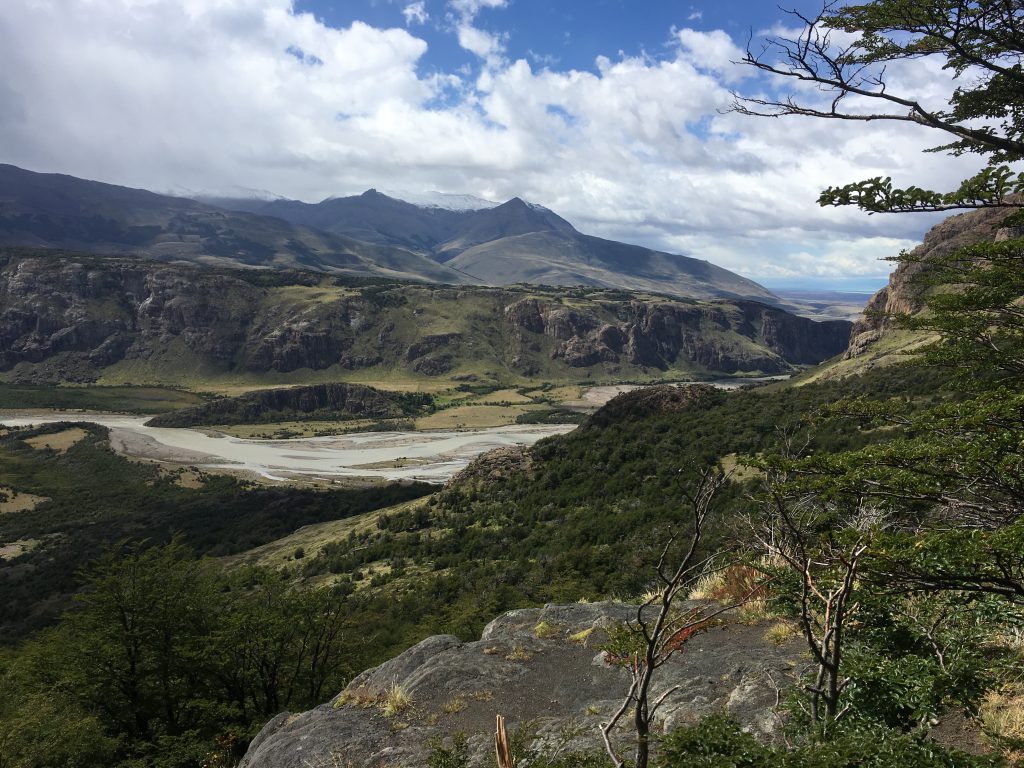 El Chalten is really cool. It's the newest town in Argentina (1985) built in a rush to beat Chile to the land claim! It has the feeling of a ski resort – there are a lot of little bars, restaurants and shops and everything is made of wood. There are also lots of random packs of dogs. We had our first dinner together as a group – I had locra which is an Argentinian stew made with beef, pork, maize and veg. It was delicious. And lots of red wine too of course.

We got up early the next morning to start our 15 mile walk to see views of the Fitz Roy Range but it was hammering it down! We made a group decision to wait until 11am to see if it had cleared as starting off in pouring rain is a bit soul-destroying. What a good decision it was – it cleared up and was beautiful sunshine for the rest of the day. And what stunning views of Mount Fitz Roy! It was absolutely beautiful and so clear – apparently it is only like that around 10% of the time. Our guide Juan was great – he pointed out some calafate berries which apparently once eaten guarantee your return to Patagonia. They tasted a little like blueberries.
The last hour of the walk everyone was pretty tired, it was a long walk for the first day but totally worth it. We got back at 8.30pm (it's great having these long days, it doesn't get dark until about 10.45pm) and we had a well-deserved beer and dinner.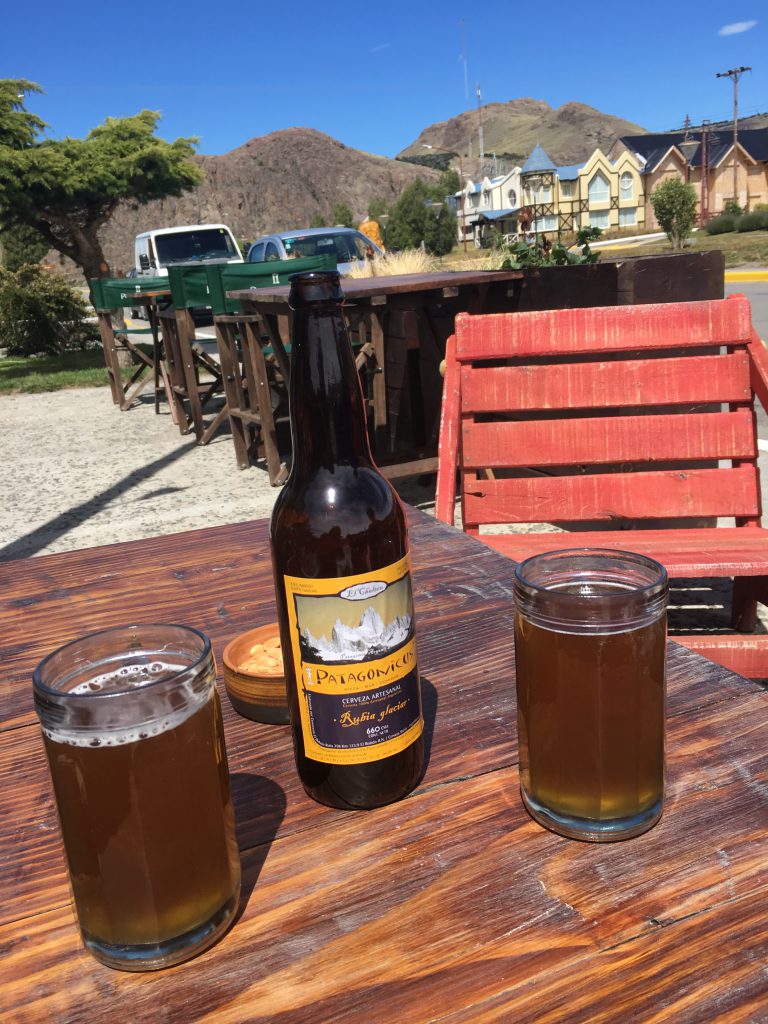 The next day a few of the group went to do an ice climb – I was tempted but it was pretty expensive and sounded pretty difficult! So Sonia, Ina and I did the Laguna Torres walk which was a nice (and relatively short after yesterday!) 3-hour round trip. There were lovely views from the lookout and we were lucky with the weather yet again. We had lunch in a little cafe and then had a wander round the town. We sat in the sun and had one of the local beers. When the sun shone it was actually really warm!
We got chatting to 2 guys visiting the area and tried to practise my Spanish a bit – I love trying to speak it but wish I was so much better! One guy was Argentinian and one was Chilean – we were talking about the difference between nationalities and Hernan (the Argentinian) was laughing that Chileans are far more emotional than Argentinians even though by British/European standards the Argentinians are very emotional too! They also reminded us of the South American rule that you can have a boyfriend in each country. So the question is never "do you have a boyfriend?", it's "do you have a boyfriend in Argentina?" I remember that from when I'm in Brazil. Such different standards, haha.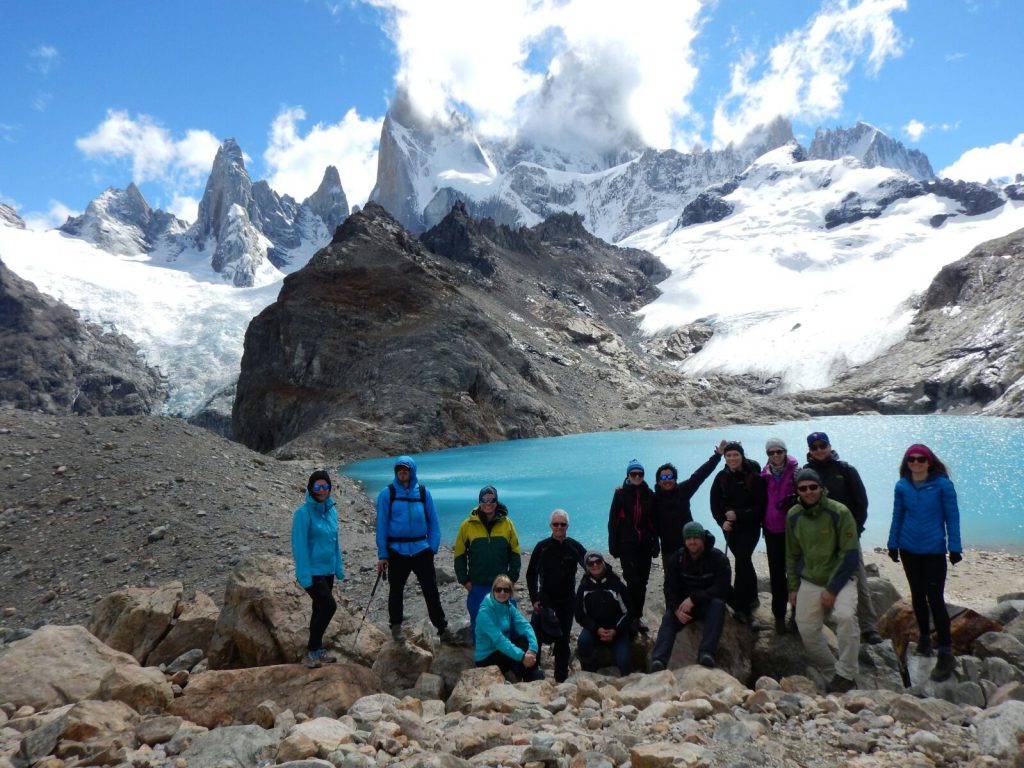 We came back to the hotel and then got the bus to El Calafate which seems a fun town with a great vibe. We had a group dinner again and then tried to get to sleep in a boiling hot room….there was underfloor heating on all the time which would be lovely in the winter but not when it's 18 degrees outside….
If you are interested in my trip, I travelled with G Adventures for 2 weeks on their End of the Earth tour which you can read more about here.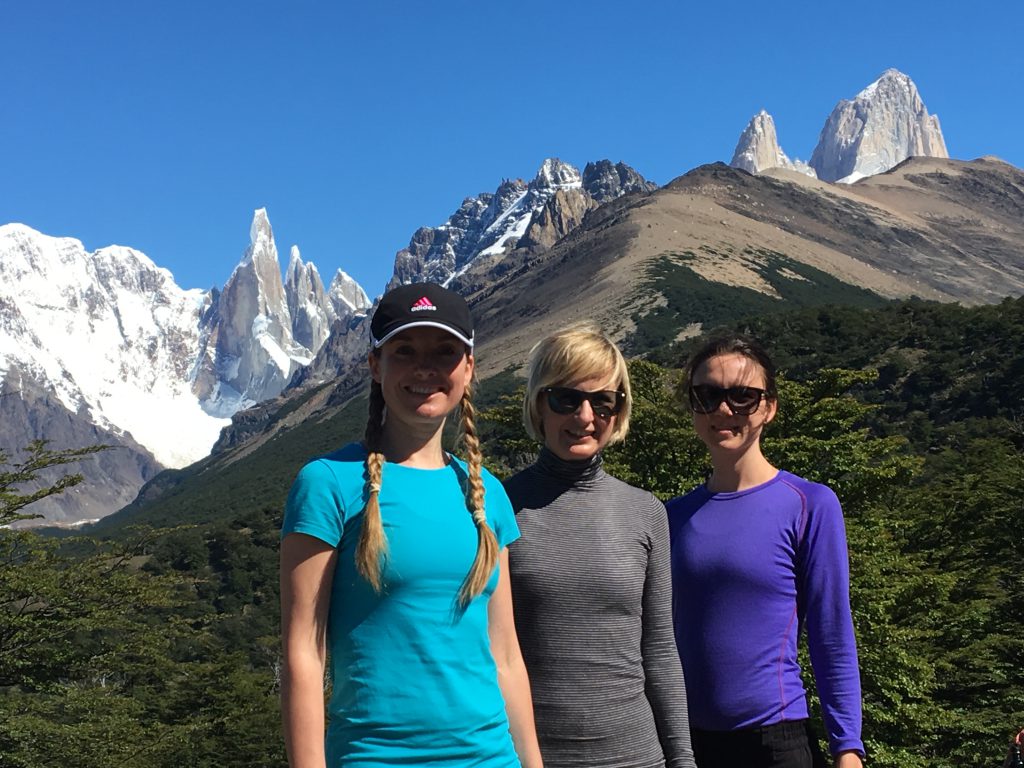 Did you enjoy this post? Pin It! 🙂

SaveSave
SaveSave
Enjoy this article? Please share 🙂