I have been asked quite a few times now about how to save money on holiday or whilst travelling so I thought I'd put a post together with my best money-saving tips! I've included tips on things to do before you go away as well as tips for whilst you are away.
NB. This page has affiliate links. If you choose to purchase any of the products I have recommended, I may receive a small commission. This doesn't affect the price you pay and helps keep my site running. For more information please see my affiliate disclosure 🙂
Money-Saving Tip #1 – Don't Buy Water
Take a collapsible water bottle with you. It takes up very little room and will save you buying expensive bottled water. In places where you can't drink the tap water, fill up from a water fountain.
Money-Saving Tip #2 – Use a Shuttle Bus from the Airport
Using a shuttle bus is a lot cheaper than a taxi from the airport if you're not hiring a car and transfer isn't included – it may take a little longer but is often a fraction of the price. You can often book shuttle buses online prior to your departure, or book when you exit at arrivals. If you would prefer a taxi, try and book one in advance if possible.
Money-Saving Tip #3 – Travel Overnight
Save money on a night's accommodation by taking a night flight, getting a night bus or a sleeper train. Even though they may take a little longer or you don't get the best night's sleep, think of those extra pennies you will save.
Money-Saving Tip #4 – Pay as the Locals Do
You are likely to be charged a tourist price for many things inducing loungers and umbrellas on the beach or things you may buy from local stalls and shops. Try and look to see or listen out for how much the locals are paying before you pay for yours.
Money-Saving Tip #5 – Don't Buy Guide Books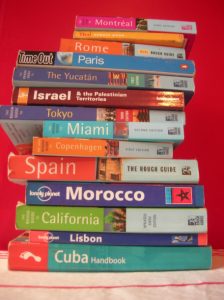 Guide books can be great to do your research before you go but they are heavy to carry and are often expensive. You can get the information you need for a fraction of the price (or sometimes for free if they are promoting a particular destination) by printing off the relevant chapters you need as pdfs from the publisher's website (such as on lonelyplanet.com) – which are easy to carry with you too.
Money-Saving Tip #6 – Go on a Free Walking Tour
Most of the larger cities offer free walking tours that can last anything between 1 and 3 hours. It's a great way to get your bearings and the guides are usually very informative. You may be expected to give a tip at the end but it's not usually compulsory.
Money-Saving Tip #7 – Loyalty Programmes on Accommodation Sites
Some accommodation sites have a loyalty programme, for examples hotels.com. They do a deal where for every 10 nights you book (and stay) you get one free based on an average cost of the nights booked. That's saved me a lot over the years!
Money-Saving Tip #8 – A 'Travel' Credit Card
By getting yourself a credit card geared towards frequent travel, you can save on commission charges, lousy exchange rates and build up points. The deals change all the time, but the one I currently have charges you at the base exchange rate and there are no extra charges whatsoever for using it to pay or to get cash out (the exception being a charge the local bank may have but this is usually free/low, especially in Europe). Some travel credit cards also enable you to collect air miles thus earning cheaper or free flights.
Money-Saving Tip #9 – Stay in Hostels
Dorm rooms are incredibly cheap, but if staying in a dorm isn't your thing a lot of people don't realise that hostels often have twin, double or even triple rooms as well. These are often a fraction of the price of a hotel and there is a really good choice these days – some of them are as good as or perhaps better than a basic hotel. They often have similar facilities, are usually located very centrally, near to public transport and have a whole host of free activities.
Money-Saving Tip #10 – Take Soap Leaves and a Travel Washing Line
Soap leaves are tiny to pack and are much cheaper than using the washing service in a hotel or a laundrette, especially when staying in a city. Travel washing lines are also a great idea and most come with suckers and/or hooks to use in a bathroom or bedroom.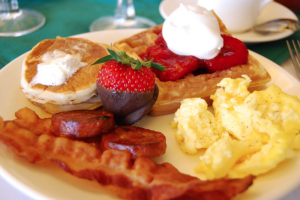 Money-Saving Tip #11 – Fill Up on Breakfast
If breakfast is included in your hotel, fill up as much as you can! Take some fruit away with you for later too – you may find you only need a snack in the afternoon then, saving you money on lunch.
Money-Saving Tip #12 – Buy Sandwiches at the Airport
If you are flying with a budget airline, you will be aware that they charge a lot for a rather basic meal or snack. Buy a sandwich at the airport (once you are through security) rather than paying double for one on the plane.
Money-Saving Tip #13 – If you're under 26, use STA Travel
You can get cheaper flights, tours and accommodation through STA Travel, who have shops worldwide.
Money-Saving Tip #14 – Buy a Multi-Attraction Pass
Many cities offer multi-attraction passes for a fixed price which always works out much cheaper than buying tickets separately for things – even if you only go to two or three attractions.
Money-Saving Tip #15 – Pick up a Free Map from your Hotel or Hostel Reception
The maps available at hotels and hostels often have discount vouchers/codes attached to them for local restaurants and bars.
Money-Saving Tip #16 – Book Flights at the Optimum Time
Six weeks before flying is the optimum time to book flights in terms of getting a bargain – unless its a very popular route or a super-peak time such as school summer holidays, an event/festival etc.
Below are links to the collapsible water bottle, soap leaves and travel washing line I've mentioned above – they've saved me money and are so easy to pack – I can highly recommend them!
I hope you have found my money-saving tips useful. If you have any more tips you'd like to see included, please let me know by commenting below! Happy travels 🙂
Did you enjoy this post? Pin It 🙂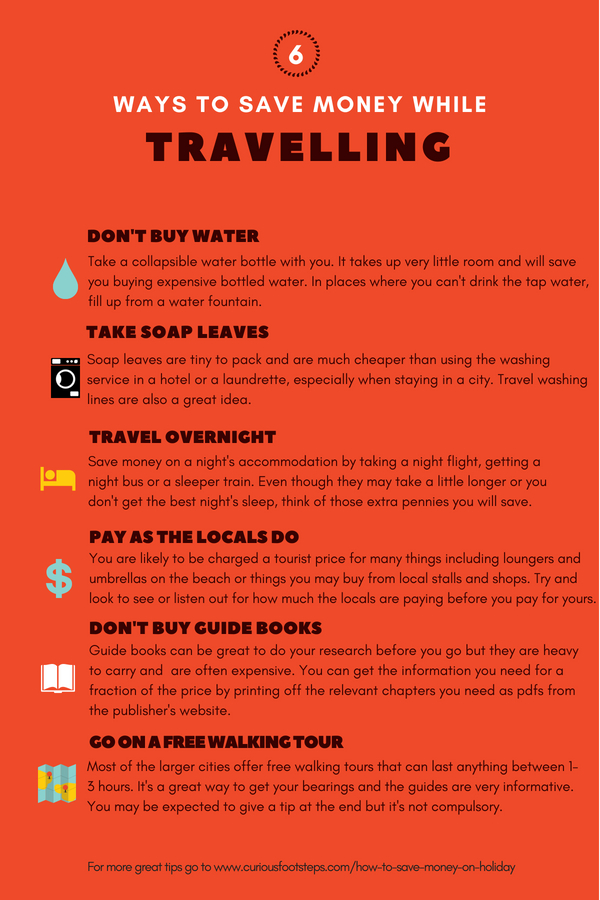 Enjoy this article? Please share 🙂