Palma is a stunning city. It's a city that has everything – beautiful gothic architecture, winding narrow streets full of bars and restaurants and beautiful white sandy beaches and mountains a short drive away. It's perfect for a long weekend (I was here for 3 days) but you could also very easily spend a week here as there are so many things to do in Palma.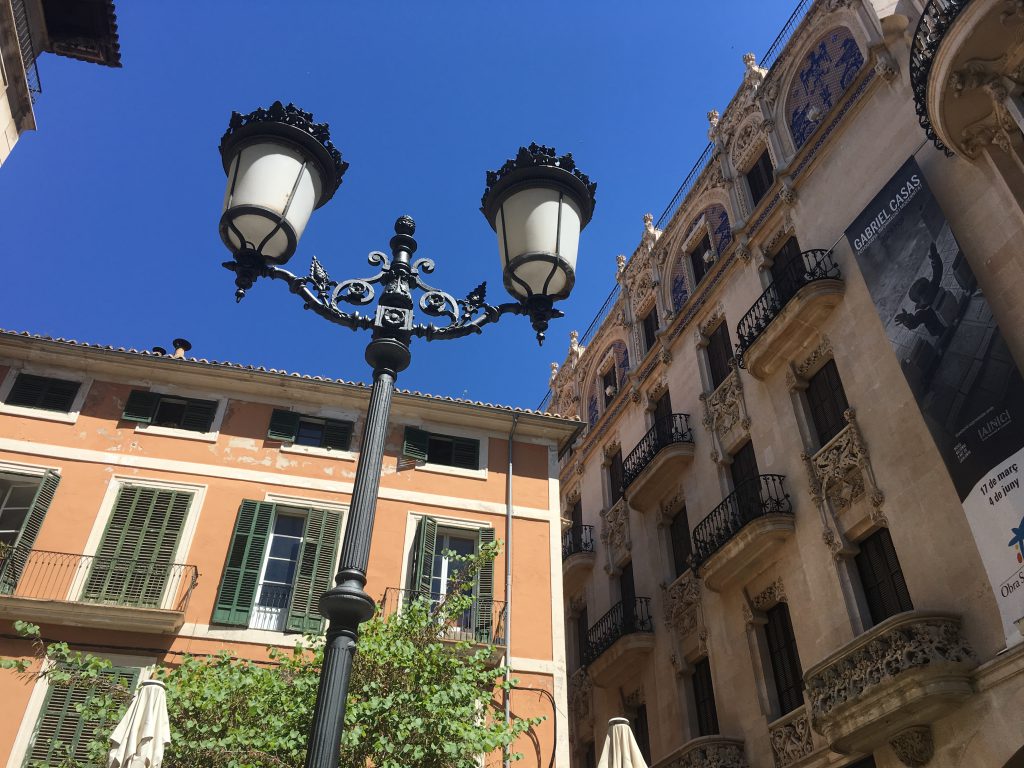 After arriving with a particularly raucous hen do who felt the need to run as fast as they could yelling at the top of their voices to get to passport control, we got our first glimpse of the wonderful gothic cathedral (La Seu), dominating the skyline. It's honey-coloured stone exterior was beautifully lit at night when we arrived, but looks just as stunning during the day against a deep blue sky. It's spires are so intricately designed and the scale is unimaginably huge.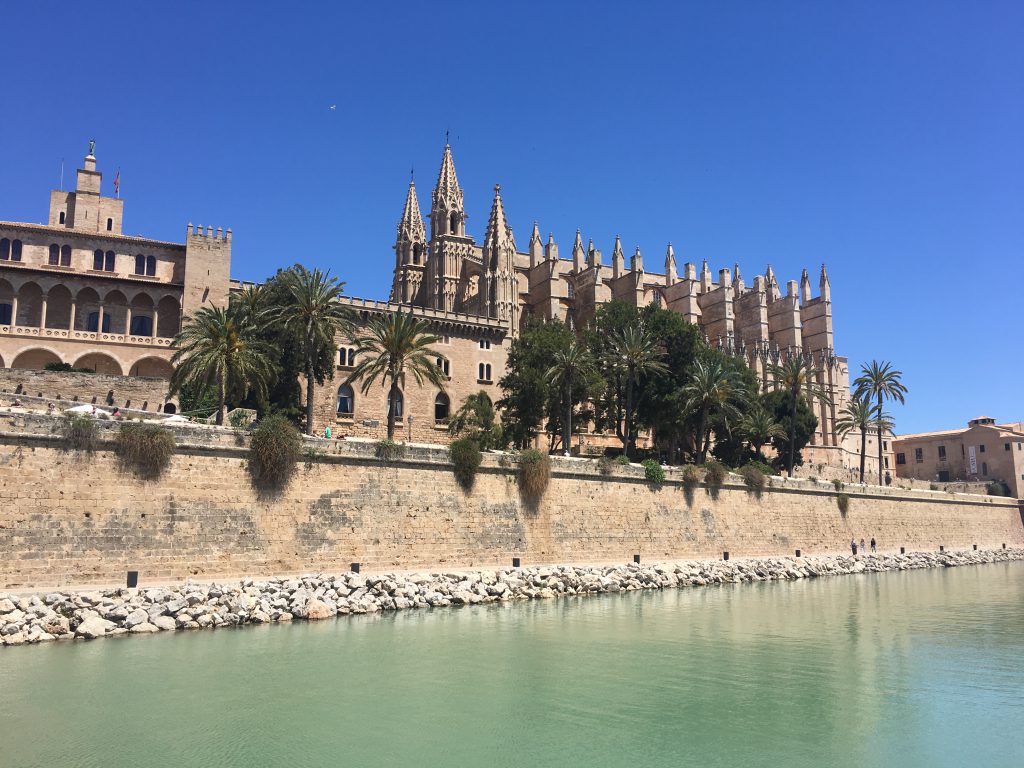 Quirky Cafes and Boutique Shops
Radiating out north-west from the cathedral are the winding, narrow streets of the old town, filled with quirky cafes, tapas bars, jewellery (particularly pearls) and boutique shops as well as magnificent renaissance buildings and monuments. It's a lovely area to wander round, we managed to while away a good few hours doing just that. We had lunch at a lovely little tapas bar called S'Olivera (we couldn't not go there, it being virtually my sister's namesake) with fresh and modern decor. They do a great deal – at the time of writing, 5 tapas dishes, bread, olives and 2 glasses of sangria for €23.50 – and it was very tasty 🙂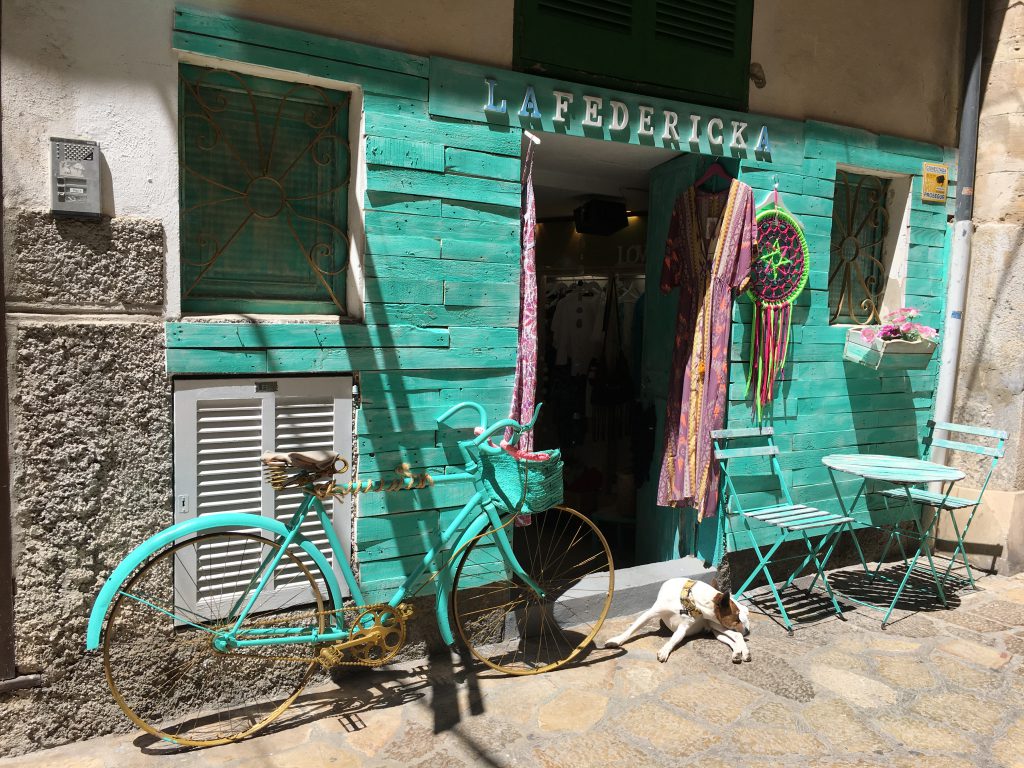 As soon as you head in a more north-easterly direction from the cathedral, the throngs of people soon thin out, especially on a sunday. You'll find yourself on quiet, charming streets, popping up in pretty squares every now and then. From here, it's another 5-10 minute walk to Palma's main beach, an impressive long, sandy strip with beach clubs at either end. We went to the Amina beach club which is at the end nearest the city – it was a little on the small side but had reasonably priced drinks, impressive views and chilled-out music. We managed to get a table (all the sunbeds were full) but in peak season I'm pretty sure you'd have to book ahead. It was a mixed crowd and there seemed to be only one hen do – the bride-to-be and her friend had swimming costumes with the groom-to-be's face on. Brilliant. I'm so doing that for mine.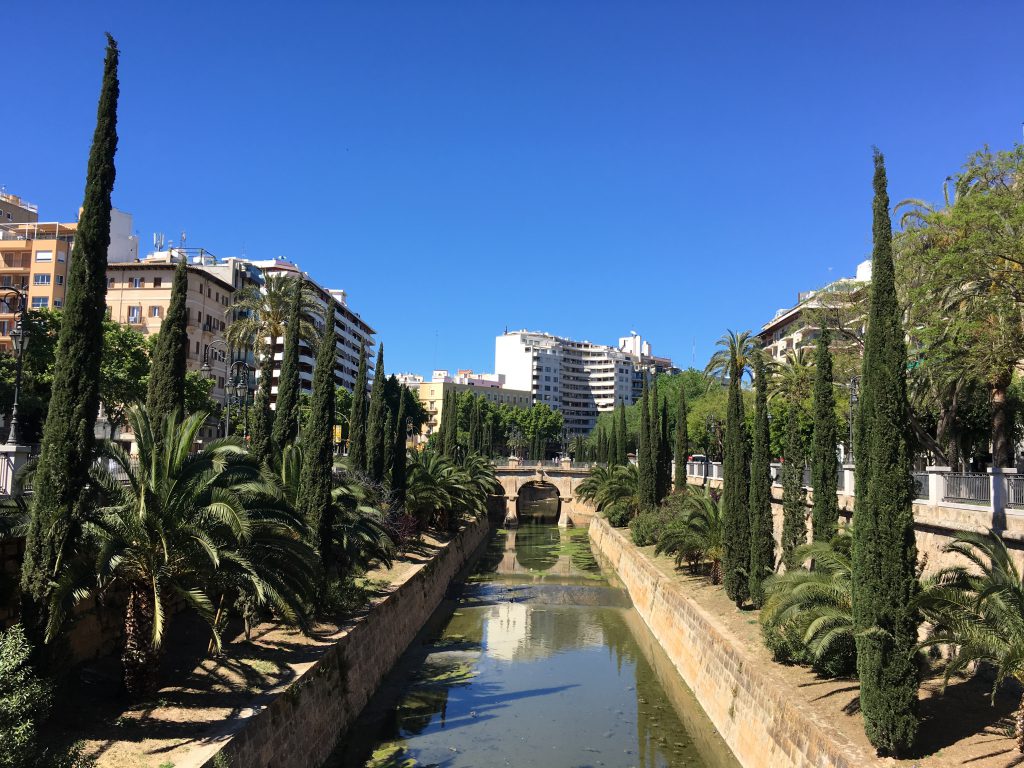 We stayed at the Hesperia Ciutat de Mallorca hotel, a 5 minute drive (or a 45-minute walk) to the west of the city centre. We walked it a couple of times but there's also a bus stop right behind the hotel which was handy (and cheap) to get into the centre or a taxi rank right next to it. On the first night we went for a wander from the hotel and walked past a great little bar called Garito Cafe – it seemed to attract quite a young, hip crowd and was really pumping. However, when we tried to return the next night, all the tables and chairs (which we'd thought were permanently there) had mysteriously disappeared and it was eerily quiet. Strange for a saturday night…..we were beginning to think we'd imagined it but it's definitely marked on google maps!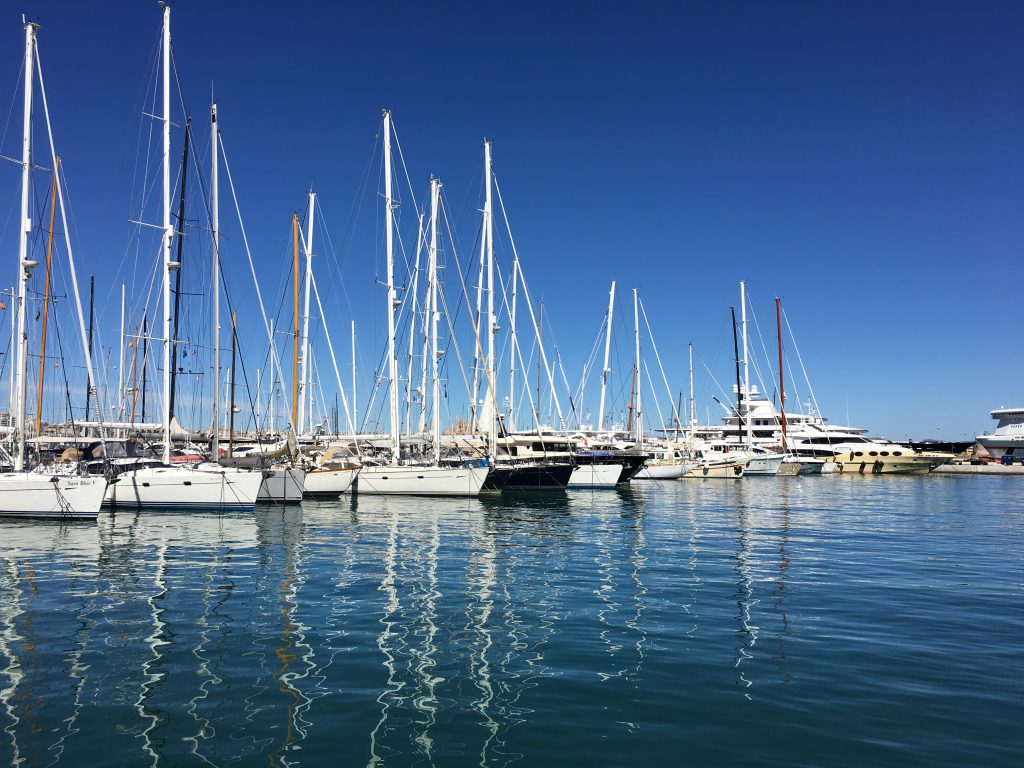 Further on from Garito's was Tito's, Mallorca's oldest nightclub that once played host to the Hollywood stars from the 1950s. It was their opening night – the red carpet was out and there were a lot of bright lights and (probably) z-list celebrities. Pacha is actually very near to our hotel and we were looking forward to having a night there but it turns out it's been mysteriously closed down and the name removed….hopefully not a permanent move.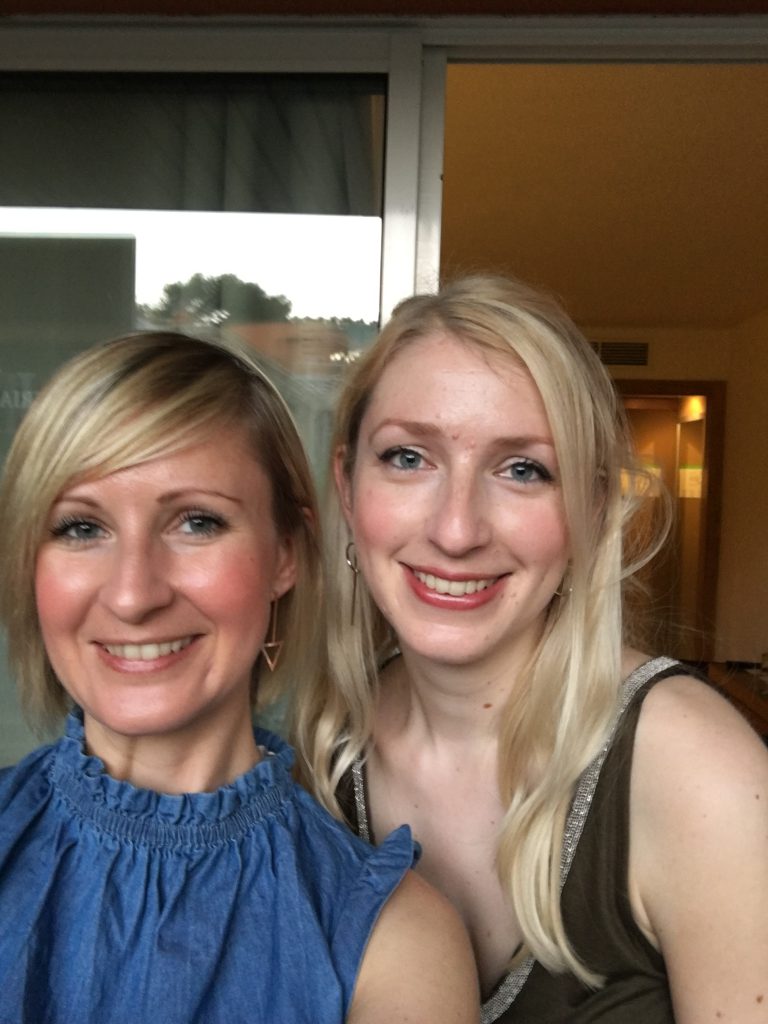 A Bar Full of Flowers and Fruit…
We declined an invitation to Club de Mar from a man we met on the street the night before named Frank (very spanish) – even with the promise of free entry and a free drink, we were suspicious that it might actually be a not very fun night and they were in desperate need of some guests. Instead, we went to Abaco, a bar full of flowers and fruit in an opulent 17th century style house behind huge old wooden doors. It's definitely one of the most unusual bars I've ever been in with a vaulted ceiling, oversized furniture, candelabras, statues and delicious cocktails. We walked in to the sound of powerful classical music, cementing it's regal, mysterious feeling.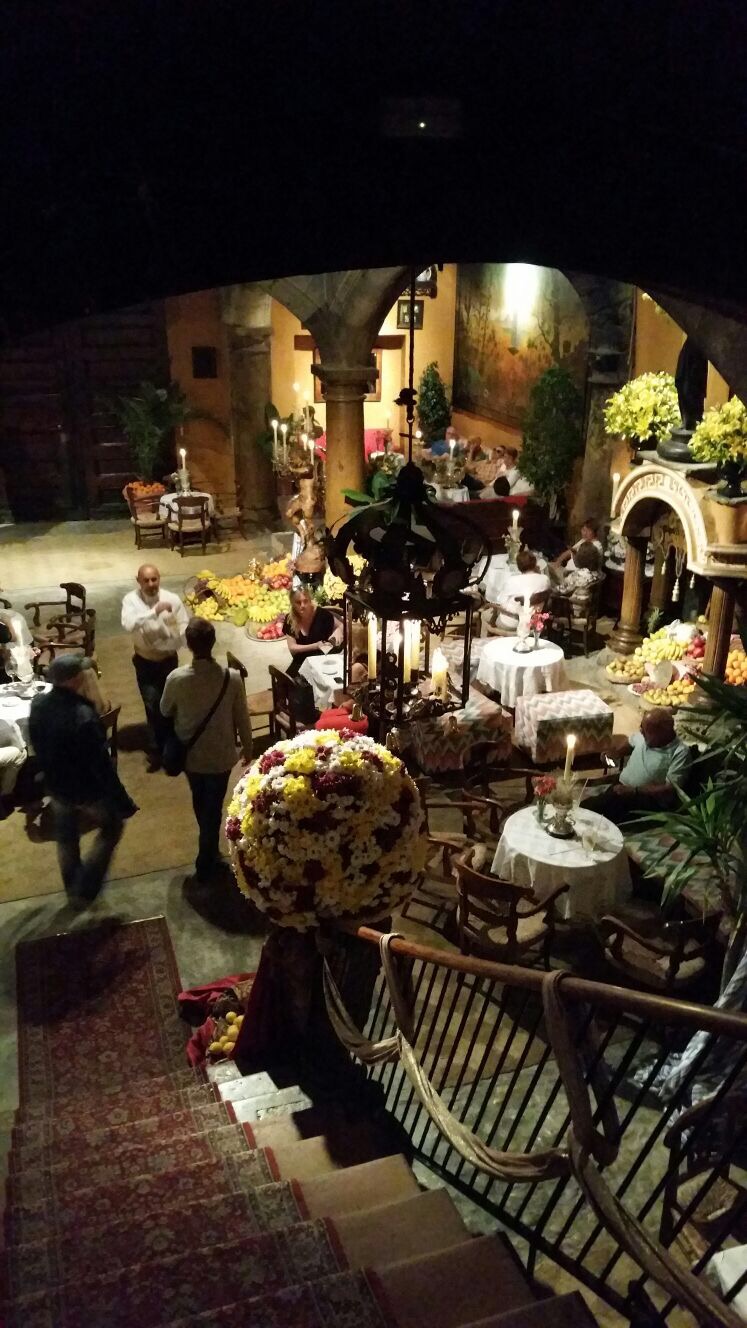 We ate a few doors down at Koa, a Hawaiian-inspired restaurant and bar serving gourmet pizzas with grassy moss on the walls. There was yet another hen do but this lot were very refined 😉 We ended up on Sant Magi street which was full of lively bars – in one there were two men who must have been in their 70s, dressed in full suits and ties and carrying mysterious leather satchels, having a whale of a time.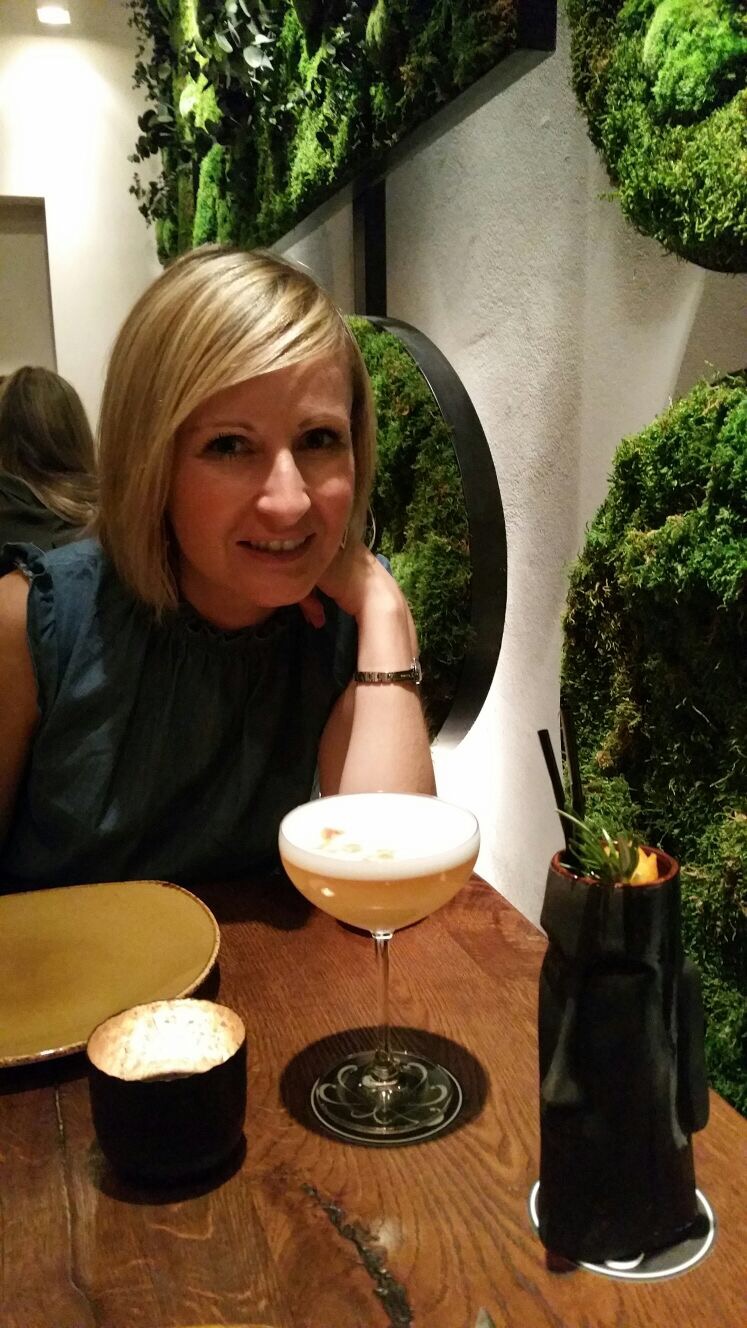 Gothic Inspiration
Our hotel was near Castell de Bellver, the medieval castle which is one of only a few round castles in Europe and gothic in style. It was a short walk, up a few steep and pretty residential streets to reach one of the entrances to the park surrounding the castle. It was another 10 minutes or so to get to the top.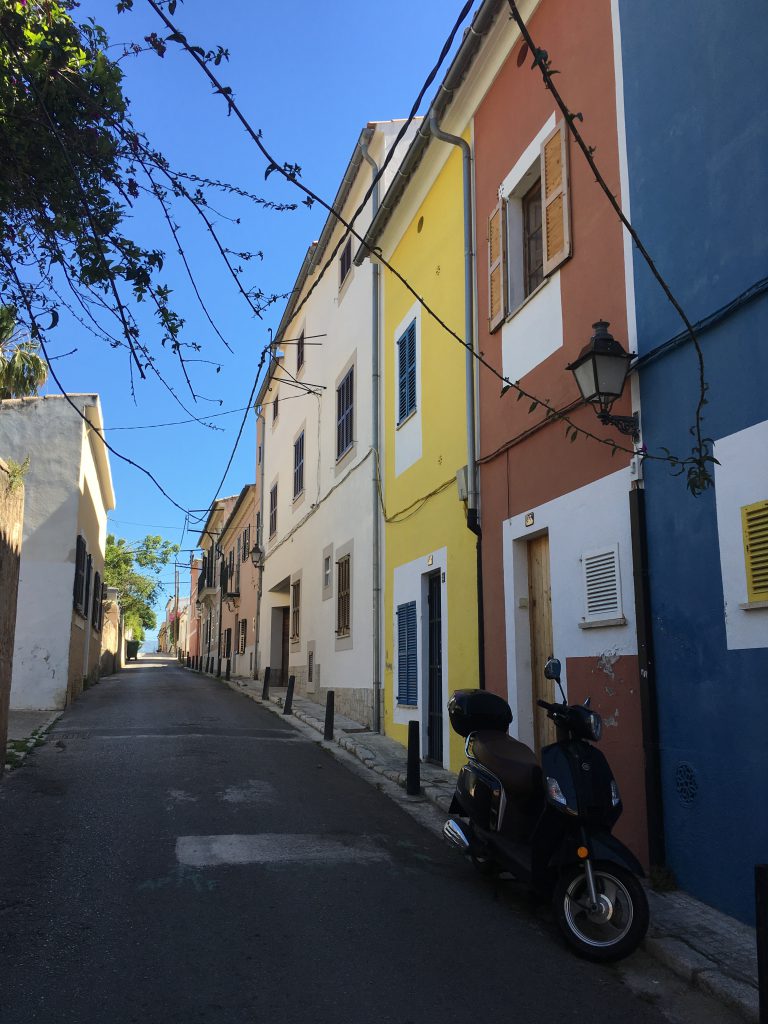 The castle was the residence for the kings of Mallorca up until the 18th century, after which it was used as a military prison. It's been in civilian control since the mid 20th century and is one of the main tourist attractions on the island – we met all the tour buses when we got to the top! The 360 views from the top were gorgeous – although not quite as peaceful as we were hoping with a woman shouting repeatedly at her husband for not being able to use their camera properly. He kept videoing her by mistake.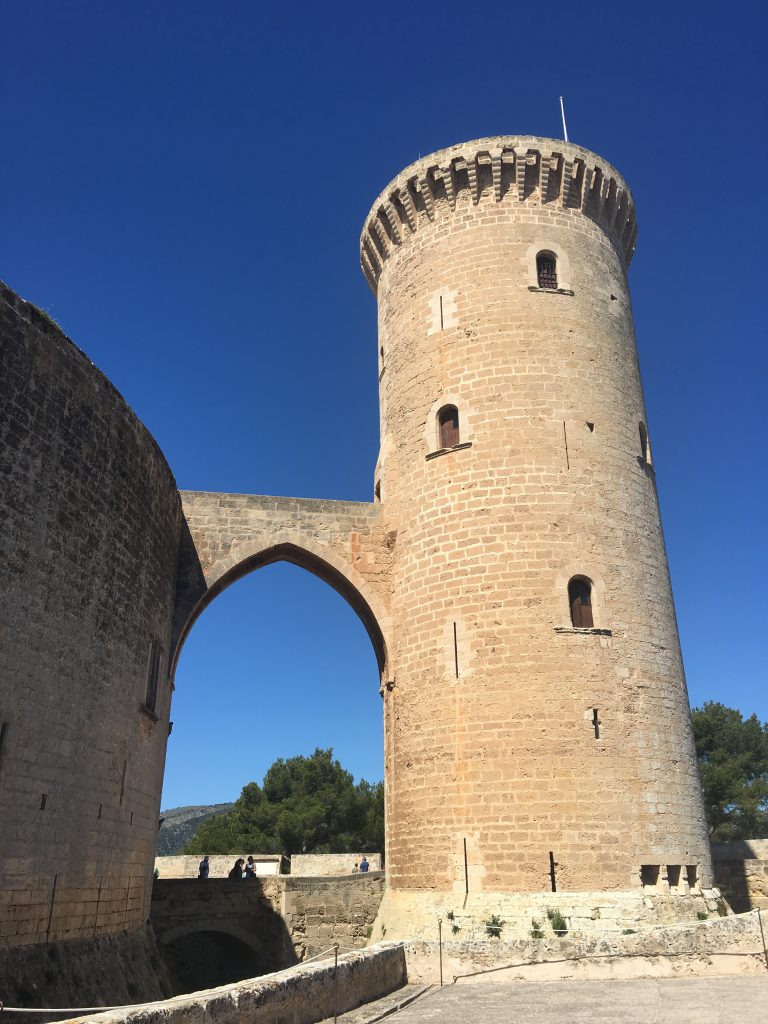 Mixing with the Locals
Sunday nights in Palma definitely seem a little more subdued and a lot of the restaurants close so we asked the girl on reception for a recommendation of a fish/seafood restaurant. She couldn't do enough to help us which was lovely – she phoned the mysterious Antonio for his recommendations and booked us a table at Sa Ronda in the Santa Catalina area of the city. We got out the taxi and the waiter came to the door to meet us and knew exactly who we were which was a nice surprise! We were the only tourists in the restaurant which was brilliant (and meant we got free glasses of prosecco) – it was buzzing and full of locals. The menu was fairly small which was also a good sign – we knew the food would be good when we received bread accompanied by the most delicious garlic sauce I think I've ever had. We ordered a mixed plate of typical Mallorcan tapas to start which consisted of all sorts of rich and tasty (and in some cases unidentifiable) bits of meat and fish.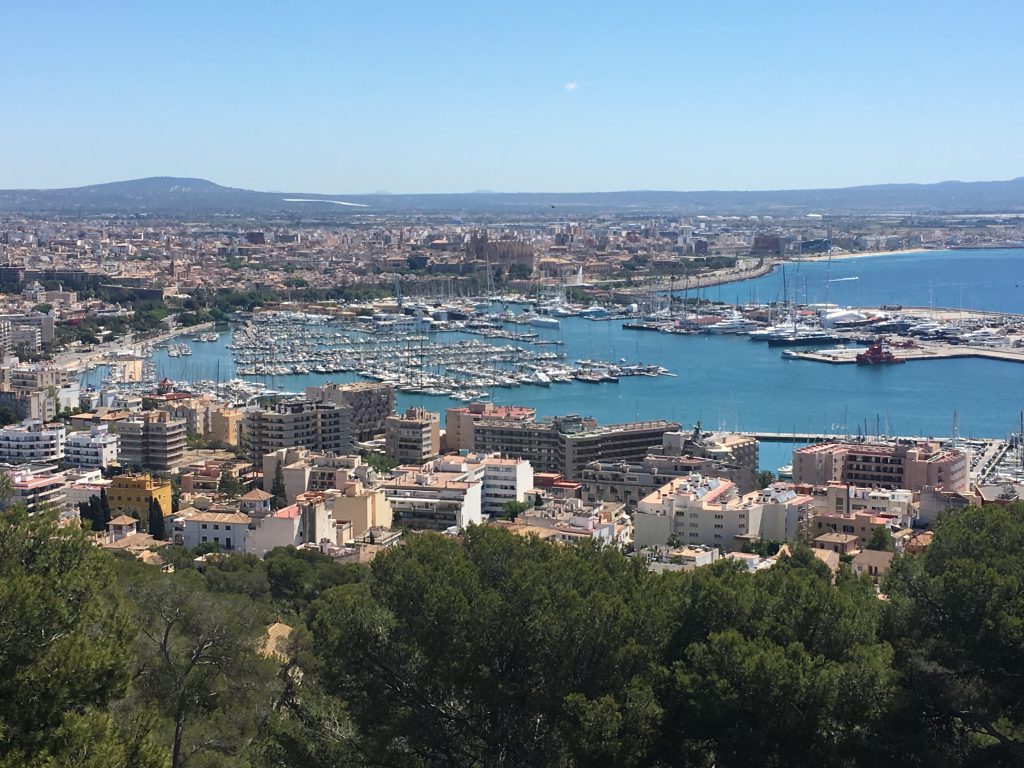 The mains were a bit more of a mystery, despite reading off the english menu. I ordered prawns which the waiter explained were grilled with garlic – fine by me. Sarah ordered sea bass but unfortunately they didn't have any so the waiter recommended a local fish (which I've forgotten the name of). Two dishes turned up, neither of which had prawns on – it turned out they'd done their translation wrong and I'd actually got squid. Which I was just as happy with as I love all seafood – however, I don't think I've ever had it served whole before. I had great fun creating my own squid rings. And I have to say, it was the most delicious tasting squid I've ever had. Sarah's fish was also incredibly tasty. Afterwards, we headed to Ginbo (catalan for good gin) which was a great little bar with gin cocktails all named after songs. This fact made it difficult to choose as I felt I had to love the song as well as like the sound of the cocktail, haha. We sat at the bar listening to the jazz soundtrack and chatting to the barmen.
Crystal Clear Waters
On our last day, we decided to walk the other way along the coast from our hotel. It only took 15 minutes to reach the stunning white-sand beach of Cala Major with its crystal clear waters, so we grabbed two sunbeds and a parasol and settled in. There's a cool little surf cafe called Kokomo right on the beach where we had lunch – finally, I got my garlic prawns 😉 It was nearing 3.30pm by the time we'd finished our sangria, so we reluctantly packed up and headed back to the hotel to catch a taxi to the airport…..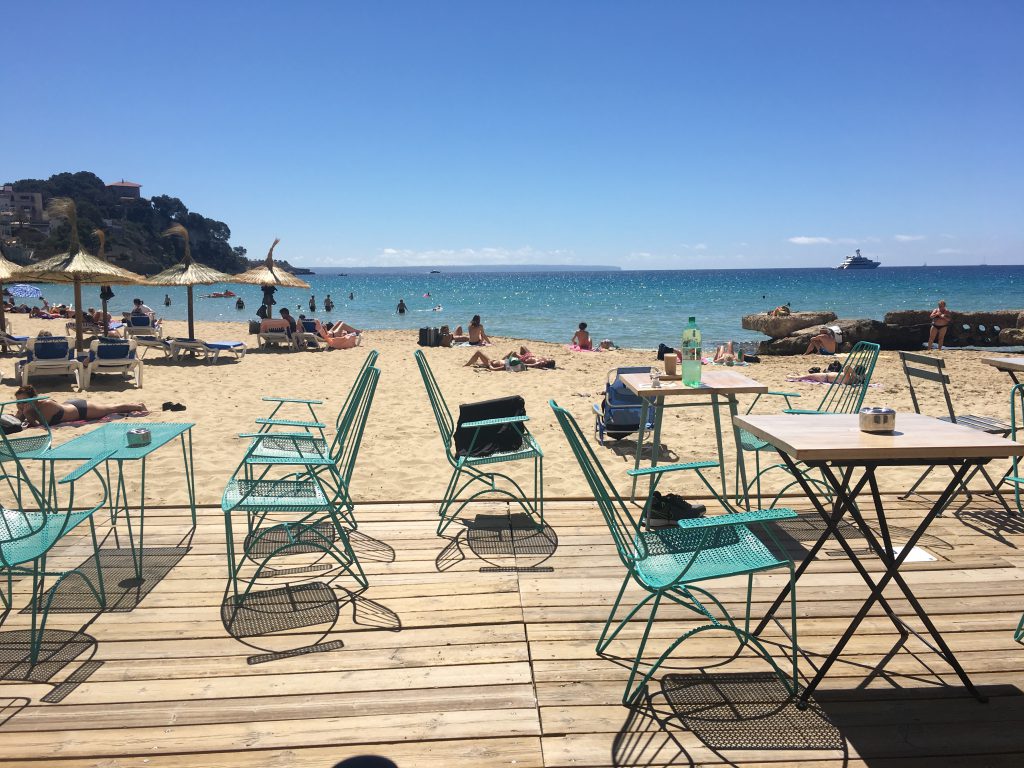 If you would like more suggestions for hidden gems of Mallorca, this book is a great place to start:
SaveSave
SaveSave
Enjoy this article? Please share 🙂