And as always with a new city, I got that tremendous sense of anticipation and excitement being somewhere new. The landscape flying into Buenos Aires was so forested and green. Coming into Buenos Aires on the bus was not the prettiest journey, along a boring motorway passing the back end of a lot of old decrepit buildings. But as soon as I got into the centre I could sense the energy emanating from the city.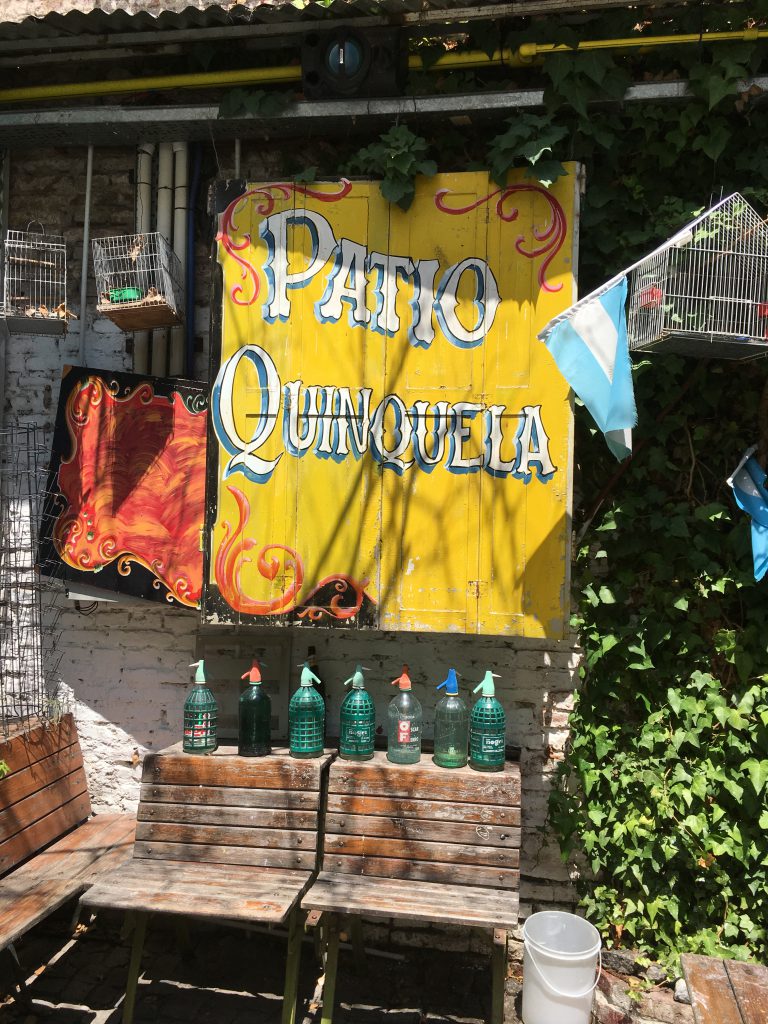 My first impression was that it felt very Parisian, in energy, romance and architecture. I checked into my hostel and was relieved to change into shorts as it was 31 degrees! So nice to be away from the cold at home. My hostel was in a charming old building with a central common area and a rooftop bar and deck with great view of the city. The dorms are pretty basic but I got lucky and had the dorm to myself for the two nights that I was there. I ventured into the city and managed to order myself a salad, all in Spanish. I really like the fact that you are not spoken back to in English, all good practice!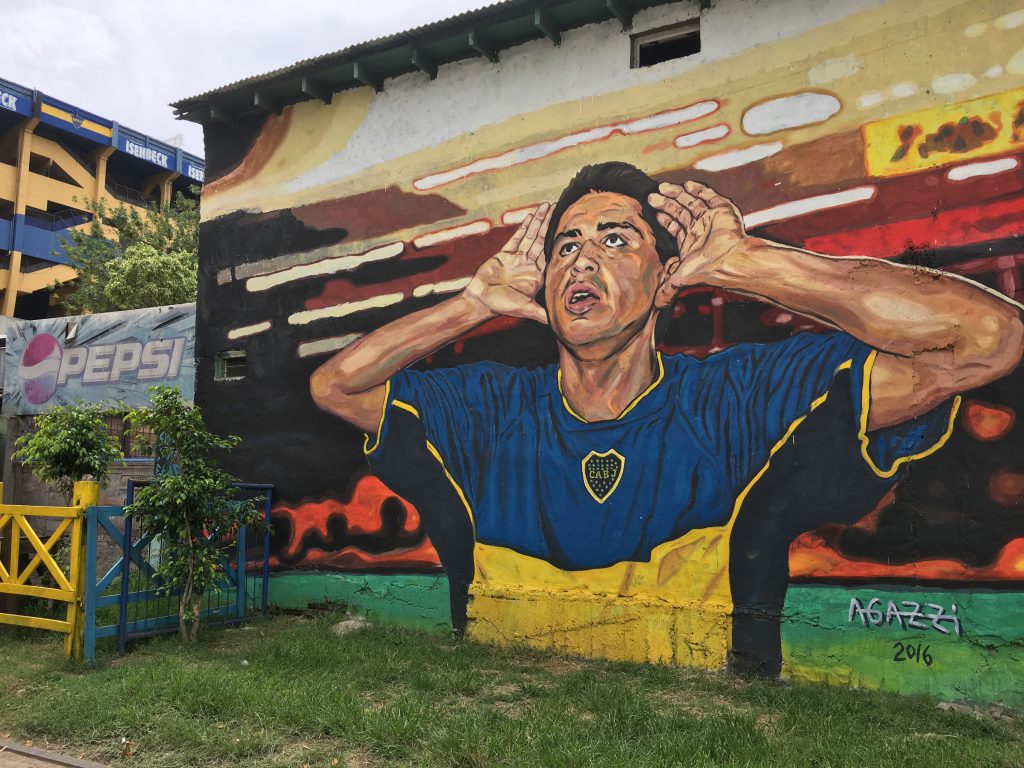 I got chatting to a few people in the hostel and ended up going to this lovely steak (or parilla) restaurant with three Israeli guys. It's very popular with both tourists and locals and the steaks were absolutely top notch. One of the guys ordered a 900g steak. That came on its own. No vegetables, sauce, nothing. The steaks were soooo tasty.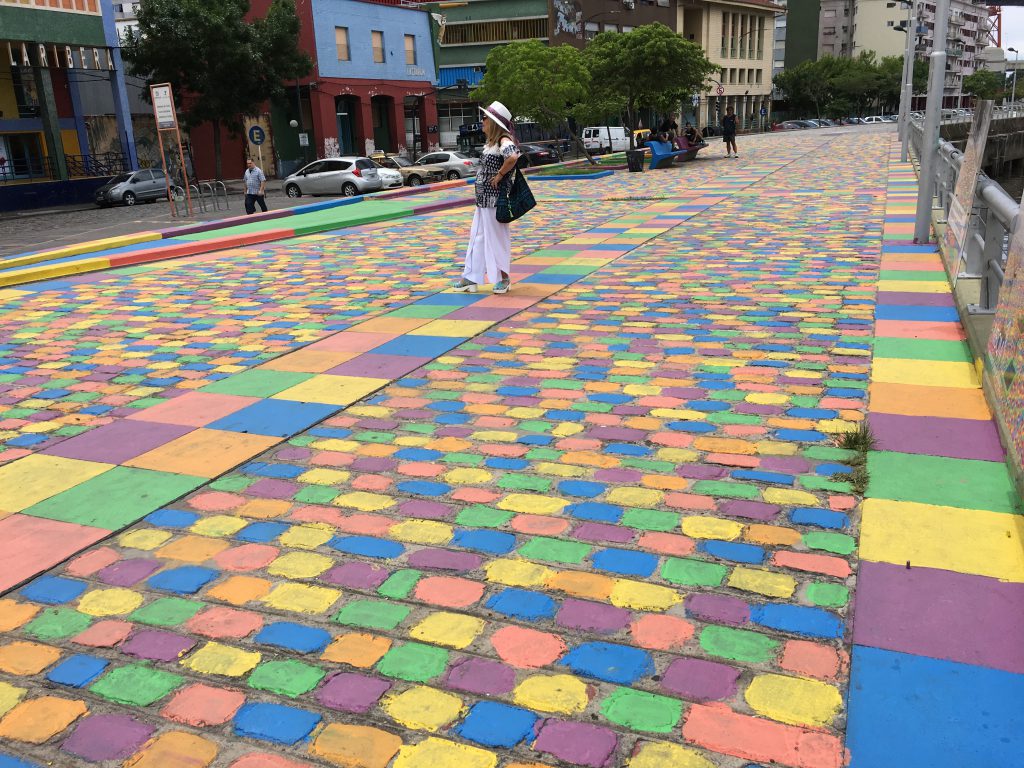 It was interesting chatting to them – in Israel everybody has to do 3 years in the army and they end up saving up so much during that time that they all go travelling afterwards. Which might explain why I've been meeting so many recently. It made me wonder – is it part of the Israeli government's strategy to 'export' their citizens temporarily to bring about more acceptance with regards to the country? Or perhaps it is more for their citizens to become more rounded and worldly-wise and bring back really positive thoughts and ideas. Either way, what a great thing for its people.
They were running a free walking tour of La Boca from the hostel the next morning which was brilliant. La Boca is so vibrant and full of colour – it actually reminded me a little of New Orleans. There was so much amazing street art and graffiti, some of which actually told very sad stories.
The Main Street was very touristy and had a Maradonna lookalike (hilarious) and tango dancers which you could pose to have pictures with. Haha. People still love Maradonna and apparently the hand of god incident will never be forgotten. But equally, there were a lot of Messi souvenirs and statues/shrines. Closely followed by Pope Francis. Once you get off the main tourist street, La Boca is actually a very poor area. It was common to see 2 or 3 families sharing a house.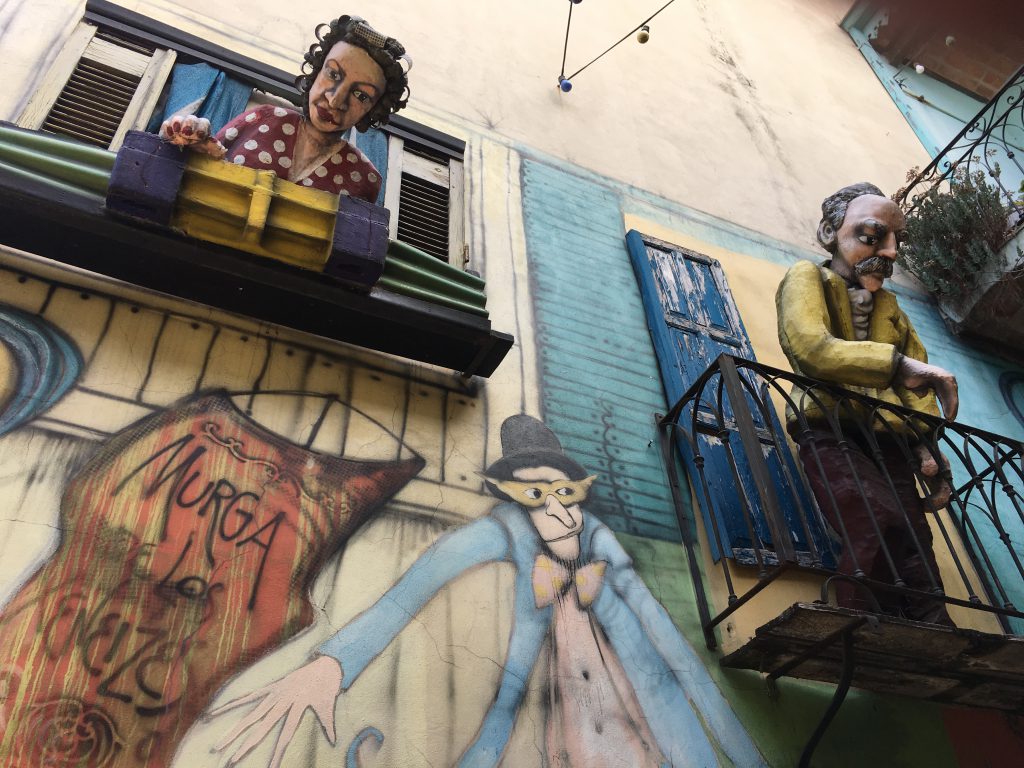 We had empanadas for lunch (the chicken one was delicious) and then I opted to carry on with a walking tour in the afternoon which took us through San Telmo which is a very arty sort of district with lots of lovely boutique shops, antiques and artisan restaurants (as well as more great street art) and then across the river to Puerto Madero which is Buenos Aires' newest district.
It doesn't technically belong to Buenos Aires as it's across the river and therefore in international waters! So they have casinos (which Buenos Aires doesn't) and even different traffic lights etc. It used to be a working port but as ships got larger it became obsolete. It was left derelict for a number of years but has been regenerated in the last 15 and has really boomed. It did feel very different to the rest of Buenos Aires which was quite strange….the best thing about it was the ecological reserve on the coastline which you can sit looking out onto from one of the cafes along the waterfront.
I walked back past the 'Pink House' where Eva Peron famously spoke from the balcony and though Plaza de Mayo which had a lot of silent protests about various things (including the Falklands). That night at the hostel they put on a BBQ and live music on the rooftop terrace so I sat and had a few drinks and met some more interesting people 🙂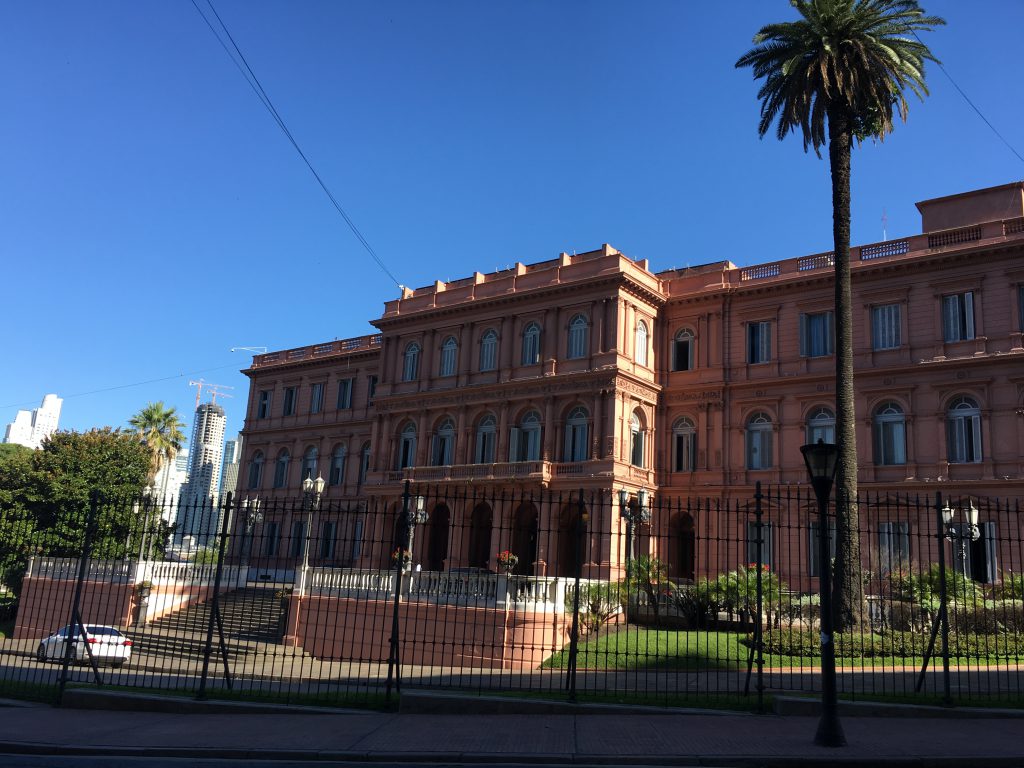 The next morning, Julia (a girl I had met the previous night from Vienna) and I went to the Recoletta cemetery which was stunning, I'd never seen anything like it. It was like a small village with streets of tombs, ranging from very elaborate for the elite (although Eva Peron's was fairly moderate), to the most humble older style drawers in the wall. It's difficult to explain how I felt walking through these streets of people no longer here, each with their own (sometimes fascinating) story. It was sort of empowering, humbling and quite moving. Recoletta is a really nice area, it felt very well-off and it was nice place to have a coffee and lunch.

After lunch we walked to the 3rd February park and then the Museum of Latin American Art which was good. We got a taxi back to the hostel and the taxi driver gave back my 100 peso note (£5) and said it was a fake. He showed us the difference and I was surprised as I'd got it from the bank. We later learnt that this is a scam they do – they sneakily swap your real note for a fake one they've received from someone else as a way to get rid of it. Apparently there are a lot of counterfeit notes in Argentina.
I went for food with Julia and a very good looking waiter served us, the Argentinians are good looking from what I've seen so far 😉 Then I went to the hotel to have the welcome meeting with my group for my trip to Patagonia, everyone seems lovely and I'm very excited about starting the trip tomorrow!
Enjoy this article? Please share 🙂