The last 8 days I've been on a camping trip, driving from Perth to Adelaide which has been loads of fun! There's something very free about not showering for 2 days at a time, cooking outside, wearing no make-up and peeing in the bushes. It's a relatively untouched part of Australia so it really did feel like we were in the wilderness.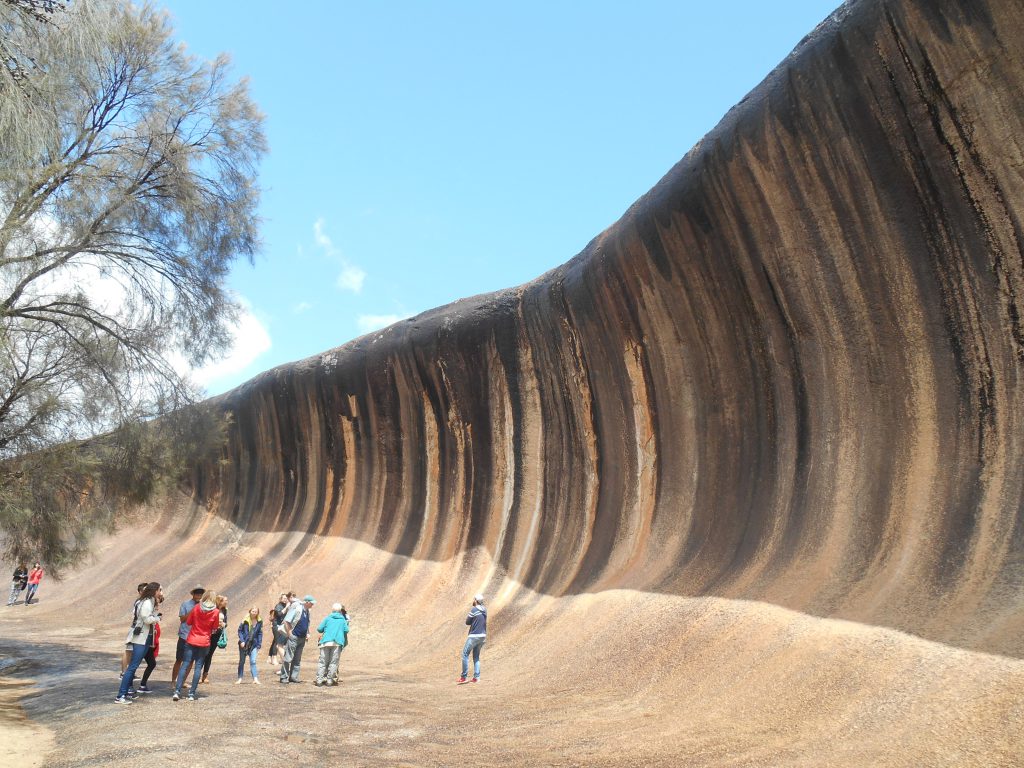 I landed in Perth and got through immigration pretty much instantly, unlike New Zealand which took forever. They confiscated my mandarin though. It was thick cloud in Perth and strangely eerie. The airport was really quiet and as soon as I stepped outside there was no-one around. I got a taxi as couldn't be bothered with a bus and the first thing I heard on the radio was "we all have an end we can't escape" which felt very foreboding! The taxi driver was very nice and the hostel was ok but the centre of Perth really wasn't very nice.
It was a little bit scary, quite a few unsavoury characters and somehow had a strange feel to it. It didn't help that I was running round the shops as they were closing desperately trying to find a sleeping bag – and a supermarket – neither of which I succeeded in. It was also drizzly and grey so maybe I just didn't see Perth at its best! I had an early night as Perth is 5 hours behind New Zealand and I had an early start.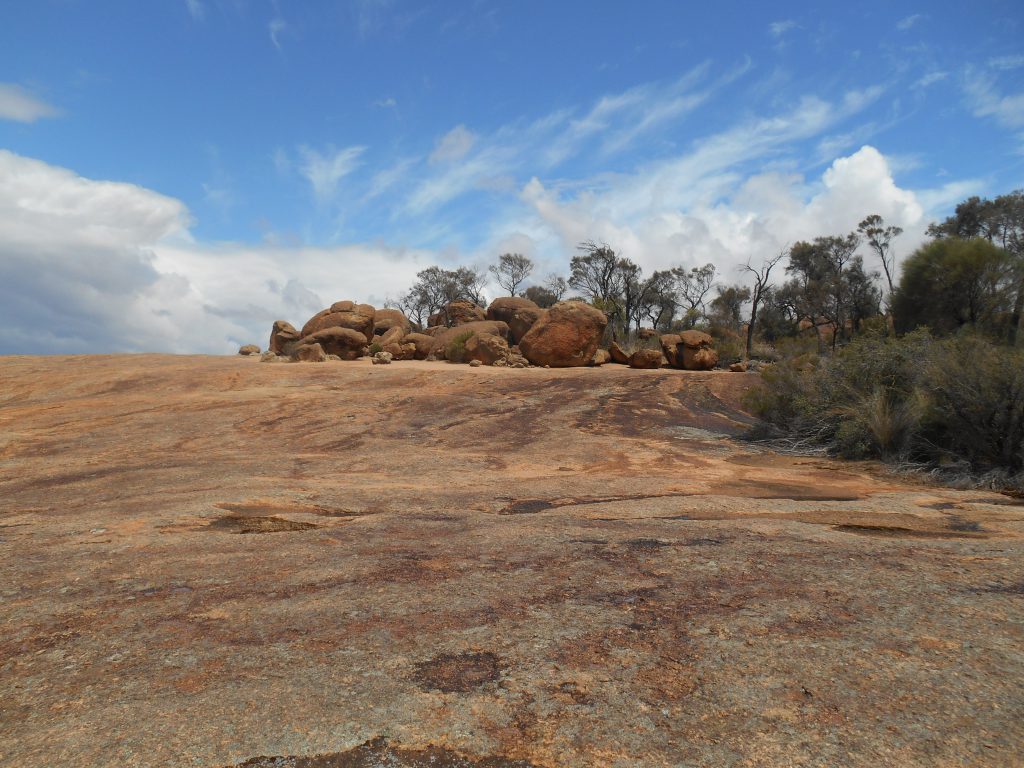 I got up at 6am and walked 20 minutes to the YHA to be picked up for my camping trip. This is when I really appreciate how light my bag is-I've finally learnt to pack light! There were a few scary punks hanging out on the walk there but other than that it was fine. The guide didn't seem to think it mattered that I didn't have a sleeping bag and they had a spare one anyway. The bus was taking 2 different groups-ours and a group doing a shorter tour to Exmouth up the west coast. The weather want great today and like NZ, seems to change frequently. There was a place called Guildford (my home town) just outside Perth 🙂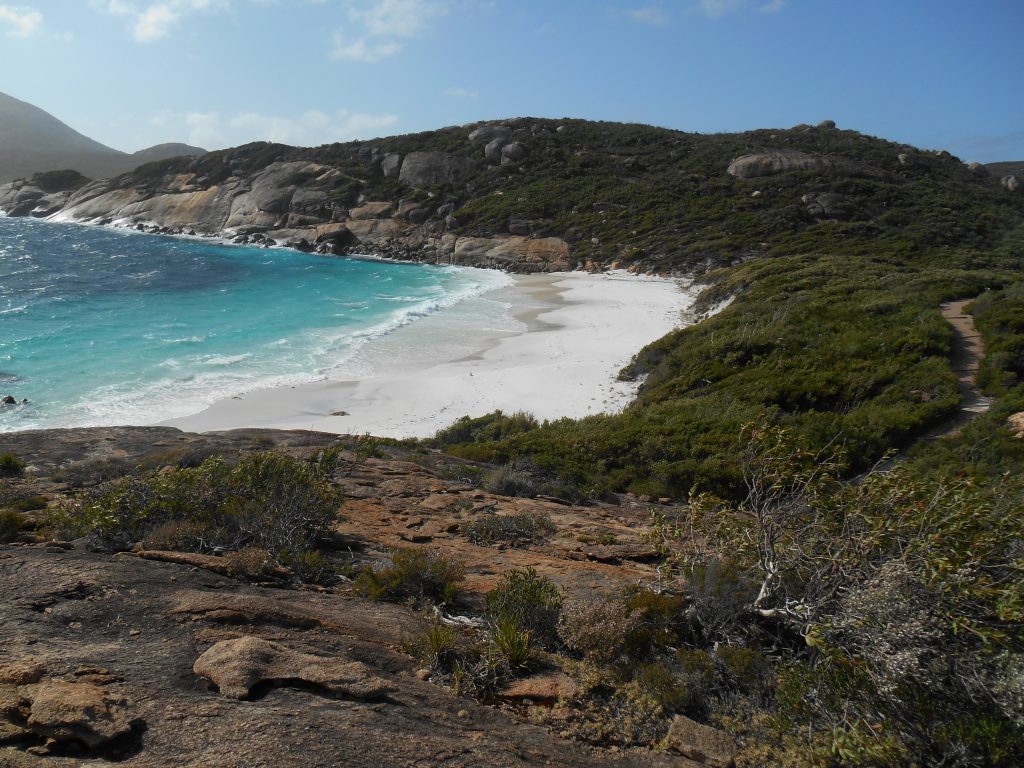 We went to Wave Rock which was pretty cool and saw kangaroos and Eagles. There was a lot of driving on the first day but I was tired and a bit jet lagged so didn't mind too much. The weather was so windy and wet (which is very unusual for this time of year) that it was decided we should stay the night in a hall in Hopeton rather than the campsite. We had burritos then bedded down to the wind (after learning a little bit about the difference between Chinese and Japanese).
Sean, the other guide, woke us up at 6am (I'd slept really well surprisingly, considering it felt like I was on brownie camp, haha) for breakfast then we packed up and headed off for a walk up Mount Barren. It was still windy and wet but a lovely view. We have now split into two groups-we have Stu as our guide who is a typical fun-loving, enthusiastic, outdoorsy Aussie. He has made our bus all Christmassy with flashing lights and candy canes on the back of the seats 🙂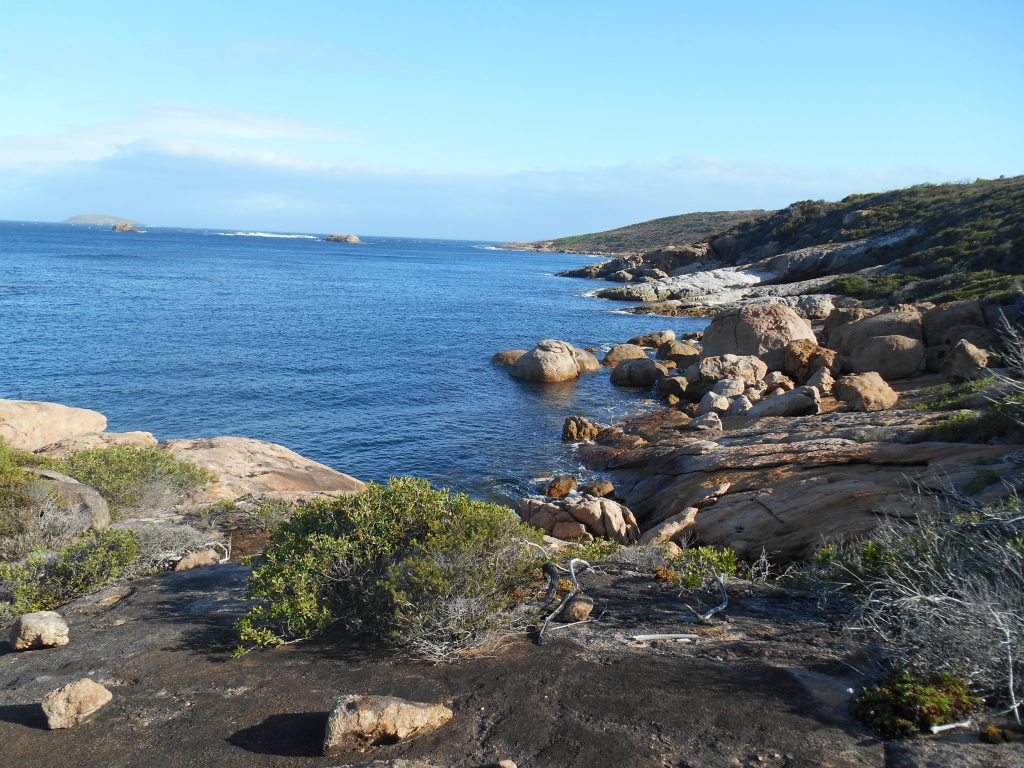 I volunteered to cook fish curry one night so when we got to the little town of Esperance I got all the ingredients for it. We had a windy lunch by the beach and then a walk up Cape Le Grand-and the weather finally started to improve thank goodness! The views were absolutely gorgeous, its untouched land and there is no-one else around. I've never seen such pristine, white beaches-the sand squeaks underfoot like snow, it's amazing. The water is such a brilliant turquoise too. It was ok to camp tonight-we put tents up though as it was still quite windy to just sleep in swags. I shared with Anne, a girl from Berlin who I seem to have a lot in common with 🙂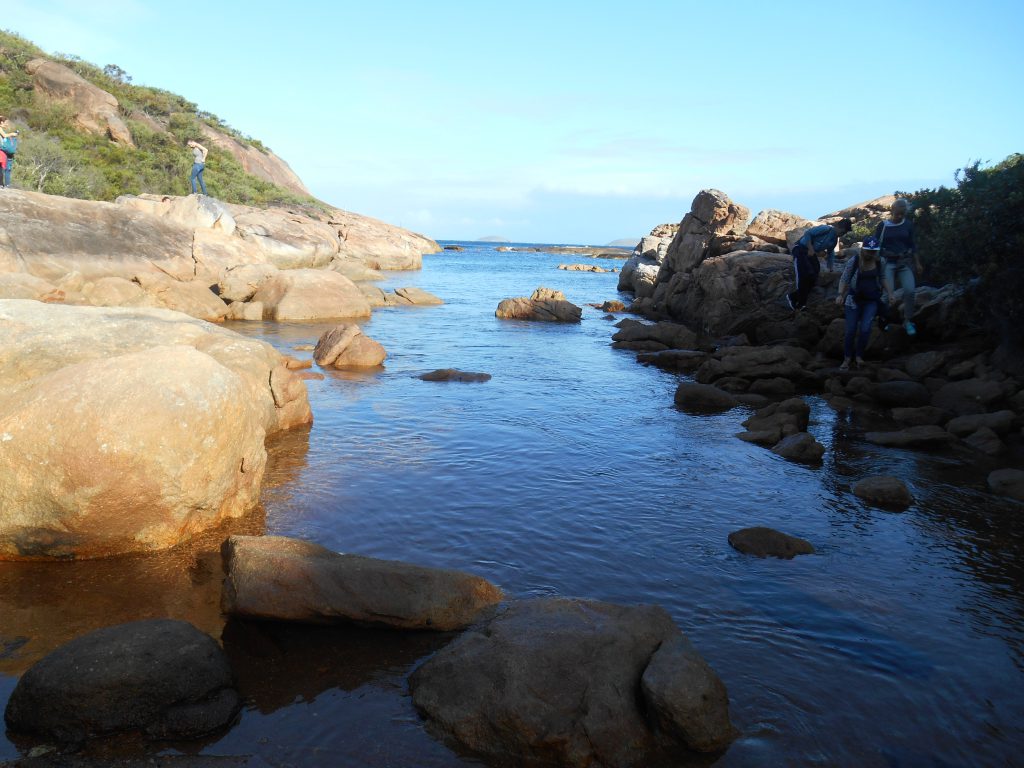 We set off early again the next morning and said goodbye to the other group. We have 9 in our group – John and Gill, a retired couple from Stratford-upon-Avon who seem much younger than 79 and 73; Anne, Thomas and Eileen from Germany, Nicola from Scotland, Hecheng from Shanghai, Daniela from Switzerland and me. It's a really nice, mixed group. We stocked up on fuel (including the reserve tank) and followed the other bus for a bit – who very unfortunately, hit a kangaroo 🙁 It ran sideways into the bus, apparently they do this a lot. It died on impact luckily but was very sad to see.
We drove to Norseman today which was a thriving mining town 5 years ago with a population of around 5,000 and 5 hotels. Now there are only around 500 people left and loads of empty houses due to the mine being depleted.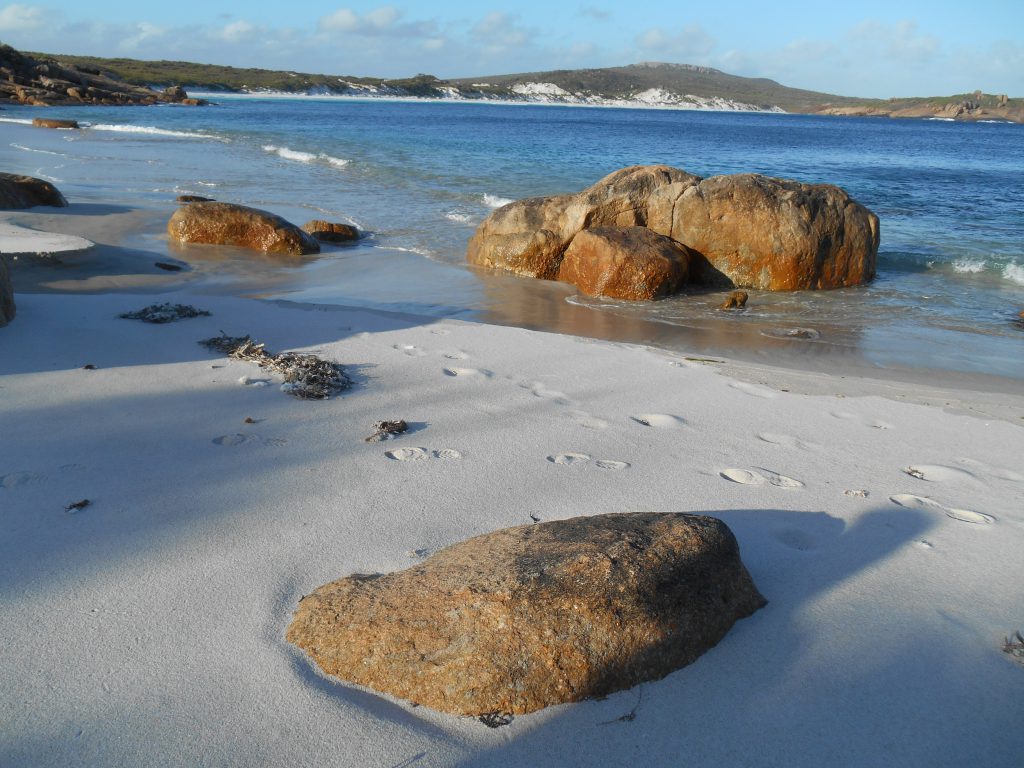 Shortly after leaving, Stu made an abrupt stop as he'd seen a brown snake (one of the deadly ones) on the road – it wasn't that big and looked fairly unthreatening – strange to think it could kill you! We got to our camping spot about an hour after dark and lit a fire. We chatted about all sorts of things including cloning, taking a pill that means you could live to 200 and the general meaning of life…
One of the downsides about cooking in bulk is that there never seems to be enough food and I wake up starving! I'm getting used to it now though. Stu boomed out "Good Morning" at 5.40am – because I had my eye mask on I would have easily carried on sleeping….but I was on breakfast duty with John and Gill so had to wake up pretty quickly and make it! We were out of camp by 7am and it was another beautiful day.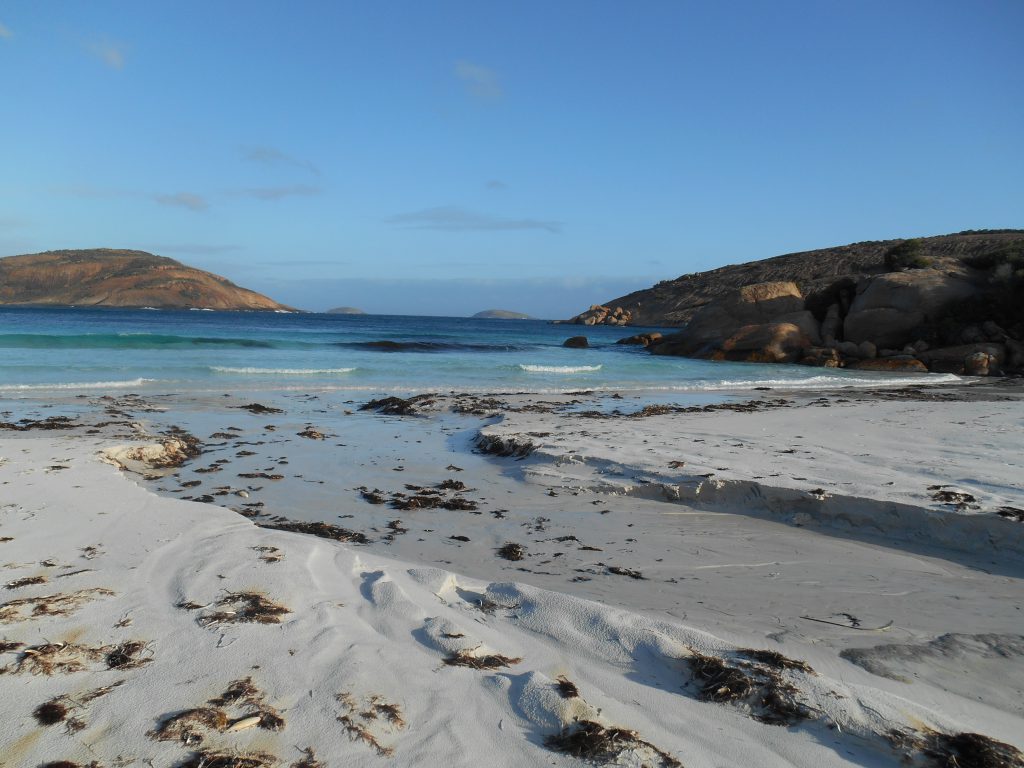 We drove to Eucla and saw the old site of telegraph station that opened in 1877 – that is now derelict and being reclaimed by sand. It was a big deal at the time as it connected Western Australia with the rest of Australia and the world. John actually worked here in the 1960s closing these stations and building the new masts so it was amazing for him to be back here after all those years. We crossed the border into South Australia and the clocks jumped forward by 2.5 hours which was odd! You soon realise how precious water is here as well – the last 3 road houses haven't had any drinking water to fill our bottles (or the tank in the van) and are charging $6.20 (about £3.20) for bottled water! We had a stop to collect firewood in the bush as Freddie Mercury's 'Who wants to live forever' was playing from the bus. It felt like we were walking off into the bush to live our final hours!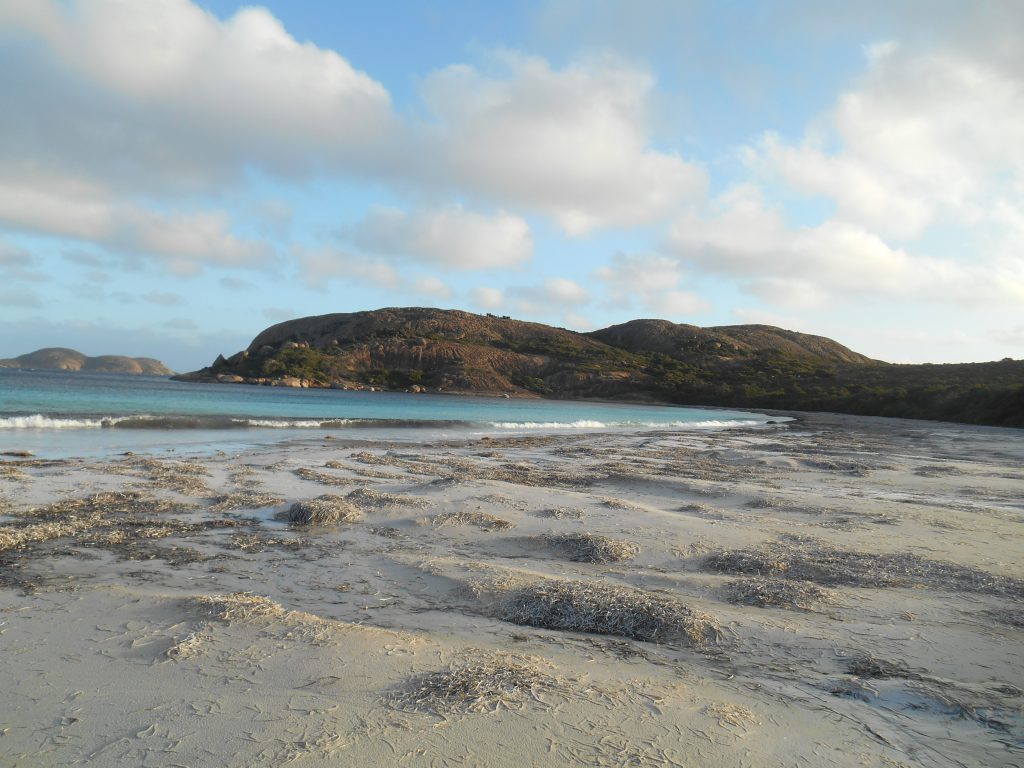 We got to camp which was about 5 miles down a dirt track off the road and was this amazing old (and apparently haunted) sheep farm. It was such a weird and wonderful place. The few remaining bits of furniture must have been from the 1950's if not older and there are about 50 abandoned rusted cars (which also seem to be from the 50s/60s). I loved wandering round them all wondering who had once sat in them and driven them and how they came to end up here, there was even a Triumph Herald (Dad) 🙂 They must have had some pretty tough times here, it's such an isolated place. There was even a toilet which was a corrugated iron hut with the door hanging off which meant every time you went you had a nice view of all the rusted cars in the bush. John, Gill and I cooked the fish and sweet potato curry – I think it went down pretty well! Topics of conversation tonight included Dubai, China's economy and aborigines.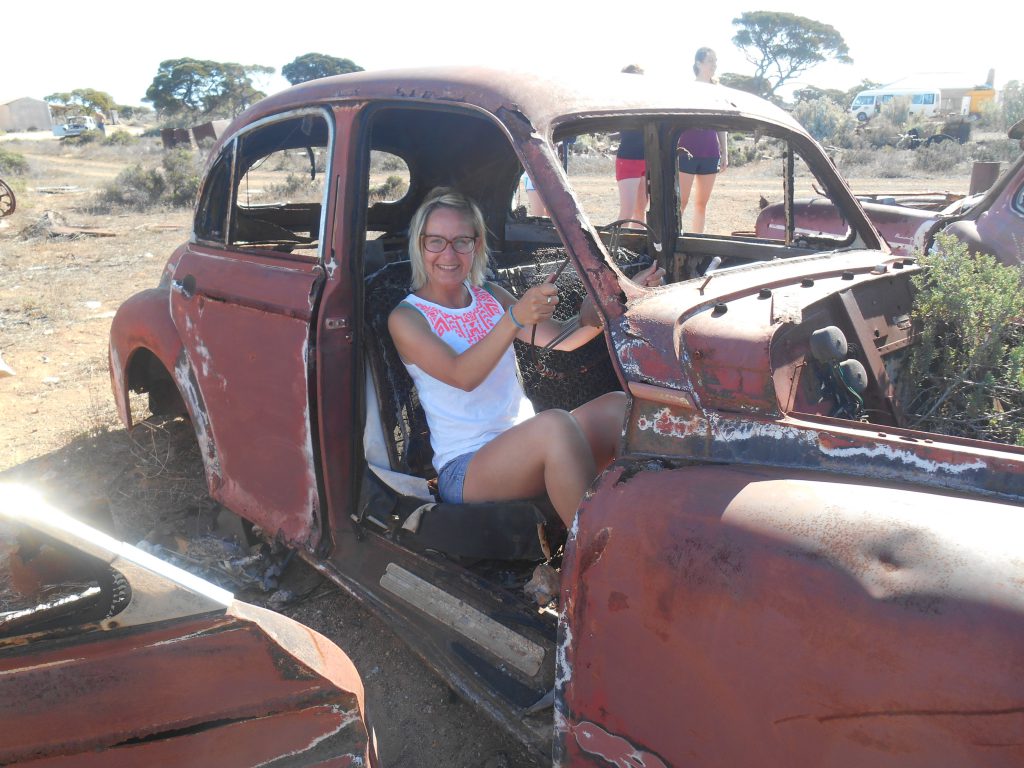 We were awake really early the next day due to the time difference and it was completely still outside. We stopped off at a spectacular lookout point at Bight cliffs. The landscape is pretty amazing – the Nullarbor is the largest, flattest piece of limestone in the world – it's 200,000 sq km and up to 300m thick in some places. John found a golf tee on the cliffs which was really funny as a few nights earlier we had been burning a piece of deadwood on the campfire only to find a golf ball deep inside nowhere near a golf course! We concluded that a bird must have carried it and buried it there.
We stopped off briefly at Streaky Bay then did a gorgeous walk at Venus Bay in the early evening light. Our campsite for the next two nights was Coodlie Park which is owned by the owner of the tour company. It's an old sheep farm and is great! The most exciting thing were the showers which consisted of buckets that you fill then hoist up on a rope and slowly let the water out using a tap on the side of the bucket.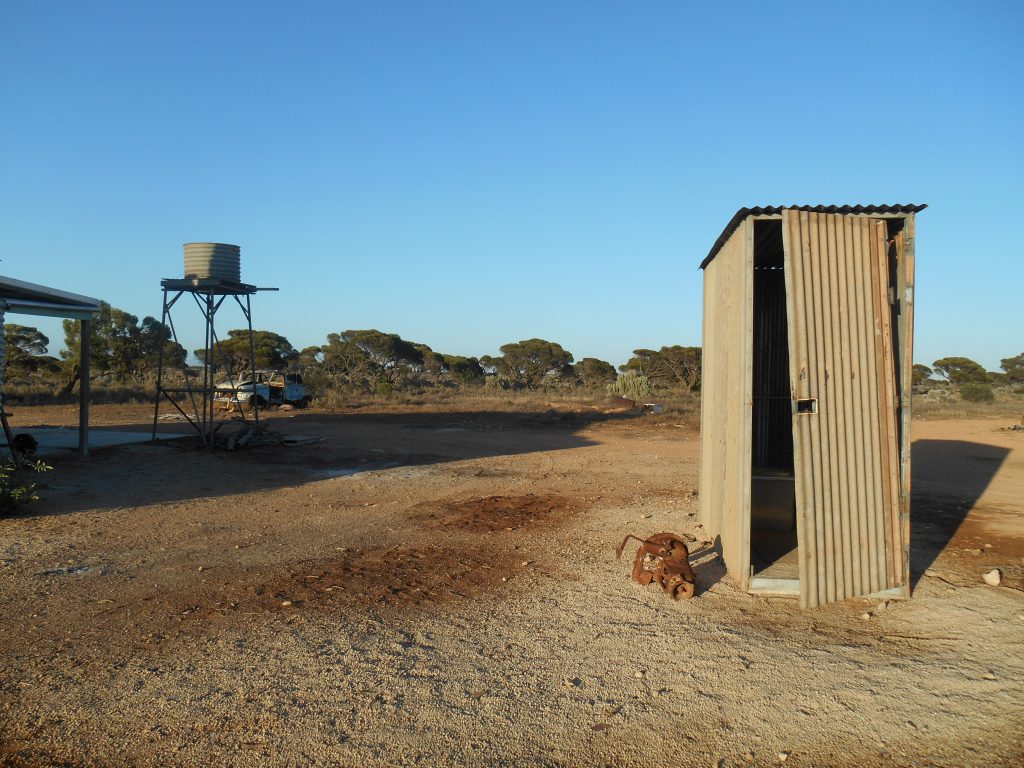 They were very strict about only having one bucket each which meant constantly turning it off and on to make the water last! It certainly made you appreciate water! We met the other camping group that we're going the opposite way to us and very kindly had already cooked us a BBQ dinner. We sat chatting round the campfire then went to bed in the swags and was the perfect temperature.
All the water along the south coast is incredibly clear, it's beautiful. We walked along the cliffs and spied in rock pools. Then Stu took us sand boarding – I can't believe I lived in the desert for 4 years and never got round to trying it! I went down on my tummy first (which was a bit boring and slow!) then tried on my feet-and amazingly stayed up! Maybe being able to wake board helps with balance? It was fun.
This afternoon 6 of us did a boat trip to go and swim with dolphins and sea lions in the wild – which was absolutely amazing. The Dolphins would swim underneath us and the sea lions would make eye contact, look a bit suspicious and then play around us once they'd checked us out and realised we were OK! It was really amazing to see them in their natural habitat and quite a challenge to hold eye contact with a sea lion!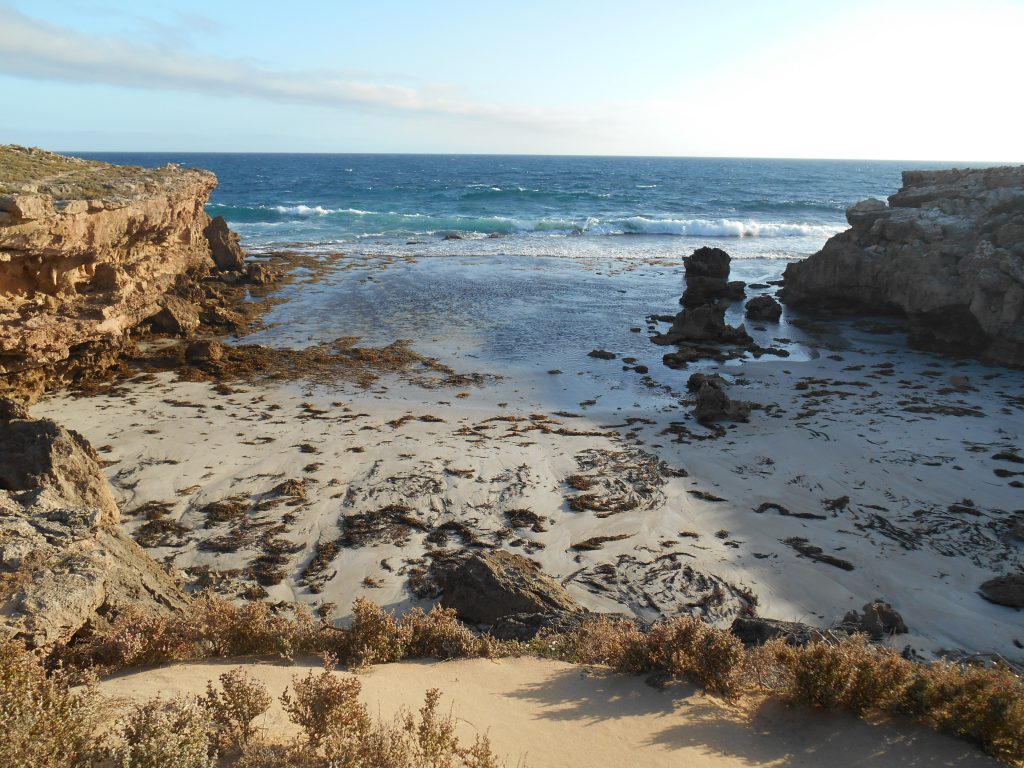 We drove back to the same campsite and it was B group's turn to make dinner – the lasagne was fine but when it came to making the custard for pudding it turned out like cement. Hecheng being Chinese, blamed it on the Koreans (apparently if anything goes wrong in China they blame it on the Koreans, haha). So it became known as Korean custard. If I ever go to Korea I'll have to remember to order some.

There was less cloud cover tonight so it felt colder – I had to out the swag over my head but didn't want to feel too claustrophobic so managed to balance it on the bridge of my nose (don't ask me how). It was pretty chilly when we woke up – my swag was covered in dew!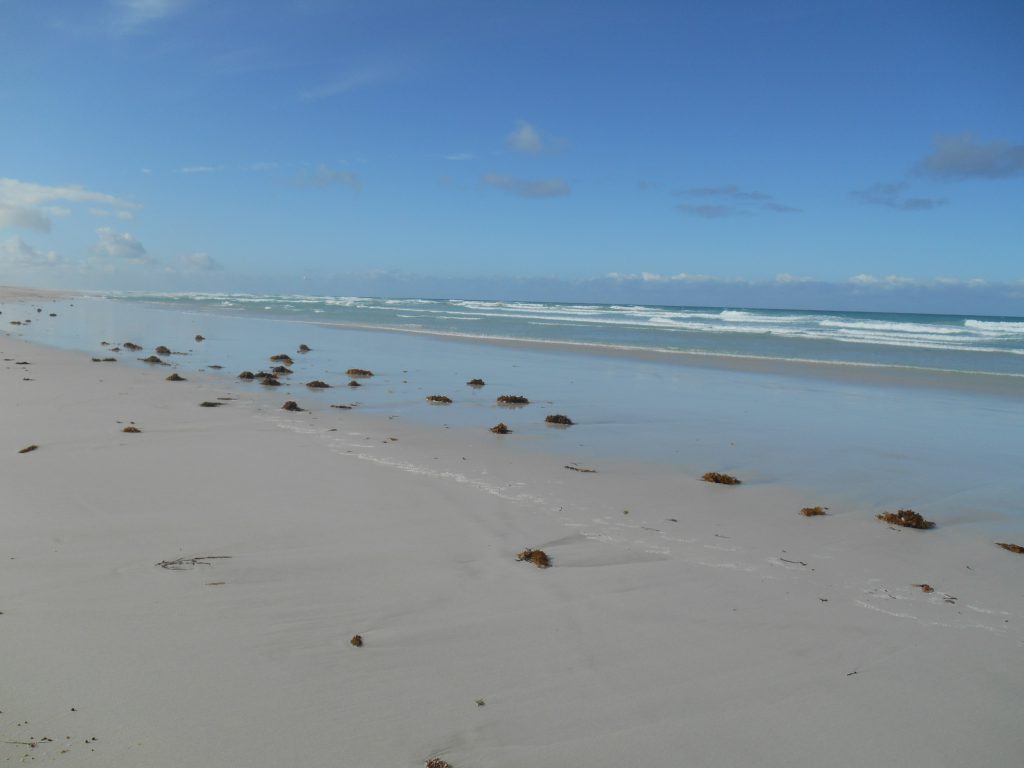 Now we are getting closer to Adelaide there is more civilisation – it feels weird seeing quite a few buildings along the way after virtually nothing for so long! We stopped at Port Lincoln for lunch which was bigger than I expected. It's home to Australia's largest commercial fishing fleet. We did another food shop – it was very weird hearing Andy Williams singing "it's the most wonderful time of the year" in the supermarket – I got a little lump in my throat thinking of Christmas at home and how different it will be this year! But I'm very much looking forward to it Eric and Leighann 🙂
We drove to Port Lincoln National Park to do another walk and then got to our campsite where there were koalas in the trees above our heads! And we actually saw them awake – they make the strangest most unexpected sound for a cute cuddly animal! We couldn't stop laughing. Not so funny in the middle of the night-in fact, slightly terrifying!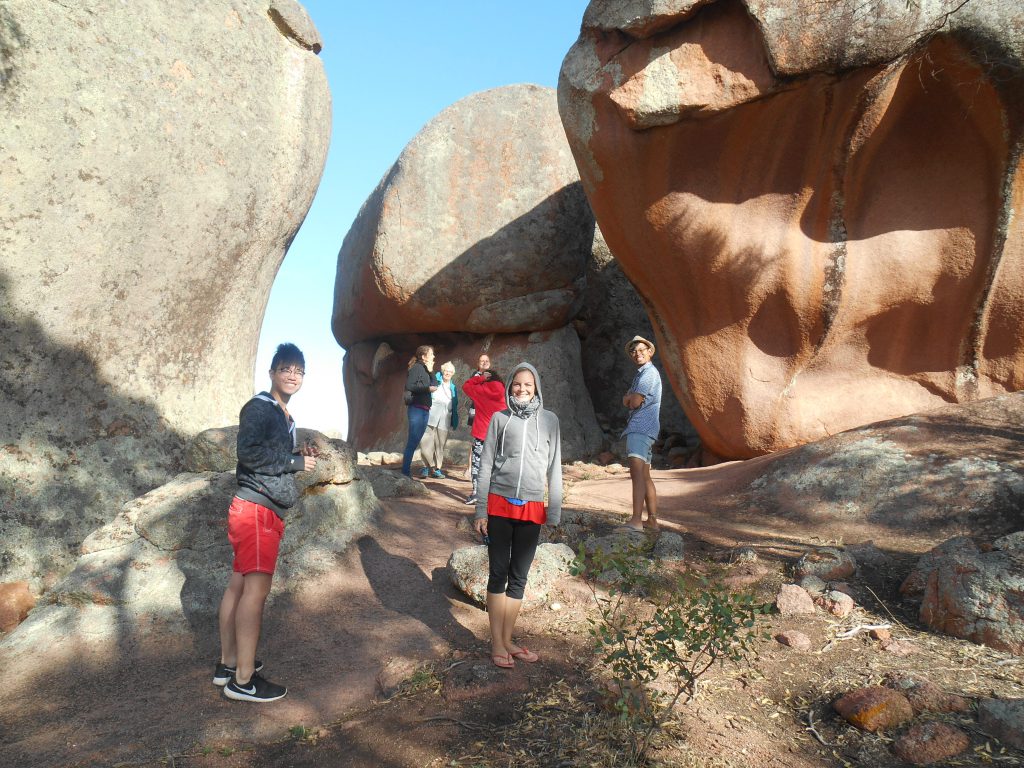 We went to an animal park today where we got to feed the kangaroos which was pretty cool! They're so cute. We stopped at Port Augusta which was at one time the gateway to the outback. There was a really good cultural centre there – really interesting films and lots of information. They've obviously spent a lot of money on it. I now know all about the aborigines, the geology of the area, telecommunications, the building of the railways, the flying doctors and modern day living in the bush 🙂 We had lunch (it's really really hot now) and did a brief walk in Mount Remarkable Park before heading to Adelaide and back to civilisation!
Enjoy this article? Please share 🙂