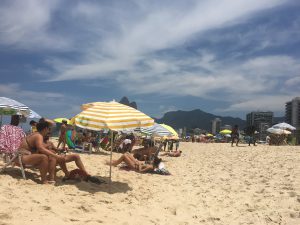 It's so good to be back in Rio almost exactly 10 years later! It's just as fabulous as I remember, I still think the setting of the city is second to none with it's majestic mountains, wide sweeping beaches and Christ the Redeemer looking peacefully down on everyone. My hostel is nice, although I'm on the very top bed of a three-tier bunk which is slightly unnerving! Being back on the beaches of Rio was brilliant – I met up with Anderson who I met on my second day in Buenos Aires. Aside from getting non-gringo prices on the beach (bonus!), it was great getting a bit of an insight into the city (and Brazil generally). I did as the locals do and had an iced mate with lemon and a bag of globos 😉
We were sipping on our beers chatting away when all of a sudden a huge wave took everyone by surprise – everyone screamed from shock and jumped up – everything went floating off including my bag and our flip flops. It was a sea (in both senses of the word) of havaianas and took us a while to pair them up again! I thought everything had managed to stay pretty dry but soon found out it hadn't when my phone charger fizzed and popped when I plugged it in later at the hostel (oops). Why I had it at the beach I'm really not sure…..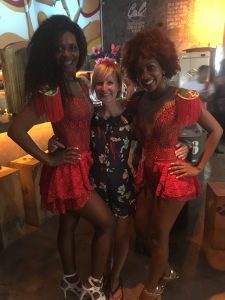 I got chatting to three of the girls in my dorm who were my companions for carnival for the next 2 days. Carnival is so crazy, I've never seen anything quite like it – amazing, intense, loud, non-stop and so much fun – the brazilians sure know how to party. There are street parties (blocos) all over the city every day for days on end – there was a huge timetable of them all in the hostel, there must be about 75-100 per day, its like lots of mini-festivals. Every bloco I went to felt different and the atmosphere is just incredible – everyone just wants to have a good time and it had that real festival atmosphere. There were people hanging out windows, the bands were absolutely amazing and everyone wants to chat. People had made so much effort with their costumes too, my headband and few face sparkles were very tame in comparison! Truly, anything goes – which is mostly good but the flip side is there is constant bum pinching, waist grabbing, men telling you you are beautiful every 2 minutes and going in for full-on snogs without even saying hi (and I mean actually grabbing your face and kissing you). Obviously this only happened when I was with the girls – as soon as I went to a bloco with Anderson, it was all fine. Funny that. All in all though it was absolutely incredible, the way the city parties for a week is like nothing I've experienced.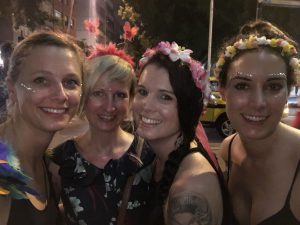 After 3 nights in the hostel I decided I couldn't take it anymore – I felt really really tired and decided I needed a bit of comfort and luxury for the last 3 days of my trip, so I booked a hotel. It was lovely and much needed! And I loved the fact there was a rooftop pool and a button on the remote that said football. Where else. Brilliant. I assumed I was just worn out from the partying starting as soon as you got up and my trip generally – I even stayed in one night in the hostel with barely anyone else as I felt so worn out. I thought I must be getting old and that my adventurous spirit was finally beginning to disappear. It turns out I had a pretty severe virus (which only got diagnosed once I was home) – my throat had never been so sore, my whole body ached, I'd get tired walking over the road to the beach and I had conjunctivitis in both eyes! So thank goodness I had treated myself to a hotel, I think my body knew what was going on before I did. And also I was very relieved that it wasn't me getting old…..or having lost my adventurous spirit 😉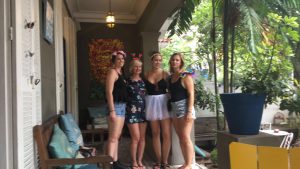 So the last three days were far more subdued, I wandered along Atlantic Avenue and bought an english magazine for the equivalent of £7 (it was the first english one I'd seen for ages) only to realise I'd read it in the hairdressers 5 weeks earlier. Ah well. I sunbathed on the beach and at the pool and didn't really do much at all. I'd sadly lost my appetite too which was when I realised there must be something wrong – I NEVER lose my appetite. I did manage to meet with Anderson again and go to the 'Sargento Pimento' bloco in Flamengo – they play the whole of the Beatles' Sergeant Pepper album in a samba style – it was amazing! I was so worn out afterwards though so came back to the hotel and fell asleep for a few hours! I had wanted to go to the Sambadrome but I just couldn't muster the energy and didn't want to go and half-heartedly be there. It's such a shame as that's something I really wanted to do – but its a good excuse to go back 😉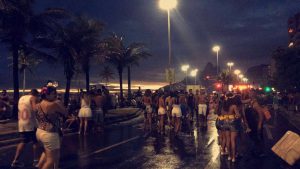 So it was a somewhat chilled end to my trip and I spent the last day and a half willing my flight to be sooner (again, something I never do). I felt so rough I just wanted to be home. However, it was actually nice having some time at the end to reflect as I didn't have the energy to do much else! It's been another absolutely fantastic trip, I've made more fabulous friends from new countries and had many more thrilling experiences. This is the life….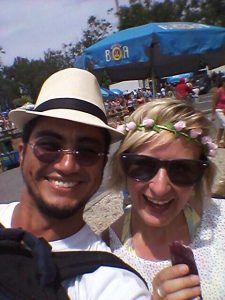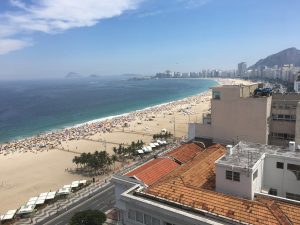 Enjoy this article? Please share 🙂