I'd always wanted to do a Thai cooking course in Chiang Mai – I'd heard it was one of the best places in Thailand to do one and I've always loved the northern Thai cuisine. About half our group decided to do the course as it was an optional activity of the trip.
A Thai Cooking Course in Chiang Mai
We started off by going to the local market and learning about all the different foods  – the ingredients were all so fresh and it was great being able to look at and smell them all! There are 27 main herbs and spices that form the basis for Thai cooking and give it it's special flavour. Included in these are 3 types of basil, 3 types of aubergine (or eggplant) and two types of ginger. Each of the ingredients has different health benefits too – did you know that cloves can help reduce toothache and bell peppers can help reduce perspiration? No, neither did I 🙂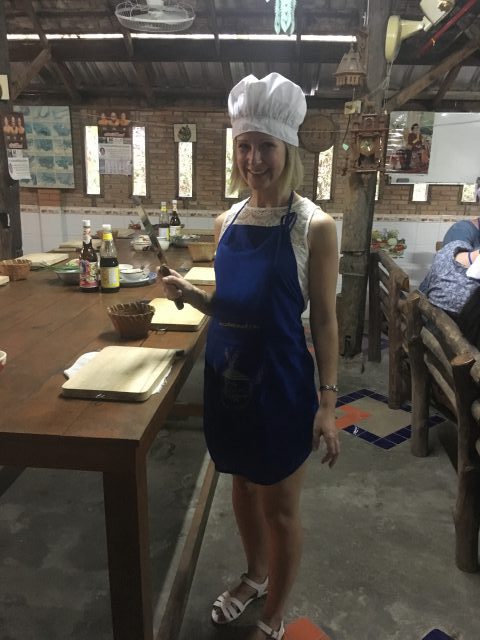 The cooking school itself is called Baan Hongnual and was a very ambient, peaceful place surrounded by greenery, perfect for inspiring some great dishes! We gave all the ingredients to the staff and they split everything into individual portions for us. We each had our own workstation with everything ready for us – it was very hands-on which was great. We even had beers whilst we were cooking which was a nice touch 🙂
We made tom yam soup (a hot and sour soup) and spring rolls first of all. They were surprisingly quick to make and had less ingredients than I was expecting. We also learnt how to roll a spring roll properly so the filling doesn't spill out (always my problem on previous attempts)! The next courses were pad thai and a curry of our choice – I chose paneang which has always been a favourite of mine. I now know how to make it properly! It was all absolutely delicious.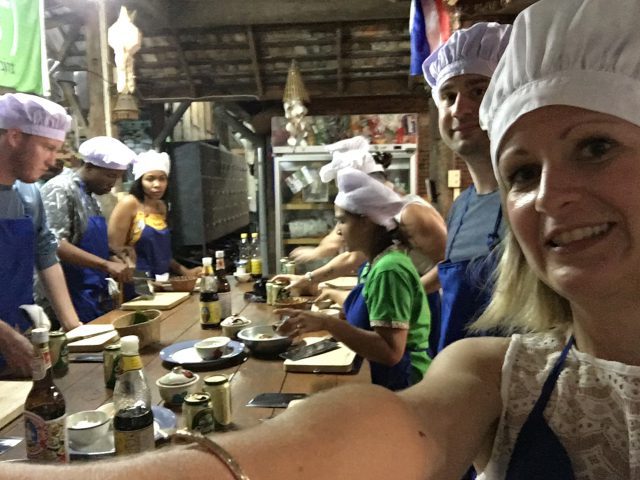 We got given a detailed recipe book at the end and I have actually re-created the massaman curry since being back home (it was almost as good). The spices are pretty easy to find in the UK but some of the vegetables are hard to get – they list substitutes but the curry may end up tasting slightly different. Nevertheless, all the recipes are detailed and very easy to re-create at home – I'm looking forward to making a pad thai next.
A Peaceful Haven of Pretty Streets
Chiang Mai itself is a really chilled out, relaxed city – certainly within the city walls anyway. The old city is bounded by a moat and remnants of the wall built 700 years ago to defend against Burmese invaders. It's a peaceful haven of narrow streets filled within family-run guesthouses and pretty, leafy cafes and restaurants. We stumbled across a clay-making centre and cafe called The Faces which was set in a courtyard full of clay statues and rambling vines and plants, with chairs and tables hidden amongst them all. A fantastic setting for lunch.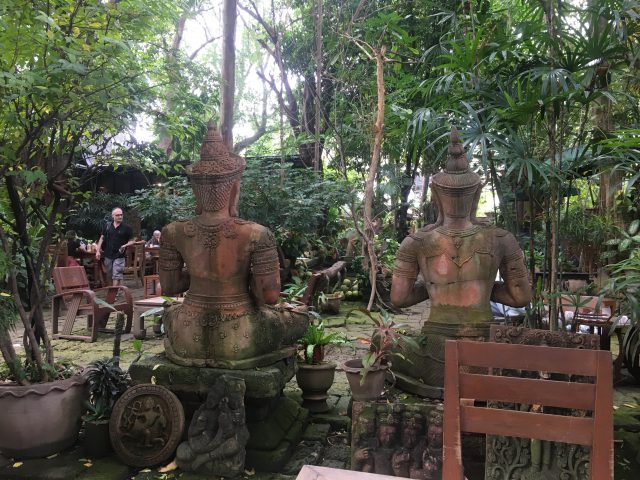 That evening we went to a cabaret show in Anusarn night market – a must-do if you're in Thailand – and it was spectacular! They were all absolutely amazing performers, and incredibly beautiful. Even though we knew they were men, it was very difficult to see them as anything other than stunning women. They had a few lookalikes – my favourite was Rhianna who was so like the real Rhianna! She was amazing. Liam, one of the guys from my group, got picked to go on stage with 3 other guys and be 'transformed' into women. When they returned to the stage in their dresses, jewellery and wigs, and attempted a dance routine, some were a lot more convincing than others. Liam looked pretty comfortable up there I have to say….;-)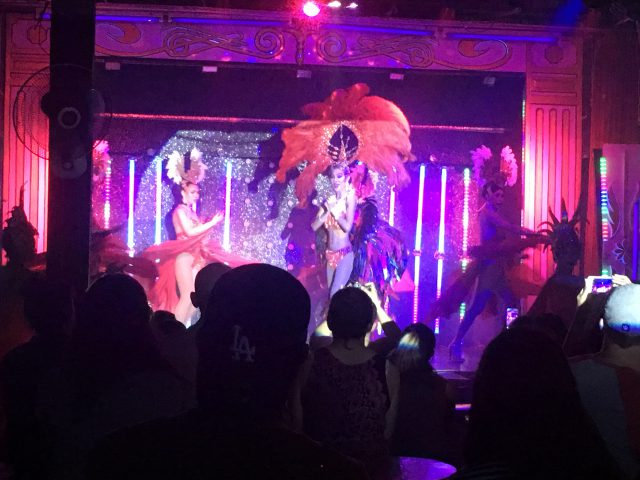 White Temple, Chiang Rai
The next day we set off for the Laos border – stopping off at the wonderful White Temple or Wat Rong Khun on the way, just south of Chiang Rai. Built in 1997 and the artistic vision of Thai painter-turned-architect Chalermchai Kositpipat, there are some fascinating sculpture installations representing Buddhist principals, as well as contemporary murals and pop culture references replacing the typical scenes of village life and Buddha figures.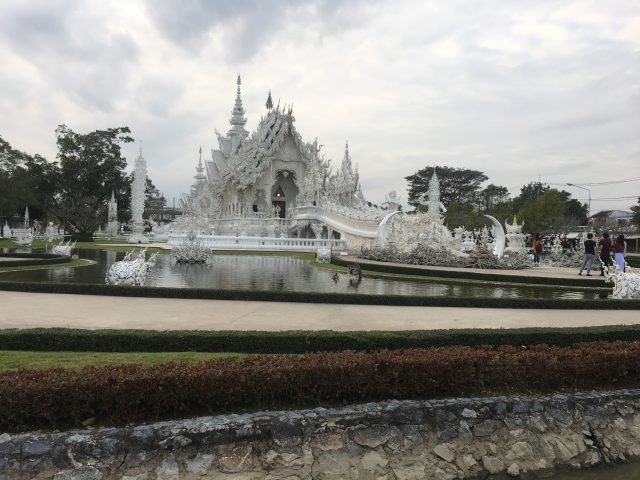 The main building of the temple is reached by crossing a bridge over a small lake. Underneath the bridge are hundreds of outreaching hands which symbolise unrestrained desire, with the bridge symbolising the way to happiness by foregoing temptation, greed and desire. It was unnerving seeing all those hands seemingly trying to grab you…we were lucky enough to be there as the sun was setting which gave the temple an even more ethereal quality.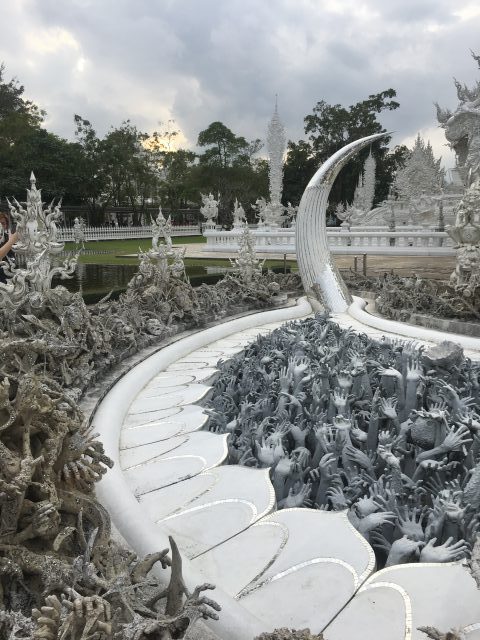 Inside the temple, the decor changes from pristine white to fiery and abstract. The murals here depict swirls of fire, demon faces and the destructive impact the humans have had on earth. Interspersed are western idols and superheroes such as Michael Jackson, Superman and Harry Potter. The scenes are slightly confusing but the underlying message was clear: the modern world is evil.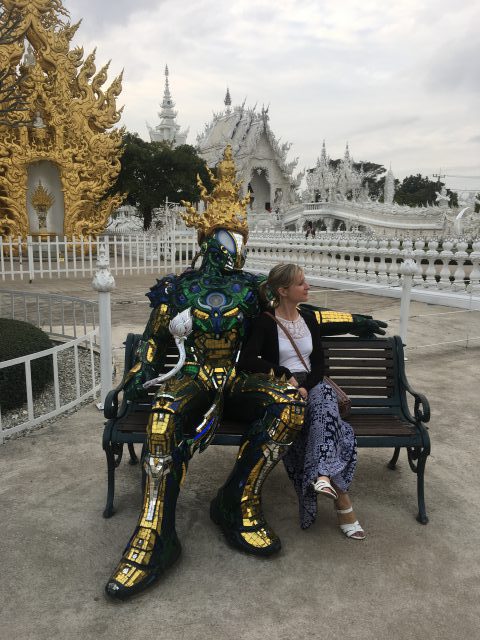 A Night of Bonding Before Crossing the Laos Border
We arrived in Chiang Khong later that day, a lively market town which serves as the main crossing point into Laos. We found ourselves in the fabulous Rin Bar, along with quite a few other travellers staying in the town, waiting to make the crossing the next day. Numerous shots of the Thai equivalent to tequila, Chang beers, some karaoke and a pool table meant it was a night of bonding. Mutual admiration, expressions of love, various talents showcased – it all came out that night 🙂 And it continued all the way back to our hotel, we didn't really want to go to bed. This is (one of the many reasons) why I love G Adventures trips. You meet some truly great people.
If you are interested in my trip, I travelled with G Adventures for 2 weeks on their Thailand and Laos Adventure Tour which you can read more about here.
Did you enjoy this post? Pin It 🙂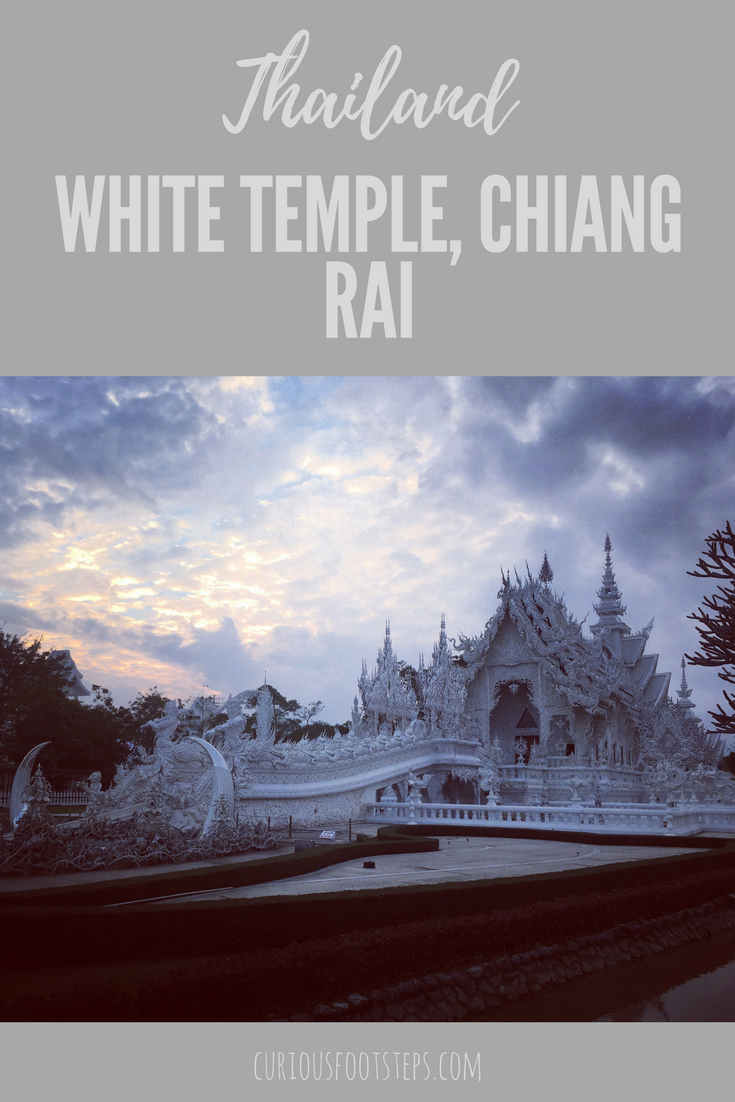 Enjoy this article? Please share 🙂