So let's be honest. Marrakech is not for the faint-hearted. Or the impatient. Or anyone who is looking for a super chilled break. Unless of course, you stay in your riad the whole time and don't venture into the city. But it is a city full of life with something different around every corner.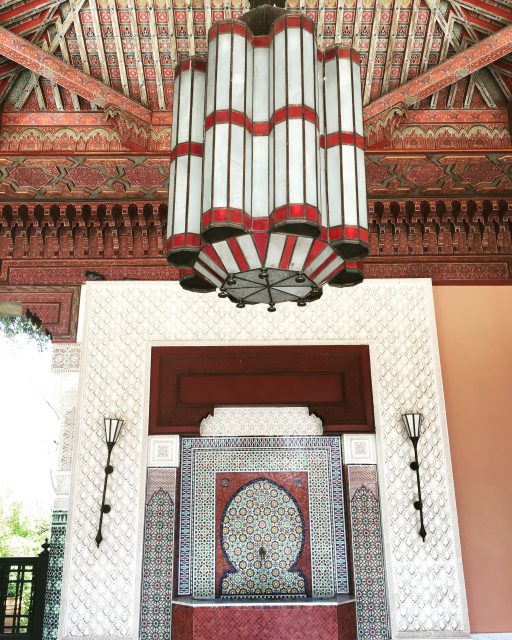 NB. This page has affiliate links. If you choose to purchase any of the products I have recommended, I may receive a small commission. This doesn't affect the price you pay and helps keep my site running. For more information please see my affiliate disclosure 🙂
A City of Contradictions
A short break in Marrakech is a wonderful experience full of energy, colour and noise. It's a city of contradictions, from the hustle and bustle of the souks to the tranquility to be found behind the inconspicuous doors of many of the riads; from the narrow, slightly claustrophobic alleys of the Medina to the vast expanse of Jemaa el-Fna square; from the dusty, dry ground of the streets to the lush gardens hidden behind them.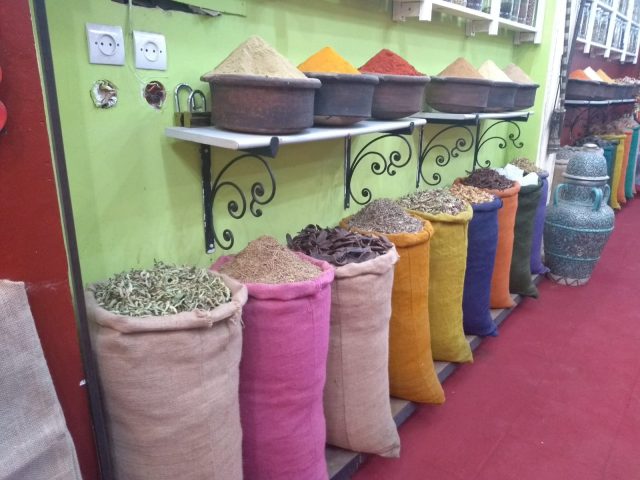 For a city only a 3-hour flight away from London, it's remarkable just how different it is to Europe. It reminded me a lot of a south asian city in the way the haggling works (and some of the scams the locals try and fool you with), yet knowing I was so close to Spain meant it was more difficult to categorise it in my head.
We landed fairly early in the morning and then had an hour-long wait at immigration before battling to get a fair price from the taxis. They will tell you that there is a flat fee of 250 MAD (Moroccan dirhams) to take you into the Medina. This isn't true – they're banking on tourists being tired and not wanting the hassle to agree to this. However, if you manage to stand your ground by walking away and saying you'll get the bus you will eventually manage to get a fairer price (we paid 150 MAD in the end and we probably could have got it cheaper still).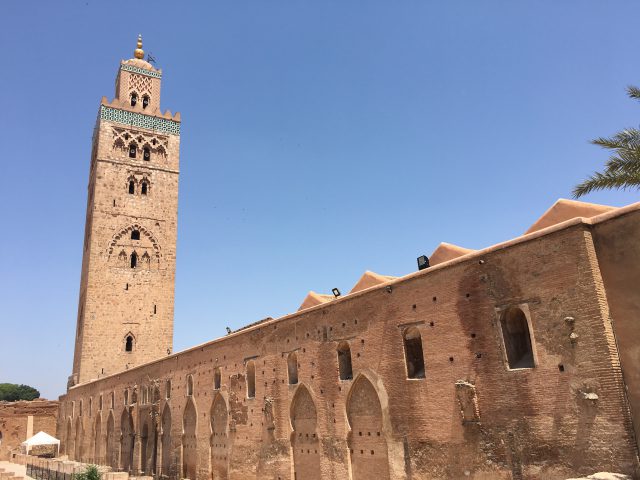 The ride into the old town took around 20 minutes and we were dropped just outside the city walls. The taxi driver had been telling us some useful information and still tried to get an extra 50 MAD off us at the end hoping we would have softened by thinking what a nice guy he was. He was, but we'd agreed 150 MAD. This is a recurring theme in Marrakech – my tip here is to ALWAYS ask the cost of something before you try it (whether it's tasting a sample of food/having a sample henna design etc).
The Riad Trend
It was a short walk to our riad which was buried in the depths of a maze of alleyways with blind corners, round which you could expect a herd of cats, a scooter or two, a man with a pointy hood and bright yellow shoes or a giggling group of children. The riads really are amazing – they're so inconspicuous from the outside, literally a door in the wall – yet behind them is an oasis of tranquility.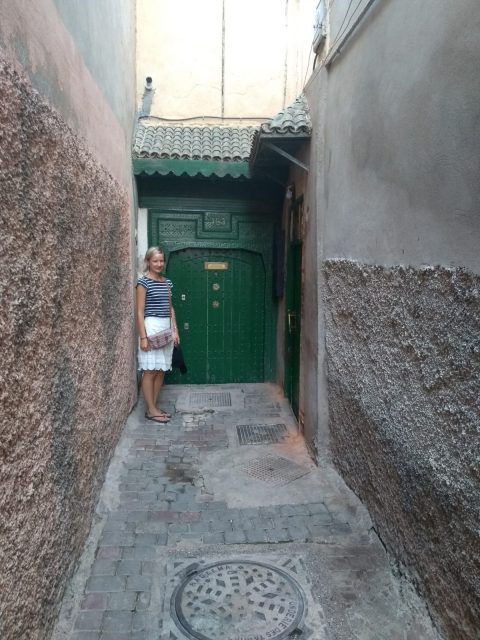 A riad is a traditional moroccan house which is centred round an open courtyard or garden. They have become hugely popular in recent years as places to stay in Marrakech – vast numbers have been restored from the crumbling buildings they were and converted into hotels or restaurants (by locals, or more often, foreigners). The Moroccan government gave local owners money to restore them but unfortunately, some people took the money and ran, leaving them as ruins. More and more of the riads are now being bought up and restored by foreigners.
Jemaa el-Fna Square
One of the first things you must do in Marrakech is walk to the main square, Jemaa el-Fna and experience the vendors and their wares; and the vastness of the square. It is a very different place in the day to at night. In the daytime you will predominantly find fresh orange juice stalls, ladies offering henna tattoos (one of them was particularly keen actually coming at me with a syringe and squirting my hand – it took pulling away abruptly and saying "no" in a much louder voice to convince her I didn't want one – just another thing to be aware of), and snake charmers, despite the protected status of snakes under Moroccan law.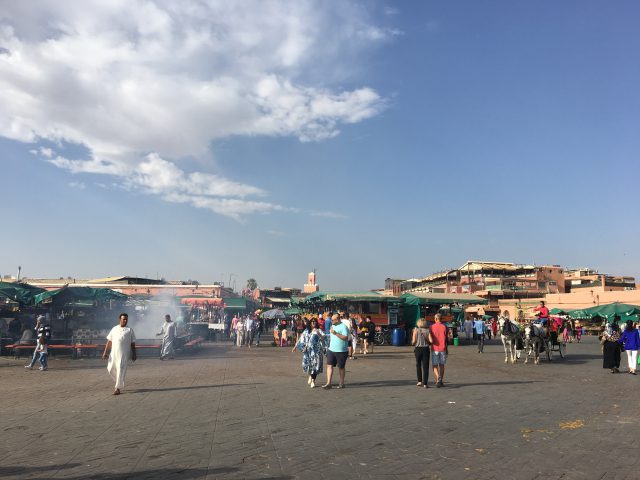 As night falls, the juice vendors begin to pack up and the food stalls take their places, along with many groups of musicians, story-tellers and magicians. Although there are many tourists in the square, you will still get picked out immediately if you stop and listen to any of this entertainment for too long, whether it's being encouraged to dance or being asked for money regardless of whether the act has finished (or even started).
However, although it is crazy at times and you are highly likely to get some unwanted attention, it is like nowhere else I've been in terms of it's atmosphere and role of a meeting place, bringing together hundreds of people on an evening.
Le Jardin Majorelle and Le Jardin Secret
Two of the best places to get away from it all are Le Jardin Majorelle and Le Jardin Secret. Both are beautifully designed, tranquil gardens which are the perfect escape from the hustle and bustle of the city.
Le Jardin Majorelle is full of bold colour and big cacti, yet manages to capture a feeling of peace and tranquility. Jacques Majorelle was a French painter who designed the garden in the 1930s, composed of exotic plants and rare species collected during his travels around the world. Since Pierre Berge and Yves Saint Laurent saved it from real estate developers in 1980, new plants have been added and now includes a cafe and bookshop. The contrasting colours are absolutely stunning – the cobalt blue, mustard yellow and turquoise made it incredibly photogenic. There were lots of long flowing dresses, shiny hair and pouting going on but if you have the patience to wait for the instagrammers, there are some great spots to photograph.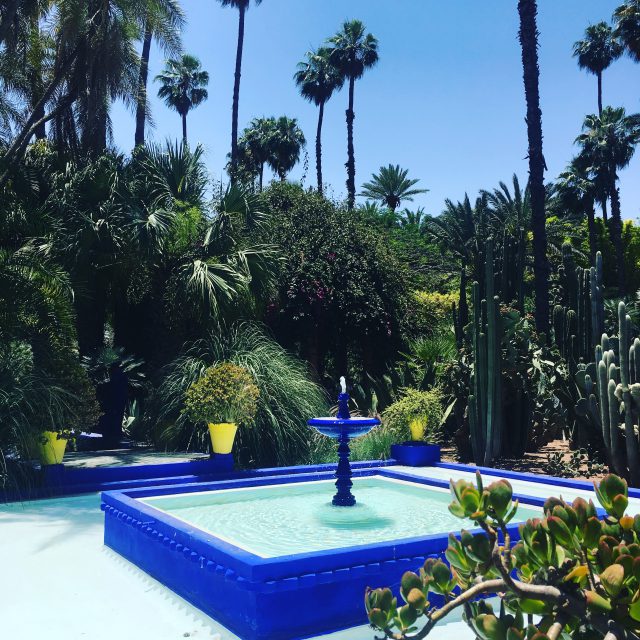 The garden is located in the new town and is roughly a 45-minute walk from the main square but well worth it. You can pay just to go in the gardens, or you can get a ticket that includes the Yves Saint Laurent museum and the Berber museum as well. We got to the entrance at about 11am and had to queue for around half an hour – so get there earlier if you can to avoid the queues. It's open every day from 9am-5.30pm (6pm in the summer months).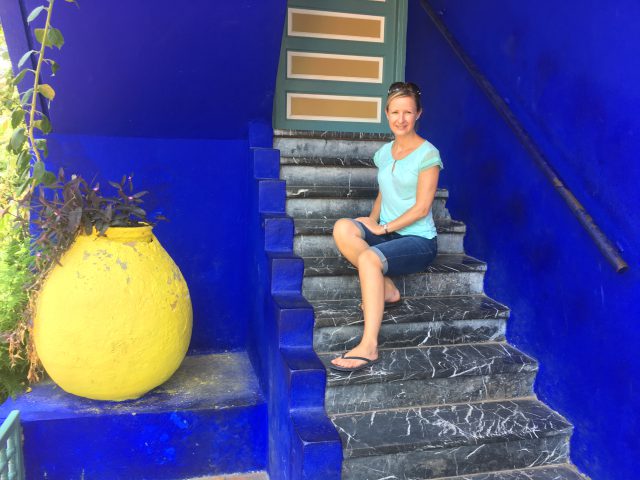 Le Jardin Secret is one of the largest and most ancient riads in the medina and is an outstanding example of Islamic art and architecture. The garden is divided into four quadrants, reflecting the traditional style of Middle Eastern gardens. It also has the original hydraulic system and a tower which has stunning views of the city and the Atlas Mountains. You have to pay to go up the tower but you get a guide who will tell you a lot more information about the history of it. We had a very enthusiastic local guide who was very keen to talk in a Geordie accent due to his imminent move to Newcastle-Upon-Tyne.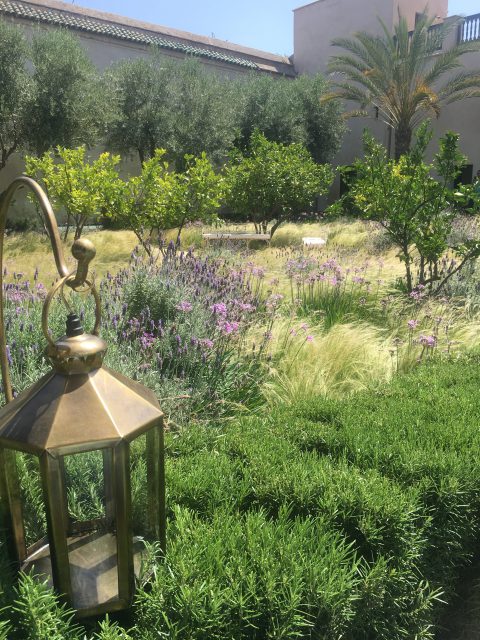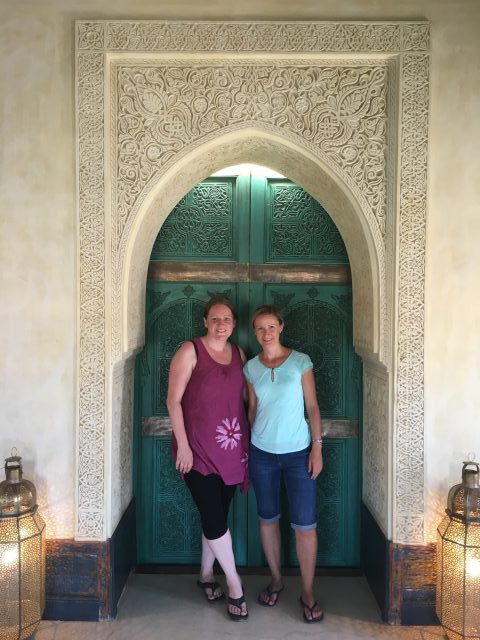 El Bahia Palace & Saadian Tombs
El Bahia Palace is one of the major monuments of the country's cultural heritage and a masterpiece of Moroccan architecture. Built in the nineteenth century, it covers eight hectares and the detail and design is absolutely exquisite. The bold primary colours on the rooves of the walkways round the courtyard against the intricate carvings on cedar wood were like nothing I'd ever seen before. Every room had something different – you can easily spend a few hours here.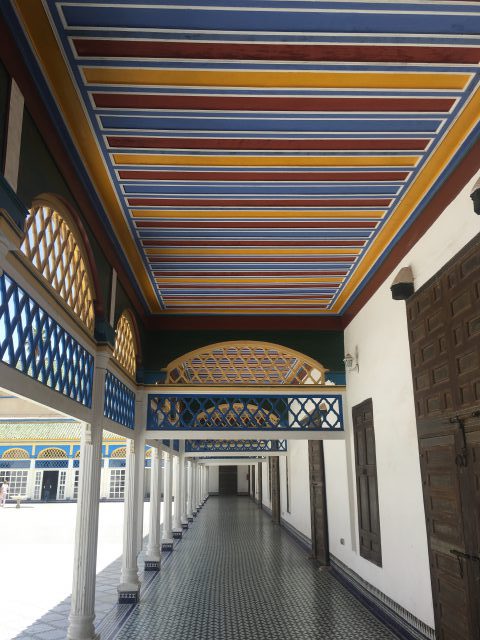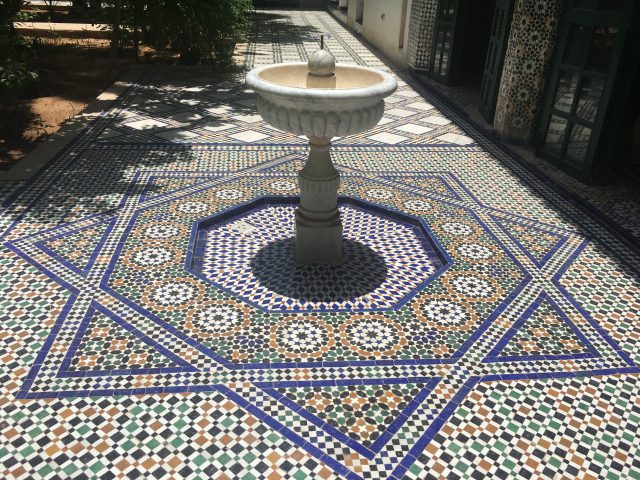 The Saaidan Tombs are one of the only remains of the Saadian dynasty that reigned over the golden age of Marrakech between 1524 and 1659. The hall of twelve columns is the most decorative – all the mausoleums are accessed off a small garden that is home to a lot of street cats. It won't take long to walk around them – there is also the option to take a 30-minute tour.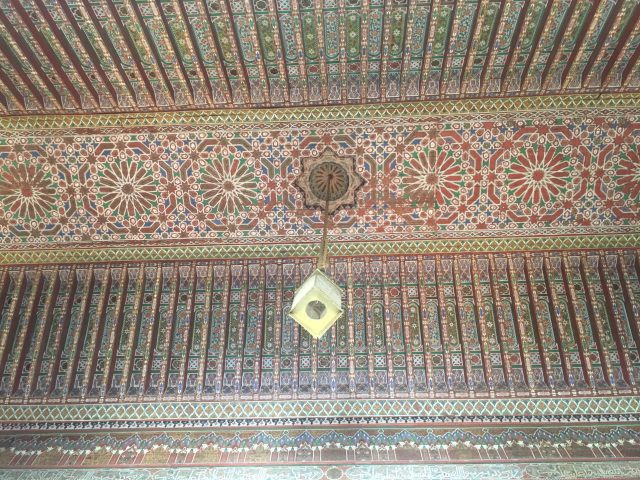 Les Bains de Marrakech
There are many hammams (a Moroccan bathhouse) in Marrakech as they are a weekly ritual for many locals. Visiting a traditional neighbourhood hammam is cheaper, but you will have to bring your own kit (a bowl for scooping water, a scrubbing mitt, savon noir, a plastic mat for the floor etc).  Although more authentic, it requires a lot more effort – and being the last day of our holiday, we wanted total relaxation. Plus the fact, you would most likely be stared at if you choose to leave your bikini bottoms on in a neighbourhood hammam. The full monty is the norm for the locals.
Les Bains de Marrakech had been recommended to me as the place to go for a luxury hammam. A hammam consists of a steam bath, during which you are scrubbed and then left with a body mask on, followed by a massage. The scrub was actually less painful than I thought it might be, but incredibly effective. My skin stayed super smooth for days afterwards! You are in the steam bath for around 45 minutes before having an hour-long massage. Make sure you leave enough time to spend in the relaxation room where you can have mint tea and traditional pastries.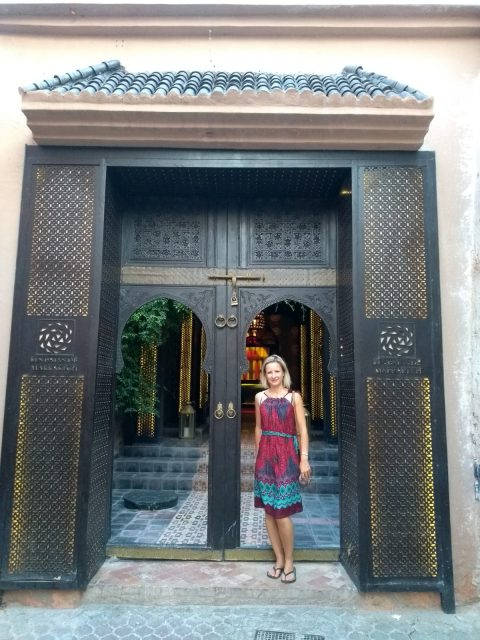 Mint Tea and Tagines
Talking of mint tea…..this is served everywhere. And is so unbelievably fresh. It's a common sight to see people carrying huge bunches of mint along the street – you can see why they get through it so quickly when this is their beverage of choice. The group stages of the FIFA World Cup were on whilst we were in Marrakech and Morocco were playing. We found a cafe to watch it, forgetting that most of the cafes don't serve alcohol  –  I found it slightly amusing (and strangely refreshing) to be sitting behind a group of locals drinking mint tea whilst watching the football – and to our left a group of northern Europeans all with cans of coke. A very different experience to watching it in a British pub 😉
The tangines are fabulous too – stewed in an earthenware pot, the meat is slow-cooked to perfection and beautiful combinations of fresh ingredients are used,  some of the most common being lemon, mint, saffron, prunes, ginger, cumin, cinnamon and almonds. Tagines are served everywhere – from the small stalls on the street to the bigger restaurants with rooftop terraces. If you're after a meal with a view and beautiful atmosphere at night, I can recommend Cafe Arabe. Another great option if you're after a rooftop terrace is Nomad. And both restaurants serve alcohol.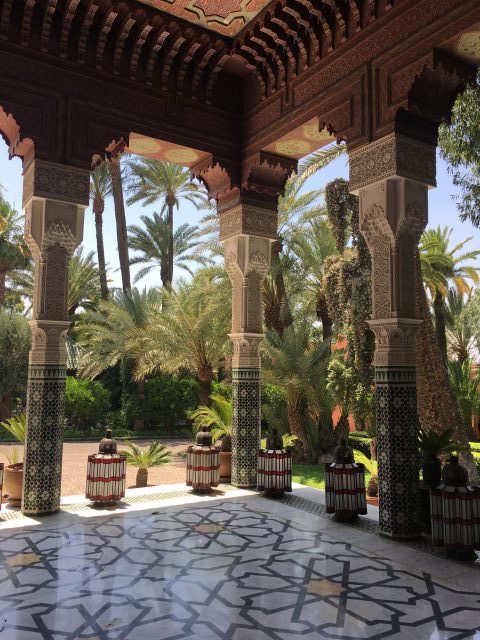 Some Final Tips
Marrakech is a wonderful place to have a short break, as long as you know what to expect. Be prepared, don't carry too many valuables with you and dress modestly to minimise any potential hassle.
If you are going to buy something, always start with offering around a third of the price they quote, unless it's something very cheap
If you stop to look at a map or look lost (and even if you don't) you will get people coming up to you telling you that the museum/palace/other attraction/a particular route is closed and that they will show you another way to go. Don't be fooled – they will either expect money for showing you or you will end up at their family's/mate's shop and be coerced into buying something. Looking confident and like you know our way will help minimise potential for this happening
Although there were some tourist wearing short shorts or low cut/strappy tops, I would avoid it if you can, it will just attract more attention to you
Carry a cross-body bag in front of you that zips up – don't walk along carrying an open bag or wearing lots of expensive jewellery
ALWAYS ask what the price is of something before agreeing to taste or try it out – they may tell you it's free but don't be caught out. And check your change – I nearly got short-changed twice
Did you enjoy this post? Pin It 🙂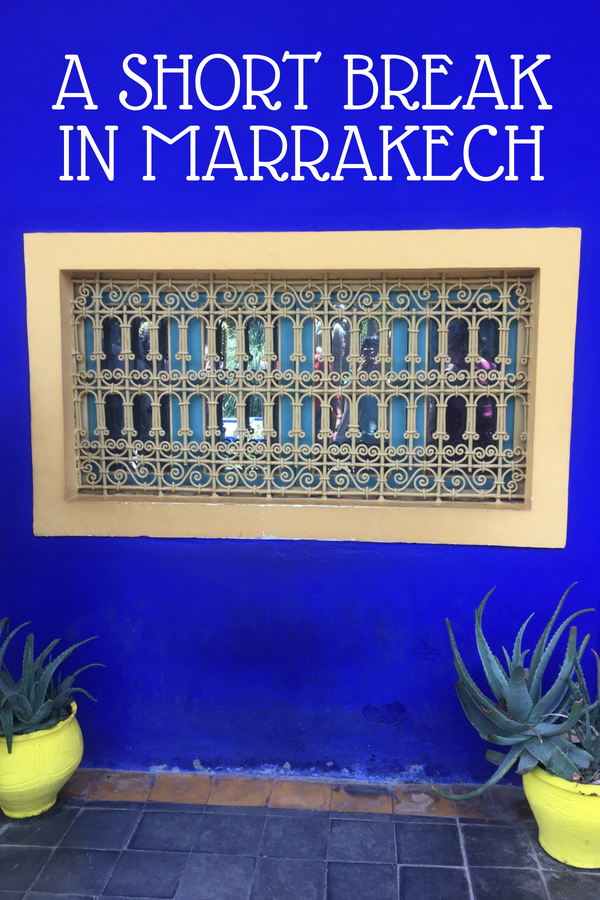 Enjoy this article? Please share 🙂