Today we crossed the border into Laos to begin our river cruise on the Mekong! Once only accessible by boat, the border crossing now takes you over the Thai-Lao friendship bridge from Chiang Khong to Huay Xai which was built in 2013. After being stamped out of Thailand, it was a short bus ride to the Laos border. I'm always fascinated by areas of 'No Man's Land' and always speculate as to all the things you could potentially do which would be OK if you weren't officially within a country's borders. Not that I'd be brave enough to try. Ha. I heard recently about a man who dropped his passport from the bridge over the Niagra Falls and spent the next 4 hours going backwards and forwards between the US and Canadian borders as each country said he was 'officially' in the other country.
A River Cruise on the Mekong
Getting into Laos was fairly straightforward, although, as with all of Asia, it seemed somewhat convoluted. There were two windows next door to each other, one of which was where you paid your visa entry fee, the other where you collected your passport (and change) after it had been stamped. As far as I could see, the stamping was done virtually simultaneously so we could have waited another minute at the first window to get it back. But no, we had to queue for another 20 minutes at the second window. Perhaps we were doing it wrong and being too polite queueing properly – maybe we should have followed the Lao system of 'first seen, first served' and just pushed en masse to the front. Ah well, the good news was, it didn't take more than half an hour for each of us and we all got into the country with no problem.
A short drive later and we were on our boat, ready for our 2-day river cruise on the Mekong. The river is the lifeblood of Laos and although half of the Mekong's length runs through China, more of it's volume runs through Laos than through any other Southeast Asian country. There was certainly something special about cruising down the river, adjusting to the relaxed pace of life – it already feels so different to Thailand in that sense. The river mist added to this air of calm and made the riverside villages, tropical jungle and the mountains beyond seem even more intriguing and mysterious.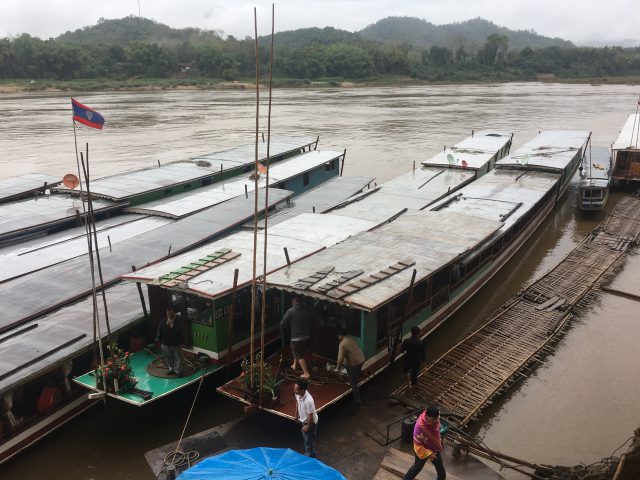 We were introduced to our tour guide for our time in Laos who's name was Bai. In fact, every time he spoke to us as a group he would begin with "My Name is Bai". I can only presume previous groups had terrible trouble remembering his name, he has trouble remembering his own name, or he's incredibly proud of his name and it means something terribly grand in Laotian. Even now thinking about him, I think of him as 'My Name is Bai' and not simply "Bai". Anyway. At least we didn't forget or call him something else.
Mekong Mafia
After a delicious buffet lunch on the boat, I decided to introduce the group to the game of mafia. It seemed fitting to introduce a bit of evil in such a beautifully peaceful, calm place. After a few false starts everyone got really into it and all sorts of alibis were being invented – having a massage, buying catfish and frogs from the market and having quiet time with a toy platypuss. All very plausible. I always love being the narrator and seeing how each game unfolds…..and especially fascinating with a group of people who don't know each other very well.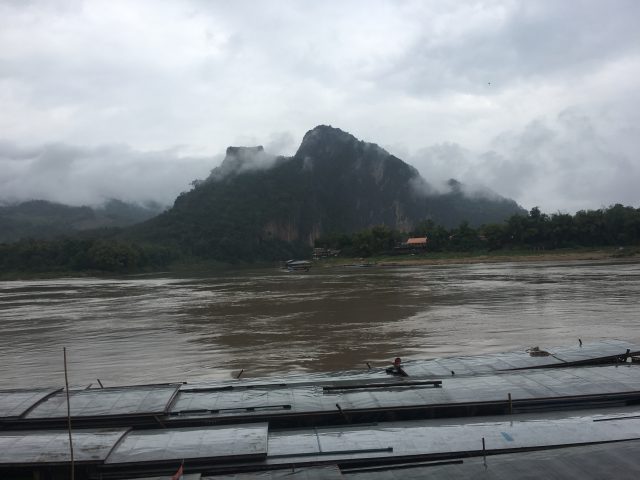 After a few hours had passed playing the game, we docked in Pak Beng which was a really chilled out, slow-paced small town with a definite backpacker feel. The banks of the jungle seem to rise almost vertically and are dotted with giant boulders. We grabbed our overnight bags, had an orientation walk and learnt a little more about the town – 'My Name is Bai' was telling us how the richest people live on the ground on the main thoroughfares, the poorer ones build their own shacks up the hillside and the 'tribesmen' who are not really integrated into the life of the town, live way up in the dense jungle on top of the hills. It seems there's a definite hierarchy here.
Happy Bar and a Happy Massage
After a tasty dinner of fish with lemon and sticky rice and a few drinks in 'Happy Bar' (there were definitely a few people in there who were very 'happy') with a few familiar faces from earlier in our trip, Austin, Johannes and I decided to go for a massage. We walked to the other end of the village trying to find somewhere, only to discover there was a place virtually opposite our hotel. It was a restaurant but they assured us they did massages.
After waiting for 20 minutes or so, trying to figure out what was going on and whether we were actually going to get a massage, 3 girls came out to meet us. We were taken into a room with 4 mattresses on the floor. It made me wonder whether massages was all it was used for…..but tried not to think about that too much. After realising I was wearing a thong and being slightly reluctant to strip down to it in front of the boys, to my relief they pulled a curtain across!
After many bouts of uncontrollable laughter from the girls (we never did find out what was so funny – slightly disconcerting when you're half-naked in front of someone you don't know, haha) and then us getting the giggles as a lot of it was just too tickly, we came out feeling revived and, even without the happy ending, happy. We should have gone back to Happy Bar feeling as we did but decided to call it a night and go back to our (very cosy) hotel.
Discovering our Destinies in the Pak Ou Caves
'Kamma' (karma) is believed to determine one's lot in life in Laotian culture – although outsiders often see this as a lack of ambition and an excuse to be lazy. We all received our destiny in the Pak Ou Caves by shaking a bamboo pot of about 25 sticks and waiting for one to work it's way out and fall onto the floor. The caves go deep into the limestone cliffs, are only accessible by boat and provided shelter for around 2000 people during the Vietnam war. They were filled with buddha images and statues and were simply stunning. 
We all eagerly awaited our destinies to be translated by 'My Name is Bai'. Mine was number 9 and told me that I will always feel free in my life – and that quite soon I'm going to meet my husband and have a baby girl. A contradiction perhaps? And I also need to be very careful not to be led astray…..hmm.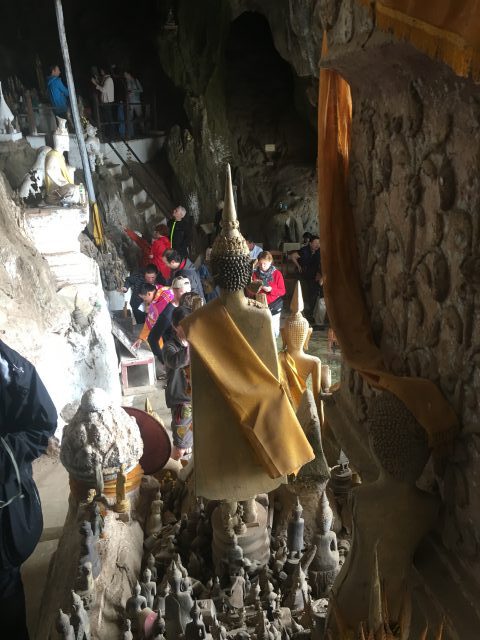 The Pants Conundrum
After another few hours travelling, we arrived in Luang Prabang which is a wonderful city (more about this in my next post). When unpacking that night, I noticed that one of my packing cubes was slightly unzipped (I'm a stickler for everything being shut/closed/neat/facing the right way etc) so I instantly knew someone had been in my bag. I stupidly hadn't locked it as I usually do when I left it on the boat, thinking it would be safe as the crew were all there. I then noticed a mysterious pair of lime green lace knickers that weren't mine were in place of my blue bikini bottoms. Needless to say, this made me feel slightly disgusted and disturbed at first, which later turned to disbelief and curiosity, and then the realisation that I had a hilarious (if creepy) story to tell and that it would forever be an unsolved conundrum.
There are so many questions thrown up by it that it actually gets more mysterious the more you think about it. Any suggestions as to who and why, please let me know! 😉 And yes, I threw the knickers straight in the bin.
If you are interested in my trip, I travelled with G Adventures for 2 weeks on their Thailand and Laos Adventure Tour which you can read more about here.
Did you enjoy this post? Pin It 🙂
Enjoy this article? Please share 🙂