I am very pleased to introduce this post by Catherine Edwards – she's a camping fiend, hiker and lover of the outdoors and wanted to share her experience of her and her family's stay in a Shepherd's Hut in the beautiful Lake District….
A Holiday in The Lake District had been Long Overdue!
The Lake District is one of my favourite places in the UK. For me it is all about mountains you just want to hug! Mostly covered in grass, bracken, rocks and sheep, they are fun and engaging to walk and scramble up. They have provided me with the most accessible and satisfying hiking throughout my childhood and into adulthood.
There is plenty of inspiration for your artistic side too. You can't help but see how poems like Wordsworth's daffodils, Ruskin's paintings of gurgling mountain streams, Arthur Ransome's adventurous Swallows and Amazons, and Beatrix Potter's English woodland creatures drew hugely from these surroundings. A Holiday in the Lake District is truly awe inspiring. OK, the weather isn't always great but as well as enjoying the outdoors, there are some great things to do in the Lake District when it rains!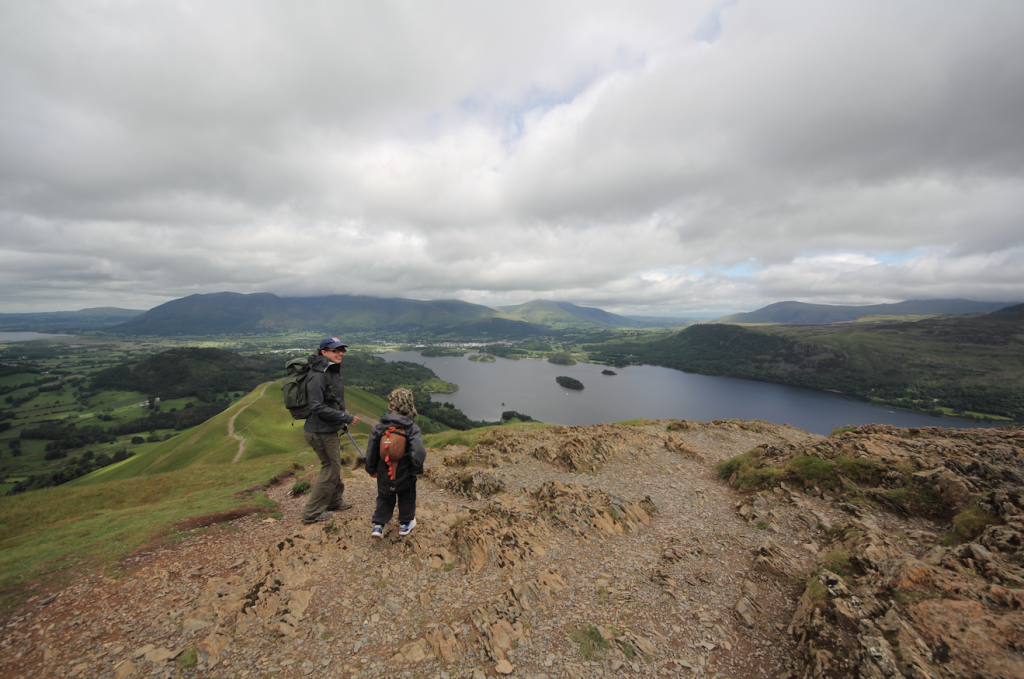 When I asked my three year old son Jacob, who loves a good indoor craft or lego, where he would like to go on holiday I was excited to hear him suggest "mountains." Perhaps this isn't so surprising as my husband is a keen hiker and has shared many photos from some impressive heights across the UK. Not to mention all the exciting clothes and equipment and the buzz of adventure. Clearly he was inspired, and so it was settled, we were off to the Lakes!
Canopy and Stars
As ever on a budget, and wanting our own space and independence, camping was very much at the top of the agenda, but then we stumbled across a lovely holiday website called Canopy and Stars it provides listings for more unusual accommodation for people who like their living semi out of doors. I must admit I was very taken with staying in a tree house, but where we ended up was truly brilliant, our own private campsite.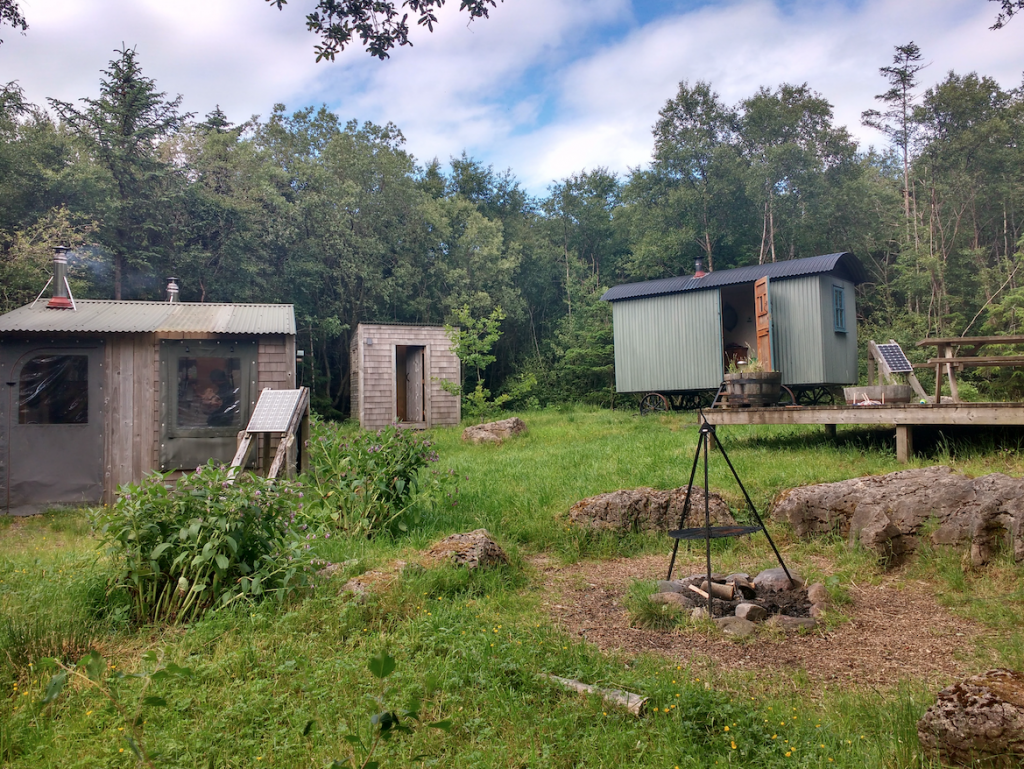 We had a little caravan for sleeping in the style of a traditional shepherds hut, our own campfire, a composting toilet (that you flush with a scoop of saw dust!), and a kitchen and bathroom hut. We also had a wooden deck with a picnic table and our very own wildlife pond. The whole set up was charming and well equipped with all the basics. With the exception of the toilet, we had wood burning stoves in all the living areas. Very cosy and very romantic.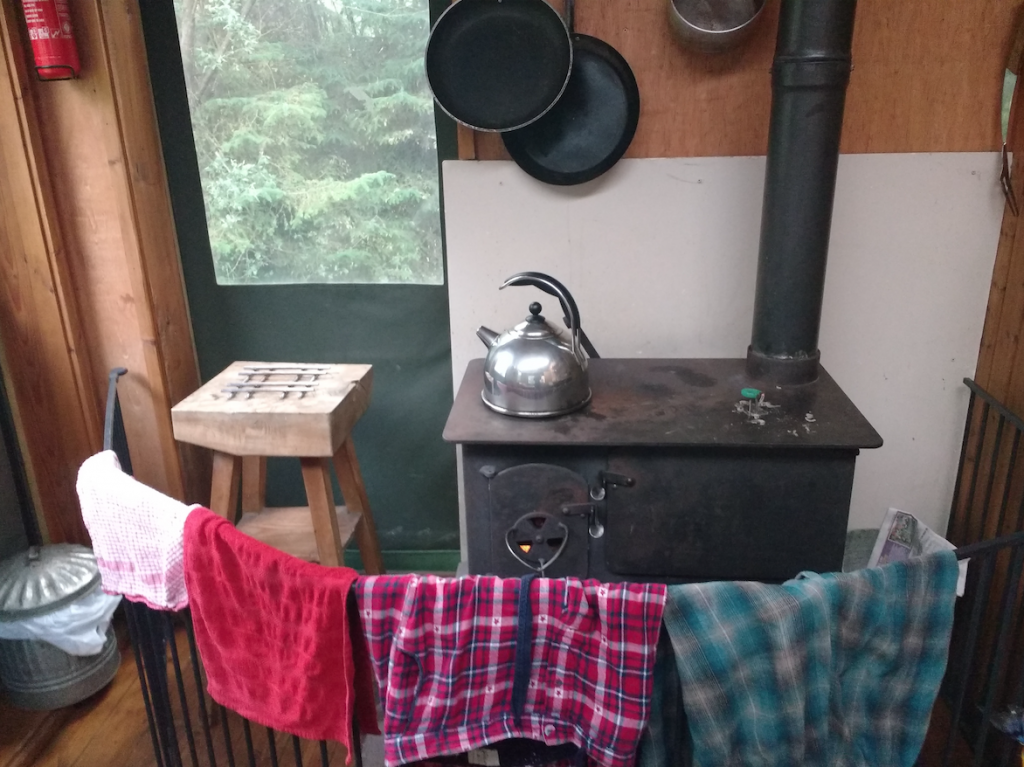 Getting Toasty Round the Fire
We went prepared to get the most out of the outdoors, so we took jam jars for catching insects and pond dipping, sturdy boots and waterproofs, and the best thing of all, enough marshmallows to feed an army. We made very good use of our campsite, and it struck me that usually budget accommodation is often just a place to keep your stuff while out having the real holiday. But for us our campsite was just as much part of the adventure as all the hiking and exploring we did. We cooked chocolate cake in hollowed out oranges within the embers of the fire, toasted marshmallows and made smores. We threw things to see far they would go, we caught bugs and drew sheep!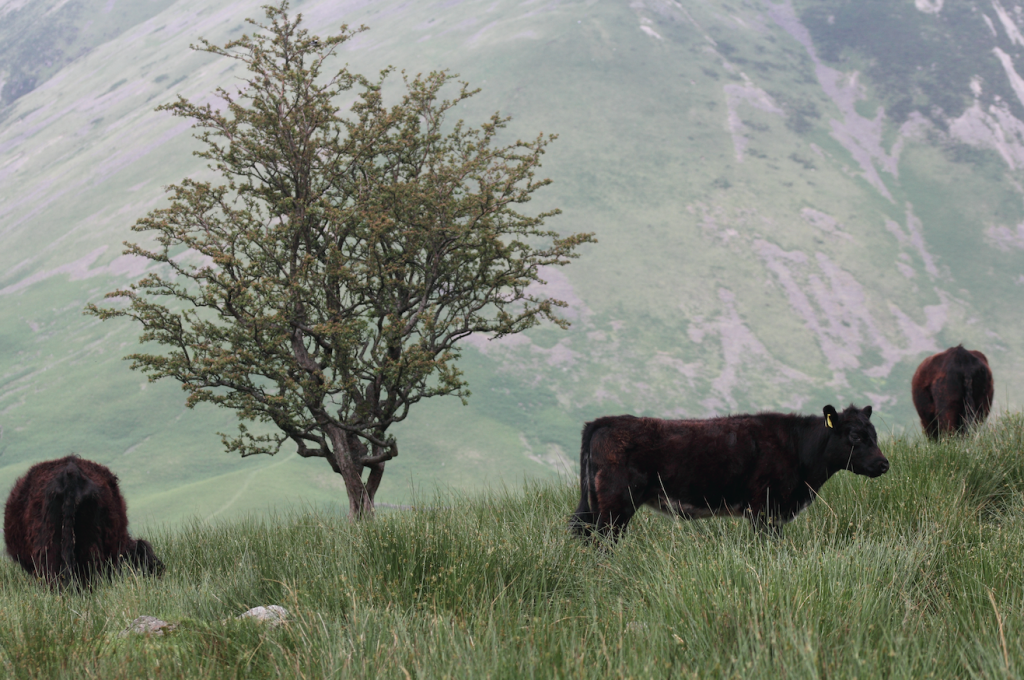 Staying in a wood with a pond did have its draw backs. Our gorgeous little kitchen with its cosy, no nonsense wood burning stove was a haven for mosquitos and flies. We were warned about the mozzies and came prepared with great little repellent coils which you light like incense and send the little blighters into drunken oblivion. They only work in relatively confined spaces but meant we didn't have to bother with those jungle sprays that make you all sticky.
Fighting the Flies
They didn't work on the flies. The harmless house flies loved the warm chimney. When there was only a couple we didn't really notice, we just kept all our food well covered. However a couple soon became a dozen, and then fifty at least. Something had to be done. Neither of us wanted an hour round trip drive to Keswick, so I searched our toiletries for anything that might have an effect.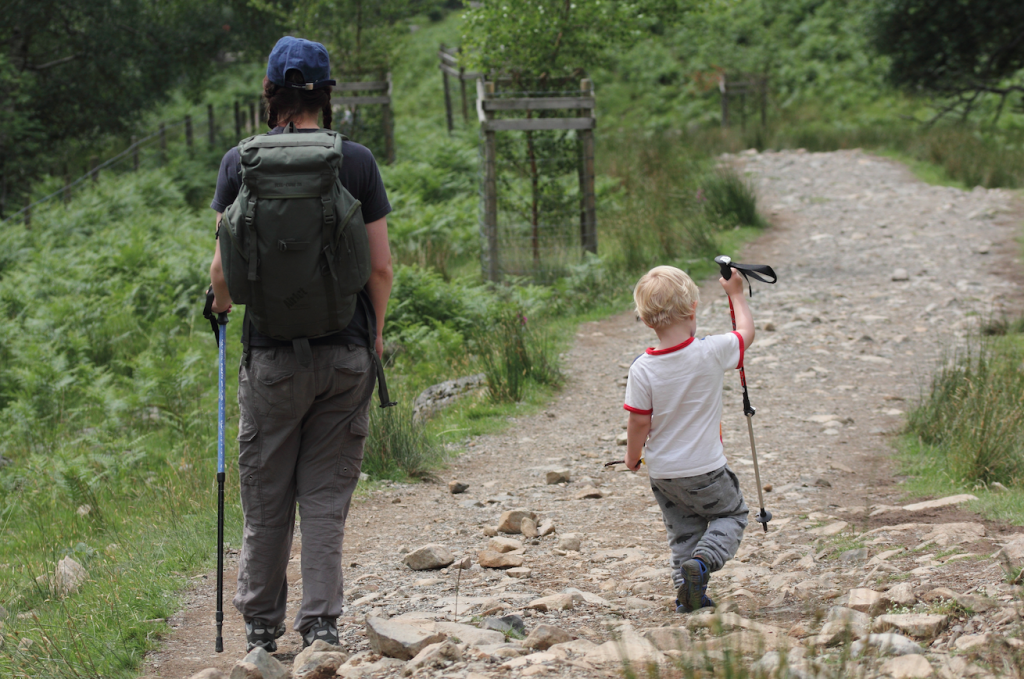 The only aerosols we had were my husband's deodorant and some athlete's foot powder. Interestingly the deodorant did work at first, but the flies were canny and kept moving about. Once I had used half a can the whole placed smelled like boy and I switched to the foot powder. Some succumbed, but mostly they just turned white! Remember flies when planning your insect repellent!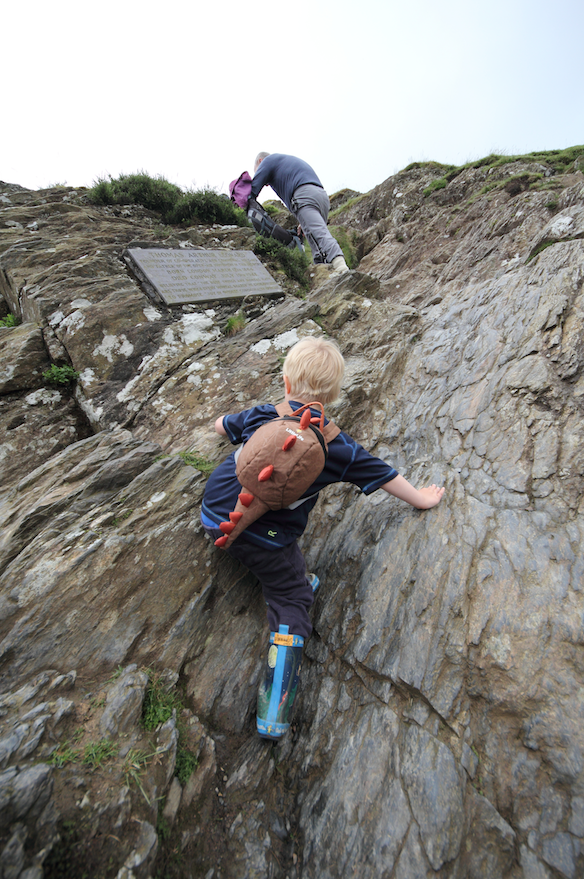 Climbing Catbells
Away from the laid back domestic pleasures of camp we were out fully laden for every weather and pre-schooler eventuality. Our first mountain of the holiday and Jacob's first mountain ever was my favourite. Catbells. We set off on this friendly walk from Hawse End and back again rather than doing the circular walk. This way we could make the most of the series of humps that give you some welcome down bits as well as up, combined with some truly exciting rock scrambles. With an uninterrupted view of Derwent Water we reached a satisfying, if extremely windy summit of 1480 feet in a few hours, and were down again in plenty of time tea!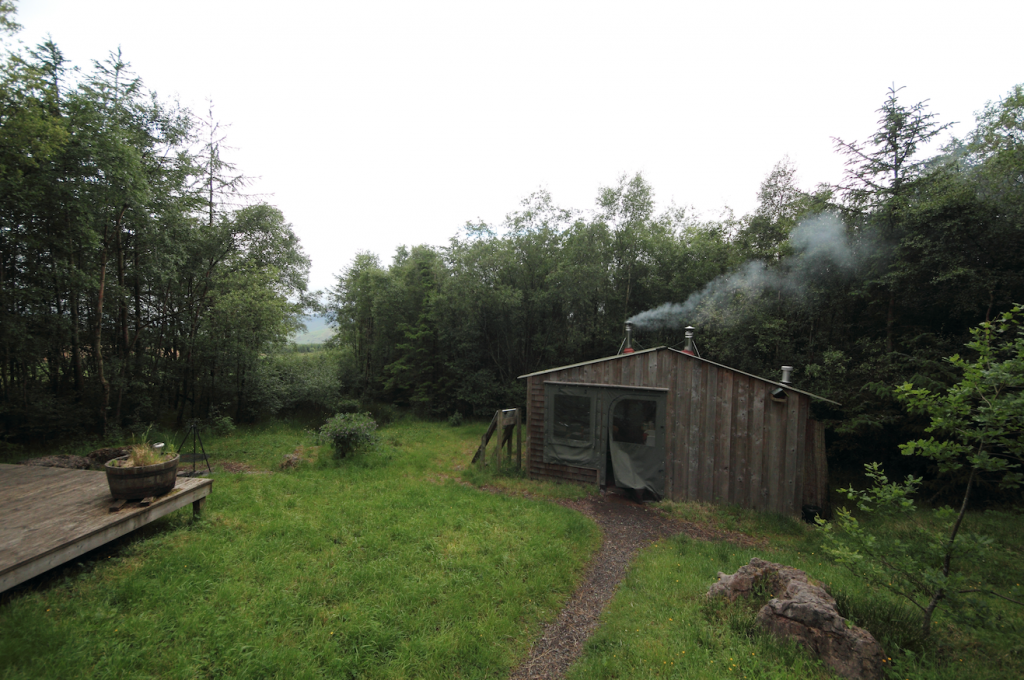 Tips for Fell Walkers
Our holiday was a great, off the grid adventure for us all, with not a grumble of missing the telly all week. Instead we challenge ourselves to make the unusual setting a way of life, we could have stayed a lot longer. We did learn a lot too. Here are some tips we would recommend for fell walkers big and small alike:
Chocolate, Chocolate, Chocolate! We stopped nearly every half an hour to refuel Jacob, the breaks and the distraction was welcome and we had plenty of energy to keep going. We had a good variety too, we loved bananas, chocolate and of course lots of water.

New feet! Small shoes are not really designed for hours of hiking and they could get uncomfortable, Jacob changed his once and got a new surge of energy. As adults a change of socks feels almost as amazing as a change of feet!
Say no to wind!

Even on a sunny still day at ground level it's windy up high. We used those light weight, stretchy fabric tubes that keep ears, head and neck snuggly warm without being too bulky. The wind can be really strong, cold and loud, even up the little mountains.

Plasters rule!

For adults they are best for protecting feet from blisters or rubbed patches. For pre-schoolers who see them as a badge of honour they are a great distraction from microscopic 'ouches'. One even went on the outside of his shoe… but it kept him going so who am I to argue.

Be a chatterbox! We met so many people who had either climbed Catbells when they were young, or had brought their (now grown up) children here years ago. They did a lot for Jacob's motivation, he got a lot of praise and even a round of applause from a family at the top the same time as us. Everyone has a story and it only enhances the adventure.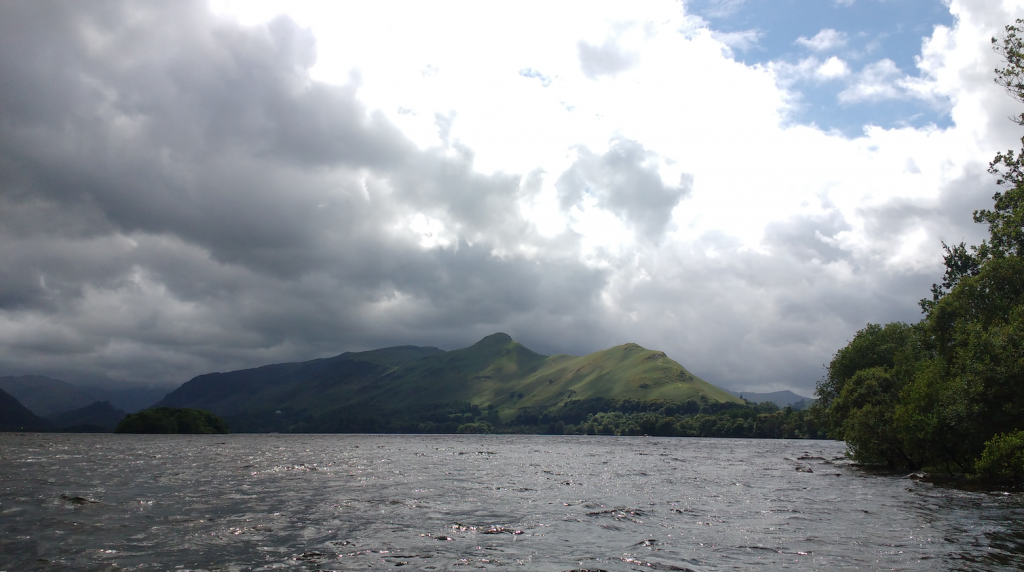 If you are interested in staying in Blencathra Shepherd's Hut, you can find out more at Canopy and Stars 🙂
Did you enjoy this post? Pin It! 🙂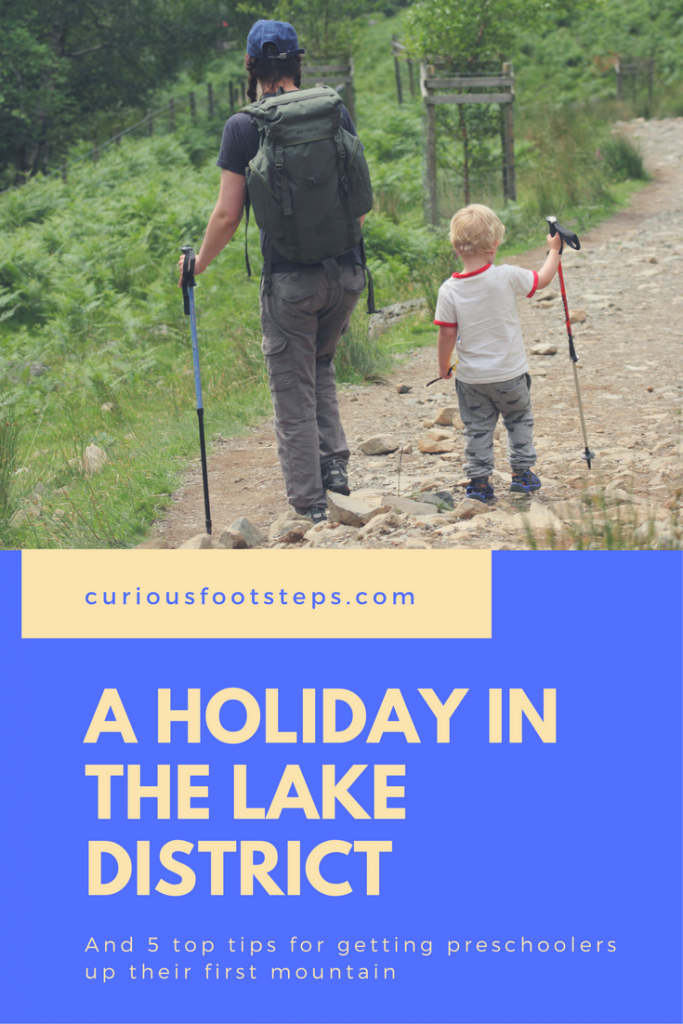 SaveSave
SaveSave
SaveSave
SaveSave
SaveSave
SaveSave
Enjoy this article? Please share 🙂