I'd always fancied a city break in Prague so I decided to go for a long weekend whilst the Christmas Markets were on – and it was a truly fabulous time to be there.
My flight out with Ryan Air was actually a lot of fun as I happened to be sitting next to a lovely guy called Louis who was one of about 30 workmates flying to Prague for their work Christmas weekend away (coincidentally one of them was another guy I went to school with – such a small world!). They were all very excitable and seemed to be on top form and insisted on being me drinks which was lovely. We had a really interesting chat, got deep and overall it made the flight go a lot quicker 🙂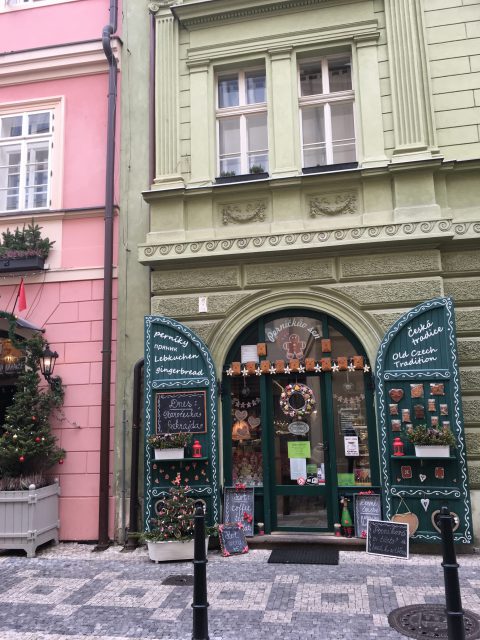 Marilyn Manson in a Skoda
I got my usual feeling of excitement when landing in a new place – it was dark when I landed but my eyes were taking it all in. The first thing I noticed was just how many Skodas were on the roads – of course, this makes perfect sense with them being made here. My taxi driver had Marilyn Manson on top volume which added to my anticipation. Incidentally, my driver back to the airport also had Marilyn Manson on. He obviously has a big fan base in the Czech Republic. My driver also mentioned something about the car in front which had a number plate starting 1A5 and alluded to the fact that this means they're a criminal. There was lots of hearty and slightly evil laughter after he presented this fact so I really didn't know what to make of it…..
The next morning I woke up, excited to see the city in the light and in all it's glory. I found it to be a wonderful, welcoming city with so many incredible buildings, ranging from gothic to cubist, both prominent styles and periods in Prague. Walking up Petrin Hill soon took me away from the crowds and the view of the city was stunning. The area at the base of the hill is also lovely to wander round – the cobbled, hilly streets are so peaceful and there are some great shops and quiet cafes.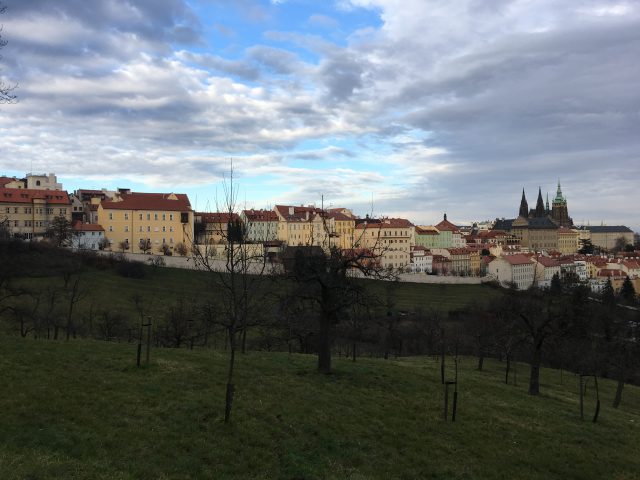 Interesting Fact: Mick Jagger paid for Prague Castle to be lit up – he was doing a gig there once and thought it was a shame you couldn't appreciate the castle after dark.
The Prague Food Tour
I'd booked the Prague food tour for my first night there – it had great reviews and I thought it would be a really good introduction to the city. George was fabulous, very enthusiastic and full of interesting facts and anecdotes about Prague and its residents. He told us the Czechs are well known for being quite stern and closed – a hangover from communist times which really wasn't all that long ago. Funnily enough, a couple of expats I met told me I was like a breath of fresh air for being so open (a highly unusual thing for a British person to be told!).
The food tour took us to four different venues – Cafe Imperial, a stunning Art Nouveau cafe with beautiful ceramic friezes built in 1914 where we had traditional soup, meat and dumplings; Bar Lokal, a long, narrow 1970s style bar decked out in dark wood serving traditional Czech food with a contemporary twist; Bonvivant's, a bar with many local spirits mixed into some of the most fabulous cocktails I've ever tasted; and Cafe Savoy, one of Prague's oldest and grandest cafes where we had mouth-watering open sandwiches and dessert to finish.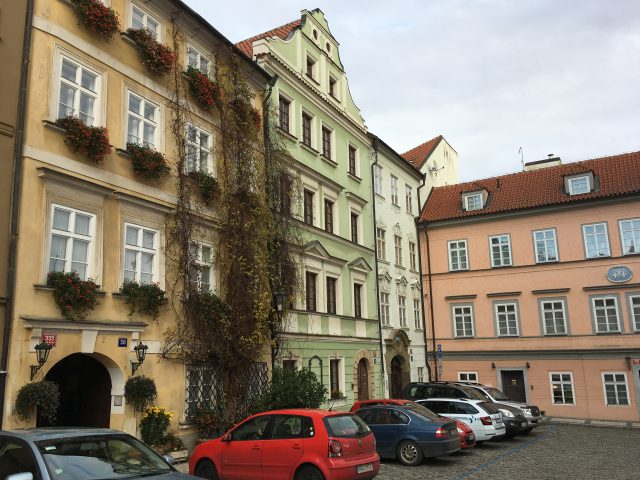 George also pointed out lots of other restaurants, cafes and shops along the way that he thought would be of interest, many of which I went to over the next 3 days. I can highly recommend the tour as an excellent introduction to Prague's food and culture.
The Christmas Markets
There is a reason why people say Prague's Christmas markets are some of the best (and most original) in the world. I spent quite a bit of time wandering around them and sampling all the delights they had to offer. I was pleased to see that there were a lot of stalls selling genuine Czech products – handmade crafts or traditional food…..far less of the mass produced cheap rubbish you see a lot at the UK Christmas markets. Having said that, the touristy shops off the main squares answered for that.
The main markets tended to be very crowded, but as soon as you venture a bit further afield and away from the main tourist areas, you can find yourself at some of the smaller markets mixing with more of the locals. Arriving at one of the smaller ones, it then started to snow which really added to the magic!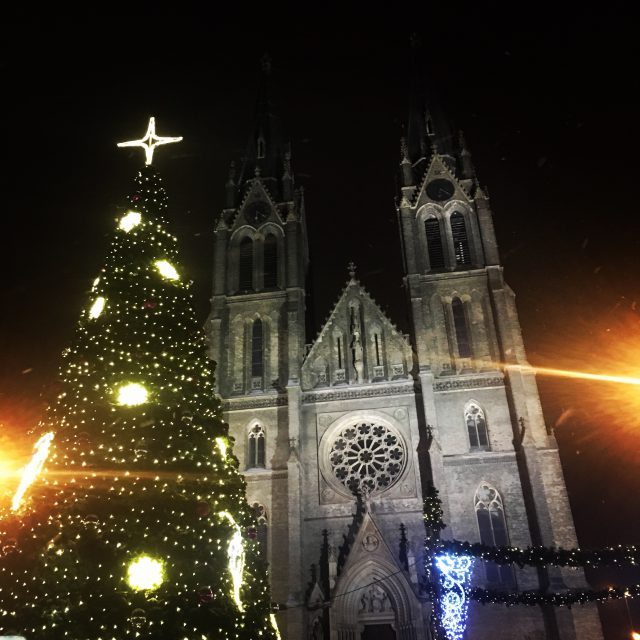 Interesting Fact: It's traditional for Czechs to buy a live carp, keep it in the bath for three days and then eat it on Christmas day.
The Sculptures of David Cerny
David Cerny is known for his thought-provoking and often controversial sculptures which can be seen throughout the city (some being a lot more obvious than others). The best-known are probably the giant space-age babies crawling up the Zizkhov TV tower. It was a freezing but bright, sunny day when I walked the route to the tower – which made the views from the top pretty spectacular. However, there were no giant babies to be seen and I made sure I walked round the tower twice. I can only presume they crawled away at some point.
Other notable sculptures of Cerny's are the Hanging Man (supposedly Freud, nonchalantly hanging off a building in Prague's centre), the babies with the barcode faces (it's supposed to be good luck to kiss their bottoms) and the two men pissing on an outline of the Czech Republic.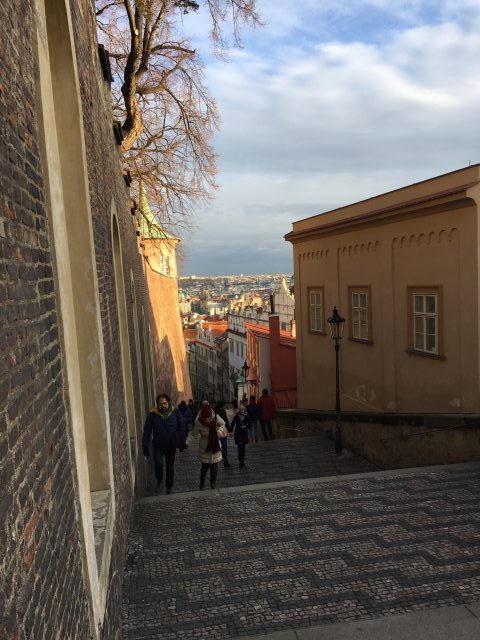 Friends Reunited
One of my old friends from school, Joe, lives in Prague and not having seen each other for over 15 years, we thought it was time to meet up! It was great to see him and get the view on life in Prague from an expat. It certainly seems a great place to live and I was impressed by the Czech he'd learnt. Apparently it's not too difficult a language to learn as you say things exactly as they're written.
We went to Malesice microbrewery – I'm not usually a big beer drinker but I have to say, even though it's a cliche, the beer here really is great! We also went to Parliament, a lovely restaurant serving Czech cuisine where I had the most delicious venison and dumplings – and then we finished the night in a cosy pub which felt like we were in someone's front room – I loved it.
Interesting Fact: You should always tap glasses before the first sip of beer whilst looking directly in the other person's eyes – or you will be cursed with bad sex for 7 years.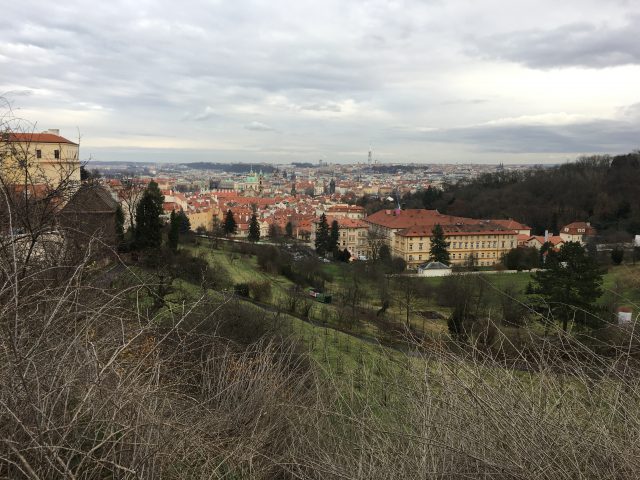 Prague really is an enchanting city and it's easy to spend 3 or 4 days here, marvelling at the architecture and stunning views from various points across the city. It is relatively easy to get away from the crowds just by taking a slightly different route and getting lost on purpose. One of my favourite things to do anywhere 🙂
Useful Information
I picked up a brilliant map whilst I was there, full of useful information and highlights – you can print one  off here.
I did the 'Delicious Food Tour' which can be booked through Prague Food Tour's website.
I love a good cafe and there were plenty to be found in Prague –  ones I went to that I haven't already mentioned are listed here:
Cafe Lounge – great for coffee and pastries, very chilled out
Sisters – amazing open sandwiches and delicious homemade lemonade
Grand Cafe Orient – a cubist style cafe reconstructed from 1911 with a huge list of coffees and teas
Cafe Boheme – really cosy, beautiful interior, excellent coffee
Styl and Interior – set within a design shop, overlooking a courtyard. Lovely decor, great for brunch!
Did you enjoy this post? Pin It 🙂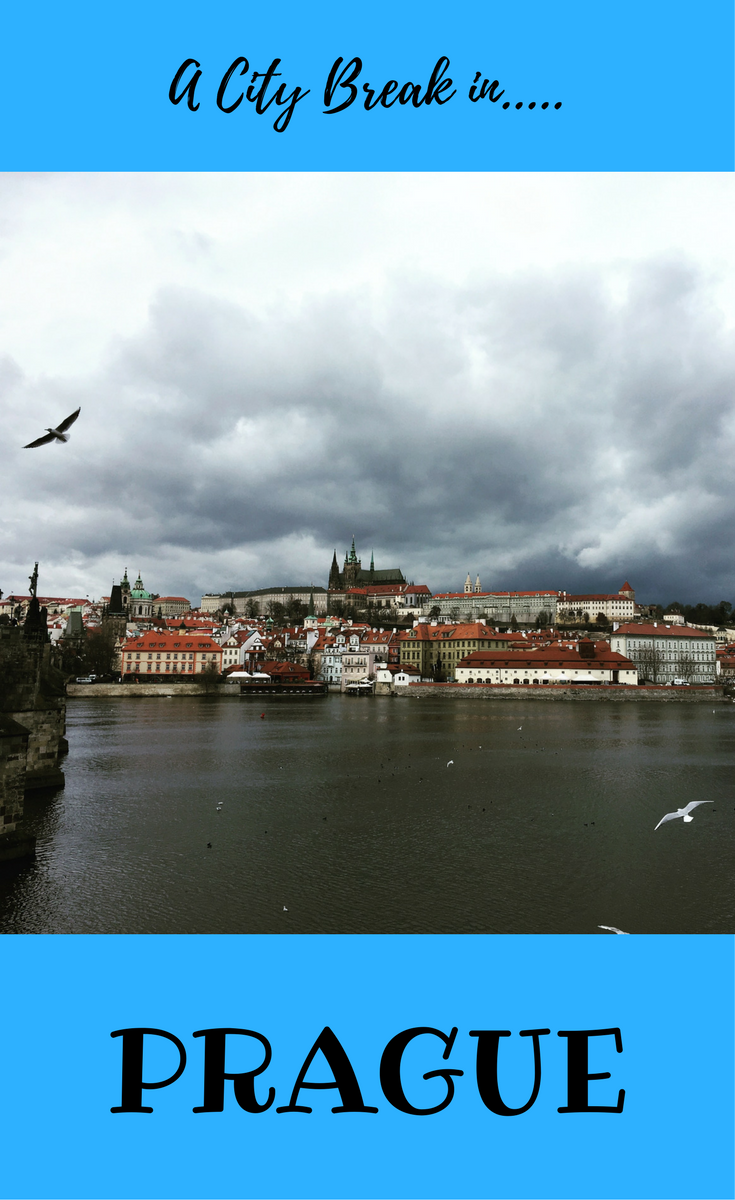 Enjoy this article? Please share 🙂