Luang Prabang is a truly magical city, it's hard not to fall in love with it. It's setting is beautiful, there are 33 gilded wats, gorgeous french-influenced boutique hotels and architecture and a thriving food scene. There are so many reasons to fall in love with Luang Prabang, Laos – these are my top 7.
1  The Natural Beauty of it's Setting
Sitting on the confluence of the Mekong and the Khan Rivers, Luang Prabang sits 700m above sea level and is encircled by green mountains. The river, dense forests and mists give it a really mystical feel, almost as if you've gone back in time. You can't fail to be struck by the calming, slow-flowing waters and gentle pace of life. I definitely felt a sense of peace strolling along the riverside.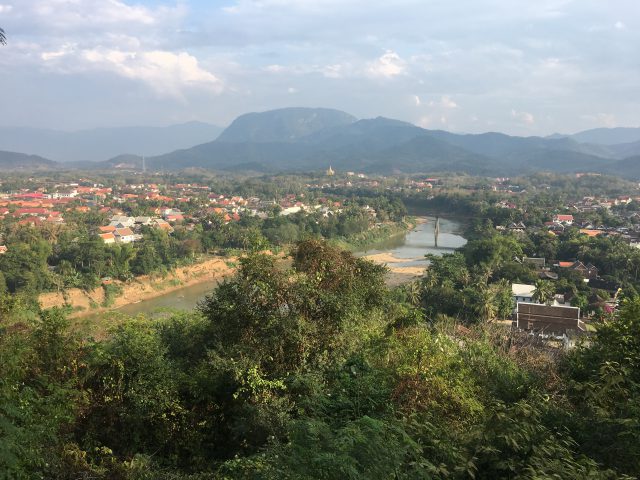 2  The French Influence
In 1887, the Black Flag Army devastated Luang Prabang and in the wake of this the city decided to accept French protection. The city became first choice for French colonials seeking refuge as far from Paris as possible. Amazingly, Luang Prabang survived Japanese invasion and US bombing but in the 1980's the city suffered a mass exodus of business people, aristocracy and academics, turning it from a proud, regal, thriving city into a ghost of its former self. In 1989, the return of private enterprise meant once dilapidated shops and buildings were being reopened and turned into cafes, restaurants and boutique hotels.
The city received UNESCO world heritage status in 1995 which really put it on the international spectrum and protected future development, meaning any new buildings must remain true to the spirit of the past. The 21st century has brought more prosperity with galleries, top class restaurants and bars opening by the dozen and attracting a well-heeled crowd once again. It's wonderful to roam the streets and alleys and make sure you visit one of the french bakeries – JOMA does great pastries and fair-trade coffee.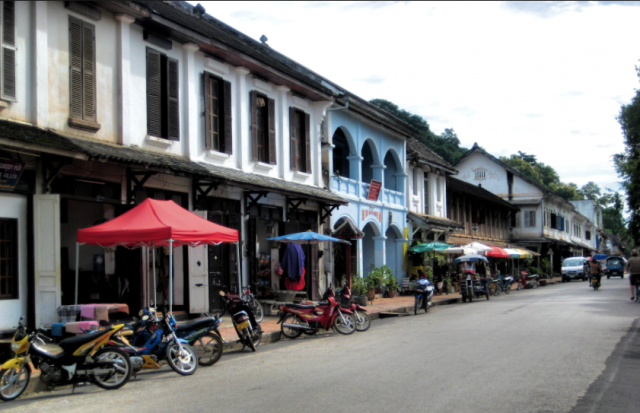 3  Tat Kuang Si Waterfalls
30km south west of Luang Prabang, the Tat Kuang Si Waterfalls are a series of cascading tiers, stunning turquoise pools and limestone formations. Don't be put off by the hawkers and slightly seedy parking area – once you begin the walk up to the falls, it really does begin to feel like paradise. The pools are perfect for swimming in and there are basic (and very dark) changing cubicles. It's a little chilly when you first get in (and beware of jagged rocks underfoot) but well worth it!
There's a bear sanctuary (the Kuang Si rescue centre) here too – the bears that live here are wild moon bears that have been saved from the poachers who sell them to farms to make chinese medicine. Unfortunately I didn't have time to go in but you can see into the enclosure on your way up to the waterfalls.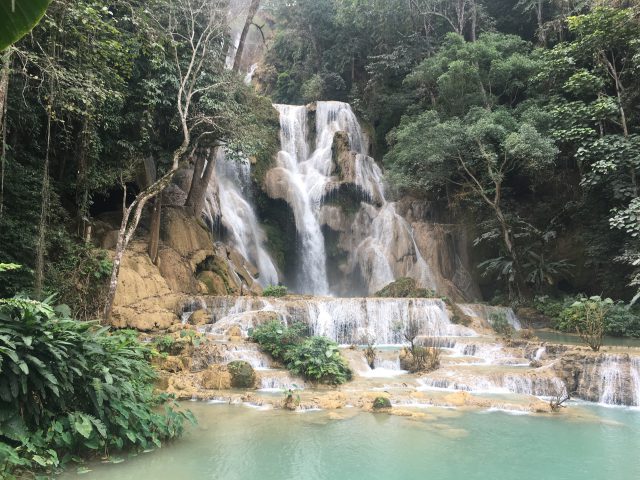 4  The Temples, Particularly That Chomsi at Sunset
There are 33 gilded wats in Luang Prabang which are beautiful to stroll around. Each one has it's own history and it's well worth paying to go inside some of the larger ones. That Chomsi sits on top of 100m-tall Phu Si Hill and is reached by a 329-stair climb.
There are a few different ways to climb up, but try and make sure you get there for sunset – the view is breath taking. It gets pretty crowded and if you want a clear view (and not one of selfie sticks, someone else's rucksack or hat) then make sure you get there in plenty of time to get a good spot.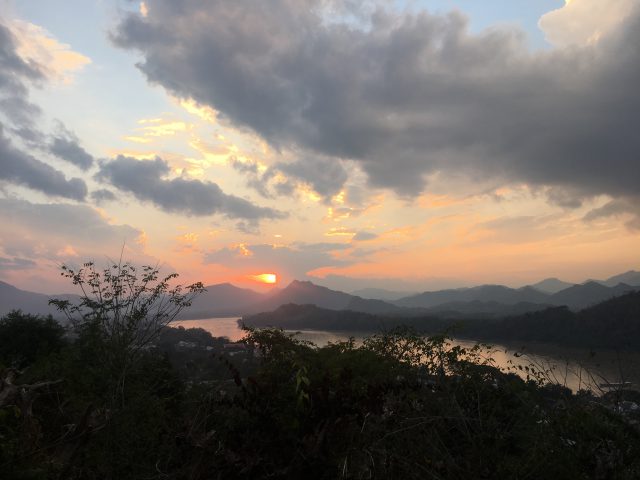 5  The Night Market and Arts & Crafts Scene
The night market is probably the best one I have been to in Asia – it has some really good quality handcrafted items and although made for tourists, the prices are fair and there are no hard sells. There are beautiful silk scarves and wall hangings, intricately designed ceramics, silver items and colourful cotton dresses. It opens around 6pm and stalls start to close at 10pm – it's well worth a stroll along.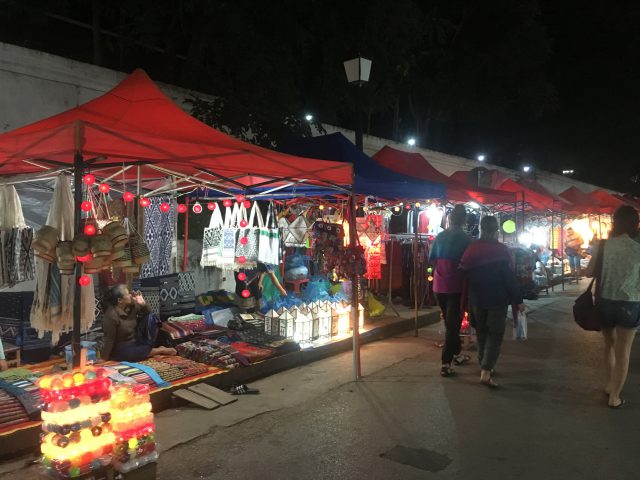 The arts and crafts scene is big in Luang Prabang and there are galleries, art cafes and craft centres to reflect this. Luang Prabang Artisans is situated down a narrow lane and sells hand-crafted items in an 100-year-old wooden building. There is a large plant-filled garden and cafe with a shaded terrace – perfect for chilling out.
The Ock Pop Tok Living Crafts Centre is also worth a visit – you can take a tour to see how they dye the silk or do one of a number of half to 3 day courses including weaving, batik and natural dyeing.  Situated right on the Mekong, there are serene gardens, hammocks to relax in and a riverside restaurant. The restaurant service was not great, but the food was delicious.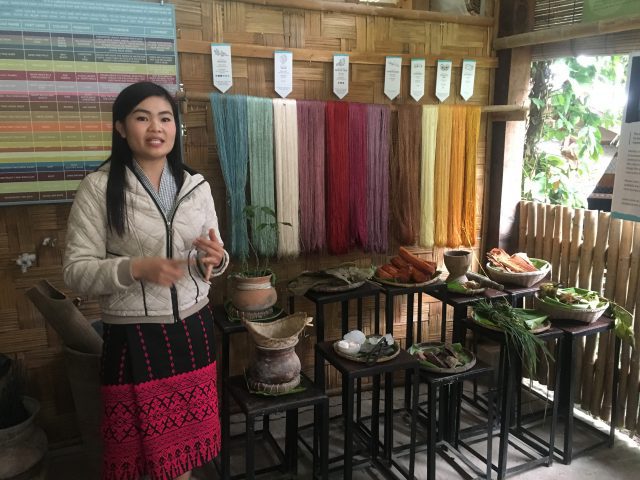 6  The Rivers and their Bridges
The waterfront is the lifeblood of Laos, especially in Luang Prabang. You can walk north-east around the peninsula hugging the Mekong and then round the top to walk back south-west along the Nam Khan – the riverside views are dreamy. There are lots of small alleyways full of hidden gems (temples, cafes, shops etc) that connect the two rivers which are also well worth a wander down.
In dry season (December – May) you can cross the Nam Khan bamboo bridge (the bridge is reconstructed every year after rainy season) to reach a handful of serene cafes and restaurants on the other bank. It's a steep climb up some stairs to the wonderful garden cafe, Dyen Sabai. It's one of the top restaurants in Luang Prabang – go for one of the tasting platters and try and bag one of the riverfront tables with recliner cushions in open-sided bamboo huts. Their banana daiquiris are to die for too.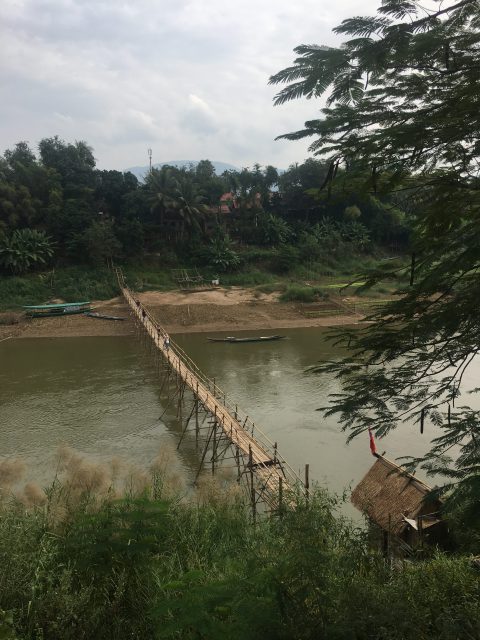 Assuming you haven't got so relaxed on the recliners with a steady flow of banana daiquiris in your hand that you stayed there all night, you can walk back across the 'Old Bridge'. It's definitely best to attempt this after no more than 2 daiquiris – the name says it all. It has to be the scariest bridge I've ever walked across. Scooters and bikes cross on the main bridge and there is a one-person wide pedestrian bridge attached slightly lower to the side. High above the Nam Khan and entirely made of wood, there were a lot of planks missing, super wobbly sections and in some places, gaps that were big enough to fall through. Not for the faint-hearted. We were hugely relieved when we made it to the other side.
7  Utopia Bar
You can't go to Luang Prabang without a visit to Utopia. Hidden at the bottom of a long alley way, the sprawling bar is incredibly designed with faux temple ruins, creeper vines and beautifully candlelit low tables surrounded by striped cushions. I loved it as soon as I walked in. If you head for the outdoor decking, you're required to take your sandals off – just remember where you put them as when we came to put ours back on, it was just a sea of flip-flops that all looked the same! The views over the river are beautifully peaceful and it's very easy to while away a good few hours here – it's just a shame it closes at 11pm.
If you do visit Luang Prabang and Laos, just make sure you don't come home with any leftover Kip like I did – it's a closed currency and you can't exchange them anywhere outside of the country. Not that I was too disappointed – it's a great excuse to return 🙂
If you are interested in my trip, I travelled with G Adventures for 2 weeks on their Thailand and Laos Adventure Tour.
Did you enjoy this post? Pin It 🙂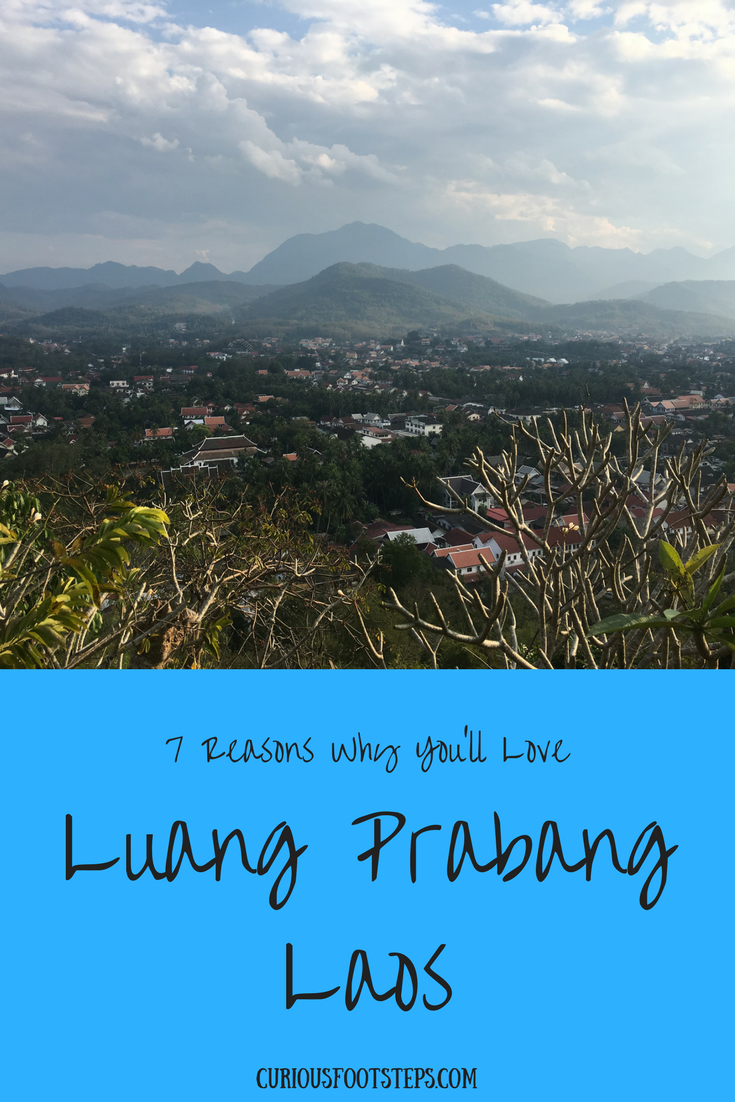 Enjoy this article? Please share 🙂